Is Puerto Vallarta expensive? Is it possible to travel to Puerto Vallarta on a budget? I did it for US$26 per day and here's my experience in PV, one of my favorite destinations on the Pacific Coast of Mexico!
Mexico is really cheap and your US$50 per day budget will go a long way here! I traveled to Puerto Vallarta with a US$26 budget per day and it all worked out fine. You will be surprised how cheap Mexico is when you get here.
Of course, as you know, travel expenses are different from living expenses. Before actually living in Puerto Vallarta, I traveled here extensively first to see if it's a place I would like to live in.
In this article, I will only write about the travel costs as you can see many different cost of living articles here on the blog (by Mexican area).
So, let's get started. Let's answer your burning question: is Puerto Vallarta expensive?
☕ Do you like our content? Help us continue to do better! Support our honest and transparent journalism by donating to our coffee fund.
💸Is Puerto Vallarta expensive?
No, not at all! Even if tourism is slowly growing in Puerto Vallarta, prices are still very reasonable, unlike Sayulita or San Pancho, two towns that are less than an hour away from PV but are very overpriced. Digital nomads in Puerto Vallarta only spend about $900 USD per month and are living pretty well.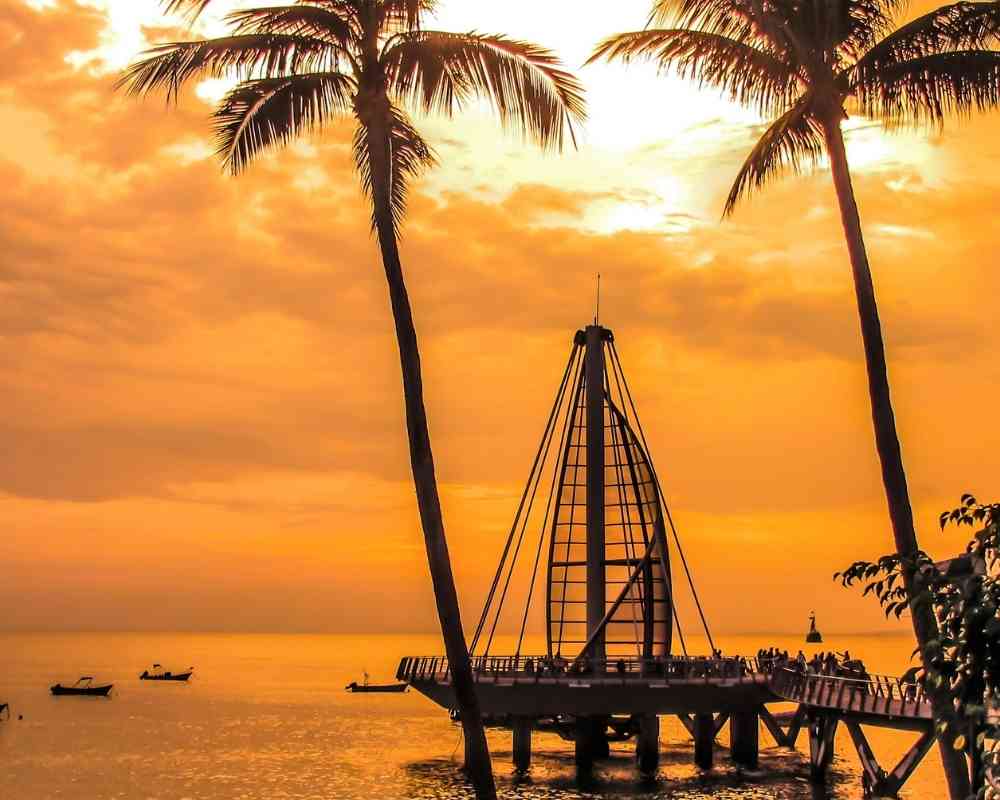 Take it from me – I live here! This post is applicable for travelers but I also have lots of articles about Puerto Vallarta on a budget, depending on the type of traveler that you are.
💲 Can you use US dollars in Puerto Vallarta?
Yes, you can but the Mexican peso is still widely used. All the menus in the restaurants are still in Mexican pesos. Puerto Vallarta is still one of those areas in Mexico where they still have local culture.
What I mean is it's not like Cabo where all the menus are in USD and everyone operates in USD (even the Mexicans).
I didn't see a lot of USD cash machines in Puerto Vallarta, unlike Cabo and Sayulita where you can find USD ATM machines in every corner.
You can definitely use US dollars in Puerto Vallarta but expect the exchange to be lower. For example, if the current exchange rate for a USD in Mexican peso is $21 MXN, establishments in Puerto Vallarta will take it for $17 MXN or $18 MXN.
💰 Is Puerto Vallarta cheaper than Cancun?
ABSOLUTELY! Puerto Vallarta is still the cheapest destination in Mexico and it does not compare to how expensive Cancun is.
The funny thing is all the resorts you have in Cancun are the same resort branches that are in Puerto Vallarta but their prices are so different from each other!
For example, the Hyatt Ziva Puerto Vallarta all-inclusive price for 2 people costs US$400 per night while Hyatt Ziva Cancun costs $774. These prices are during the high season.
Of course, this all depends on the amenities but I have been to both and the offer is exactly the same. The price only differs because of the area.
Apart from all-inclusive resorts prices, Puerto Vallarta and Cancun prices have a big gap in terms of street food, restaurant prices, and tour prices.
☀️ When is the best time to visit Puerto Vallarta?
Funnily, travel costs in Puerto Vallarta also vary by season. This is applicable in all of Mexico. The low season is from June to mid-October while the rest of the year is on high season.
During the high season (mid-October to mid-May), expect accommodations to be higher than usual, especially during the winter season in the US.
I honestly feel like January and February, the coldest months in the US and Europe are more expensive than the holiday season (Christmas).
Other Mexico travel budget guides that you may like:
Save this post on Pinterest for your trip to PV!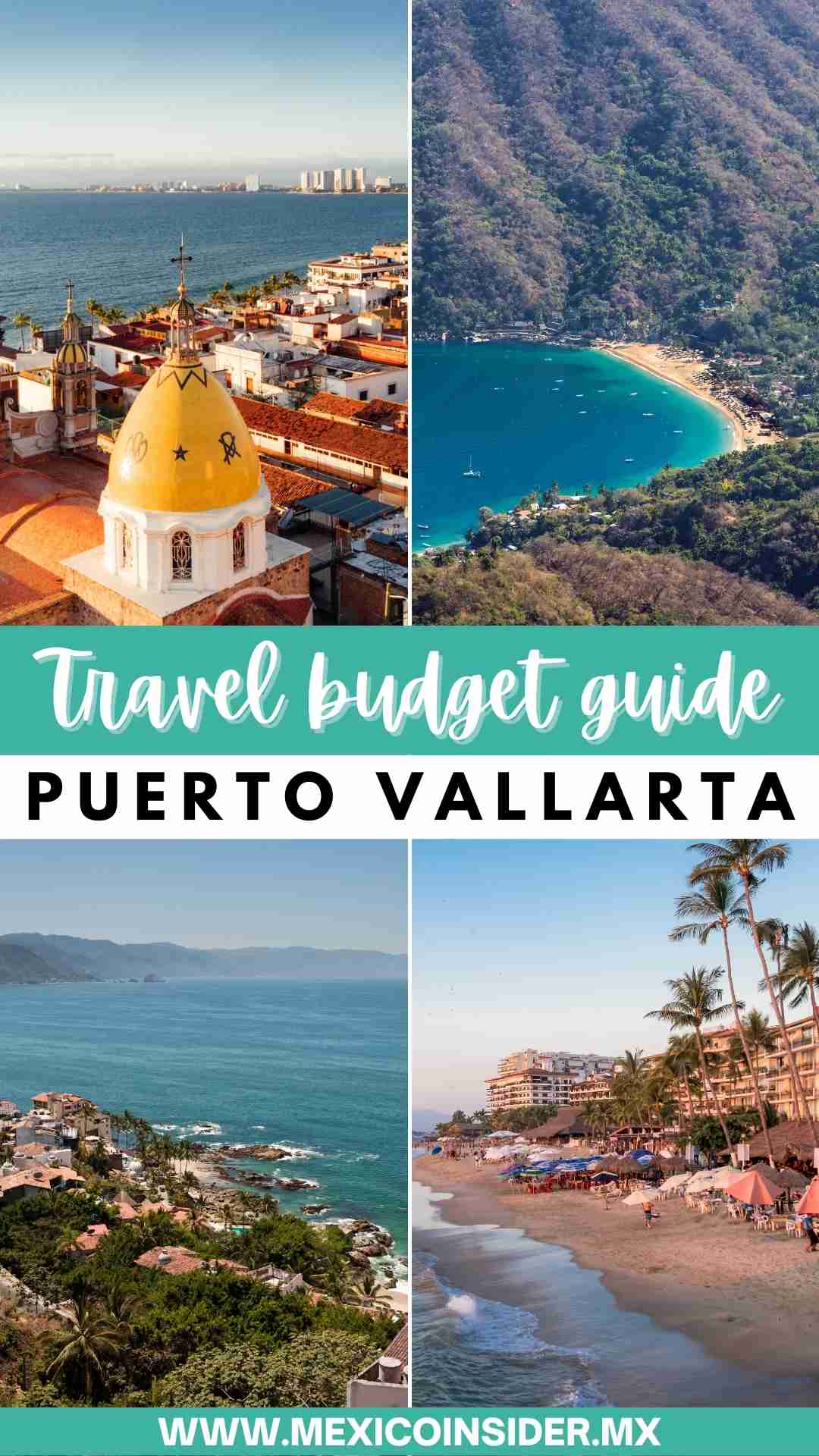 💵 Puerto Vallarta on a budget: US$50 per day
From living in Riviera Nayarit for the last 3 years, I find Puerto Vallarta the cheapest destination in my area. Even the high-end restaurants are pretty cheap.
My favorite is Sunday brunches at Sheraton for only US$19 with unlimited food and champagne! To better plan your trip to Puerto Vallarta on a budget, here are the typical costs:
Accommodation costs in Puerto Vallarta
There are many accommodation types in Puerto Vallarta. However, when you search on Google, it will only give you results on the all-inclusive stays since this area is well-known for that.
There is very little exposure for hostels and small guest houses here but there are a lot! Oftentimes, budget travelers get discouraged in visiting Puerto Vallarta because they feel that it's too expensive.
All accommodation types in Puerto Vallarta have the same range. All-inclusive resorts range from US$100 per night for two people.
This does not include all the services and amenities of the resort. You will have to pay them separately. But that's not a bad price at all if you are looking for a fancy place to stay!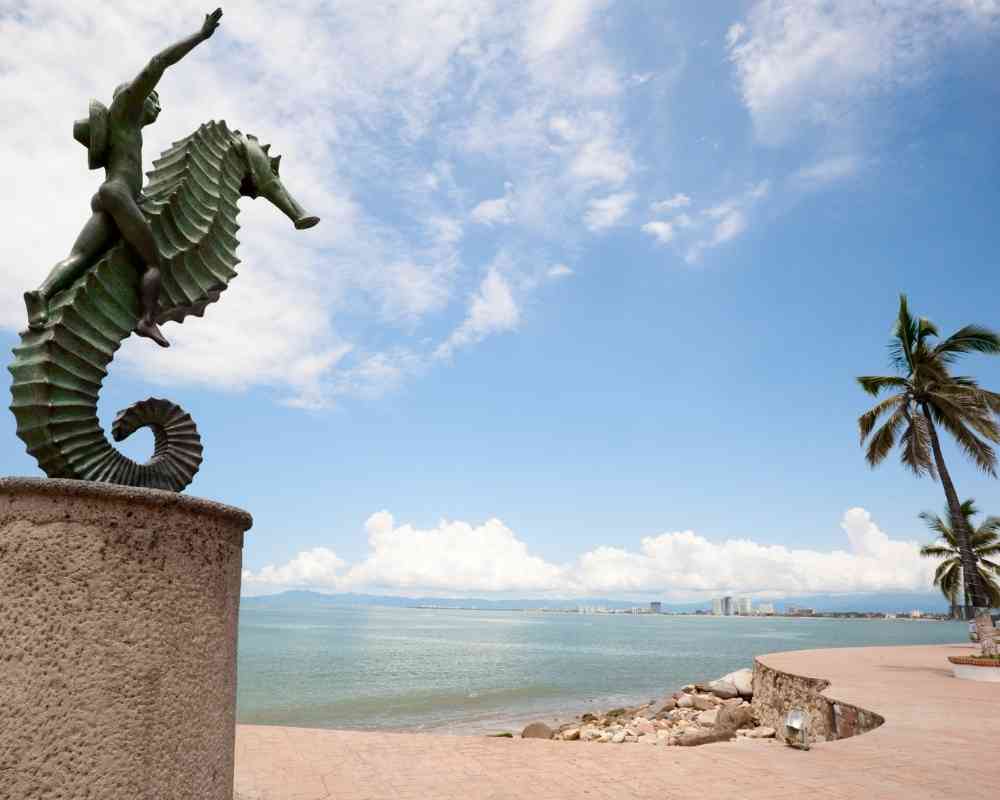 Studio type Airbnbs range from US$45 for two people in a very good area. Personally, I always use Airbnb when traveling everywhere since it has a more private setting.
Hostels in Puerto Vallarta start from US$15 for a bed in a dorm. Most of them offer free breakfast so cross one meal out if you decide to stay in a hostel. Below are the hostels I recommend in PV:
Los Muertos Hostel: situated at the most famous beach in PV (Los Muertos), this hostel has a standard 8-bed dorm room from US$10 per night
El Sunset Hostel: one of the most top-rated hostels for backpackers, a bed in a dorm room in this hostel starts at US$7.
Oasis Hostel Puerto Vallarta: a bed in a 6-bed dorm starts at US$9 per night per person.
Food prices in Puerto Vallarta
The Malecon is the most popular restaurant area in PV with hundreds of restaurants facing the ocean. Although these restaurants are not considered high-end, they are, in my opinion, in the middle-priced category.
A meal at a restaurant in the Malecon range from US$6 – US$10) and these are big plates. There are also lots of 2 for 1 margarita promos at certain hours for only US$5.
Now if you don't have a sensitive stomach and are willing to explore the rich street food culture of Puerto Vallarta, a street taco is less than a dollar and they're all home-made by locals.
In the next section, I will recommend some tasty (and clean) taquerias in Puerto Vallarta but of course, it is up to you to eat in food stalls. We all have a different reaction to food.
Some vacationers also prefer to cook at home since most accommodations in Puerto Vallarta have a basic kitchen for cooking.
All Airbnbs and hostels have fully equipped kitchens. For you to have an idea of the grocery prices, here are the basics: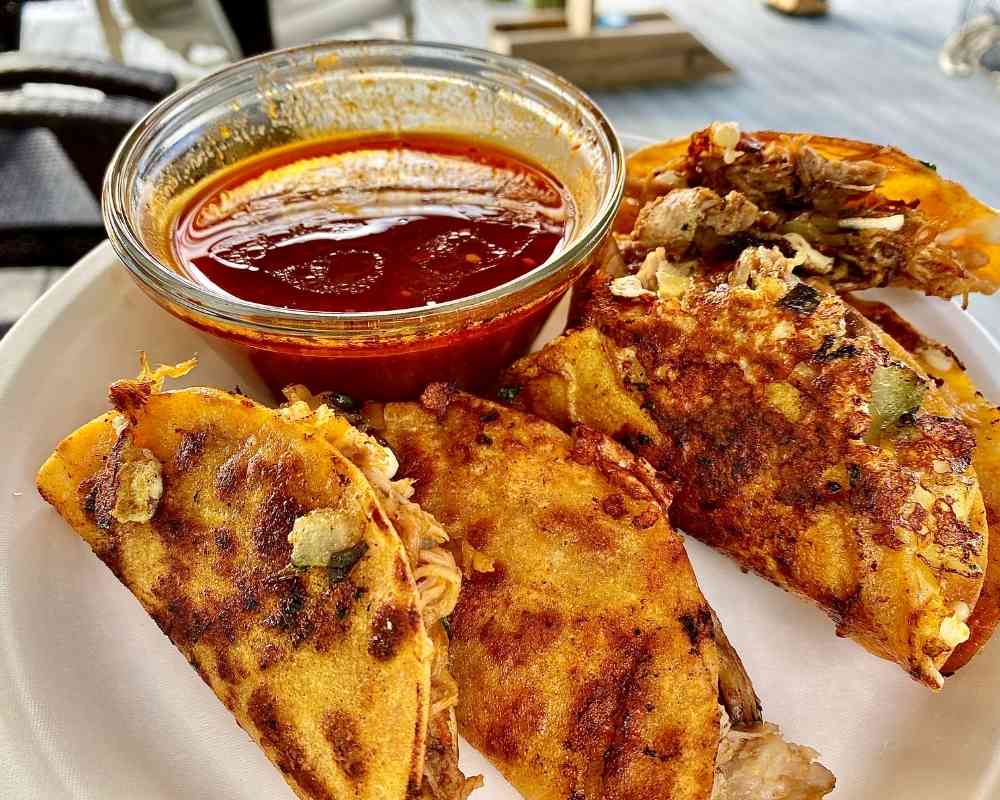 🍗 500 gr (1 lb.) of boneless chicken breast: US$2.50
🥚 12 eggs, large: US$1.48
🍅 1 kg (2 lb.) of tomatoes: US$0.98
🧀 500 gr (16 oz.) of local cheese: US$2.75
🍎 1 kg (2 lb.) of apples: US$1.62
🥔 1 kg (2 lb.) of potatoes: US$1.06
🍺 0.5 l (16 oz) domestic beer in the supermarket: US$0.90
🥖 Bread for 2 people for 1 day: US$1.11
🍷 1 bottle of red table wine, good quality: US$10
Puerto Vallarta also has big supermarkets where you can buy cheap products. Walmart, Mega, Chedraui, and La Comer are the most popular Mexican supermarket chains. We are also one of the few Mexican cities that has a Costco.
If you don't travel for food and are on a strict budget, you can easily spend US$5 for two pax for cooking a meal at your accommodation.
📪 Get genuine and honest content like this by subscribing to our newsletter. We send high-quality information once a month. NO SPAM. NEVER.
Transportation costs in Puerto Vallarta
Uber is widely used in Puerto Vallarta. You can get rides from point A to B for as less than US$5. PV is also a walking town so if you are staying downtown, you can easily walk – it's a great exercise! Mexico also uses InDrive app where you have to bid for the fair price.
I prefer this over Uber since they can also take you to nearby towns like Sayulita or San Pancho. This app works like magic and there are always drivers available!
Foreigners who want to experience real Mexican transport also go for busses that will take you all over Riviera Nayarit.
If you're going to Sayulita/San Pancho from Puerto Vallarta, the bus costs less than US$3 while taxis for the same route are US$45 – US$75.
If you're looking for a trusted local driver, Juan and I have been friends for a long time and he's actually my first friend when I came to Puerto Vallarta in 2018.
His services are cheaper than anyone else and he won't rip you off, as most taxi drivers do to white tourists. Click here to check taxi service prices with Juan!
Tour prices in Puerto Vallarta
While there are many things to do in Puerto Vallarta, most of these are costly if you're looking at tour agencies.
PV is known for luxury tours and travel agencies take advantage of this – tour prices in PV are sometimes super ridiculous!
There are many food tours that are under US$50 and this is my favorite activity in PV. Of course, you can always say you can do it on your own but signing up for a food tour will make your experience different. You won't be able to find these things on your own!
Flight prices to Puerto Vallarta
When COVID started, I noticed how flight prices within the country decreased. Airlines even offer super cheap flights from the United States because they are encouraging people to visit. If you are coming from Cancun to Puerto Vallarta, flights are at US$80 only and it's not with a budget airline!
There are also direct flights from San Diego and Los Angeles that are less than US$200. I use Kiwi.com to search for the cheapest flights. It always gives me the best results and I've been using this for years!
💃🏽 How I traveled Puerto Vallarta on a budget
I stayed in a hostel: US$15 per night
If your goal is to explore Puerto Vallarta, you probably wouldn't get expensive accommodation. You will be out all the time.
I know it's not ideal to stay in hostels for some people, especially during COVID but hostels in Puerto Vallarta don't fill their dorm rooms to 100% capacity.
I only paid $7 USD per night at El Sunset Hostel, a highly-rated hostel in Puerto Vallarta which has a 9.5-star rating on Hostelworld.
Hostels are a great way to meet people in Puerto Vallarta. They always cook together and go dancing parties together.
I always feel like staying in a hostel, especially if you are traveling alone, is the best way to access insider tips.
I ate street food but also did restaurant dining some days of my trip: less than $5 USD per meal
To be honest, I can be cheap with accommodations when I am traveling but never with food! I always allot most of my budget to food because it's a very important aspect of my travel.
When I was backpacking South America on a budget, I was young and didn't have a stable job so I was always cheap with food.
When I was more stable as a full-time travel blogger, I vowed to myself that I will not be cheap on food ever again!
But I am not like most Westerners who have a sensitive stomach. From moving around the globe for the last 12 years, my stomach has adjusted to changing diets all the time which helped me not to be sick on the road anymore.
I am actually not sure what makes Americans or Canadians sick with food but I am sure they always find restaurants in Mexico cheap (i.e. $12 USD per meal is super cheap to them).
Here's some amazing food I ate in Puerto Vallarta. I only focused on the food that I need to learn about.
The good thing about eating street food is that you will get a chance to chat with the locals about the history of their food. That is if you can speak Spanish.
Birria (a typical dish from Jalisco): $45 MXN ($2.18 USD)
Street tacos (of course!): $25 MXN ($1.21 USD)
National beer (bars): $30 MXN ($1.46 USD). 6-pack beers in convenience stores are at $100 MXN ($5 USD)
Food tours: I also made sure to join food walking tours which also let you experience walking around town on top of eating the best food in PV.
Restaurants: I ate in restaurants 3x preferably dinners. PV has a great restaurant scene and you can always find a good place for $200 MXN ($10 USD) per meal.
💱 Puerto Vallarta money and costs
Money exchange in Puerto Vallarta
You can definitely bring US dollars to Puerto Vallarta and get better conversion rates versus paying with your USD while traveling in PV.
All money exchange houses or what we call casa de cambio in Mexico have similar exchange rates. Below are some of the recommended money exchange places in Puerto Vallarta:
ATMs in Puerto Vallarta
The good news is Puerto Vallarta is a big city so major Mexican banks like Santander, BBVA, Banorte, etc are everywhere!
There is an ATM machine on every corner so you don't have to worry about taking cash in Puerto Vallarta.
The small ATM machines at the Malecon of Puerto Vallarta are safe but if you're not comfortable taking cash from them (it can also be sometimes faulty), I suggest going to the banks.
If you are staying in a resort, all of the PV resorts have their own ATM machines inside. You don't have to go downtown!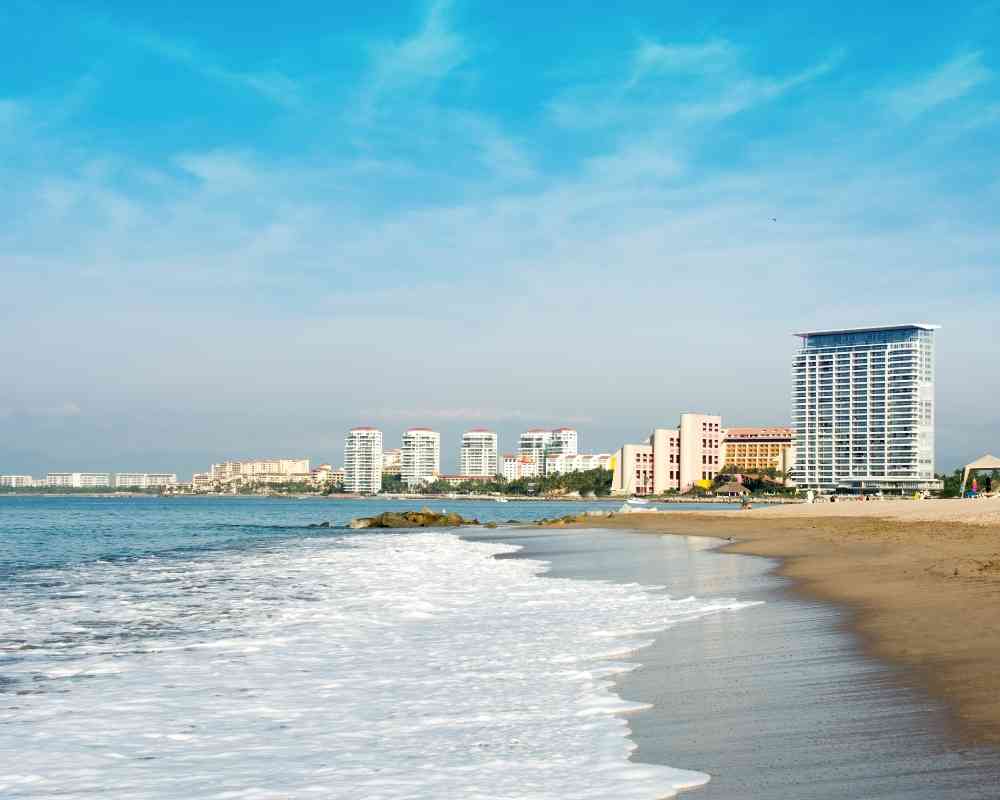 Credit/debit cards
Credit cards are widely used in Puerto Vallarta. All restaurants, souvenir shops, and even tour companies accept credit cards. Visa or Mastercard is preferred and only big resorts take Amex.
Tipping in Puerto Vallarta
Like the United States, Mexico is a tipping country. The minimum wage in Mexico is super low and all locals rely heavily on tips.
10% is the bare minimum but I always give up to 25% if the service is really good. Do not expect high-end service in Puerto Vallarta but still tip the minimum.
✈️ Ready for your trip to Puerto Vallarta? If you have any questions about traveling Puerto Vallarta on a budget, I'd be happy to update this post – just leave a comment below!
Trisha traveled to Mexico in 2018 and after a year, she found herself obtaining a 4-year residency visa in Mexico. She is the Editor-in-chief for our Living in Mexico Series which has helped over 3,000 Americans move to Mexico with ease. Trisha currently resides in Cabo San Lucas, Baja California Sur.