If you are planning to travel to Tulum in December, there are several things you should expect in terms of weather, crowds, and activities. In this post, we will explain what to expect for December in Tulum.
As winter approaches and temperatures dip in many parts of the world, there's no better time to pack your bags and escape to the tropical paradise of Tulum, Mexico.
While December may be synonymous with holiday festivities, snow, and cozy evenings by the fireplace for some, it's also the perfect month to experience Tulum's idyllic weather, stunning natural beauty, and vibrant cultural offerings.
Located along the exquisite Mayan Riviera, Tulum boasts an enviable climate in December, with temperatures averaging between 21-27°C (70-80°F) and gentle sea breezes to keep you cool under the Caribbean sun.
The dry season begins in November and extends through to April, offering a respite from the more humid and rainy conditions of the summer months.
This means that December in Tulum offers the perfect balance of warm, sunny days and refreshing nights, making it an ideal destination for beach bums, adventure seekers, and culture enthusiasts alike.
So, grab your sunglasses, dust off your flip-flops, and join us as we explore the wonders of Tulum in December – from its crystalline cenotes and ancient Mayan ruins to its lively culinary scene and eco-chic accommodations.
🧐 Questions about traveling to Tulum in December? Ask us on Tiktok.
🔗 December in Tulum: quick links
🌡️ Weather in Tulum in December
If you are ever wondering what the weather is like in Tulum in December – they are typically hot, with balmy evenings and little to no rainfall.
Meanwhile, the average high temperature ranges around 28°C (82°F) while the average low temperature is around 20°C (68°F).
Tulum usually receives about 8 hours of sunshine daily, and showers are rare, so there's plenty of time to explore outdoor destinations or dip in one of the many cenotes nearby.
Additionally, the humidity in December is at a comfortable percentage. You can enjoy water activities and go on several-day tours without feeling sticky.
Aside from December being the start of the holiday season, this weather in Tulum makes it a popular month for tourists to visit the city.
☁️ Humidity in Tulum in December
In December, the average humidity in Tulum is around 75%, which is lower compared to the summer months. This much humidity leads to sunny and clear skies most days and possibly cloudy and rainy days.
You can also expect comfortable weather conditions, where a refreshing ocean breeze blows throughout the day and cool evening temperatures drop to around 20°C (68°F).
Note that although the humidity in December is moderate, it might still be too humid for some.
So, it's always best to ensure you are prepared with water to stay hydrated, and maybe bring breathable clothing.
But despite all this, with moderate humidity levels and warm temperatures, December makes an ideal time to explore the town's many attractions, including the famous Mayan ruins and beautiful beaches.
🌊 Water temperature in Tulum in December
Tulum's Caribbean Sea is warm all year, so there's nothing much to worry about regarding the water temperature. But it's generally comfortable if you're curious about how warm the water is in December in Tulum.
During this time of year, you can expect the water temperature averaging as high as 27°C (81°F). This is the warmest temperature that can be during the day's peak.
Meanwhile, on cooler days, like after sunset or in the early morning hours, the water temperature can dip to as low as 20°C (68°F).
🌿 Seaweed in Tulum in December (Sargassum)
In Tulum, the presence of seaweed (sargassum) varies each year and depends on various factors such as ocean currents, wind patterns, and water temperatures.
While it is difficult to predict the exact amount of seaweed in December, it is generally less abundant during this month than in the summer months.
Seaweed season in Tulum typically peaks between May and August, when sargassum is more likely to wash ashore due to changing ocean currents and warmer water temperatures.
However, it's important to note that this can vary year-to-year, and some years may experience more or less seaweed than others. Local authorities and businesses often work to clean the beaches during these periods, ensuring that visitors can still enjoy the beautiful coastline.
☕ Support this blog's honest and transparent journalism. Help us add value to what we are sharing. Keep Mexico Insider FREE for all by donating to our coffee fund. Muchas gracias!
🌴 Tulum in December resorts: where to stay
Conrad Tulum Riviera Maya
💲 from $340 USD
The Conrad Tulum Riviera Maya is a luxury resort located in the beautiful region of Tulum. As part of the well-regarded Hilton brand, this resort is known for providing excellent accommodations, amenities, and customer service.
With its prime location, stylish design, and numerous facilities, many travelers consider it a good resort.
Amenities at the Conrad Tulum Riviera Maya typically include multiple dining options, a spa, swimming pools, and access to pristine beaches.
The resort is also conveniently located near popular attractions such as the Tulum ruins and various cenotes, allowing guests to explore the area easily.
Dreams Tulum Resort & Spa
💲 from $440 USD
Dreams Tulum Resort & Spa is a popular all-inclusive resort in Tulum, known for providing a high-quality vacation experience for couples, families, and solo travelers. The resort offers a variety of amenities, including multiple dining options, swimming pools, a spa, and access to a beautiful beach.
Additionally, Dreams Tulum is well-regarded for its family-friendly atmosphere, with activities and facilities catering to guests of all ages.
Dreams Tulum Resort & Spa is worth the investment, as the all-inclusive package covers meals, drinks, and various on-site activities. The resort is also conveniently located close to the Tulum ruins and other nearby attractions, making it an excellent base for exploring the area.
Hilton Tulum Riviera Maya All-Inclusive Resort
💲 from $400 USD
The Hilton Tulum Riviera Maya All-Inclusive Resort is a luxury property belonging to the reputable Hilton brand. As an all-inclusive resort, it offers various amenities and services, including various dining options, swimming pools, a spa, and access to beautiful beaches.
Hilton resorts are generally known for their quality accommodations, customer service, and well-maintained facilities.
Hilton Tulum Riviera Maya All-Inclusive Resort is worth the price, as the all-inclusive package covers meals, drinks, and several on-site activities.
Its convenient location near popular attractions in Tulum also makes it an appealing choice for visitors looking to explore the area.
🏝️Things to do in Tulum in December
Isla Mujeres Catamaran cruise from Cancun
🕒 4 to 7 hours
💲 from $940 USD
In this Private Isla Mujeres Tour, you will discover the breathtaking scenery of the Mexican Caribbean and the charming Isla Mujeres as you set sail on a private catamaran.
The tour is private and customizable, so you can have a half-day or full-day tour and choose your destinations before reaching Isla Mujeres.
Plus, it lets you bring up to 25 friends and family and enjoy your food onboard. There is also an open bar to enjoy some beverages.
The private tour starts with a pick-up service from your hotel in Cancun, where you will be transported to the marina. Upon arrival, you will then board your private catamaran, where your experienced crew will greet you with a warm welcome.
As you sail along the Caribbean, among the areas, you can visit while on board are the Museo Subacuatico de Arte, Playa Norte, and Isla Mujeres.
Low-cost Tulum experience and cenote Dos Ojos with lunch
🕒 8 hours
💲 from $29 USD
The Low-Cost Tulum Experience and Cenote at Dos Ojos with Lunch is an affordable, full-day tour taking participants to Tulum's ancient Mayan ruins and the mesmerizing Dos Ojos Cenote near Cancun.
The tour includes a knowledgeable guide which provides insights into the history and culture of the area, as well as a delicious lunch.
This experience allows visitors to explore the beauty and history of the region while enjoying a refreshing swim in the cenote's crystal-clear waters.
Chichen Itza day trip from Tulum, including cenote and lunch
🕒 12 hours
💲 from $69 USD
This Chichen Itza Day Trip from Tulum offers a comprehensive guided tour of the renowned UNESCO World Heritage Site, Chichen Itza. Participants will explore the ancient Mayan city, learn about its history and cultural significance, and marvel at the famous El Castillo pyramid.
The tour also includes a refreshing visit to a beautiful cenote for a swim in its crystal-clear waters, followed by a delicious regional lunch. This full-day tour is an excellent way to experience the rich history and natural beauty of the Yucatan Peninsula.
WE CUSTOMIZE TOURS IN TULUM! 🎉🥳
We live here and have traveled the whole state of Quintana Roo. Contact us for a quote: no hidden costs, just simple prices. E-mail us at [email protected] or call our office at +52 473 171 5259.
🌆 Events and festivals in Quintana Roo and Tulum in December
Feast of the Virgin of Guadalupe
Every December 12, the Mexican Community of Tulum celebrates the Feast of the Virgin of Guadalupe in commemoration of the appearance of Mary to a Mexican peasant, Juan Diego, in 1531. Ever since then, the feast has been an important festival for Mexicans.
During the feast, young boys would often dress up as Juan Diego and visit the church to be blessed. There will also be religious recreations of the traditional tale of how Juan Diego met Mary.
Christmas in Tulum
Throughout December, locals celebrate different feasts, festivals, and programs to celebrate the upcoming Christmas.
On December 24, Mexicans celebrate the biggest night for a holiday celebration, where they attend late-night mass and celebrate over Noche Buena; meanwhile, on the 25th of December. Tulum is rather intimate and a day for rest and reflection.
New Year's Eve in Tulum
Tulum celebrates New Year's Eve with beach parties, live music, fireworks, and a festive atmosphere yearly. During the celebration, Tulum comes alive with people from all over the world who come to celebrate in this idyllic setting.
Many restaurants, bars, and clubs offer special New Year's Eve packages that include dinner, drinks, and entertainment. But locals and tourists alike also have the option to celebrate intimately and visit laid-back bars and restaurants or prepare dinner at home.
⁉️ Tulum in December FAQ
Is December a good time to visit Tulum?
Yes, December is an excellent time to visit Tulum. During this time, tourists flock to Tulum, the start of peak season.
December is an idyllic time to visit Tulum, for having the best weather, where most days are sunny and mild with average high temperatures. Moreover, humidity is lower than during the rainy season, making it a comfortable time to explore the town and its surroundings.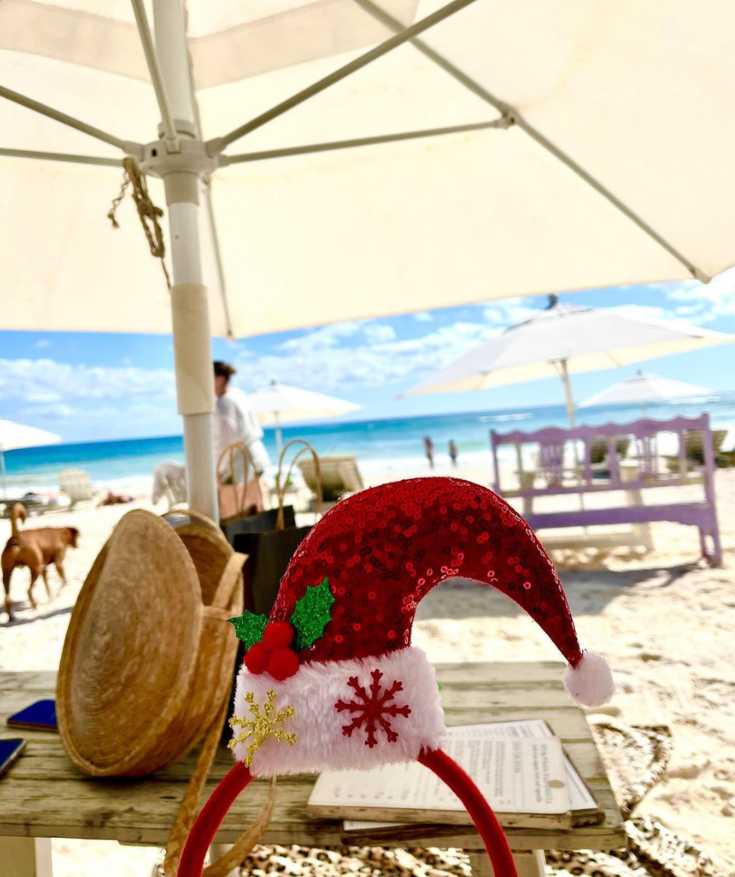 But since this is the start of the peak season, expect December to be one of the busiest months for tourism in Tulum, so crowds and prices may be higher.
Overall, December is a great time to visit Tulum if you are okay with the crowd and the higher prices.
Can you swim in Tulum in December?
ABSOLUTELY! Swimming in Tulum in December is possible and just as enjoyable as it would be any other month of the year.
The water temperature in Tulum remains consistently warm and pleasant at 27°C (81°F), making it comfortable to swim at. And while swimming in December in Tulum is generally safe, it's still important to be aware of any warning flags that may indicate danger.
Is Tulum rainy in December?
No, generally, it is not rainy in December in Tulum. December is the start of Tulum's dry season so that you can expect clear skies throughout the month.
Although there are days that rain might still fall, take note that the average rainfall for December in Tulum is just less than 1 mm, spread over about ten days of rain during the month.
These rain showers are usually brief and localized and typically do not last long. If it does rain, it's often in the form of short, intense bursts in the late afternoon or evening, which can be a welcome relief from the heat.
So even if it rains one or two days out of the month – there's plenty of time to soak up some sun!
Is Tulum crowded in December?
YES, December is peak season in Tulum, so there can be large crowds. And since it is one of the busiest months for tourism in the region, expect to see many travelers from around the world visiting the popular attractions in Tulum.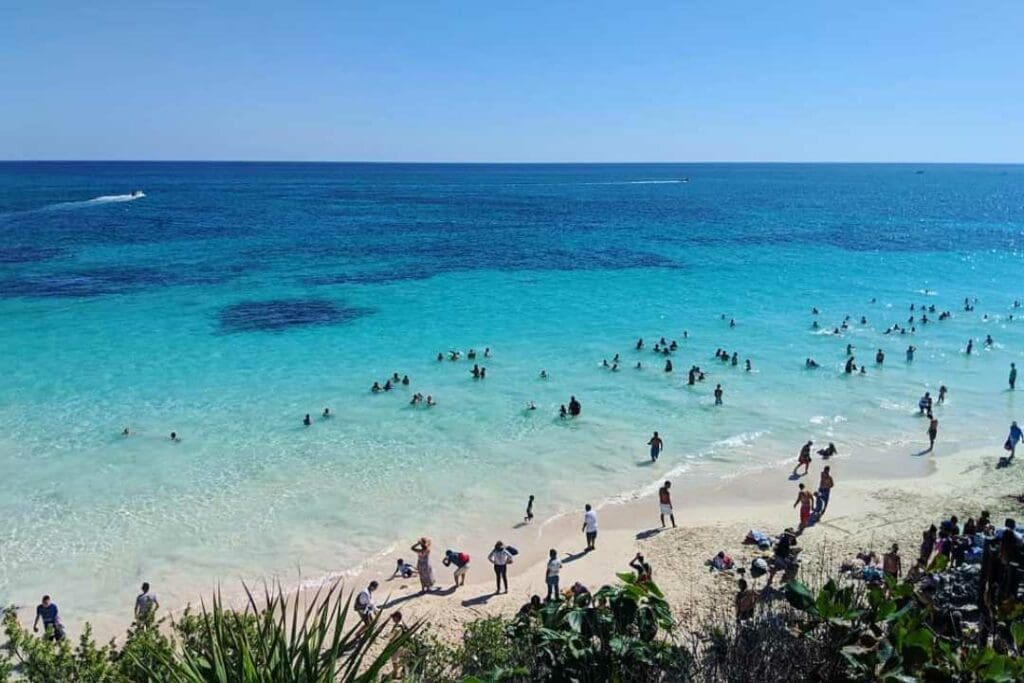 However, if you plan your days wisely and go off-the-beaten path occasionally, there are plenty of opportunities to escape the hustle and bustle.
It's essential to plan and book your accommodations, tours, and activities in advance to ensure you can secure the best options for your trip.
Is Tulum good at Christmas?
ABSOLUTELY! Tulum is a great destination to celebrate Christmas – from a festive atmosphere to delicious food, there are plenty of reasons why celebrating the holiday season in this Mexican city is exciting and fun.
Aside from the sunny days and warm temperatures, during the Christmas season, Tulum is decorated with lights and decorations, and there are often special events and celebrations throughout the town.
Many restaurants and hotels in Tulum offer special Christmas dinners and holiday-themed events.
Plus, you'll find colorful markets full of traditional Mexican gifts like handmade pottery, jewelry, and textiles that you can take home as souvenirs or give as presents on Christmas day.
Is there sargassum in Tulum in December?
Sargassum, or seaweed, can wash up on the beaches during certain times of the year, causing some inconvenience to visitors.
Fortunately, the sargassum season typically runs only from May to October in the Caribbean, so the seaweed season typically ends by December. It will be rare to find significant amounts of sargassum on the beaches in Tulum during this time of the year.
However, suppose you find yourself in Tulum when there's still sargassum. In that case, this is a natural occurrence and does not necessarily indicate a problem with the beach or water quality.
Plus, local authorities and hotel management usually make the time and effort to clean them up, so keep it from bothering you too much.
Are there mosquitos in Tulum in December?
While Mosquitos can be found all year round in Tulum, they are not a significant problem during December. Tulum's dry season from December to April reduces the mosquito population significantly.
Still, it's important to note that taking precautions against mosquitoes when traveling to Tulum is the best way to avoid getting bitten.
This is because some areas in Tulum may still have stagnant water, which can attract mosquitoes, and there may be localized outbreaks of mosquitoes due to changes in weather patterns.
🇲🇽 Tulum Travel Resources
✈️ Flights to Tulum
The airport that serves Tulum is Cancun International Airport. Use Kiwi.com to find the cheapest flights to Cancun. This is our favorite booking engine because they compare prices across all airlines for your route.
🛏️ Hotels and resorts in Tulum
Budget travelers can use HostelWorld to find cheap accommodations for as low as $25 USD per night. Resort vacationers, the best deals for all-inclusive stays in Tulum are on Booking.com!
🚑 Mexico Travel Insurance
Be prepared for the possibility that something can happen to you while traveling abroad. Do not travel to Tulum without travel insurance! We recommend SafetyWing (for digital nomad and entrepreneur trips) and Ekta Travel for comprehensive medical insurance starting at $0.99 USD!
Marianela Clement is a Swiss-Argentine marketing expert who moved to Mexico in 2017. She has lived in Queretaro for 4 years, traveling and working around Central Mexico. In 2021, Marianela decided to move to Tulum, and up until today, she is enjoying the joys of living in Tulum, Mexico.