With the easy travel requirements to Mexico, many travelers from around the world are flocking to this country.
There are a few changes in late 2021 regarding tourist visas but you'll find everything you need to know in this article.
Get access to our local travel experts who can help you with your hassle-free dream vacation in Mexico! Click here for more info.
🛃 Is Mexico open for tourists?
YES! Mexico is open for tourism. I've been living here since 2018 and during the pandemic last year, we only experienced a lockdown from April to June.
From July 1, 2020, all tourism activities in Mexico have resumed. We never closed since then except for some minor lockdowns that vary per state and area.
✈️ What are the travel requirements to Mexico?
The good news is Mexico is one of the easiest countries to travel to during COVID. They don't ask for a vaccine card or a COVID test.
In this post, I will explain all the travel requirements to Mexico in detail. I'd be happy to answer questions – just leave a comment in the comment box at the end of this article.
🇲🇽 Travel requirements to Mexico for all nationalities
Visas in Mexico: what you need to know
There are many visa types in Mexico and I honestly had an experience with all of them. I started entering Mexico as a tourist in 2018.
The initial plan was to go around Mexico for a few months and then COVID happened so I decided to live here temporarily.
This tourist visa allows you to be in Mexico as a tourist for 6 months. Pretty convenient for digital nomads, expats, and backpackers who want to use Mexico as their base for a while.
But in November 2021, Mexico stopped giving 180 days tourist visas because there were a lot of illegal Americans, Canadians, and Latin Americans living here.
They didn't feel the need to apply for a residency visa even if they're technically living here (on a tourist visa) because Mexico always gives 180 days. This year, that all changed.
If you read the linked article above (in blue), you will see all my tips on how to get 180 days. It doesn't mean that you can't get it but you just have to know how to ask.
If you're only staying for a weekend or less than a month's vacation, then you will be fine. No need to stress about the tourist visa. They will always give you at least a week of visa.
In 2020, my 6-month tourist visa expired and I had to apply for a Mexico digital nomad visa or what they call the non-lucrative visa.
I did it in Costa Rica and all I had to do was to prove I was earning US$2,000 per month.
It was an easy process but I still hired a lawyer to do it. They gave me a one-year residency visa on the condition that I won't work for Mexican companies aka not do lucrative activities in the country.
After that, my visa expired again. Luckily, Mexico started the regularization program where I was granted a 4-year temporary resident visa!
The process was so easy but it was way different than the lucrative visa application process.
What is an FMM card? Do I need an FMM for Mexico?
The FMM or the Forma Migratoria Multiple is a Mexican government-issued tourist permit for all nationalities.
Everyone entering Mexico will be given this card – you don't really need to get one in advance. The airlines will distribute it before landing.
However, with the current change of the 180 days FMM tourist card, many foreigners are getting it in advance online.
It is really unnecessary but if you want to stay in Mexico for 180 days, you can fill out the online form and receive your FMM tourist card before your scheduled trip.
The FMM tourist card is one of the very important travel requirements to Mexico so make sure you don't lose it!
There are also many random checks inside the country regarding visas so keep it in your wallet just in case.
In the event that you lose your FMM card before exiting Mexico, you need to pay US$25 at the airport. This information is from last year and I never lost my FMM card (even residents need this) so I am not sure of the current exact amount.
The point is, you are going to pay something if you don't present this upon departure from Mexico.
Americans and many other nationalities don't need a visa to enter Mexico
The good news is Americans and many other nationalities can enter Mexico visa-free. It's the same with citizens of the US, Canada Argentina, Brazil, Australia, Israel, Japan, New Zealand, and EU countries.
Upon arrival, you will receive an entry stamp but I don't know how many days they will give you. With the change, there is no fixed number of days. It's up to the immigration officer. Again, you can always ask for more days.
Your passport should also be valid for at least 6 months from the date of entry.
There are some nationalities that need a visa to enter Mexico
Those who need a visa to Mexico (Philippines, India, etc) are required to go to the Mexican consulate in their countries. I only applied for a Mexico tourist visa once (as a Philippine passport holder).
However, if you have Japan, USA, Schengen, and Canadian visas that are still valid, you can use this to enter Mexico. You don't really need to go to the consulate to get one. Just make sure it's still valid upon entering Mexico!
Do you need to quarantine upon arrival in Mexico?
No. Mexico does not require quarantine when you arrive in the country. As soon as you land and get through immigration, you can start your vacation without problems.
But please be cautious and wear masks whenever you are talking to people. Locals here can't afford to NOT work even just for a day. They are very highly dependent on tourism.
Do you need to be vaccinated to enter Mexico?
Proof of COVID vaccination is not required to enter Mexico. Funny, right? Mexico is highly dependent on the culture of their neighbor (the USA) so with the number of Americans visiting Mexico on a daily basis, most of them are not vaccinated so Mexico bends these rules according to them.
They will lose a lot of tourists if they start implementing vaccine cards. This is the situation in Mexico for now but as soon as this changes, I will also update this blog post.
Do you need a COVID test to enter Mexico?
No, you don't. Mexico does not ask for PCR or antigen tests. You can enter Mexico without a COVID test which is another issue in the Mexico expats community.
When I was boarding for my flight from Tbilisi to Mexico City, the airlines kept insisting that I need a COVID test but I told them I don't need it to enter Mexico.
In the end, they found out that I didn't need it and they were really surprised! I think Mexico is the only country that does not ask for COVID tests.
Proof of accommodation and outward flight to enter Mexico
In order to ask for the right number of days for your tourist visa to Mexico, the immigration officers are super lenient when you show your reservation.
A friend of mine showed a 3-month apartment rental payment receipt and they automatically gave him three months. They did not even call the landlord of the apartment to confirm.
This is actually a great tip for digital nomads who which to stay in Mexico for a longer period. The only problem with this is you have to book in advance, which, as a digital nomad, I don't really do.
If you have a fixed vacation day in Mexico, you can also show your outbound ticket. Then they will give you the right number of days since flight tickets have dates. Feel free to ask for an extra week just in case.
For tourists, make sure you have your accommodation proof. No need to print it – the digital reservation confirmation is enough.
To secure your accommodation for presentation at the immigration, you can use Booking.com. They don't charge for cancelation fees and you don't have to put your credit card because this website uses the 'pay at the property' feature.
I also use Hostelworld because they don't charge a lot for securing reservations. This is actually great in the case that the immigration officer will call the hotel, they can confirm your reservation because the reservation fee is already paid for.
For those who are traveling with big groups and want to find villas, apartments, and Airbnbs, Vrbo is the best platform as they offer lower commission/tax fees.
Travel insurance to enter Mexico
Travel insurance is not one of the travel requirements to Mexico. They won't ask it at all but of course, you don't want to travel without insurance!
I only pay US$40 per month for my travel insurance and it covers COVID! Most Americans have travel insurance through their credit card companies but if you don't want to use that, you can use my recommendation – super cheap and tested!
How many days should you leave Mexico to renew the tourist visa?
It was never a problem to fly out to Miami or cross the borders of Guatemala and Tijuana in order to renew your tourist visa but ever since the visa rules for Mexico changed, I am not sure how many days you should be out of the country to get a new tourist visa in Mexico.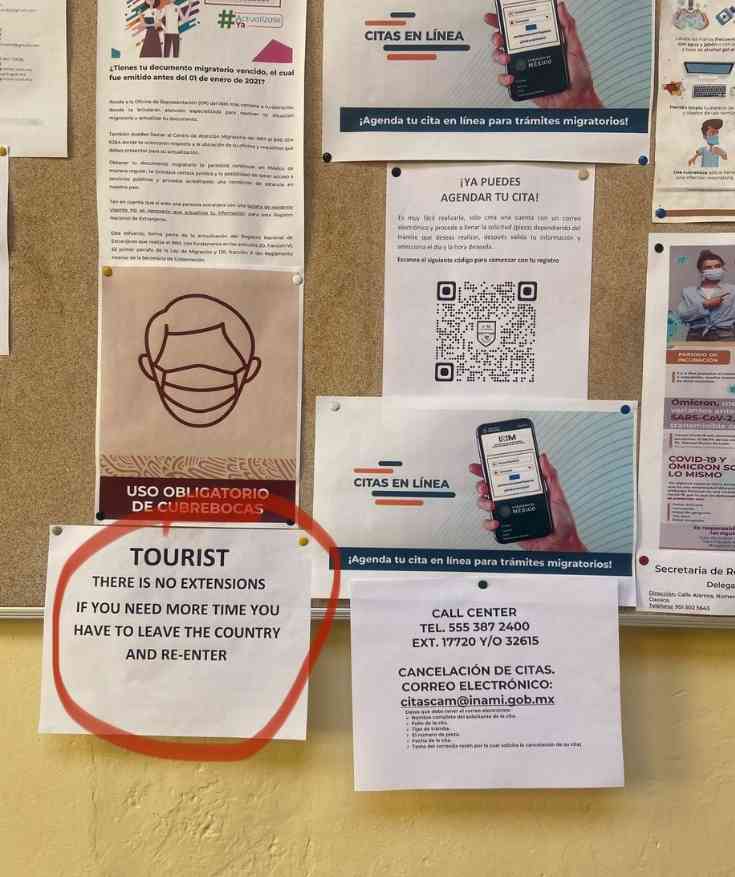 My suggestion is to leave Mexico for a week and always enter Mexico by air. They are not very lenient with tourist visas on land borders. I know someone who only got 4 days of visa which is insane!
As usual, if you have any questions about the travel requirements to Mexico, feel free to email me or contact me on my social media channels. Good luck and I hope to see you in Mexico!
✈️ Ready for your trip to Mexico? If you need more information about the travel requirements to Mexico, I'd be happy to update this post – just leave your questions below!
Trisha traveled to Mexico in 2018 and after a year, she found herself obtaining a 4-year residency visa in Mexico. She is the Editor-in-chief for our Living in Mexico Series which has helped over 3,000 Americans move to Mexico with ease. Trisha currently resides in Cabo San Lucas, Baja California Sur.