Once a tiny fishing village no one cared to look at twice, Tulum has slowly topped the charts as one of Mexico's best beach destinations.
Despite its relatively small size, there are many incredible things to do in Tulum, ranging from contemporary museums for art lovers, adventures underwater, fabulous beach clubs, and just about everything in between.
These days, Tulum is rivaling destinations like Mykonos and Ibiza, but if you're not exactly the party-type or you just want to make sure you plan a well-rounded itinerary, you'll find plenty more to do at this Mexican pueblo.
⁉️ Is Tulum worth visiting?
ABSOLUTELY! Even though it may not be the cheapest of places to visit in Mexico, the higher price tag is worth it.
There are so many amazing things to do in Tulum both in town as well as in its surroundings.
From luxurious beach clubs to easy access to some of the most famous archeological sites in Mexico to natural wonders galore, there's something to do here for every type of traveler.
???? What is Tulum known for?
Tulum is known for its cenotes, its beach clubs, and luxurious party scene.
Aside from that, there are many wonderful things to do in Tulum for history and nature lovers, including some of the top Mayan ruins in Central America, beautiful beaches, and several biosphere reserves located nearby.
Moreover, thanks to its safety and ease of travel, Tulum is a great place for first-timers in Mexico.
You might also like: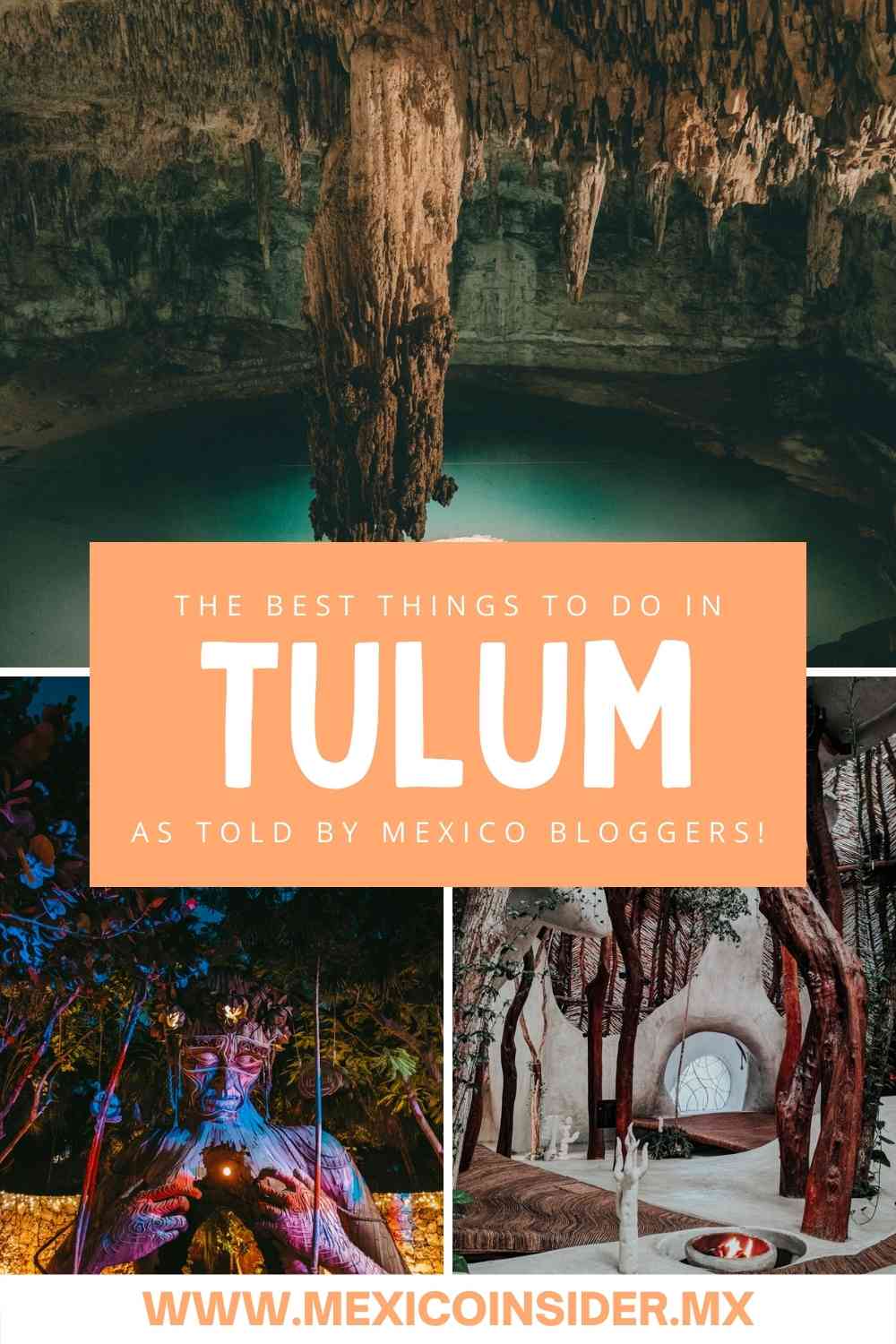 ???? Things to do in Tulum
If you're wondering what the best things to do in Tulum are, here's the ultimate list of the best activities, top cenotes, and exciting adventures to have at this seaside locale.
Don't take it from us, take it from some of the best travel bloggers out there who have spent a significant time exploring Tulum and its surroundings!
1. See Ven a La Luz
Ven a la Luz (Come Towards the Light) is one of the newest attractions in Tulum and one that has made a huge debut on Instagram.
This unique art installation was originally created by South African artist Daniela Popper for an art festival that was held in Tulum. Due to its popularity, however, it soon became a permanent display in the city. These days, you can find it inside the Ahau Tulum Resort right on the beach!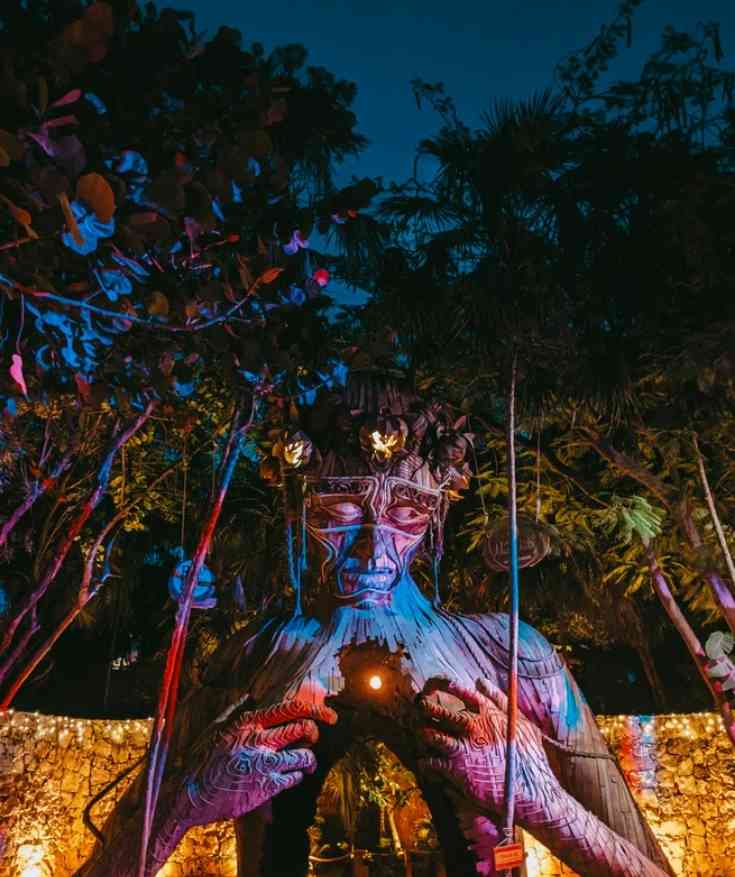 2. Check out AZULIK Uh May
Not far from Tulum downtown, you'll find one of the most interesting contemporary museums in the world: AZULIK Uh May.
The entire property is a work of art itself in the middle of the jungle, you can also spend several hours admiring the world of some of the best contemporary artists around the world here.
Pair your visit by making a reservation at Jungle Cuisine by AZULIK, a state-of-the-art restaurant on the property where you can taste Mexican haute cuisine by chefs Rogelio Gorozpe Lomán and Santiago Conde Valdivia inside an intimate setting.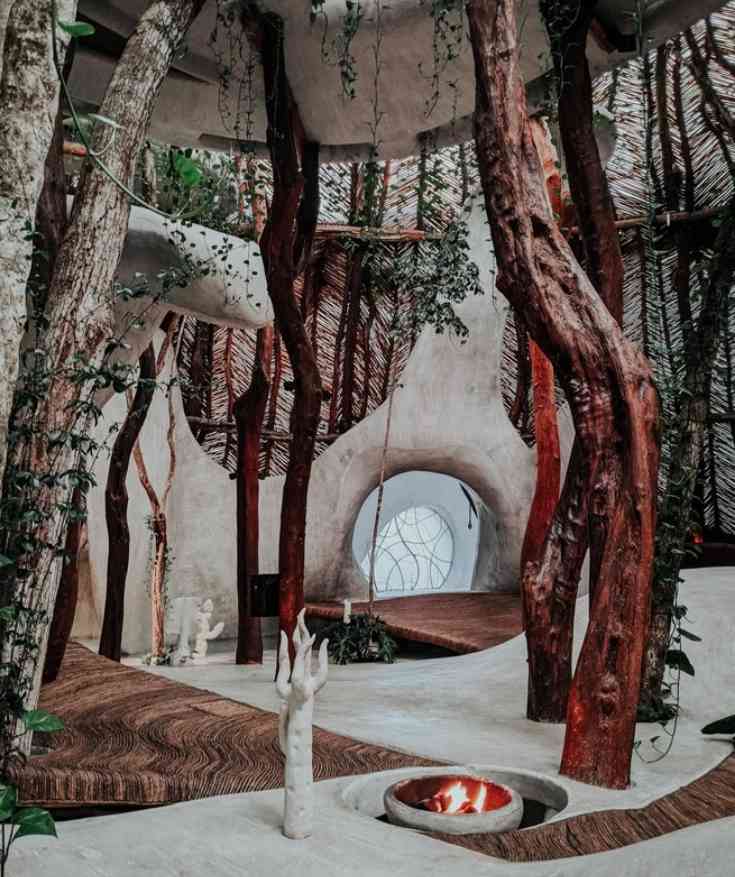 3. Grab a bike and explore
With easy-to-navigate roads that go right by the beach and are usually shaded by the jungle, exploring on a bike is one of the best things to do in Tulum.
Most hotels and Airbnbs in Tulum offer free bikes for guests, but you can also find plenty of bike rental shops all over downtown in case yours doesn't.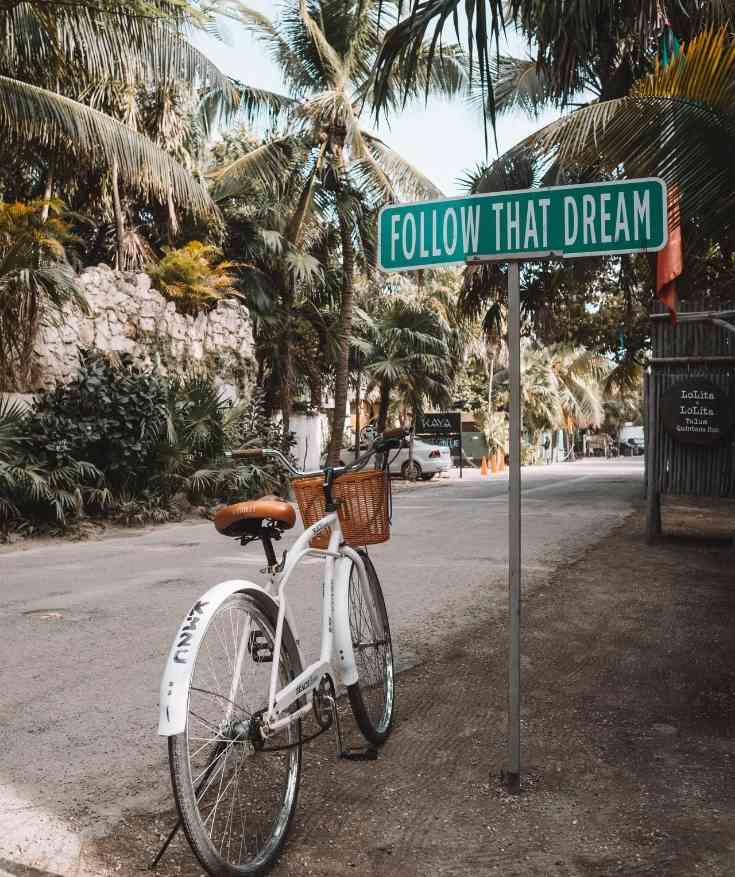 4. Explore the underworld of Tulum
If you're a diver, one of the most interesting things to do in Tulum is going cave diving inside cenotes and underwater rivers.
Tulum offers some of the most unique underwater experiences in the world. While exploring the town is amazing in itself, there's so much more to be found under its waves.
If you're a scuba diver, you have to go cave diving in a cenote or two (a must dive is The Pit and another one you can't miss is Temple Of Doom). Moreover, you can spend the day diving down to an underwater river (yes, it's a thing!).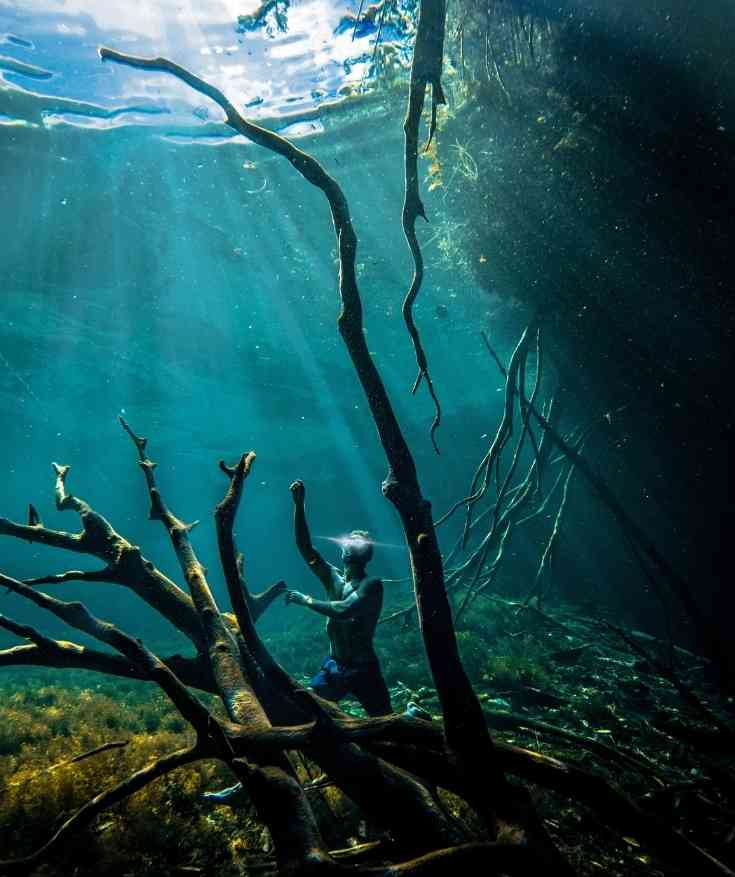 5. Hit a beach club
Tulum is king when it comes to fabulous beach clubs, and if partying it up is part of your itinerary, you can't miss out on visiting at least a few of them.
Some of Mexico Insider's favorite Tulum beach clubs include Taboo Beach Club (or absolute favorite but it's definitely on the higher-end price), Casa Malca (set inside one of Pablo Escobar's old vacation homes), Papaya Playa Project, and Mia Restaurant.
All of these beach clubs in Tulum guarantee an extremely good time, but make sure to make advanced reservations and get prepared to spend.
6. Party at Bonbonniere
Despite having a thriving party scene, there aren't many proper nightclubs in Tulum. This changed back in 2021, when Bonbonniere, a branch of Mykonos' most exclusive club opened its doors in Tulum.
As a note, this is an elegant dance club and formal attire is required.
???? Tip: Bonbonniere is right in front of Bagatelle, so you could start pre-drinking at Bagatelle and cross to Bonbinniere right afterward!
7. Visit a FREE Cenote!
Submitted by Katie from Katie Caf Travel
Tulum and "free" don't usually go in the same sentence, that's why it's so amazing that there are still uncommercialized cenotes left in Tulum in 2022.
The word Cenote (pronounced seh-NOH-tay) is actually Mayan for "sinkhole". Cenotes are naturally occurring swimming spots that can only be found on the Mayan Riviera.
Thought to have been produced as an after-effect of the asteroid which killed the dinosaurs hitting earth 66 million years ago.
Today, Cenotes are world-renown for their Instagramability and can cost over 500 pesos ($24) for an entrance fee!
The last free cenote in Tulum is Cenote Aldea Zama. Named after the area of Tulum it's located in, the Aldea Zama residential area, Cenote Aldea Zama is hidden amongst hundreds of new condominium developments.
Since Cenote Aldea Zama is 100% uncommercialized, there are no set hours. Get there as early as possible to avoid a crowd since it's a very popular spot with Tulum locals.
You can find Cenote Aldea Zama by its location marker on Google Maps, there are no street signs but it's located next to Kokoro Tulum restaurant.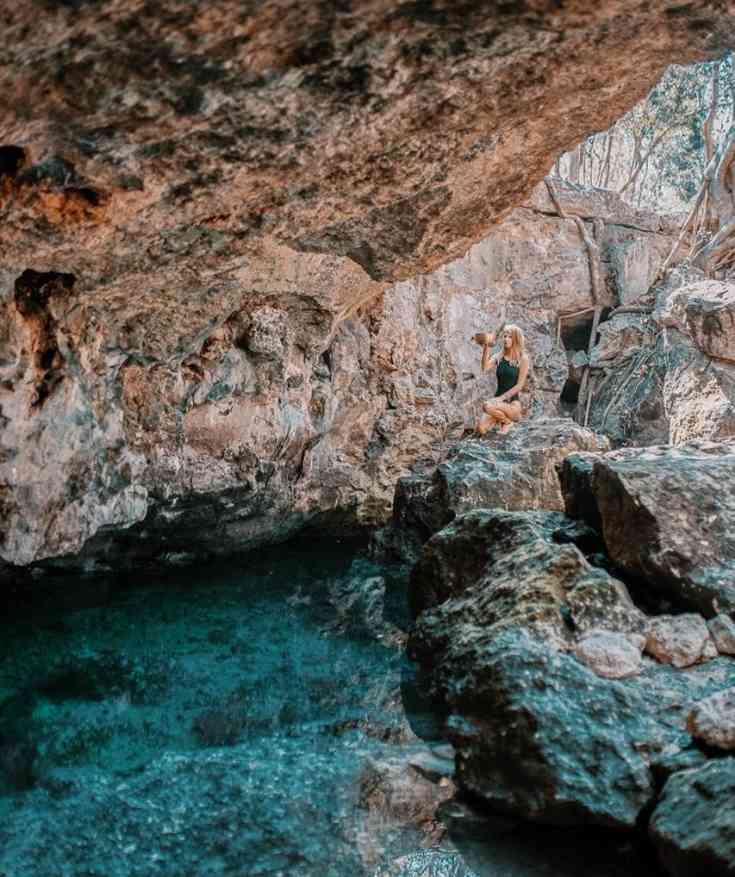 8. Explore the Tulum Archaeological Site
Submitted by Sean from Living Out Lau
There is no sight more famous in Tulum than its own ruins, the Tulum ruins.
Perched over a hill on a beach of the Caribbean Sea, Tulum ruins encompass everything this Mexico destination stands for – culture, beach, and wildlife.
The Tulum Ruins were one of the last settlements built by the Mayans. Historically, Tulum was a bustling trading hub and a religious center, with trades reportedly coming from Central America and as far as South America.
This position of prosperity led them to create the Tulum ruins, which were actually a fortification back then, as evidenced by the 7-meter thick walls.
Nowadays, anyone can visit Tulum Ruins, but just make sure you are prepared because it is so exposed to the elements. If you are visiting Tulum in the summer, then you might need to bring lots of water and sun protection.
If you are lucky, you might even see one of a Black Spiny Tailed Iguana resting on the ruins, posing for the perfect photo with the beautiful Caribbean waters as the backdrop.
9. Cenote Corazon del Paraiso
Submitted by Isabella from Mexico Cenotes And Ruins
At only a 10-minute drive from Tulum Pueblo, you will find the pretty cenote Corazon del Paraiso, well hidden in the lush Mayan jungle. A beautiful open cenote shaped like a heart, hence the name Corazon which means heart in Spanish.
It's one of the most recently opened and yet one of the most frequented and loved by any kind of traveler.
Divers appreciate its beautiful underwater landscape with hooks and caves, while individual travelers solo or in groups enjoy laying on the wooden platforms and relaxing by the water.
You can easily access the water by the wooden stairs or, for the more adventurous, jump from the 2-meter platforms. In Cenote Corazon ha you will find the following facilities:
Showers

Toilets

Mask rental

Snorkel rental

Life Jacket Rental

Tables and chairs around the cenote garden
The entrance fee is 150 MXN per person and the opening hours are from 9 am to 5 pm.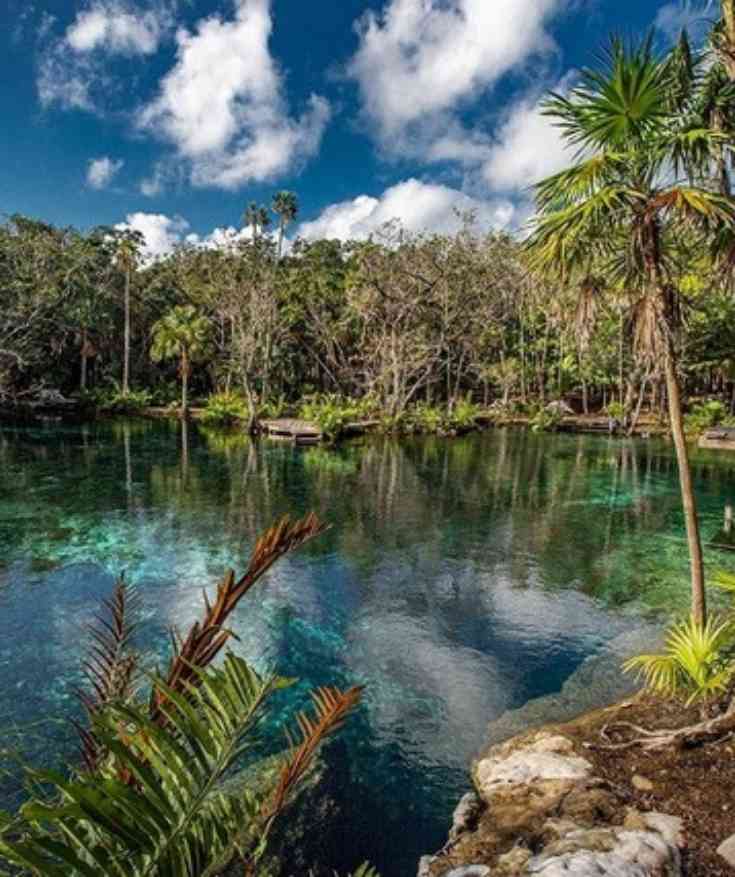 10. Visit Casa Cenote
Submitted by Steph from A Nomad's Passport
While it is not a hidden gem in Mexico, there is no denying that visiting Casa Cenote is one of the best things to do in Tulum. After all, this cenote is surrounded by mangroves, which makes for a unique experience.
There is a small current, and as it is connected to the ocean through a cave, it is possible to encounter ocean fish within the cenote.
You can either swim, snorkel, scuba dive, or even kayak in Casa Cenote, so it offers an activity for every taste.
Just know, that it is best to wear a life jacket if you are not a strong swimmer, as the cenote is rather long and oftentimes 4 meters (13 feet) deep.
The entry fee for snorkelers is 150 pesos and 200 pesos for divers. There is an additional fee if you want to bring a camera. Snorkeling gear and kayaks can be rented on location.
Casa Cenote is located 11 km (6.8 miles) north of Tulum, so it is best to drive there yourself, to take a taxi, or to take a colectivo that can drop you off an 18-minute long walk away from the cenote.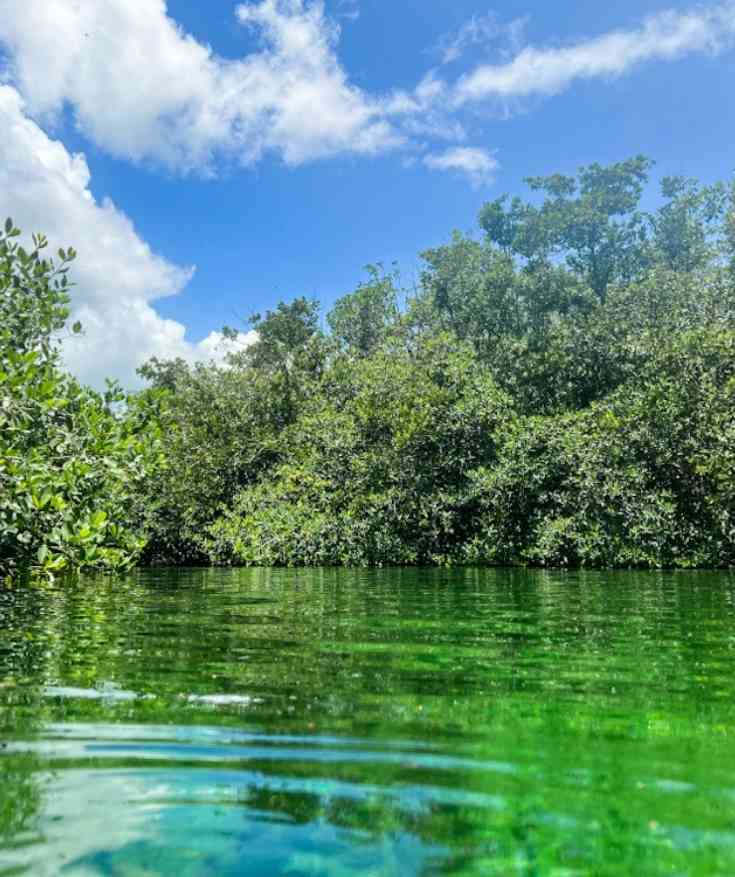 11. Take a day trip to Valladolid
Submitted by Shelley of Travel To Merida
Valladolid is one of the best pueblos magicos (meaning "magic towns") in Mexico. It is located about one hour from Tulum by car or bus, and makes for a great day trip.
While Tulum is the ideal place for lazing on the beach and enjoying some sun and fun, it may lack a bit of culture for some travelers. If it's Yucatan culture and an authentic feel you're after, don't miss Valladolid.
There's so much to do in this small town! Start your day in the Valladolid Zocalo, which is the main square.
It is the central hub of activity in town, with shops, restaurants and sites you won't want to miss, like the Iglesia de San Servacio Church.
Next, head to the Calzada de los Frailes. This is one of the most colorful streets in town, and very popular for shopping, taking photos and getting a quick bite to eat.
You can head to KUXTAL México to buy handmade souvenirs, and enjoy some food in their on-site cafe.
At the end of the Calzada de los Frailes, there's the 16th Century Ex-Convento de San Bernardino de Siena. This is one of the oldest Fransiscan convents in the Yucatan Peninsula.
After some time strolling around town, head to Cenote Zaci. This cenote is located in Downtown Valladolid, so you can walk there.
The admission is $30 MXN pesos (US$2), but you get free admission if you eat at their on-site restaurant.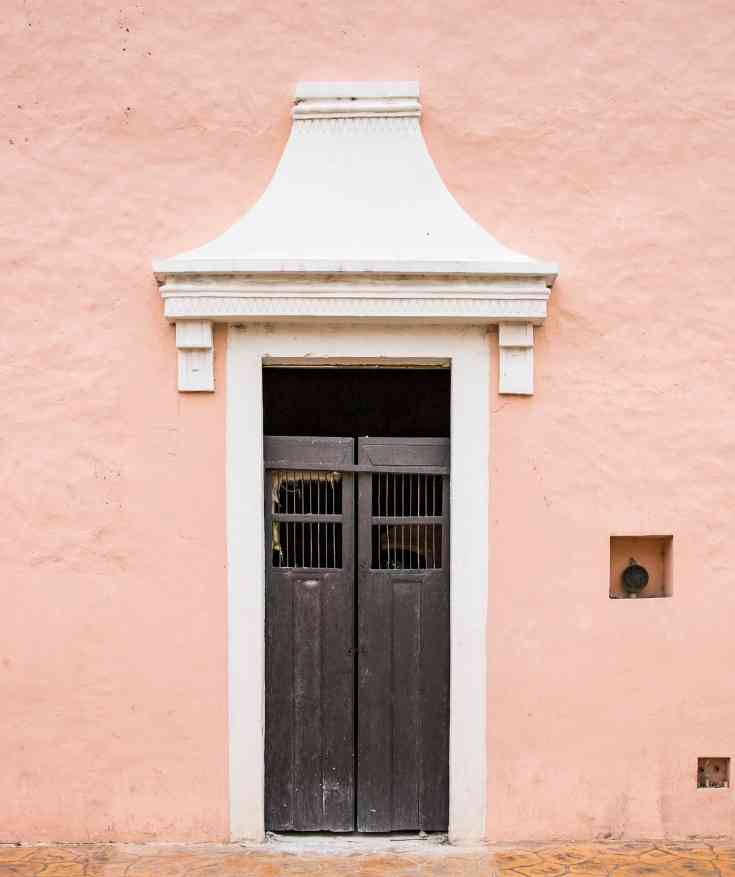 12. Sian Kaan
Submitted by Isabella from Let's Travel To Mexico
Among all the natural wonders that you can visit in Mexico, the Biosphere of Sian Kaan is one of the unmissable things to do in Tulum without any doubt.
It is in fact the 3rd largest natural protected area in Mexico, and a Unesco world heritage site.
It covers an extension of more than 600 thousand protected hectares including land, lagoons, ocean, sinkholes, mangroves, and wetlands and it's home to 9 different ecosystems and a wealth of flora and fauna.
There are so many ways to visit this magnificent reserve, and you can find many organized tours that will take you there either by boat or by jeep.
But, if you are feeling adventurous you can drive on your own all the way to Punta Allen and take boat tours from there.
Or you can drive to Muyil about 20 km from Tulum where local certified guides will take you on a boat trip navigating through the canals that were used by the Mayans in the past to get to the Caribbean sea in their wooden canoes.
No matter how you decide to visit the Biosphere of Sian Kaan you will give yourself the chance to spend a day immersed in nature in close contact with the local wildlife, including seeing dolphins, if you are lucky.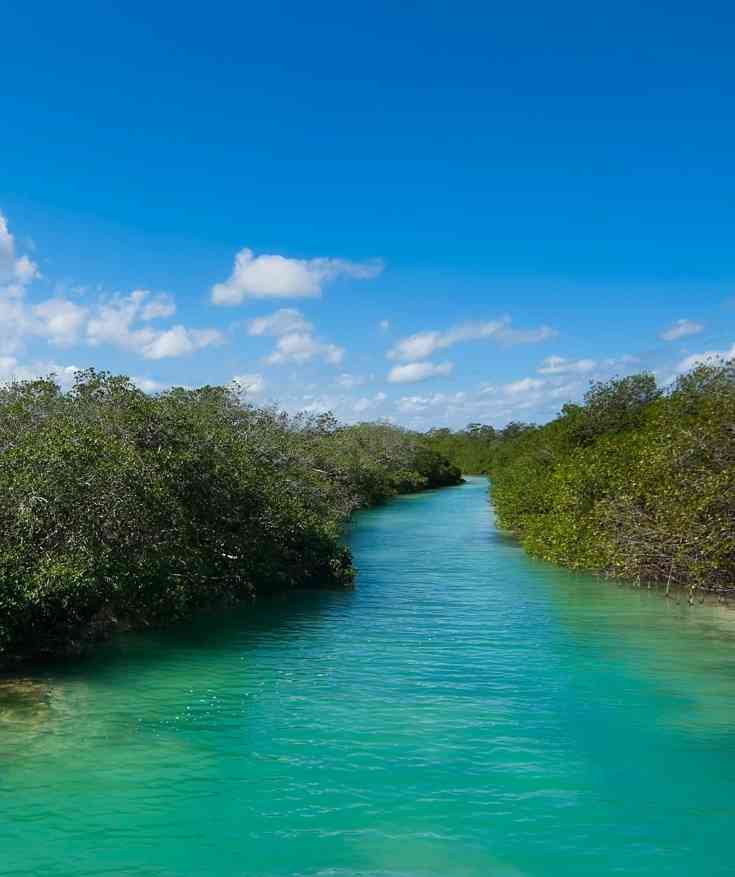 13. Eat all the street tacos
Submitted by Shelley of Travel Mexico Solo
There's no shortage of great places to eat in Tulum, that's for sure. However, most of them don't come cheap. When you want cheap eats in Tulum, you have to head to the street tacos stands.
Among the best places to eat street tacos in Tulum, there's Taqueria Honorio and Taqueria La Chiapaneca.
Taqueria Honorio is open during the day only, so it makes for the perfect place for breakfast, brunch or lunch. They serve so many great types of tacos, but don't miss the local Yucatan specialities, like cochinita pibil, lechon, relleno negro and poc chuc. Most tacos cost just $25 MXN pesos ($1 USD), so you can try a few.
Taqueria La Chiapaneca is a late-night spot for tacos al pastor. These are the most famous of all the different tacos you can get in Mexico. After checking out some of the bars in Downtown Tulum, head to Taqueria La Chiapaneca, where the locals go for their taco fix.
While they may not have the Instagrammable Tulum aesthetics, these are the places to go to eat the most authentic Mexican tacos in town. As Tulum is getting more and more expensive, you can always count on street tacos as a way to get a delicious meal for just a few dollars.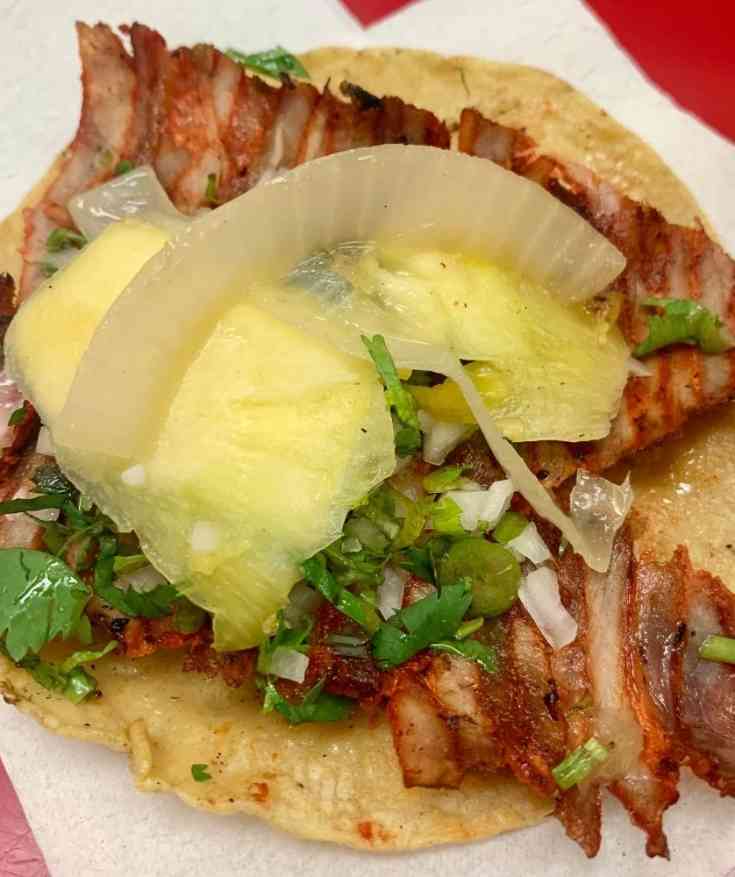 14. Day trip to Chichen Itza
Submitted by David & Intan at The World Travel Guy
During ancient times, Chichen Itza was one of the biggest and most important cities for the Mayan civilization, so these ruins are a great day trip from Tulum.
Even though you can't climb the main pyramid anymore, it's still a spectacular wonder of the world!
This is a great day trip for solo travelers, couples, and families alike. There is an entrance fee for Chichen Itza (currently 538 pesos for adults) but it can still be fairly economical to visit compared to other world monuments.
Many people go from Cancun to Chichen Itza, but it's also easy to visit it from Tulum or Playa Del Carmen.
These ruins are located near the center of the Mexican state of Yucatan, at a distance of about 150 kilometers (95 miles) from Tulum.
For solo travelers, the most economical way to get from Tulum to Chichen Itza is to take the ADO bus. If you're traveling in a group, renting a car and driving can also be very cost effective.
Last, but not least, the easiest way to visit Chichen Itza from Tulum (or from elsewhere in the Yucatan peninsula) is to join a group tour or book a private tour, and lots of options for this are available!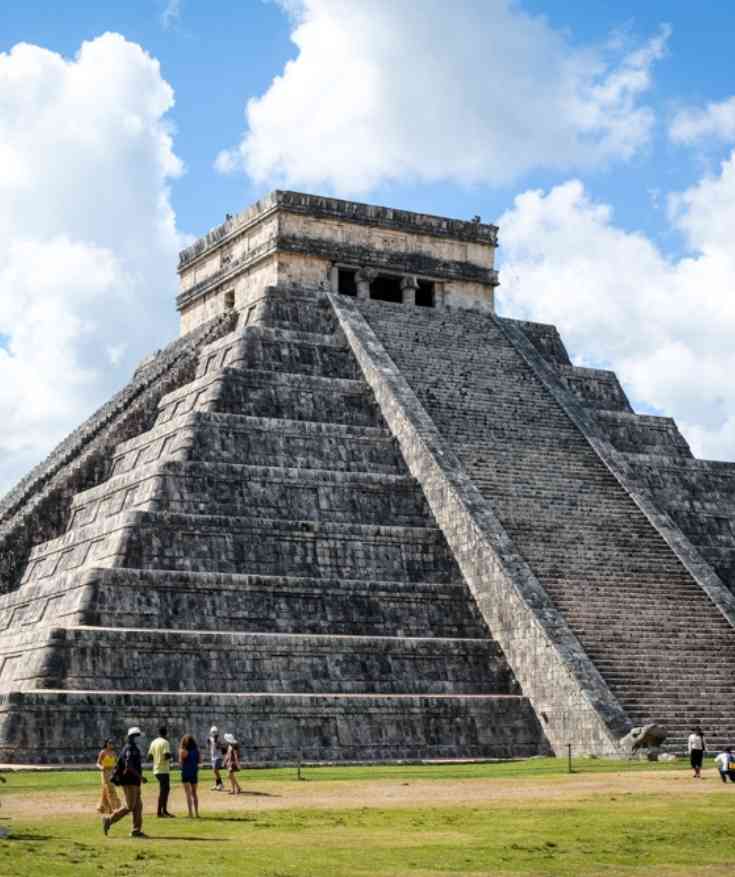 15. Visit Cenote Saytun
Submitted by Bradley from Dream Big, Travel Far
A day trip to
Cenote Suytun
has to be one of the best things to do when you're in Tulum. It's a fantastic break and offers a stunning view! Only 1 hour and 15 minutes away, this cenote is well worth a visit no matter who you are—solo travelers, couples, or families.
Pose on the famous photo platform in the center of the cave structure, where an opening above lets in a stream of light for the most wonderful shot. If you want to take crowd-free pictures, try to come early when it first opens!
It costs 150 pesos for an adult ticket and 100 pesos for children, and it's possible to swim here as long as you wear the provided life jacket. Some of the on-site facilities include a toilet, shower, souvenir shop, and a few restaurants.
Overall, the nicest time to enjoy Cenote Suytun is during the dry season, which is around December to May.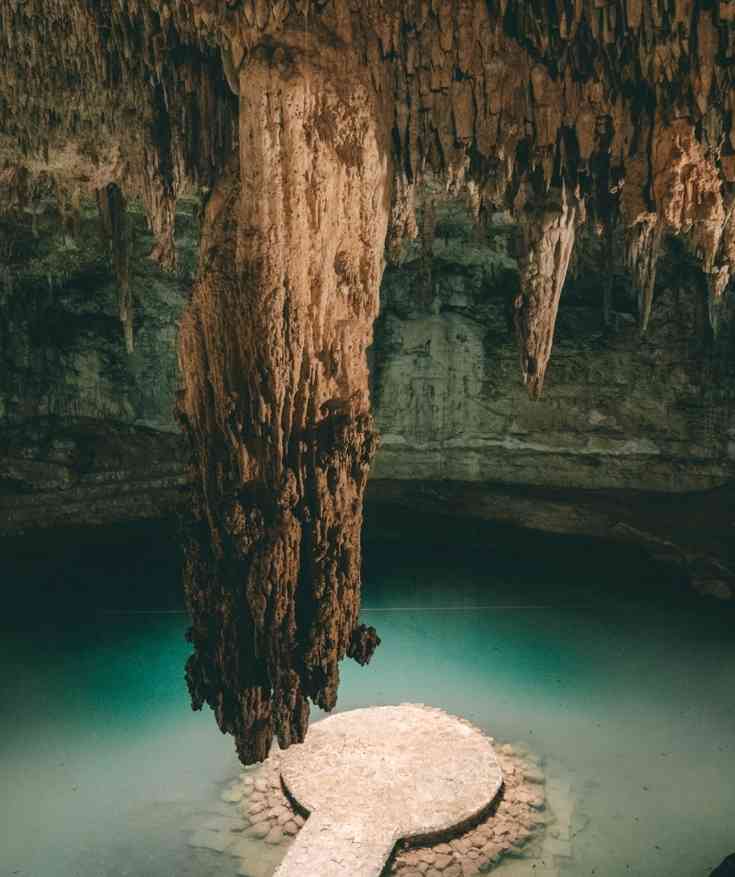 16. Gran Cenote
Submitted by Jessica from the Uprooted Traveler
Gran Cenote is one of the most easily accessible- and stunning- cenotes near Tulum. This cenote is actually composed of two sunken pools.
There's a larger and deeper pool with enormous stalactites and stalagmites, which form incredible light rays underwater, and is ideal for snorkeling.
If you swim through a short tunnel, you'll then reach a much smaller, shallower pool where you can simply relax and wade around.
While the cenote's turquoise waters are beautiful in and of themselves, the wildlife here makes Gran Cenote even more special- you'll find tons of tiny turtles, blue crabs, and small fish swimming around you.
For even more wildlife, head back to the aforementioned tunnel connecting the pools- there will be hundreds of small chirping bats flitting around!
Even Gran Cenote's grounds are quite beautiful, perfect for stringing up a hammock and relaxing in the sun until you're ready for a second dip in the cenote.
Perhaps because of its beauty and the proximity to Tulum, admission here is definitely on the steeper side US$25.
However, you will get a complimentary snorkeling set, life jacket rental, and the opportunity to experience one of Tulum's most beautiful natural settings!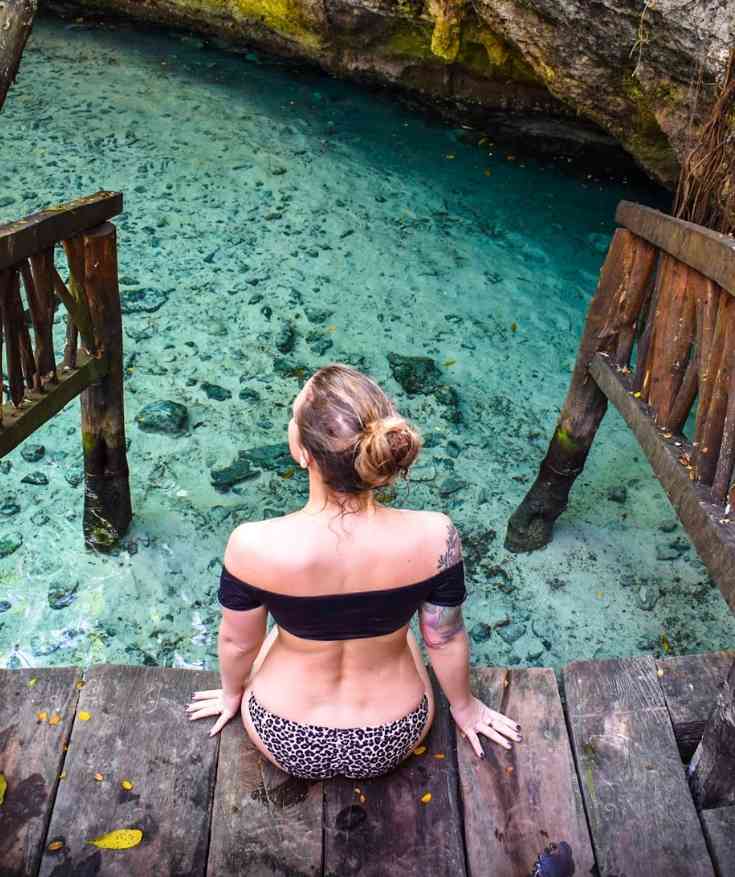 ✈️ Ready for your trip to Tulum? If you need more information about the best things to do in Tulum, we'd be happy to update this post – just leave your questions below!
Marianela Clement is a Swiss-Argentine marketing expert who moved to Mexico in 2017. She has lived in Queretaro for 4 years, traveling and working around Central Mexico. In 2021, Marianela decided to move to Tulum, and up until today, she is enjoying the joys of living in Tulum, Mexico.