Looking for the best Sayulita tequila tasting? Let us introduce you to David, a Sayulita local who has opened his own business during the pandemic. At Mexico Insider, we make sure to support locals, and we want to tell their stories!
David hosts Mexico Insider's newest TV show, Legendary Eats, where he goes around town trying the unique eats. We've known him for a while and we are personally close to him.
He is very outgoing, and always has that big smile on his face waving around town like the mayor. Everybody loves him. This is David and we'd like to inspire you with his journey to creating his own path.
If you have been to Sayulita, you've had a drink served to you by this well-known barman at either Don Patos or Cava.
Voted the Best Bartender in "The Best of Banderas Bay and Riviera Nayarit Reader's Choice" in the Vallarta Tribune, David is well-known for his inspiring energy, friendly smile, and delicious cocktails.
🔗 Book a tequila tasting in Sayulita
👋 Sayulita tequila tasting: meet your expert
David was born and raised in Mexico City where, before moving to Sayulita, he worked as a graphic designer for Fortune 500 companies. He first came to Sayulita in 2000 to visit his sister, who is a long-time resident of Sayulita.
He fell in love with the chill vibes, kind people, and fun nightlife and in 2014 he decided to pack up his car, leave the big city and drive straight to our lovely seaside pueblo.
David is a wealth of knowledge of Sayulita since he has done literally every job from working as a receptionist at the local co-working space to a property manager of some of the biggest villas in town.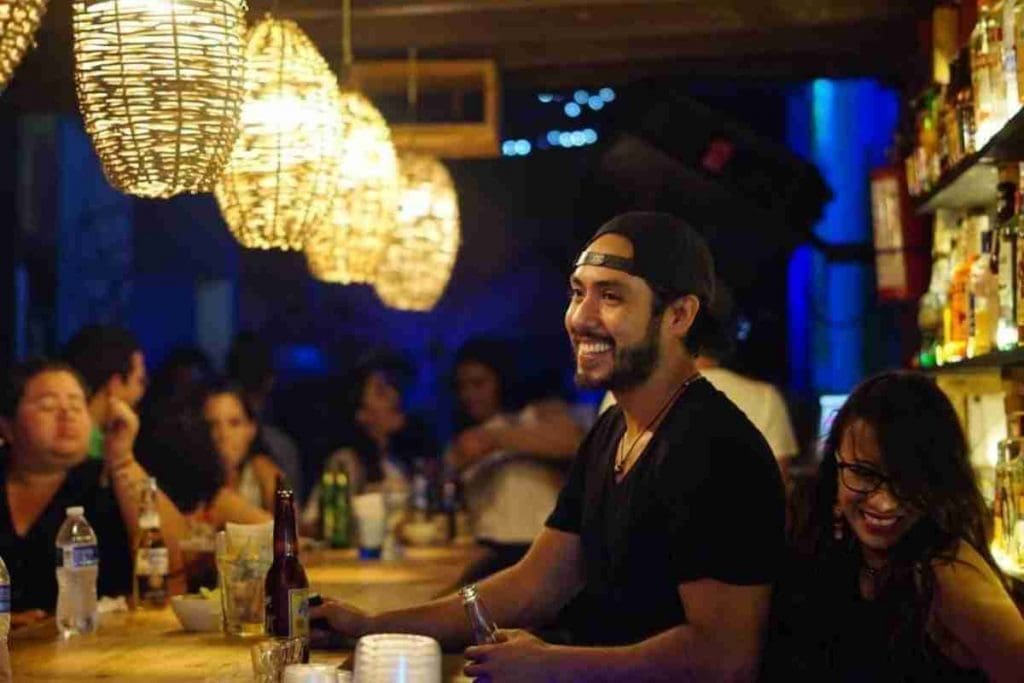 He found his true calling when he began working as a bartender at Don Patos and Cava. There, he received his mixology certification and became a living encyclopedia on agave distillates.
David's favorite part of his job at Cava is creating craft cocktails and sharing his wealth of knowledge about tequila's delicious smokey cousin, mezcal. This was where David's company was born.
He wanted to bring the knowledge he was sharing at the bar to people's homes and villas to give them a private lesson on all the different agave distillates (Tequila, Mezcal, and Raicilla).
📜 How David started his Sayulita tequila tasting business
In March of 2020, COVID-19 shut down the world along with all of the bars and restaurants in Sayulita. Instead of looking at this as a devastating time with no work, David took this as an opportunity to build on his own brand and services business.
His business began by responsibly bringing the experience of the bars and restaurants to the homes and villas of people visiting during this wacky time.
David and his team come to people's homes, hotels, or villas (with masks and gloves of course) and create experiences including private bartenders, chefs, fire dancers, and even a tattoo artist. This is where his business slogan, "We bring the experience to you", originated.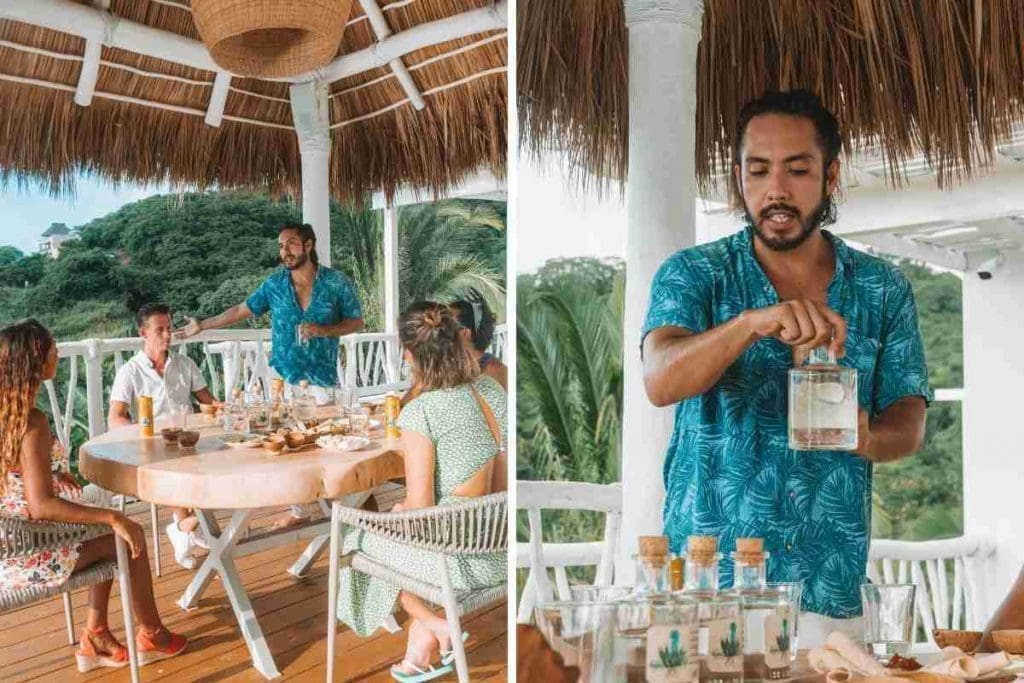 The most unique and popular experience of this company is the 90-minute private Sayulita tequila tasting sessions and agave distillates. All of the tequila, mezcal, and raicilla served by David are made in small batches from family-run producers using organic agave. No Jose Cuervo served here folks!
There are many Sayulita tequila tasting companies in the bay, but David's tasting stands apart as they serve small bites of food from the regions of the featured agave elixir.
For instance, the tasting of a reposado tequila comes with a tiny birria taco, a dish common to the region where tequila is produced. The most popular tasting of mezcal, comes with bites of black beans, grasshoppers, mole sauce, locally produced-chocolate, and citrus fruit.
🍹 Best Sayulita tequila tastings
This is a special trip for those who are curious to know the types of alcohol distilled from agave that are not as famous as mezcal and tequila.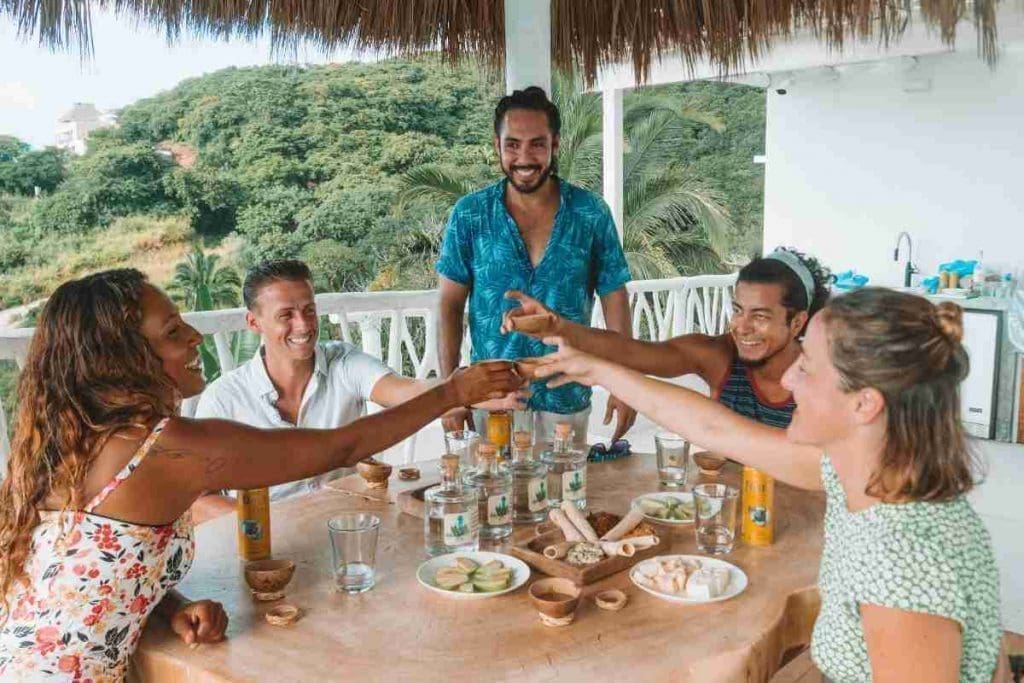 Raicilla is from the state of Jalisco. The types of raicilla in this tour are: tuito, estancia, puchiteca, volcanoes, and mascot.
Mezcal Tasting (Tastes of Mexico)
This tasting will take you through a tour of Mexico by tasting mezcals from the different regions of this country.
This tasting will include: papalometi (Puebla), espadilla lemon tea (Puebla), salmiana (San Luis Potosi), Cenizo (Durango), Cupreata (Michoacan), and sotol (Chihuahua).
Mezcal Tasting Experience (Viva Mexico)
For the more adventurous, David offers a special experience in Sayulita's favorite watering hole, Cava.
This experience is for 2-15 people and gives you the opportunity to taste any mezcal you want from their extensive supply, accompanied by bites from the regions of the mezcals you choose.
Private Mezcal and Raicilla Tasting
A private mezcal and raicilla tasting can be done with a minimum of 2 people and a maximum of 20. Four to five different types of mezcal will be served in a traditional jicara, a natural cup made from the bark of the guira fruit.
This earthware gives you the ancestral experience of tasting the aromas and flavors of mezcal. To better understand the intricate and vast world of mezcal, see below the different types of tastings tailored by David.
Oaxaca is the largest producer of mezcal. Due to Oaxaca's geographical location and climate, this region is rich in varieties of wild agaves. David will let you try 4-5 wild Oaxacan mezcals on this tour.
✈️ Sayulita Travel Guide
Hailey is an American-Mexican who has been living in the Riviera Nayarit area for many years. She is a marketing expert and an entrepreneur who left her life in Colorado for a great quality of life in Mexico.