Staying in Sayulita hostels will save you money and allow you to meet other like-minded travelers, especially if you are traveling alone. Here are our top pick for the best hostels in Sayulita, Mexico.
There is a sense of belongingness in the town's culture, and you will often see that when you decide to stay in hostels in Sayulita. All guests do activities together including surfing, cooking, nightlife activities, etc.
We always get inquiries from solo travelers regarding where to stay as a solo traveler, and here are our top picks for the best Sayulita hostels (with prices and location overview)
Plan your trip to Mexico with us! Get expert travel advice and customized trip-planning itinerary from our local experts on the ground.
✨ The hostel culture in Sayulita
The most popular accommodations in Sayulita are rental/vacation homes and this is the reason why you only see less than 10 hostels in Sayulita.
It isn't as popular with solo travelers yet but it should be because I feel like this is the most-friendliest destination in Mexico for solo travelers – it's super easy to come here by yourself and gain 10,000 friends by the end of the trip.
Most of these hostels also accept volunteers (in exchange for food and accommodation). Volunteer travel is popular with backpackers and long-term travelers who are traveling around Mexico for indefinite amounts of time.
I recommend using Worldpackers to get volunteering gigs in Sayulita – there are many options here and are not limited to hostels only.
In the years to come, we are predicting more Sayulita hostels will be built as the town continues to grow and expand.
💲 Are hostels in Sayulita expensive?
The typical cost of hostels in Sayulita starts at US$15 per night (for a bed in a dorm). The dorm types usually vary but since these hostels are small, they don't really have dorms of more than 20 beds.
I understand that not all of us are comfortable sharing a dorm with other people but also want to be in an environment where there is room to meet other travelers.
Luckily, some of these Sayulita hostels also have private rooms for US$30 which is a good option if you really want to socialize but do not want to share rooms and bathrooms.
🗺️ Map of Hostels in Sayulita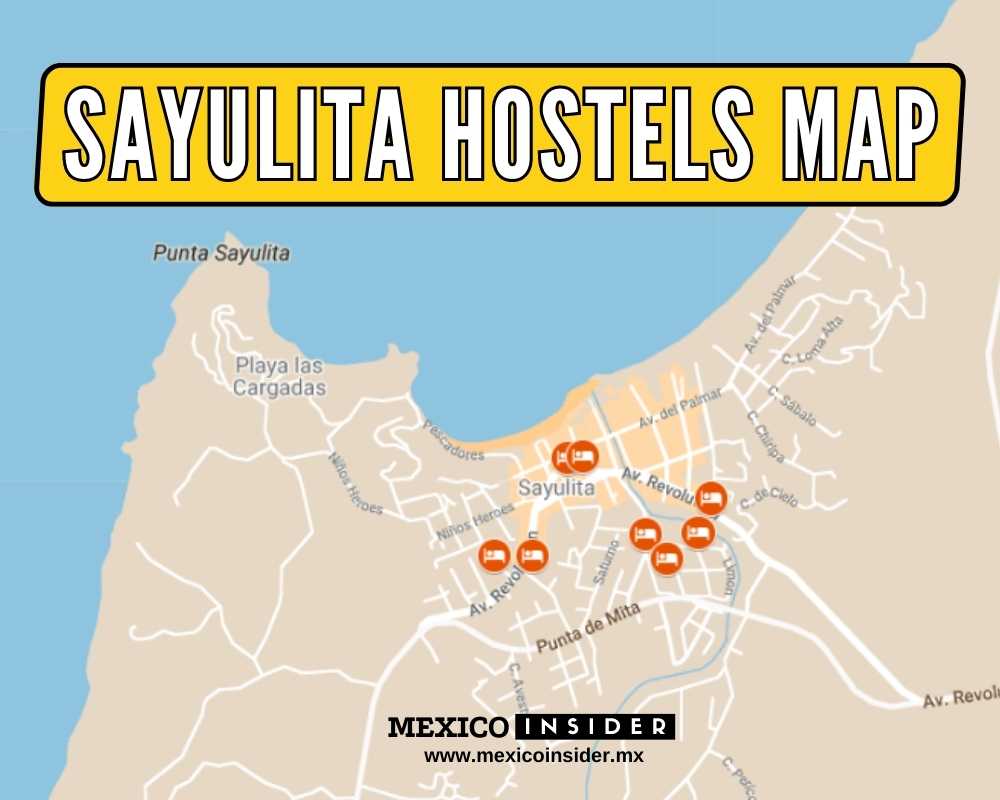 👉🏽 Open this Sayulita hostels map in full view
🛏️ Best Sayulita hostels
Sayunique Boutique Hostel
💲 dorms from $20 USD; private rooms from $70 USD
The newest hostel in Sayulita, Sayunique boasts a unique interior design for small spaces. This hostel is small which makes room for more social interactions.
Sayunique is located in a safe and convenient area, close to sights and amenities that you want to access during your stay. Plus points: it's really close to the bus station!
Hostel Tortuga
💲 dorms from $15 USD; private rooms from $80 USD
What we love about Hostel Tortuga is the large spaces for a good value for money. It is a social hub with many group activities but can be relaxed and quiet.
It's about a 7-minute walk from the Sayulita plaza (where the action is). While 7 minutes is already a long walk for a small town in Sayulita, this location is excellent for those who want a hostel that is outside of the bustling nightlife.
Which absolutely means you can get a good night's sleep. Just note that the Tortuga area is a residential area for locals so expect Mexican neighbors and behave accordingly.
La Redonda Sayulita
💲 dorms from $15 USD; private rooms from $30 USD
In the center of Sayulita lies La Redonda, a hostel that provides evening entertainment and weekly barbecue days for its guests. Built in 2015, La Redonda is considered a great surf hostel and suitable for young digital nomads who love sea adventure.
Sayulita is a popular surf spot so if you are into surfing and meeting people, La Redonda does classes and trips with all the guests!
The hostel features a bed dormitory and a private room. There's a shared kitchen and wifi in common areas. Daily breakfast, coffee service, and water refill are available and included in your stay.
Close to the downtown center, the location of La Redonda gives you convenience. There are bars, restaurants, and shops around the area within walking distance.
A comfortable place for socialization, this hostel has a shady garden and a hammock area where you can converse with other guests and short-term travelers.
It is just 100 meters from the beach, that's amazing for communal interactions. You can look forward to karaoke nights, sports games, and card tournaments.
Selina Sayulita
💲 dorms from $15 USD; private rooms from $60 USD
Selina hostel is an affordable place to stay with a pool, in-house restaurant, and coworking space. You can choose to stay in comfortable shared dormitories or private rooms.
Selina Sayulita hostel is on the beach with easy access for those who want to explore nature and all that this wonderful region has to offer: beaches, food, social events, ruins close by, and much more. Moreover, it's centrally located, making it good for moving around the town.
There's a fantastic pool area for hanging out with others or lounging around. Meditation, surf classes, live night music, guided tours, and mezcal experience await you here at Selina Sayulita. The restaurant serves continental breakfast. Bicycle hire is available, and wifi is free.
The Amazing Hostel Sayulita
💲 dorms from $17 USD; private rooms from $45 USD
What to love: Forget the typical and mundane hostel. Here at The Amazing Hostel, you'll enjoy a combined experience of physical adventures and simple relaxation.
Guided jungle treks through the region's dramatic landscape–beautiful waterfalls in this scenic area are just close by. It features amenities, like air-conditioning, a fully equipped kitchen, cozy terraces, an outdoor pool, barbecue facilities, and wi-fi throughout the hostel.
There are shared dormitories, private rooms, a studio, and a family room to choose from depending on your need.
Location: It's just a few minutes away from the city center so access to other restaurants, cafes, bars, plaza, bus stop and shops is within easy reach.
Social activities: This hostel is managed by a Mexican family. The vibe is homey and comfortable. Even if it's not a party hostel, it's a place where you can have a good recreational holiday and discover what Sayulita has to offer. There's even a climbing wall set in the garden for those with energy to spare!
Local tip: Right next to The Amazing Hostel Sayulita is Tacos Toño, a local taqueria and it's everyone's favorite!
Blue Pepper Beds Sayulita
💲 dorms from $12 USD
book your stay at Blue Pepper Beds Sayulita
What to love: Perfect for travelers looking for a no-frills long-term stay, Blue Pepper Beds Sayulita features a big room with 10 beds, a bathroom, and toilet, a kitchen open space, and a sun terrace.
It's a basic hotel but with a homey ambiance. It is also suitable for digital nomads as this hostel boasts a good internet connection and proper desks for virtual laptop work.
Breakfast is not included in the stay, but guests can order home-cooked meals from the in-house chef. Guests can also make use of the shared kitchen and cook what they want.
It's tucked in the center but away from the noise. The beaches in the neighborhood include Sayulita, Carricitos, and Escondida so you can expect some form of quietness and comfort. It is near to restaurants and bars.
Social activities: Activities offered include movie nights, walking tours, hiking off-site, and free biking. There's a shared lounge and TV area where guests can hang out and spend some time at.
My Sister's House Sayulita
💲 dorms from US$25; private rooms from US$65
What to love: Its laid-back charm, colorful landscape, and charming architecture cannot help but attract female travelers. What better way to ensure their safe travel experience than a stay in a hostel that is perfectly suitable for their needs!
In this category, there's My Sister's House Sayulita. It's an all-ladies accommodation that makes for the perfect seaside getaway. With private rooms, suites, and shared dormitory, to choose from with dramatic views of the bay, you'll enjoy all that this ideal location has to offer right at their doorstep.
Location: Located in a serene tropical setting but near to restaurants, bars, and clubs, this hostel is just less than 10 minutes away from the plaza where all activities are happening.
Social activities: Activities on the premises are plentiful. There are yoga classes, weekly excursions, meditation & Reiki sessions, surf lessons, cultural ceremonies, and creative workshops!
A working space for female digital nomads is provided. It's a fun place to meet like-minded women; the owners are very active community members and also own Buddha Beach Villa.
Viajero Sayulita Hostel
💲 dorms from US$25; private rooms from US$100
book your stay at Viajero Sayulita Hostel
If you're traveling solo, with family, or with friends, this place is full of activities and amenities for you to delight in. It's suitable for any kind of viajero.
Aside from the panoramic vista, this adults-only hotel also features a communal kitchen, a great rooftop pool with a view, a pub, restaurant, terraces, and a coworking space.
As for the accommodation choices, guests can opt between a dormitory-type room or a private one. Tranquility is what you can really expect at this property. Nothing beats a place overlooking the ocean! Make this place one of your highlights in your travel to Sayulita.
Location: Just minutes walk from Sayulita main beach, Plaza de Sayulita and Playa de los Muertos, Viajero Sayulita Hostel lets you take in the best view of Sayulita skies, sun, mountains, and the sea. It's around 500 meters away from the Sayulita Plaza.
Social activities: Viajero Sayulita Hostel offers a wide range of activities that include yoga classes, cocktail hour, evening entertainment, walking tours, live music performance, and games.
Hostal Tortuga
🇲🇽 Sayulita Travel Guide
Trisha traveled to Mexico in 2018 and after a year, she found herself obtaining a 4-year residency visa in Mexico. She is the Editor-in-chief for our Living in Mexico Series which has helped over 3,000 Americans move to Mexico with ease. Trisha currently resides in Cabo San Lucas, Baja California Sur.