I've had many Sayulita Airbnbs for the last 2 years and as a host, I honestly was confused at the pricing in the beginning.
At first, I just asked my fellow hosts about how I should price my listing, and they all said that I should just copy what the rest are doing.
Sayulita is an Airbnb paradise. Since it is already a solid brand, all hosts here people will come no matter what, meaning, we don't need to market Sayulita anymore.
Investing in vacation rentals always guarantees ROI. I even know some people here who are just 100% earning as a host (without other jobs) as the Airbnb culture here is really big.
I am currently on a pause on being a host in Sayulita because life happened and it just took so much of my time.
I have other jobs so hosting on Airbnb is just secondary for me. However, I have lots of recommendations for Sayulita Airbnbs and I've seen most of them in person.
Get access to our local travel experts who can help you with your hassle-free vacation in Mexico! Click here for more info.
💰 How expensive are Airbnbs in Sayulita?
We kind of have a reputation for being expensive when it comes to vacation homes but very few people know they can get accommodations here for under US$25 (which I will discuss later on).
To understand the prices of Sayulita Airbnbs, you need to know about our high and low seasons:
High Season (October 29 – May 30)
During this time, hosts put their listings on Airbnb at higher prices. The first wave of the high season is Dia de Los Muertos (Day of the Dead), a very big celebration in Mexico.
People flock to Sayulita because of our close-knit celebrations as some cities celebrate it on a bigger scale (like Mexico City and Oaxaca).
Christmas and New Year prices are also crazy. Believe me, when I was changing my listing prices, I also found it ridiculous but the thing is I need to follow what the others are doing.
Since Sayulita is a solid brand and everyone's dying to have a vacation here, we, the locals know that foreigners will find this cheap but by Mexican standards, it's really a lot of money.
I was even asked by one Mexican from Guadalajara to write why Sayulita is so expensive and is not affordable for nationals.
But the truth is, there are lots of factors about prices in Sayulita and I have yet to investigate that. I plan to make a full article/investigation though I already know why our town is priced this way. I just need to make it more solid.
Low season (June 1 – October 29)
Most ex-pats who live in Sayulita leave at this time because of the intense humidity. Really, if you're not used to very hot weather, don't come during the low season.
The only good thing about this time is all Sayulita Airbnbs are cheaper and the town is empty. You will get to enjoy the beaches by yourself.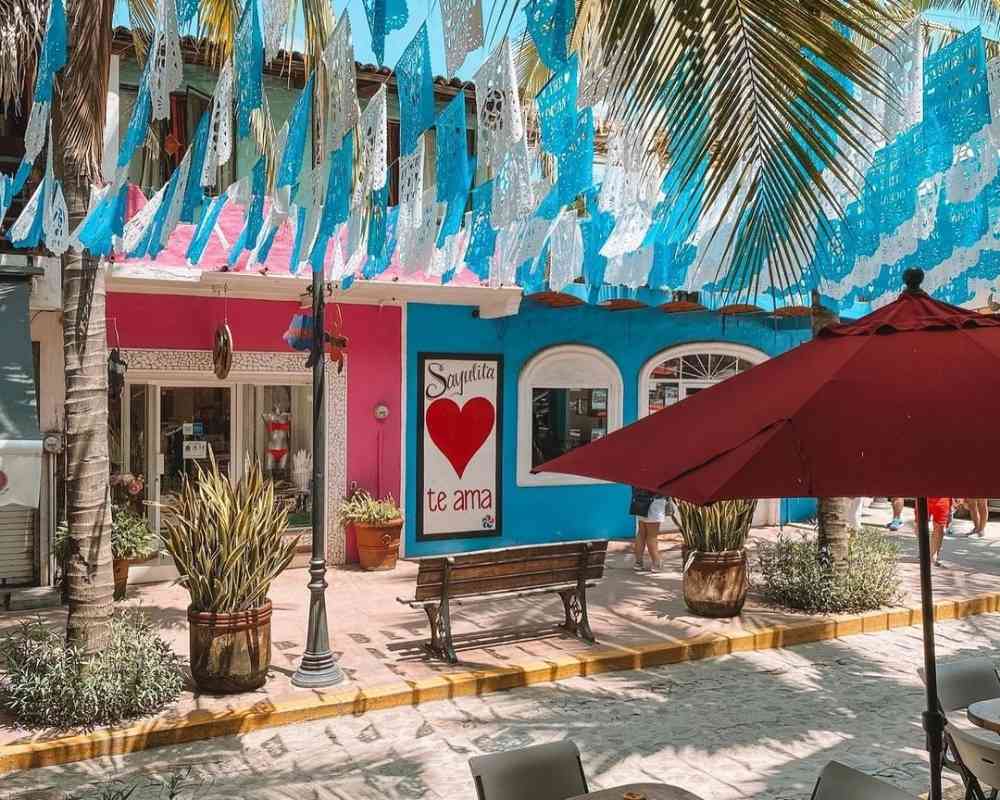 It's also my favorite since it's just us in town and we get to enjoy it for what it is. Because of the weather, some bars and restaurants also close during the low season, but other businesses that are more financially stable remain open.
🌴 What is the best area to stay in Sayulita?
The biggest Airbnb area in Sayulita is the northside area. All the great Sayulita Airbnbs are situated there. Although it's my favorite area, it's quite a walk to town and there are very few affordable options. I do like the quiet vibe though. I feel like it's always best for families and honeymooners to stay in this area.
I used to live in the Southside (Punta de Mita highway) which is about a 7-minute walk to the plaza. It's a very Mexican area and all the locals live there. Two of my ex-Airbnbs were also here since rent is cheaper.
All properties near the plaza are, of course, priced higher. Bear in mind that Sayulita nightlife happens by the plaza so if you are not a fan of bars, clubs, and loud music til 5:00 am, then don't choose accommodations here.
In order for you to know this area before booking the best home among the many Sayulita Airbnbs, just check the street name Avenida Revolucion, the main avenue of the town's center.
Overall, there are over 600 properties in our small town and since we are a walking town (yep, everything here is within walking distance), I think the only thing you have to consider when booking your vacation home is if you like the party scene or if you want to be away from the noise.
Mexican culture is normally loud (roosters, construction, etc) so expect these in our town.
🏡 Long-term rent in Sayulita: should I use Airbnb?
Most friends who visit me here book their long-term accommodations on Airbnb until I tell them not to. I think it's a lot of money even if it isn't for them.
The best way to find long-term rental apartments (especially if you are staying as a digital nomad) is to join the group Sayulita People on Facebook.
It would be very hard to join the group if you are just passing by – the admins only approve Sayulita residents but there are lots of posts there that are public.
When the pandemic started, some hosts opened the long-term rent option on Airbnb but I still find it very expensive.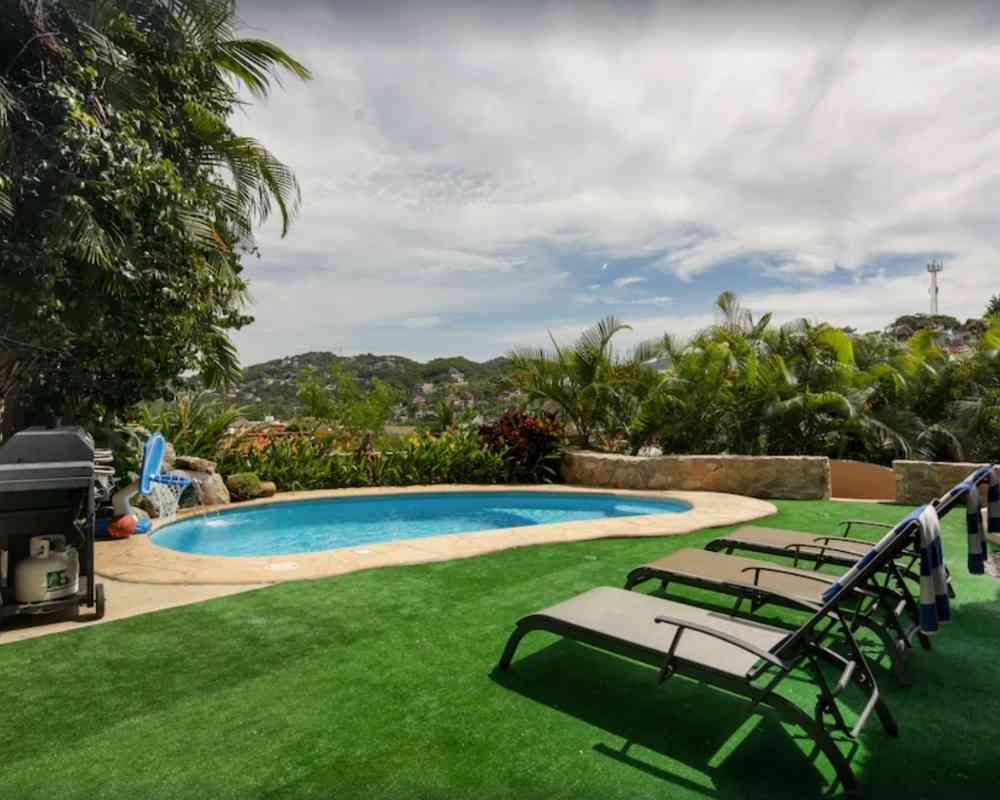 For example, on Airbnb, monthly rent is priced at $1,500 for a 2-BR house but in the house I lived in where I rented from Mexicans, for the same number of bedrooms and location quality, I only pay US$500.
The best thing to do is still to chat with locals but you need to polish your Spanish. Not everyone speaks English here.
If you're only going on vacation, below are the best Sayulita Airbnbs I recommend, together with my opinion about them.
Activities that we can bring to your Sayulita Airbnbs:
🛏️ The best Sayulita Airbnbs, vacation rentals, and Vrbos
#1: Casa Kiara
💲from US$600
🛏️ 3-BR (sleeps 6-7 people)
📍 15 minutes walk to the center
This oceanview beach house has large private spaces best for families and groups of friends. Located in the quietest part of town, the northside is actually where you can enjoy alone time on the beach, away from the Sayulita main beach crowds.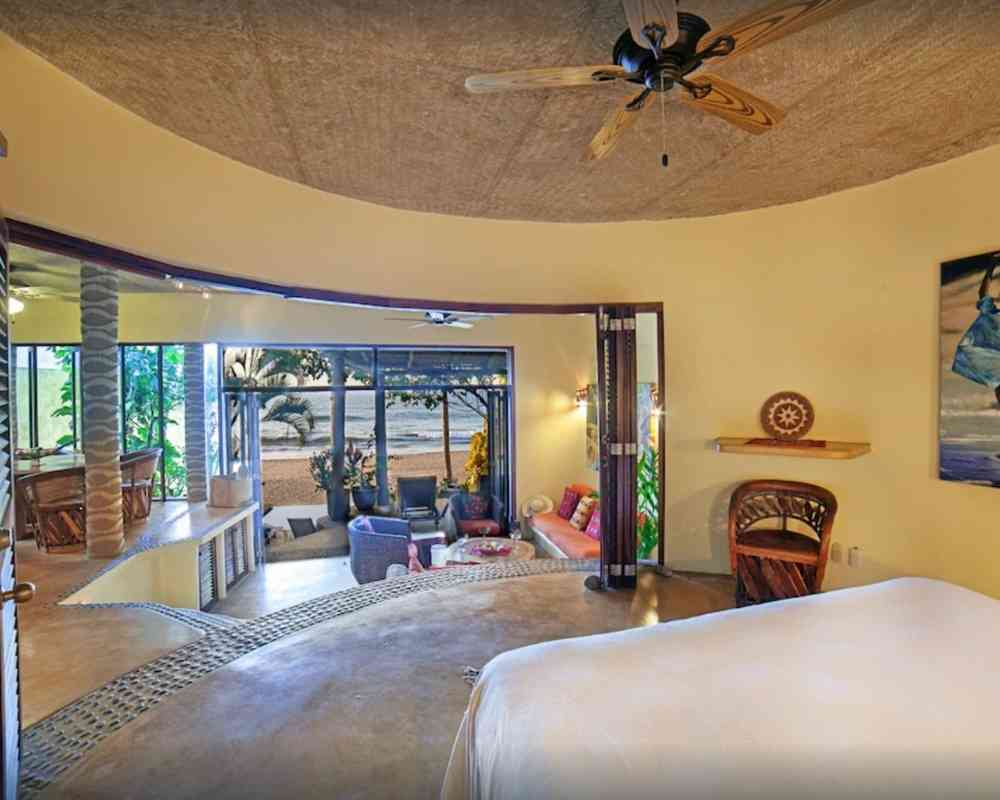 There are many outdoor common areas including a patio that has a nice view of the beach. Fresh air comes into the property and many of its amenities are in an outdoor jungle setting (like some showers and the kitchen).
👉🏽 book your stay at Casa Kiara
#2: Casa Magia
💲from US$350
🛏️ 3-BR (sleeps 6-7 people)
📍 15 minutes walk to the center
Casa Magia has a 40-foot heated pool overlooking the jungle and the ocean with different levels in the house for your comfort.
Although this can house 6 people, I also recommend this to couples and honeymooners who want a big space for less than US$400. It really is the best in value of all Sayulita Airbnbs.
The kitchen is fully equipped and there's even a gas bbq for guest use in the pool area. All rooms have an open layout (and a terrace) which allows you to see spectacular views.
👉🏽 book your stay at Casa Magia
#3: Casa Angel
💲from US$325
🛏️ 3-BR (sleeps 6-7 people)
📍 15 minutes walk to the center
Another excellent vacation home in Sayulita is Casa Angel, designed by Mexican architect Miguel Valverde. Our favorite feature is, of course, the infinity pool that faces the ocean and the jungle.
The palapa makes this house cooler and the jungle location definitely gives it a unique ambiance. This is a great vacation rental during the summer months.
👉🏽 book your stay at Casa Angel
#4: Vista Hermosa
💲from US$576
🛏️ 4-BR (sleeps 9 people)
📍 15 minutes walk to the center
Adults traveling in groups (let's say 4 couples) will truly enjoy this property because of the ample space and privacy. Vista Hermosa means "beautiful view" in English and this vacation home really lives up to its name.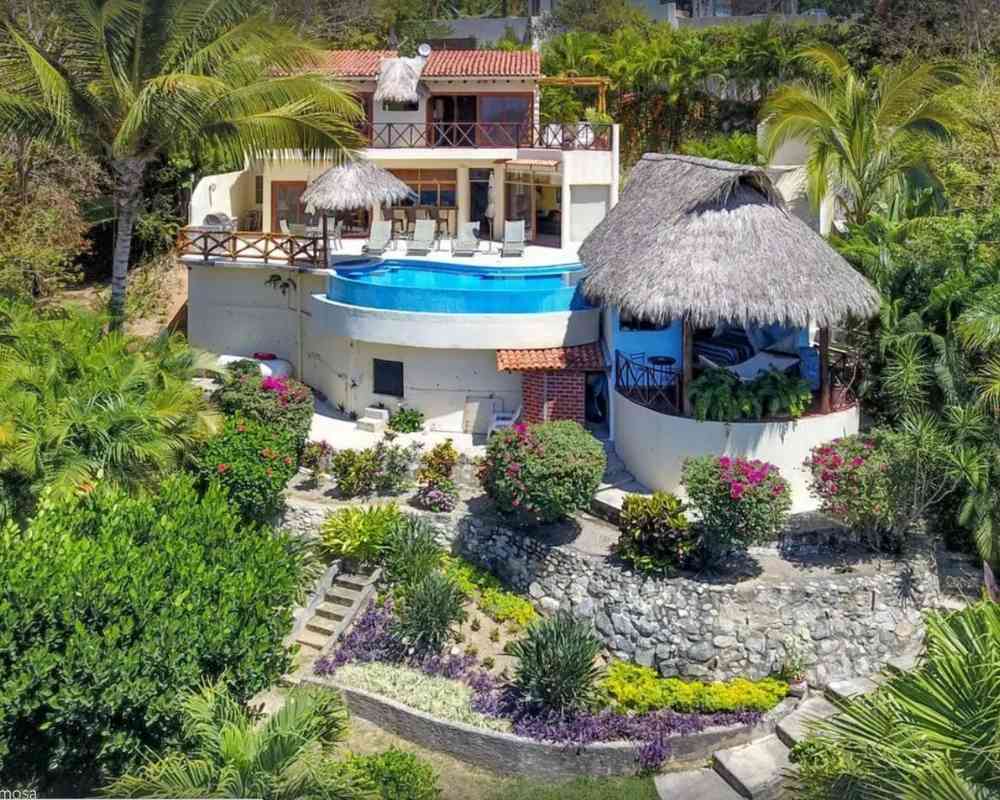 The pool is facing the ocean and has one of the best views compared to other Sayulita Airbnbs . There is also an excellent barbecue grill on the patio and an expansive yard where you can start wandering the jungle from. This Sayulita Airbnb is quite a walk to the center of town but consider it a good exercise!
👉🏽 book your stay at Vista Hermosa
#5: Beachfront home at Los Delfines Complex
💲from US$615
🛏️ 4-BR (sleeps 7 people)
📍 9 minutes walk to the center
There are about 12 units/houses in the Los Delfines Complex and this is our number one favorite (that's also why it's called Delfines #1) because of the heated pool!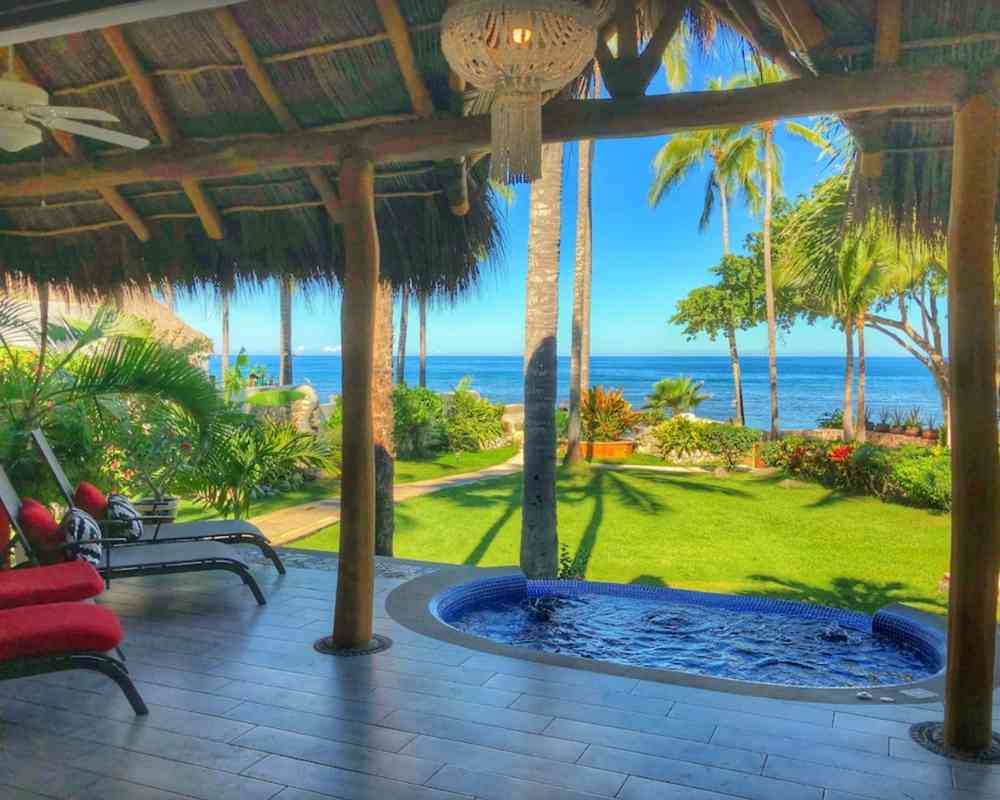 Although there aren't hilltop views on this property, you will see enjoy the oceanfront location and you will be on the beach. This is also a more peaceful part of town (compared to the location of other Sayulita Airbnbs ) so don't worry about your privacy during your stay.
👉🏽 book your stay at Delfines #1
#6: Casa Gardenia
💲from US$286
🛏️ 4-BR (sleeps 6 people)
📍 15 minutes walk to the center
One of the most affordable upscale Sayulita Airbnbs is Casa Gardenia, a vacation home rental with a pool, comfortable King size beds, and luxurious amenities. All these for less than US$300 per night!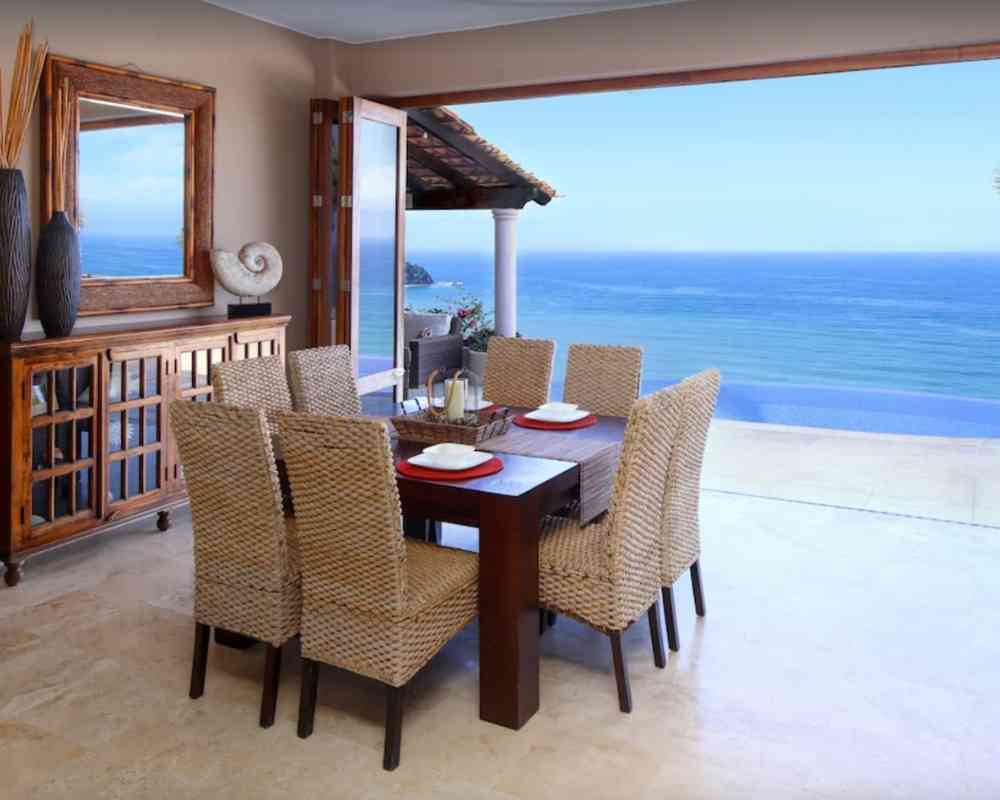 The kitchen features a granite counter and the large dining table can fit up to 8 people. The infinity pool facing the ocean will give you a front-row seat to the best sunsets in Riviera Nayarit!
👉🏽 book your stay at Casa Gardenia
#7: Jardin de las Palmas
💲from US$345
🛏️ 4-BR (sleeps 10 people)
📍 7 minutes walk to the center
I recommend Jardin de las Palmas among the many Sayulita Airbnbs for those who don't want to stay in 100% and want to experience the nightlife and other adventures.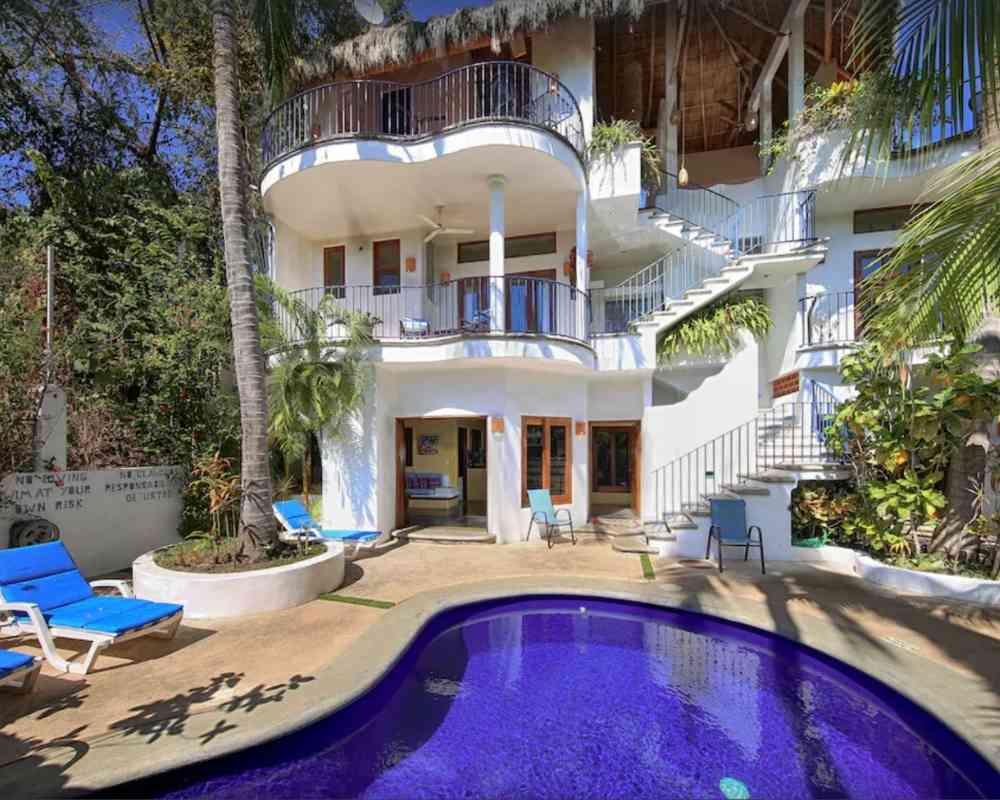 This is super close to the center and the roads are way easier to navigate (compared to the other Sayulita Airbnbs in this list). You can easily walk to the center anytime you want without renting a car or a golf cart!
Yah Yah, one of the best cafes in Sayulita is also next door so you have access to great coffee and breakfast! There are no ocean views as this is on the jungle side. Expect animals and bird sounds when you wake up in the morning!
👉🏽 book your stay at Jardin de las Palmas
#8: Casa Cariño
💲from US$550
🛏️ 4-BR (sleeps 10 people)
📍 7 minutes walk to the center
This luxury 4-bedroom house has 5 beds, 4 full baths, and can sleep up to 10 people. Like Jardin de Las Palmas, you can easily walk from this property to the center, and is recommended for groups of friends and/or bachelorette parties.
The iconic area of this vacation rental is the rooftop bar, equipped with a grill, and dining area, and has great views of the ocean and the mountain. The pool area is also my favorite. It looks small in the pictures but it is spacious in person.
👉🏽 book your stay at Casa Cariño
#9: Casa Soñadora
💲from US$750
🛏️ 4-BR (sleeps 10 people)
📍 7 minutes walk to the center
Just two blocks from the beach is Casa Soñadora, one of the Sayulita Airbnbs that offers luxurious home stay – one of our favorites! Totally accessible by foot and no need to rent a golf cart/car when staying here.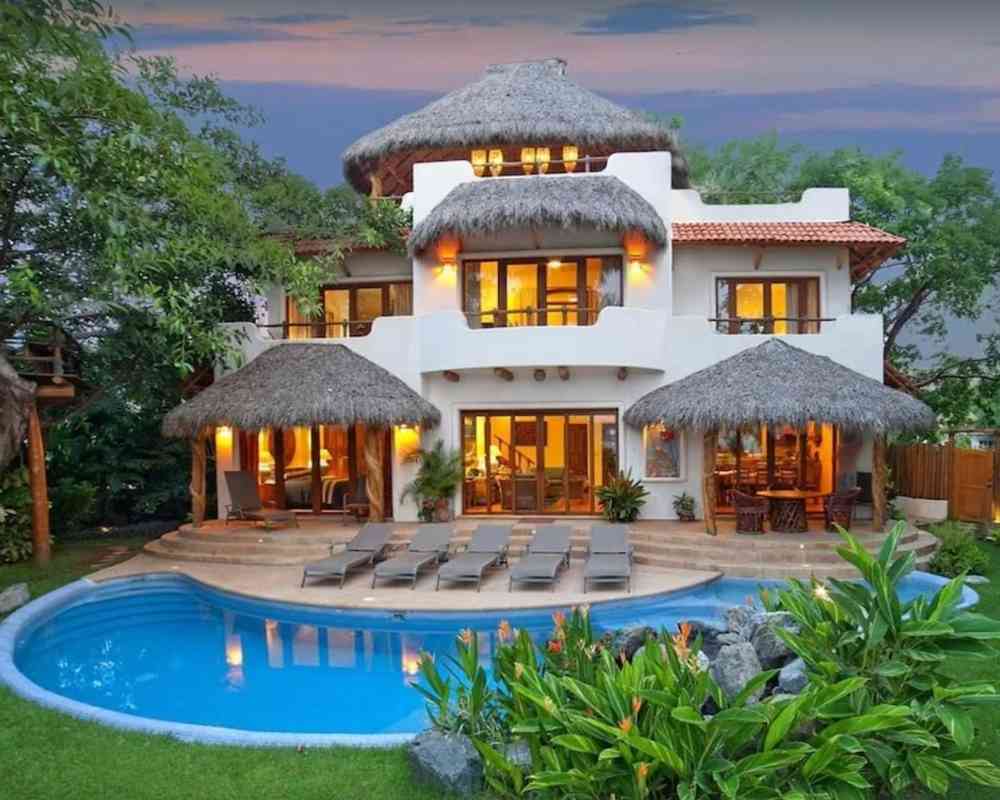 It is located on top of the south side of town where you can easily reach the famous Sayulita surf beach. This property is usually booked for Sayulita weddings (not a wedding venue per se) because of its gracious space and excellent amenities.
👉🏽 book your stay at Casa Soñadora
#10: Casa Jorge Aguila
💲from US$350
🛏️ 2-BR (sleeps 5 people)
📍 10 minutes walk to the center
This property has a private swimming pool and is great for couples (and/or groups of 4). The amenities are pretty basic but you can still have a great staycation on the quieter side of town.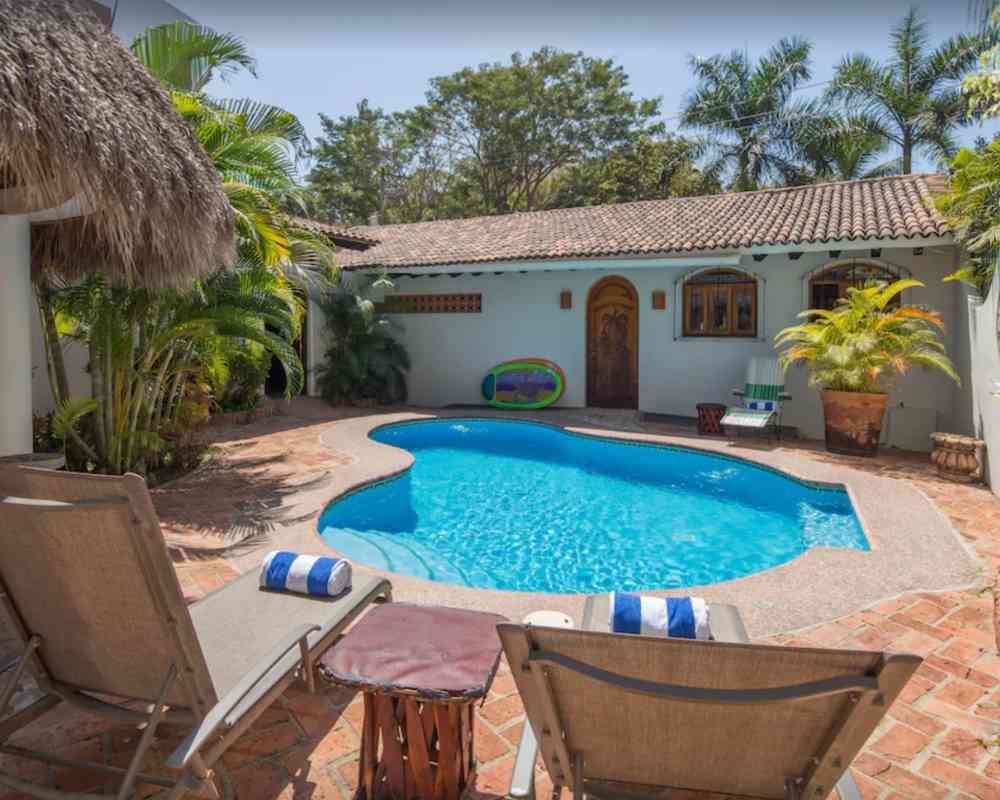 I stayed in this property twice and I really loved how this area of Sayulita is just away from all the noise! I also recommend you to hang out at the closest bar and restaurant which is Tropical House.
No need to go all the way to the plaza to party! There is also beach access right in front of the street where this property is located.
👉🏽 book your stay at Casa Jorge Aguila
✈️ Ready for your trip to Sayulita? If you need more information about Sayulita Airbnbs, I'd be happy to update this post – just leave your questions below!
Trisha traveled to Mexico in 2018 and after a year, she found herself obtaining a 4-year residency visa in Mexico. She is the Editor-in-chief for our Living in Mexico Series which has helped over 3,000 Americans move to Mexico with ease. Trisha currently resides in Cabo San Lucas, Baja California Sur.