The majestic city of San Miguel de Allende draws over a million American travelers every year. We discovered a chocolate tour in the city that uncovers the history of chocolate in Mexico – don't skip this activity when you are in SMA!
This San Miguel de Allende chocolate tour is brand new and a unique experience when visiting SMA. One wouldn't normally think of Mexico as a destination for chocolates but chocolate history in this country started during ancient Mesoamerica and has over 4,000+ years of history.
Sweet candy bars are the common image that comes to mind when we hear the word "chocolate" but history states that the chocolate of the past is way more different: it was a bitter beverage, not a dessert treat.
Chocolate is originally from the fruit of cacao trees and we know very well that cacao is native to Mexico, Central America, and South America. To make chocolate, beans are dried and roasted resulting in cocoa beans.
There are only a few chocolate tours in Mexico that are educational and we are glad to have stumbled upon this San Miguel de Allende chocolate tour, hoping that you'd be interested in participating and knowing the rich chocolate history of this country.
📜 History of chocolate in Mexico
The Olmecs have civilized archaeology and one of their greatest strengths is cacao. They passed their chocolate knowledge all over Central America and this region definitely embraced chocolates.
In Mayan history, chocolate has been a crucial ingredient in making chocolate drinks for celebrations, ceremonies, and important events. It wasn't just for the members of the high society – chocolate was revered by all.
Chocolates are consumed and enjoyed in every Mayan meal possible. The original Mayan chocolate was often paired with honey, water, and chili peppers.
This is not the full history of chocolate in Mexico as it also extended to other civilizations like the Aztecs. The good thing about taking this San Miguel de Allende chocolate tour is that you will not only eat a bunch of chocolates but you will learn a lot about it.
You might also like: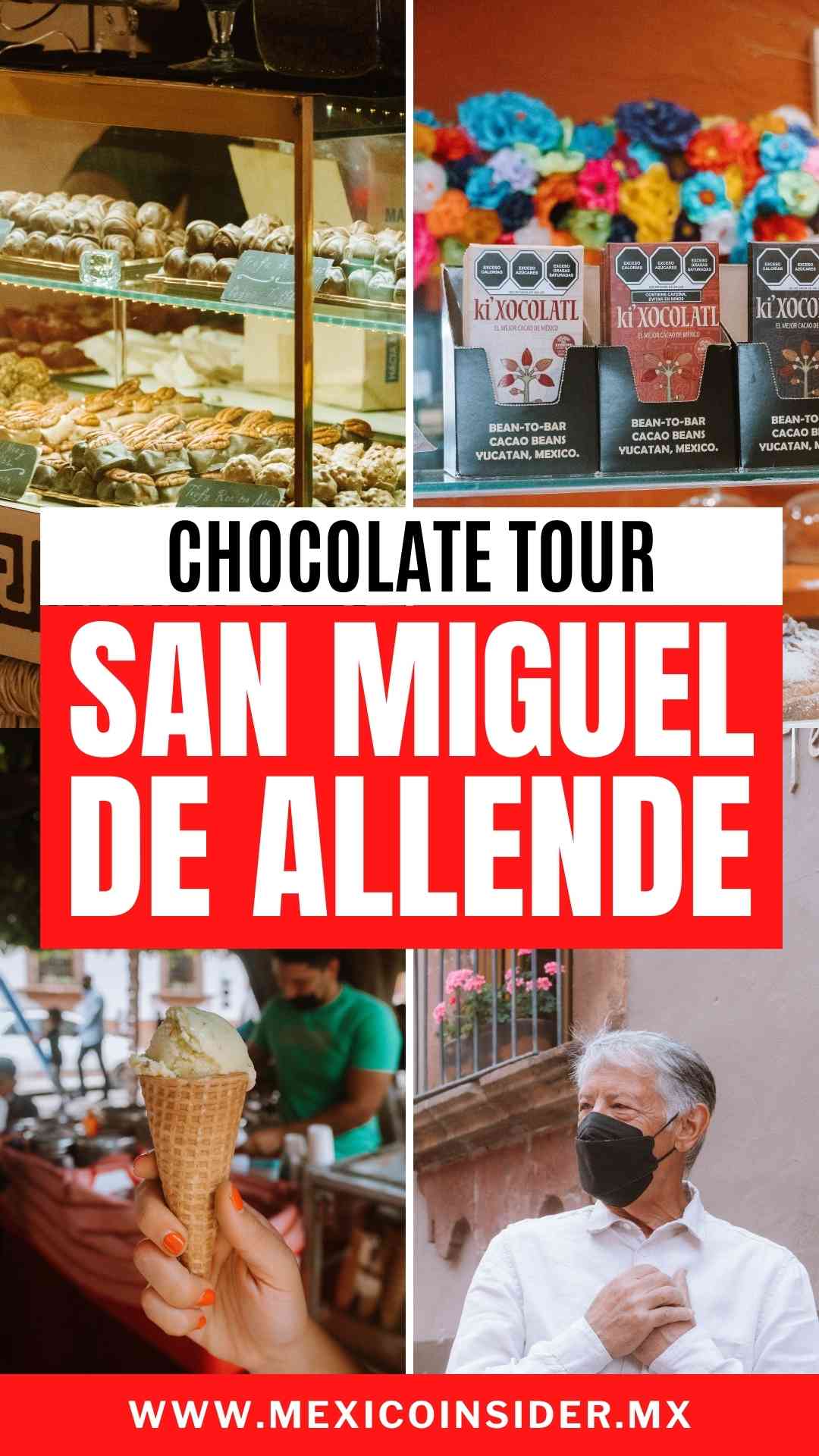 ℹ️ Quick info
This tour is available from Wednesday to Sunday and starts at 12:00 PM. The duration of this tour is approximately 2.5 hours.
The minimum participant sign-up for this tour is 2 people (for a private tour). If you are only one person, you will join other groups (up to 12 pax).
San Miguel de Allende weather can be unpredictable so make sure to wear comfortable shoes, bring a hat or an umbrella, and a raincoat (depending on the forecast).
Note that this is a walking tour. You will walk the streets of SMA and no transportation will be provided.
This activity is suitable for all age groups and traveler types.
Tour inclusion: 5 chocolate stops, an English-speaking guide, and a helpful tour sheet.
The meet-up point for this tour will be provided upon booking but you won't be picked up at your hotel in San Miguel de Allende.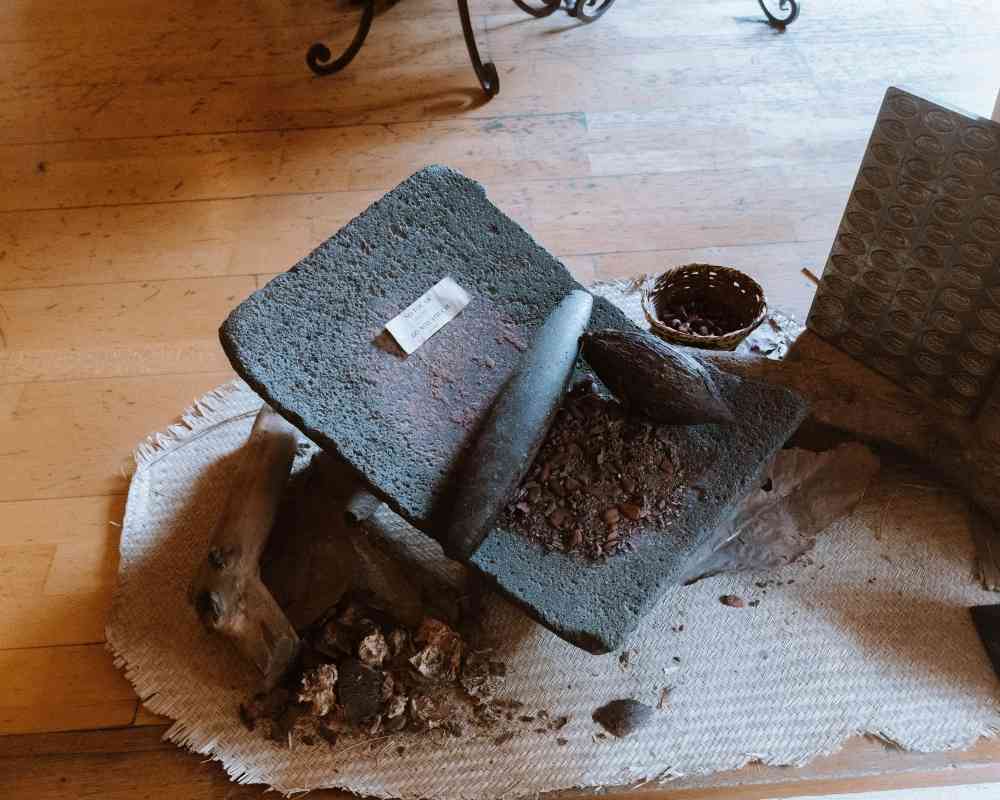 ✨ What to expect
This San Miguel de Allende chocolate tour runs for 2.5 hours. You will be going around the city of SMA tasting different types of chocolates at each stop. There are 5 stops on this tour and at every stop, the guide will give you insider information about each chocolate type.
The tour starts at noon so make sure to check the unpredictable weather in San Miguel de Allende. In our case, we did this chocolate tour in July 2022, which was a rainy season in San Miguel but that day, we were fortunate to experience sunny and bright skies.
Make sure to bring a hat, sunblock, and a water bottle for this tour. There is no transportation whatsoever as part of the tour is to walk around San Miguel de Allende and see the important sights. The streets of SMA are also very narrow so it makes more sense to walk.
The chocolate sampling/tasting is small so you won't really get full from it. It's better to take your breakfast before this tour. At the end of the tour, there will be a big meal that involves a savory chocolate dish from Mexico, which will be served at a perfect time of the day.
🪅 Disclaimer: This San Miguel de Allende chocolate tour was complimentary but all opinions are our own. Our sponsored partners do not tell our Editors what to publish as all are based on our experiences. Check rates for this tour here.
🌟 San Miguel de Allende Chocolate Tour Review
The Guide
You may not know this but San Miguel de Allende is an expat hub and is one of the biggest communities of foreigners in Mexico. An estimated number of 12,000 American, Canadian, British, and European expats live in SMA, which makes up 11% of its total population.
Leslie and his wife were one of the couples who got enticed to move to San Miguel de Allende. A little over 15 years ago, Leslie decided that SMA is a place where he would live and was drawn to the countryside than the colonial city center.
Both Leslie and his wife are cooks, and they are not just your typical chefs – they are pastry chefs! Their culinary background starts in France, where they trained with professional pastry chefs and ultimately enjoyed the expat life in France.
Without any paper in hand or a guidebook, Leslie is very eloquent and has shared rich histories of chocolate not just in Mexico but all over Europe. The words he uses in this tour are easy to understand even though it digs deep into history.
This way, Leslie assures that everyone who joins his San Miguel de Allende chocolate tour will acquire new knowledge after 2.5 hours of being with him. And we certainly did.
Leslie is joined not by his wife but by a young padawan named Sam. He is also a highly-trained pastry chef and he is currently training to lead these chocolate tours. Sam is in our age group so we did chat with him a lot and we got to know how he moved to Mexico with his partner.
As an experienced tour guide in San Miguel de Allende, Leslie did not only share information about chocolates but also recommended some cool cafes, things to do, great neighborhoods, and everything about SMA which was super valuable coming from someone who has lived in SMA for years.
Leslie's generosity with information and insider tips is incomparable and we really learned a lot from him!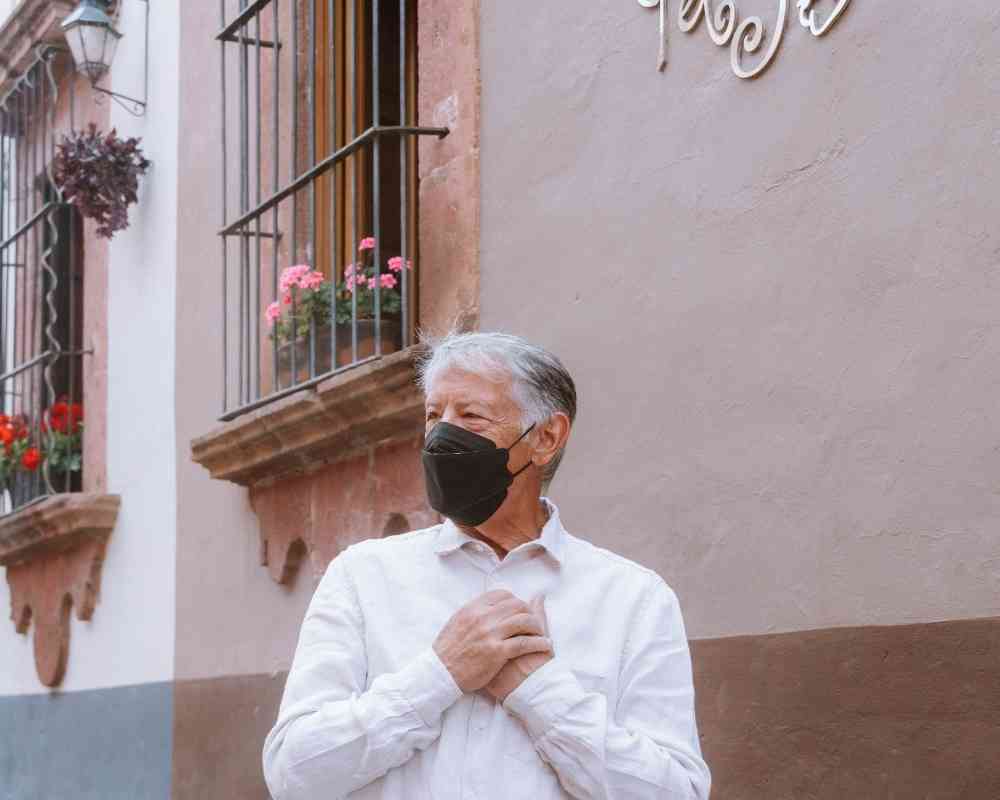 The Route
Stop 1: Xocolatl
✅ What you'll try: Sweet chocolate bread (1 pc)
In the first part of this article, we talked about the history of Mayan chocolate. Now moving on to the Aztecs, who had a different idea about chocolates.
The Aztecs believed that cacao was a gift from the Gods. They used cacao as a currency for trading food and other goods. There was even a time in the barter history of the Aztecs that cacao has a higher value than gold.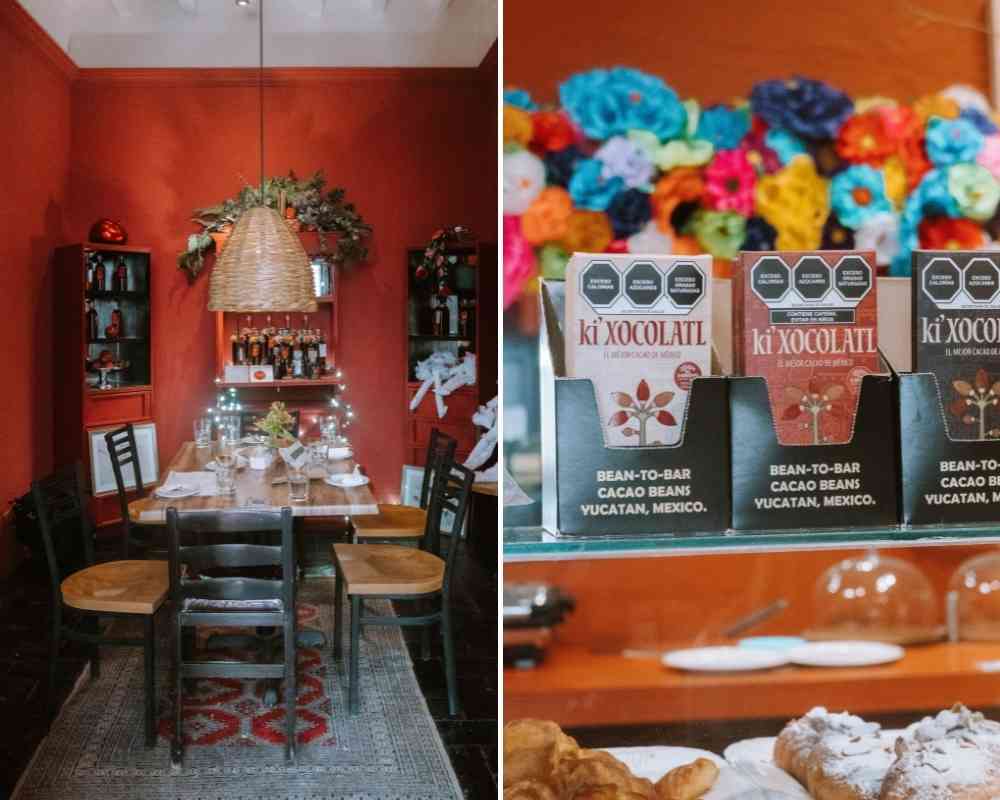 The Aztec chocolate is still visible in Mexico today and it's called Xocolatl, a higher society branding but like the Mayans, the Xocolatl was enjoyed in different household tiers of society. The rich often serve Xocolatl at weddings and important celebrations.
Montezuma II was known to be the biggest Xocolatl fan. According to history, this Aztec ruler took in gallons of Xocolatl every day as an aphrodisiac and to increase energy levels. He would also bring Xocolatl in military missions and often share it with his troops.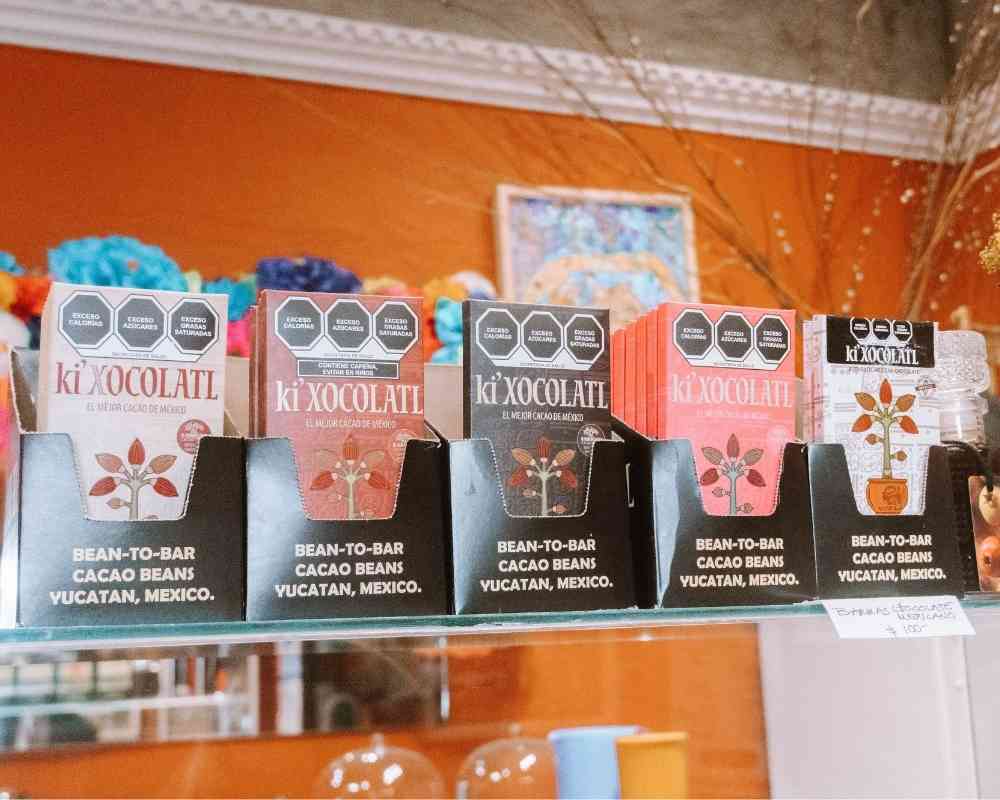 Stop 2: Truffles
✅ What you'll try: Select 4 kinds of truffles (your choice)
Truffles have been with us for over a thousand years. Many civilizations were drawn to it because of its flavors and aromas. It has been a fancy delicacy that evolve through the years but its origins are from beech trees, chestnut, and oak trees.
The Egyptians were voracious truffle eaters and they eat this chocolate with goose fat. But other history and myths state that truffles emerged when a bolt of strong lightning struck the Earth. After this lightning strike, a farmer saw a pig digging a root in the tree and kept consuming the mushrooms surrounding the roots.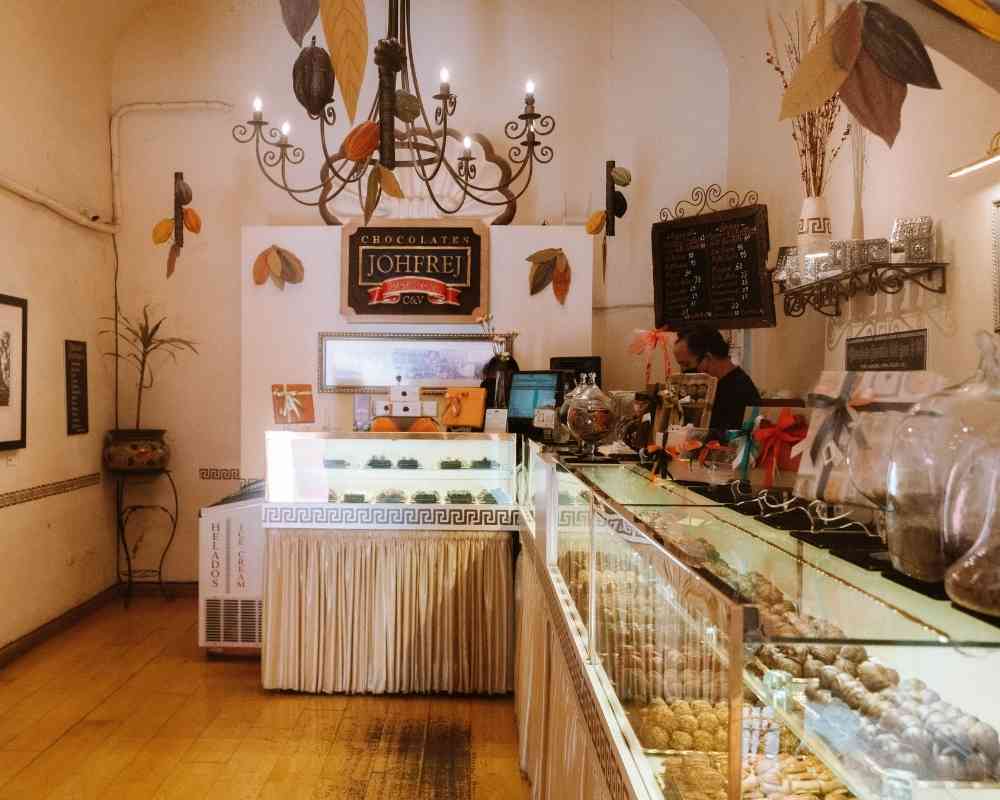 The farmer observed the pig and concluded that these mushrooms were edible as the pig remained healthy. He tried the mushrooms himself and it totally transformed his life. After being diagnosed with the inability of bearing a child, the farmer believed his 13 children were a result of eating this mushroom from the lightning gods.
People then believed in the supernatural abilities of truffles and received this as a gift from the Gods. At the peak of the Roman and Greek civilizations, they used truffles for medical and healing purposes.
Truffles were then banned by the Church and labeled as a devil's delight. They were gone for a while until the Renaissance period when King Louis XIV declared it an official European dish. He was a big fan of the truffles and had served them in many of his palace's feasts. He even tried to grow them but he was unsuccessful.
The largest production of truffles began in the mid-1800s when over 2,000 tons of truffles were produced all throughout Europe. Post World War 1, many lands and truffle cultivation were destroyed which resulted in the decrease of truffles all over the continent.
Back then, truffles were only for the nobles and is consumed by the upper-class society. Today, truffles are considered rare and their price per piece is not the same as ordinary chocolate. It still regarded as a high-class dessert reserved for those who can afford it.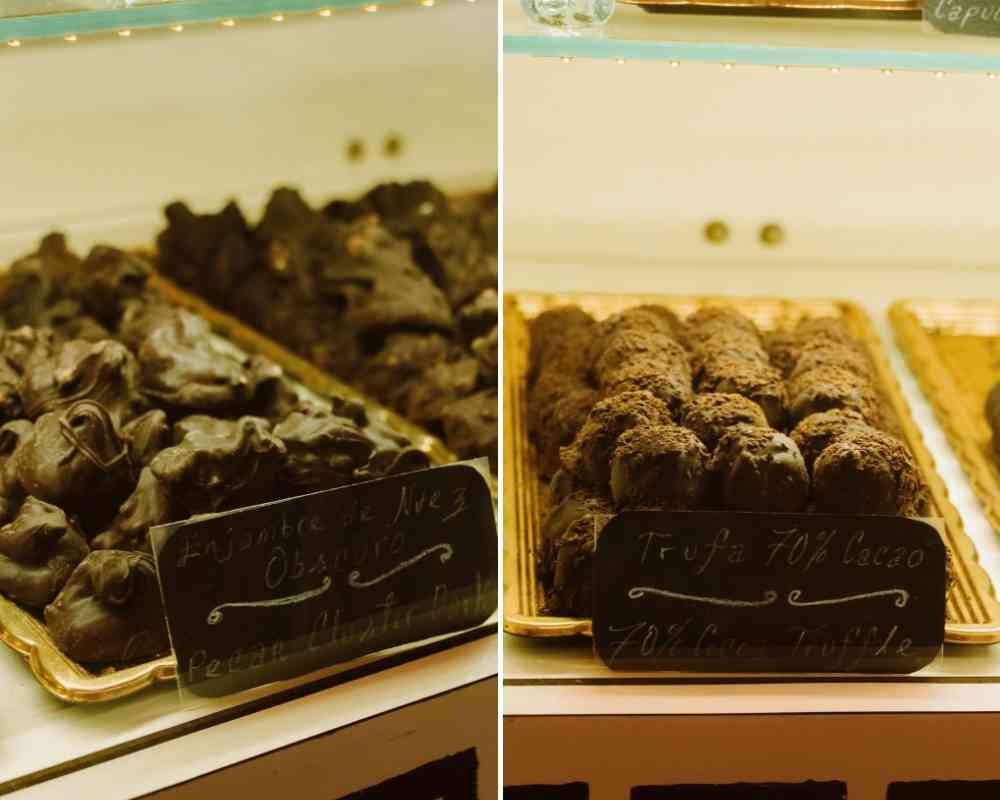 Stop 3: Hot chocolate drink
✅ What you'll try: A large cup of hot chocolate drink. During the summer months, it is served cold on this tour
The history of when chocolate arrived in Europe was unclear but what's clear is that the Spanish were the first ones to get a hold of it.
This conflicting history has many versions and one of the most popular ones was that Italian explorer Christopher Columbus intercepted a trade ship full of chocolate beans, which he brought to Spain in 1502.
By the late 1500s, chocolate was well-loved and heavily consumed in Spain and they began importing it in 1585.
The Spanish hot chocolate became an iconic drink in Spain and although the recipe was originally by the Aztecs, the Spanish re-invented their hot choco by adding cinnamon, cane sugar, and other spices.
Today in Spain, hot chocolate is often served with another iconic Spanish dessert, the churros.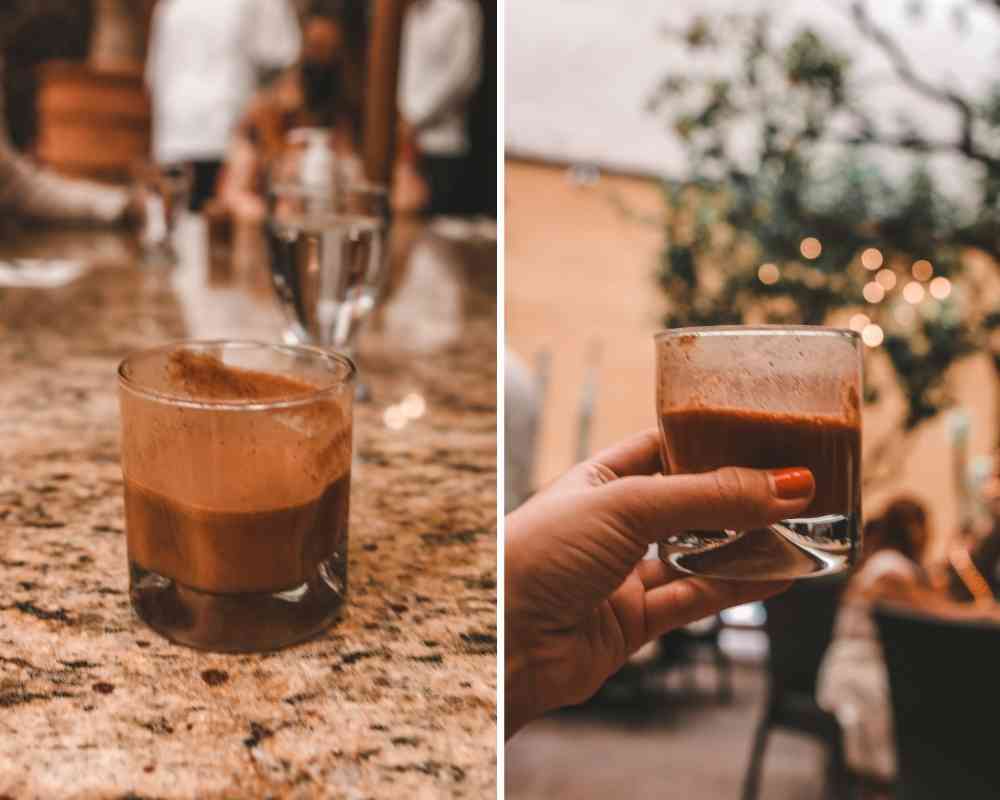 Stop 4: Mexican mole
✅ What you'll try: A plate of mole. Select your own protein and vegetarian options are available. You will also be given the choice to get pozole instead of mole.
Historically, the states of Oaxaca and Puebla both claim that mole is originally from their lands, which resulted in the different cooking styles of mole. Mole is not a representative dish of Mexico as the world-famous taco is still pushed to the front lines as the national dish.
Mole started being known internationally when world-renowned Mexican chef Enrique Olvera experimented a 1,000-year-old mole to be part of his tasting menu. The US$150 7-course tasting at his restaurant, Puyol had loyal followers from all over the globe and the name mole has been incorporated with him (and Mexico) ever since.
So mole… have you ever had a chicken topped with chocolate sauce? Making mole is time-consuming and super laborious as the sauce has over 30+ ingredients, depending on which state makes it.
Many Mexican moms love to make mole as a representation of their love for their families, up to a point when children are asked who makes the best mole, they are obliged to answer, "mi mama" ("my mom").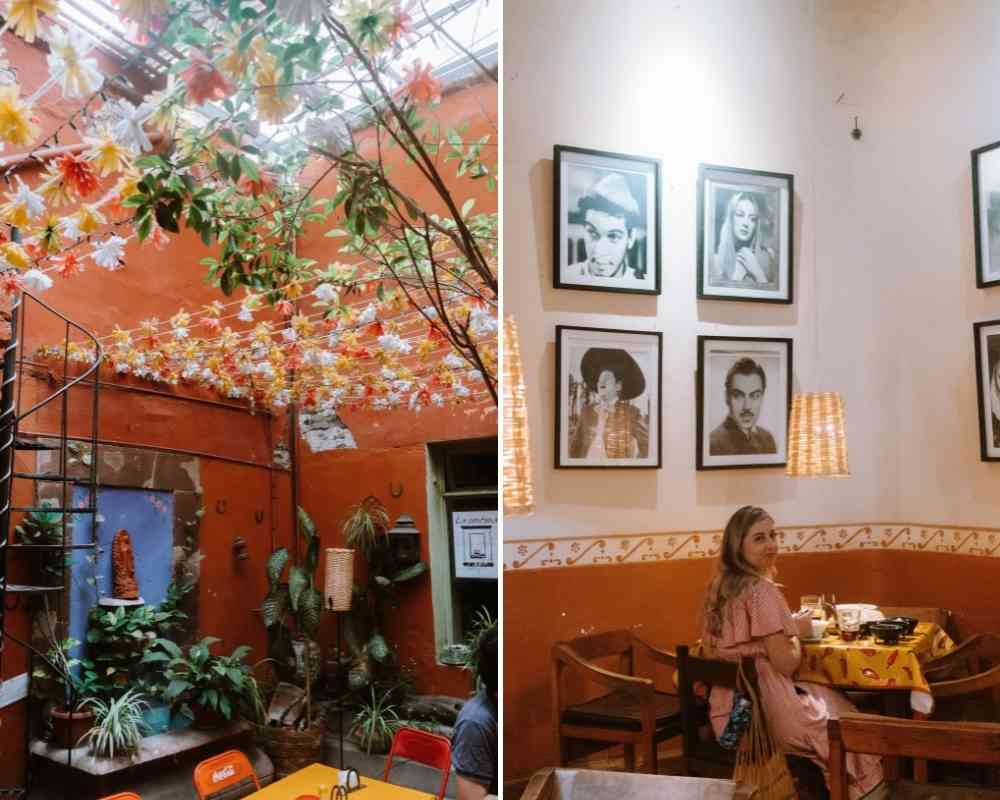 Stop 5: Mexican street ice cream
✅ What you'll try: A scoop of ice cream of your choice (cone or cup)
Fany Gerson's book Mexican Ice Cream became an international hit as she not only dove deeper into the history of ice cream in Mexico but also re-invented recipes that she learned from her research.
According to Fany's book, way long before the Americas and Europe were making ice cream, the Teotihuacan civilization was already in it.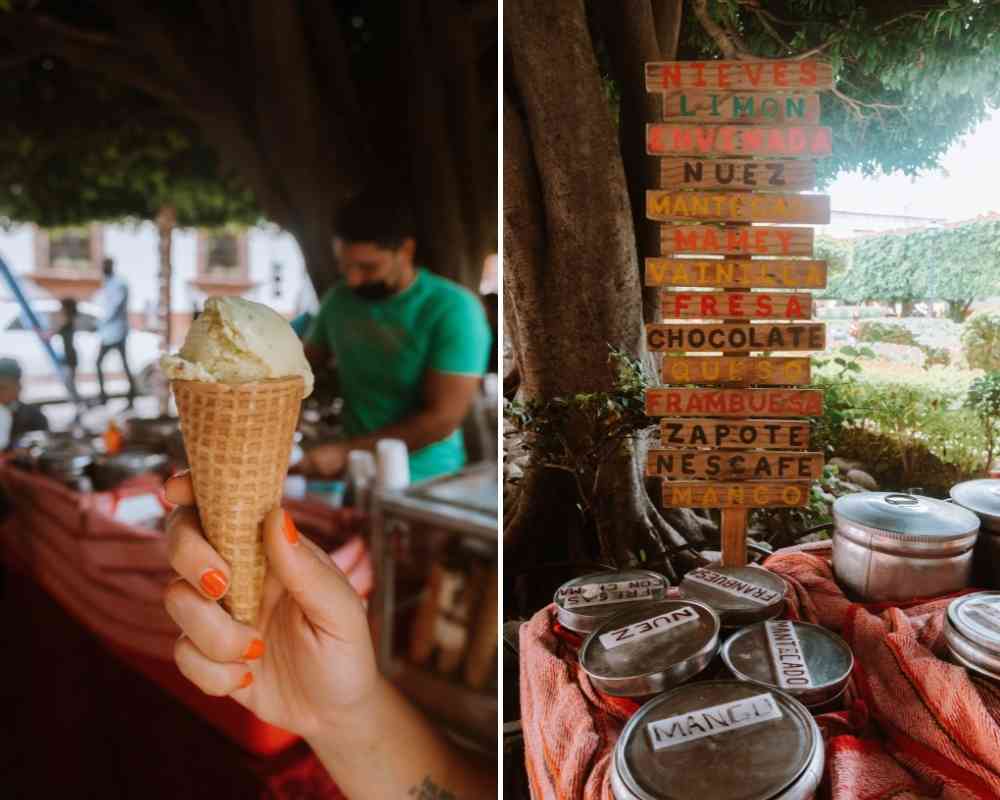 "The first frozen treats were made from snow gathered from the top of the Popocatepetl and Iztaccíhuatl volcanoes. The snow would be mixed with mashed fruit and sometimes sweetened with honey. Since the snow had to be retrieved from the tops of volcanoes and kept insulated to prevent it from melting, the treat was reserved for emperors and others in power." book.

MEXICAN ICE CREAM BY FANY GERSON
Summer in Mexico is extremely hot and humid which explains the many ice cream carts roaming around the city or parked under the shade on every corner. They are commonly found in the plaza where children play while their moms sit around and chat.
Ice cream is enjoyed not just in Mexico but all over the world by all age groups. In Spanish, ice cream translates into helados and water-based ice cream is called nieves, which is also a word used for snow.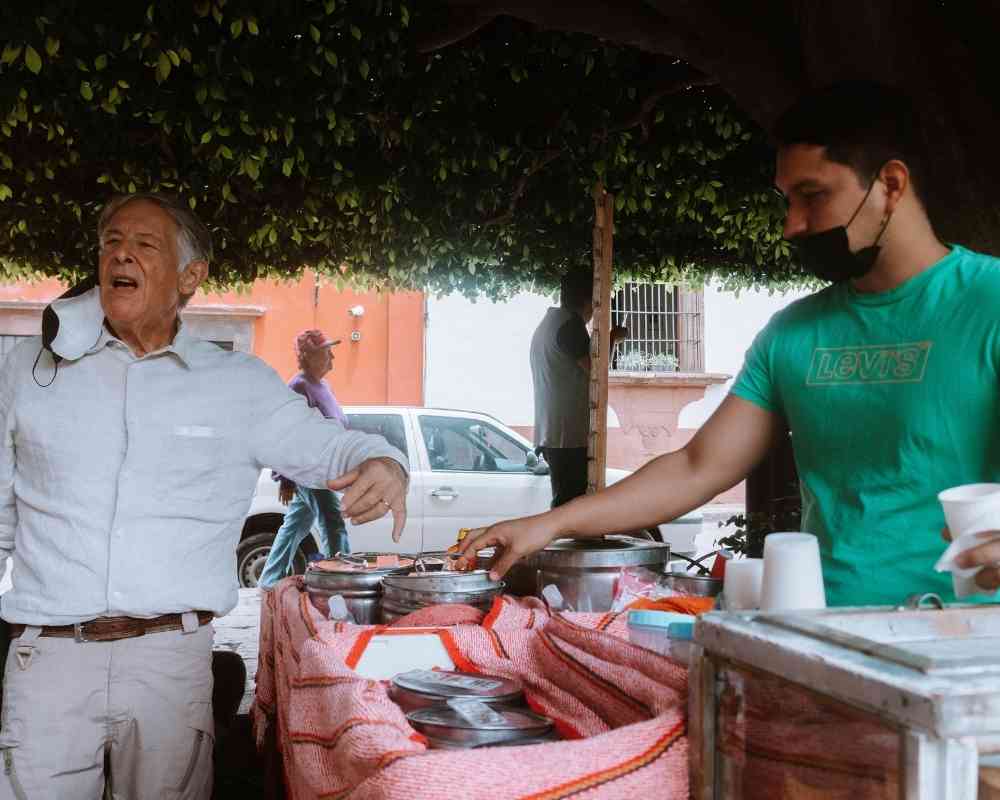 🍫 Book San Miguel de Allende Chocolate Tour
Our editors and producers independently selected this San Miguel de Allende chocolate tour. However, when you book something through our links, we may earn an affiliate commission at no extra cost to you.
Loyal readers of Mexico Insider can use the code MXINSIDER10 to get a 10% discount upon checkout on our website.
✈️ Ready for your trip to San Miguel de Allende? If you need more information about this San Miguel de Allende chocolate tour, we'd be happy to update this post – just leave your questions below or join our Facebook community where we answer questions without a cost.
🇲🇽 San Miguel de Allende Travel Resources
Trisha traveled to Mexico in 2018 and after a year, she found herself obtaining a 4-year residency visa in Mexico. She is the Editor-in-chief for our Living in Mexico Series which has helped over 3,000 Americans move to Mexico with ease. Trisha currently resides in Cabo San Lucas, Baja California Sur.