If you're wondering what are the safest places in Mexico to visit, there's nothing quite like hearing it from people who have actually spent time there.
We talked to some of our favorite travel bloggers who have spent considerable time traveling the country so they could tell us about some of the best and safest places to visit in Mexico.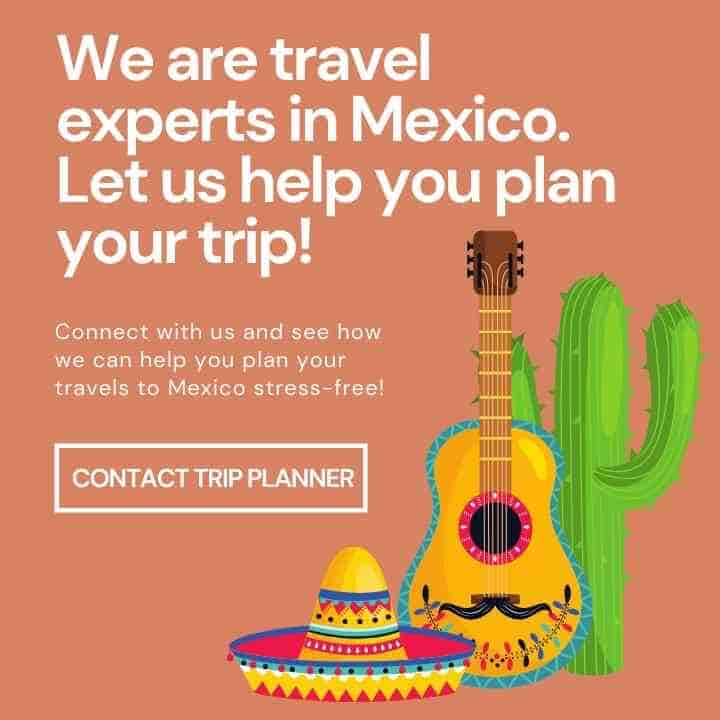 ☕ Do you like our content? Help us continue to do better! Support our honest and transparent journalism by donating to our coffee fund.
⚠️ What places in Mexico are safe to visit?
Like any country in the world, there are unsafe and safe places to visit in Mexico. Being such a humongous country, safety in areas varies greatly, but there are many, many places in Mexico that are safe to visit where you won't have issues whatsover.
Don't take it from us, take it from these travel bloggers who either live in Mexico or have spent enough time traveling in the country to tell their personal experience on what they consider to be the safest places in Mexico!
You might also like:
✨ Safest places in Mexico as told by top travel bloggers
Huasteca Potosina, San Luis Potosi
Huasteca Potosina is a region in the state of San Luis Potosi that has not yet drawn the attention of international travelers, despite being a firm favorite for Mexicans and one of the safest places in Mexico.
Home to thundering waterfalls, rivers so blue they look fake, and lush rainforest, Huasteca Potosina is a paradise for nature lovers.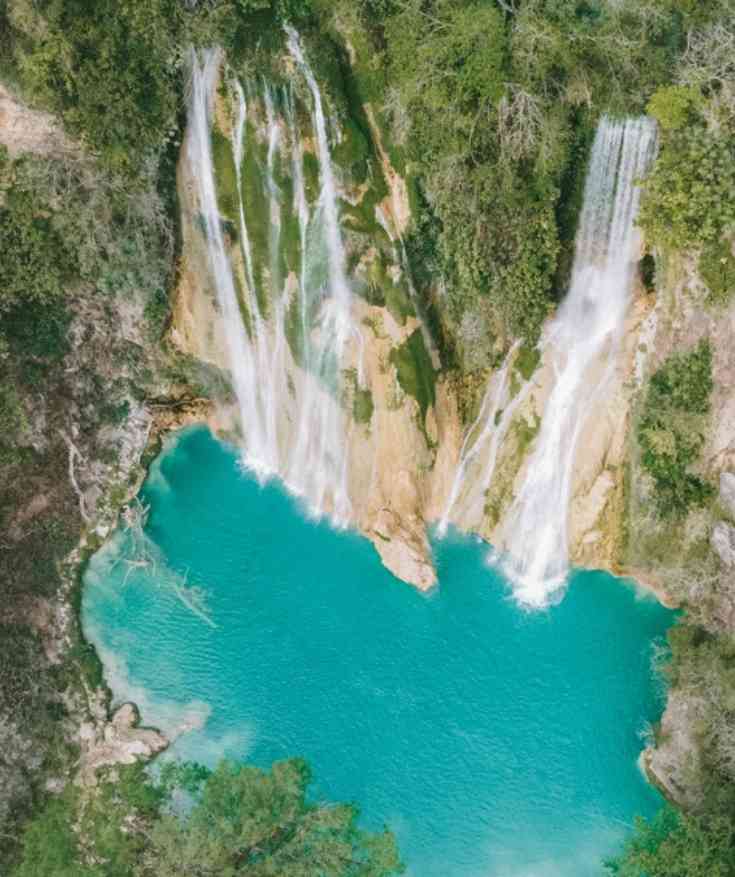 I think because Huasteca Potosina does not have the same international recognition as places like Cabo, Tulum or Puerto Vallarta, international visitors believe it is not safe. But after spending a week road tripping around this beautiful part of Mexico, I consider it a very safe place in Mexico.
Nature is the drawcard here, and outside of the region's hub of Ciudad Valles, most places are sleepy little towns. There wasn't one instance where I felt uncomfortable, and most of the people I encountered were domestic tourists or staff managing the sights. It's pretty hard to feel unsafe when you're out in nature, away from seedy cities full of people.
The only hazards you need to be aware of are your own swimming abilities (especially if you visit around the wet season where the waterfalls are very strong), and some poorly maintained roads.
I had never heard of the Huasteca Potosina region before I arrived in Mexico, but I couldn't resist those milky blue waterfalls. It was a great reminder for me that popular does not equal safe, and just because you haven't seen it on Instagram before, doesn't mean it's not a safe place in Mexico to visit.
Sally @ Sally Sees
Izamal, Yucatan
Izamal is one of the most beautiful cities in the Yucatan and one of the safest places in Mexico for travelers.
This historic town is often visited as a day trip from Merida or one of the other larger cities in the Yucatan.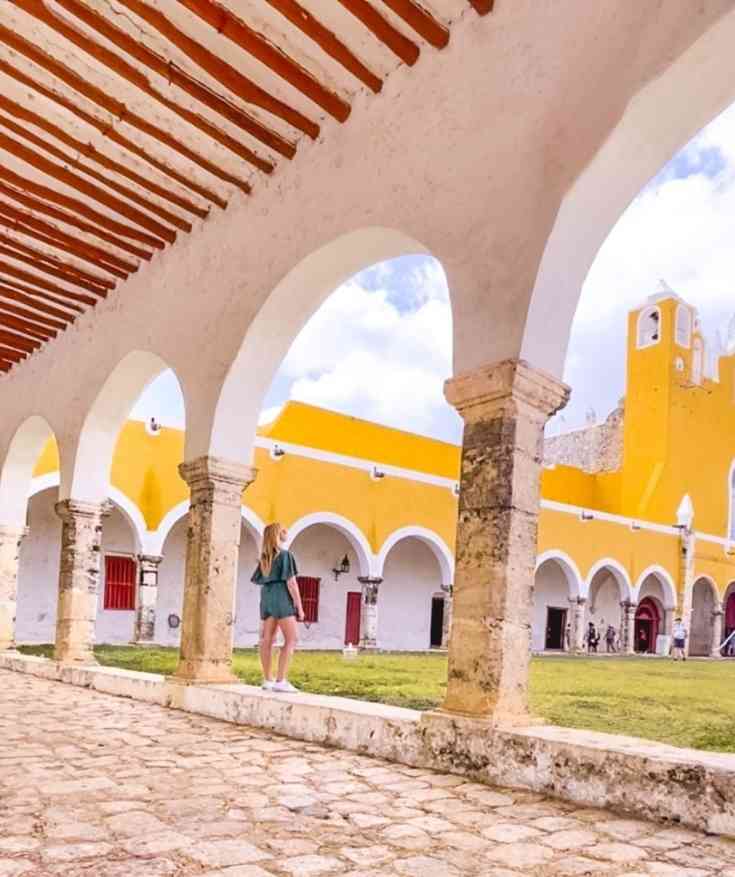 During my recent visit to Izamal I loved how peaceful the town was even during the middle of the day. In fact, I didn't come across any crowds at all during my visit.
I enjoyed exploring the San Antonio de Padua convent, which is one of Izamal's biggest attractions. Despite this being one of the most touristy areas of town, I was never approached or bothered by anyone.
After exploring the convent I spent some time in the town plaza just taking photos and taking in the sights. There were several vendors in the plaza selling food and souvenirs, but I was never hassled or asked to purchase anything.
Later in the day I spent some time alone exploring the local neighborhoods before walking over to the city's Mayan ruins, all without incident.
Honestly, at no point during my visit to Izamal did I ever feel unsafe or uncomfortable. I would definitely visit this town again and think it's the perfect safe destination in Mexico even for a solo female traveler.
Eden @ Rock a Little Travel
Cozumel, Quintana Roo
With some of the lowest crime rates in the state of Quintana Roo, Cozumel is one of the safest places in Mexico.
As a solo female traveler who's lived in Playa del Carmen for over 3 years, I have visited the island of Cozumel many times and have always felt very safe during the day and at night–more so than in Playa del Carmen, Tulum, or Cancun.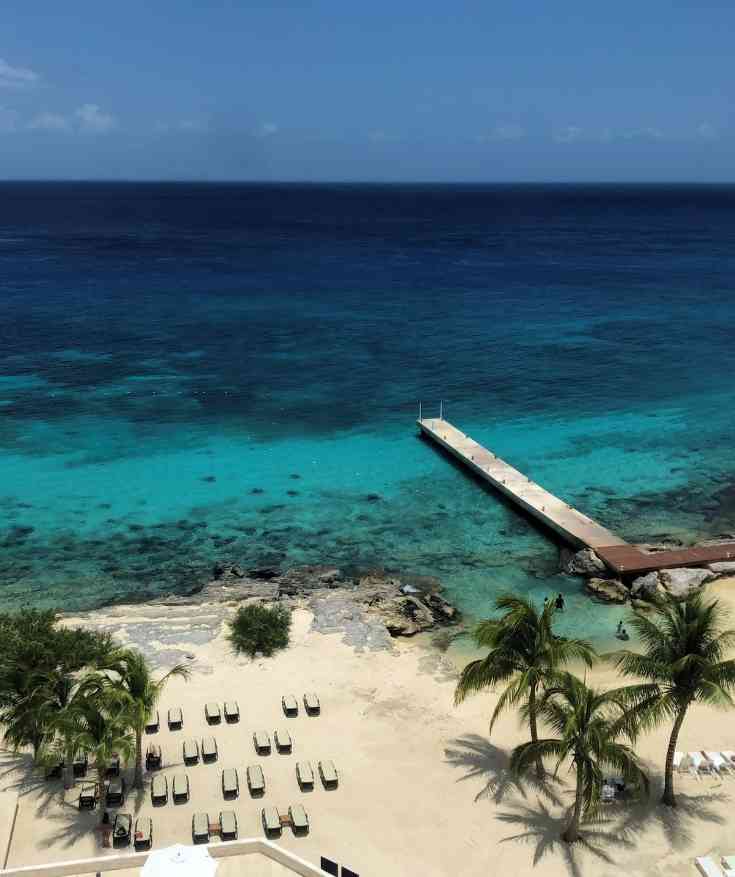 As a beach destination that attracts families and cruise ship visitors, Cozumel is not known as a party destination and doesn't have a robust nightlife scene. As a result, the crime rates have remained very low. The island relies almost 100% on tourism, which is why keeping the island safe and secure for visitors has always been a top priority.
I have always felt very safe walking around the downtown area of San Miguel de Cozumel, visiting beach clubs, or renting a car to cruise around and explore some of the more off-the-beaten-path destinations. With its laid-back island vibe, the town is a safe and popular destination for solo female travelers and digital nomads.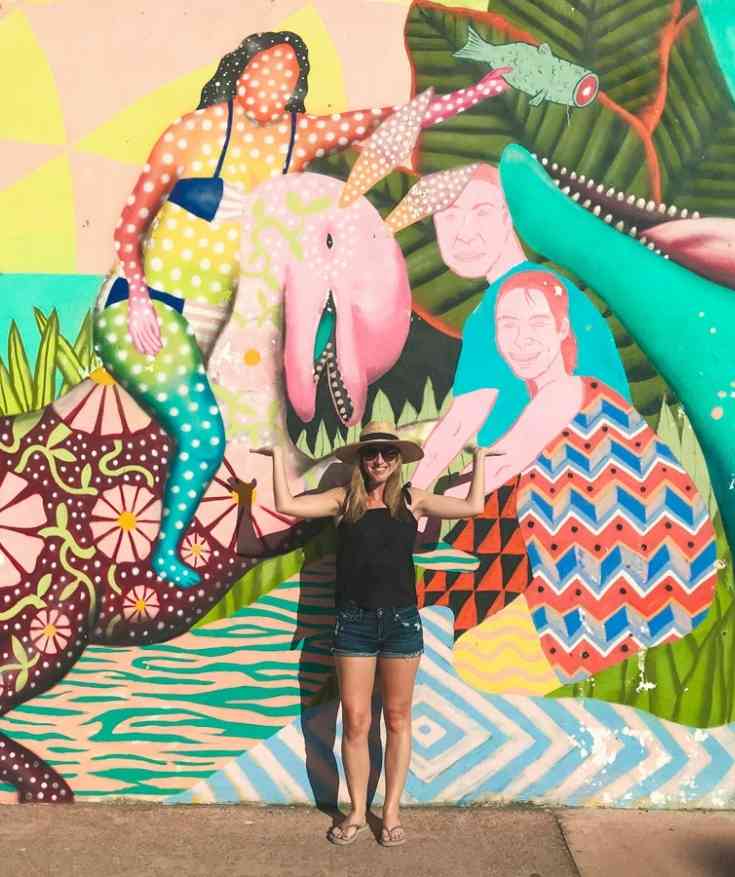 Of course, you'll still want to take proper Cozumel safety precautions like always being aware of your surroundings, keeping an eye on your belongings at all times, and limiting your alcohol consumption. Safety is never guaranteed but you will more than likely have an unforgettable time visiting this beautiful beach destination in Mexico.
Allison @ Viva La Travelista
Merida, Yucatan
Statistically, Merida has long been the safest city in Mexico. I have lived in Merida since July 2019, and have never felt in any danger, nor encountered any issues where I felt my safety was compromised.
That's not to say "bad" things don't happen in Merida; they do. Even in safe places in Mexico like Merida, all travelers should remain aware of themselves, their belongings and their surroundings, and make personal safety a top priority.
Still, you can also just relax and enjoy the city, as it's a statistically an incredibly safe place in Mexico. Besides safety, there's so much to see, do, and eat in Merida, and you'll never run out of options. From shopping in the mercados by day, to visiting all the bars by night, travelers enjoy the city so much because they face little danger in Merida.
To get to Merida, you can fly into Merida International Airport (MID). As there aren't many direct flights to Merida from other countries, many will also fly to Cancun International Airport (CUN), and make the trip from Cancun to Merida over-land.
Shelley @ Travel To Merida
Bacalar, Quintana Roo
Located in the southern part of Quintana Roo near Belize border, Bacalar is known as one of the safest places in Mexico.
Although Bacalar used to be a hidden gem, today more travelers are discovering this pueblo mágico along the Lagoon of Seven Colors (Laguna De Siete Colores in Spanish).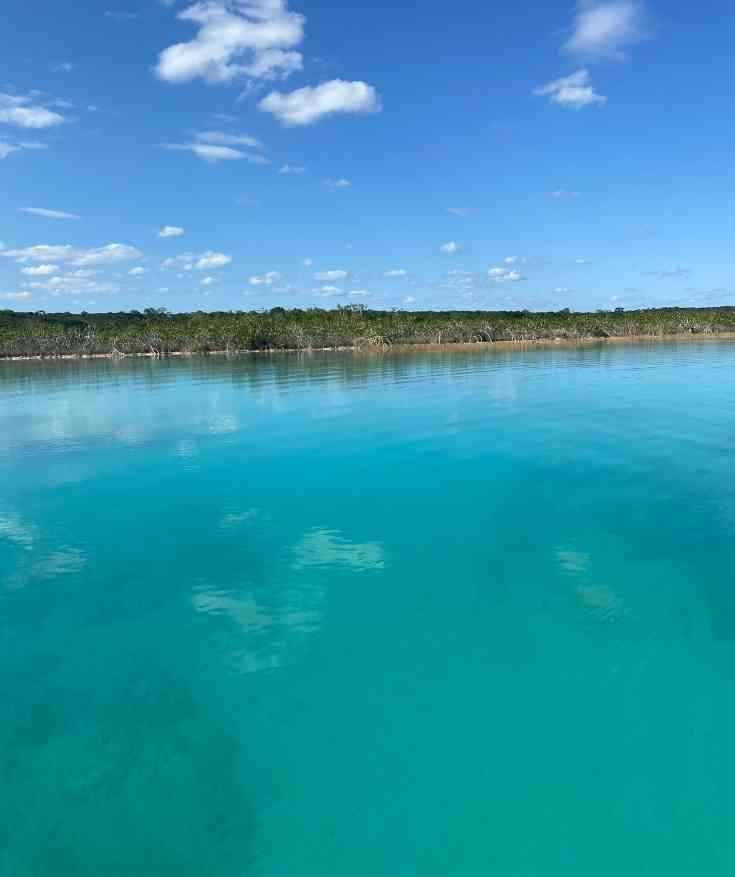 The lagoon has various shades of blue depending on the depth ranging from crystal clear near the edges of the lagoon to ink blue in the middle.
It's perfect for swimming, paddle boarding, and kayaking. There are also several cenotes within the Bacalar lagoon as well as nearby, like cenote Azul where you can try diving.
Many travelers spend days in Bacalar kayaking and sailing on the lagoon and enjoying the tranquil atmosphere of the place.
Bacalar is also a great getaway to other safe places in Mexico like Tulum and Playa Del Carmen that can feel a bit too touristy. It is a perfect alternative if you are looking for a more quiet atmosphere and authentic Mexican culture.
Daria @ Discovery Nut
Zihuatanejo, Guerrero
Zihuatanejo, Mexico is one of the more off the beaten path beach towns, but one of the best — and safest places to visit in Mexico. In case you're wondering, Zihuatanejo is pronounced zee-waa-ten-nay-hoe, and the locals usually call it Zihua (zee-waa) for short.
For those who wish they could have visited Tulum "before it got famous," Zihuatanejo is the perfect place. It is a laid back, bohemian beach town, with hippie vibes, friendly locals and beautiful beaches, but also a great tourism infrastructure.
Zihuatanejo is located just 20 minutes from Ixtapa, one of the top Mexico resort towns. While Zihua has some nice hotels, it is by no means a resort town. However, being so close to one made me feel safe knowing that anything I needed (banks, hospitals, etc.), was within close proximity.
To get to Zihuatanejo, you'll fly into Ixtapa-Zihuatanejo International Airport (code: ZIH), located in the state of Guerrero. There's no Uber in Zihuatanejo, but you can taxi from the airport to the beaches for only $250 MXN pesos ($12.50 USD). Taxis are the best way to get around, and very safe.
Shelley @ Travel Mexico Solo
Pin this list of the safest places in Mexico for later!
Playa del Carmen, Quintana Roo
Playa del Carmen is more than just a beach destination with excellent resorts; there are plenty of things to do in Playa del Carmen, regardless of your budget, and you won't need to stay inside a resort your whole trip to keep busy or feel safe here.
Even when venturing off the beaten path and exploring hidden cenotes in Valladolid, checking out local taco spots, or just getting away from the strip of resorts and beaches where most visitors spend their time, I felt completely safe here.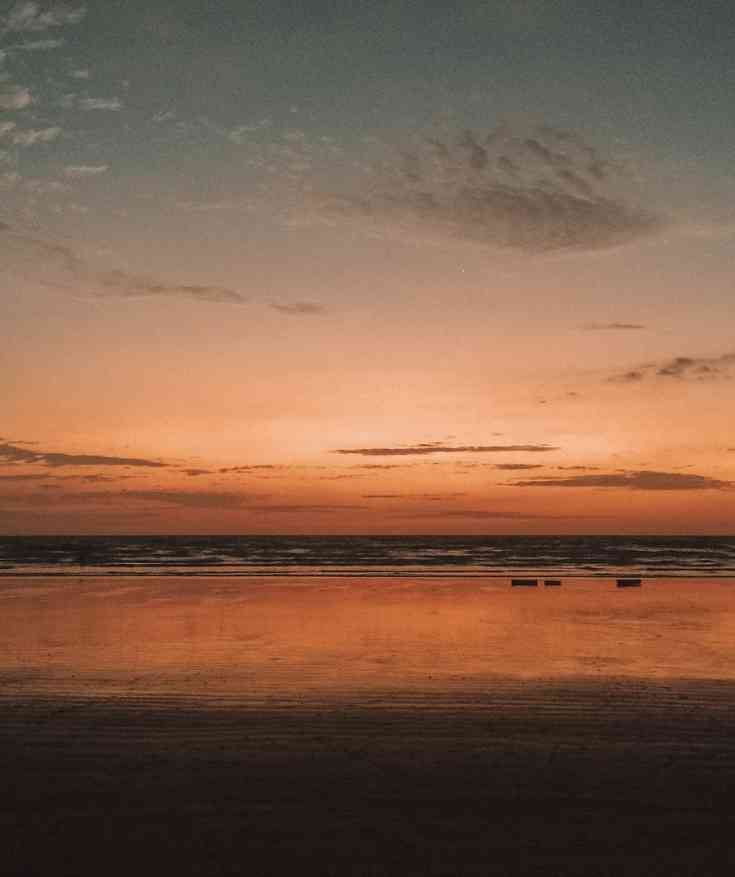 While solo female travelers can expect to draw some stares or even cat calls, I felt this unwanted attention was less than I'd experienced in many other places, especially relative to other destinations in Latin America.
Of course, make sure to take some basic safety precautions when you travel to Playa del Carmen, as you should anywhere you travel:
Keep your bag in front of you when in crowded areas.
Be careful of walking alone at night.
Don't travel with all your cash or cards on you at once
Once you take these simple precautions, you should feel comfortable knowing you'll have an uneventfully safe trip to Playa del Carmen, meaning you can relax and unwind in this dreamy Mexican beach town.
Carley @ Home to Havana
Oaxaca City, Oaxaca
Oaxaca City is a magical place, and I spent about one month there. The locals are incredibly friendly, and the city almost feels like a small town where everyone knows everyone else.
As with many travel destinations, there are some neighborhoods which are safer than others. When visiting Oaxaca City, you'll want to book one of these best places to stay in Oaxaca City to guarantee you're in a safe part of town.
Personally, I felt safe, both day and night when I visited Oaxaca City as a solo female traveler. Even though I felt safe, I took measures like taking a cab home at night instead of walking, just to be extra careful.
Oaxaca City is famous for mezcal, and there are great mezcalerias all over downtown. You will definitely want to be extra careful when you plan to drink a lot, as your safety probability can go way down when there's too much mezcal involved.
Still, Oaxaca City is one of the safest places in Mexico to visit for the vast majority of travelers. If you use the same general travel safety measures as you would when traveling anywhere else, you should be safe in Oaxaca.
Shelley @ Travel To Oaxaca
El Cuyo, Yucatan
As full-time vanlifers, safety is always one of the most important things we consider when deciding where to visit. We spent over seen months traveling by van in Mexico and El Cuyo in the Yucatan Peninsula ranks as one of the safest destinations we traveled to.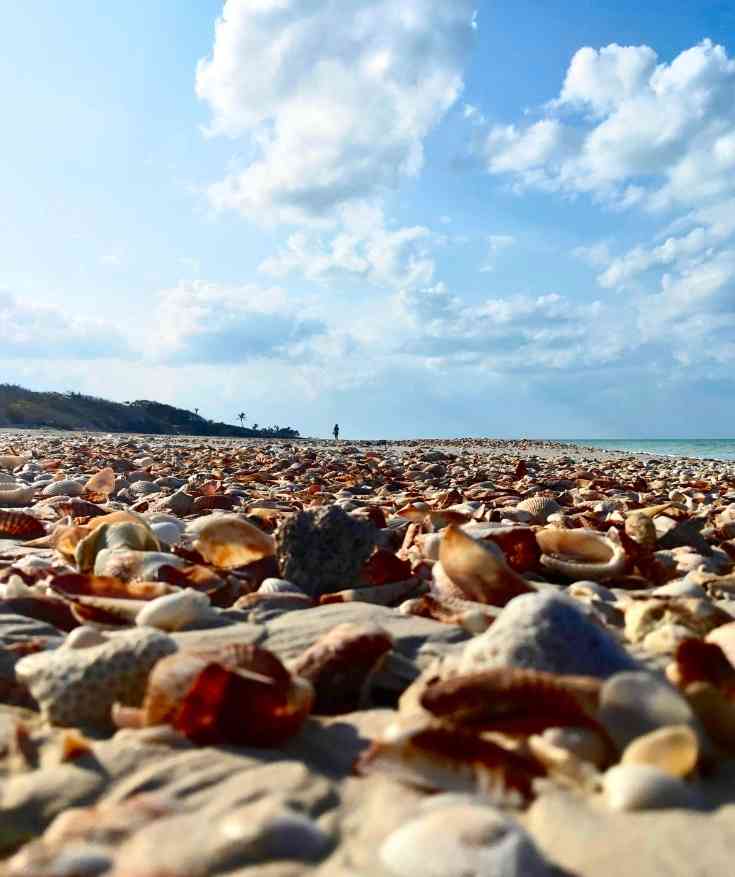 The wind-swept beach town of El Cuyo is no more than a small fishing village that is just beginning to get noticed on the tourist circuit. The town itself is comprised of a few dirt roads, a handful of family-owned accommodations, and a couple of cafes and restaurants, but that is just why we like it. The people here are excited to share their little slice of paradise with you.
When we visited, the people in the community were extremely friendly and helpful. We didn't feel uncomfortable or unsafe camping down a dead end street in the middle of the small town. One hotel owner even let me shower at the hotel for a few pesos!
Eddie and Kelli @ The Vanabonds
Holbox Island, Quintana Roo
If you are looking for one of the safest places to visit in Mexico, check out a small island situated on the Yucatan Peninsula's northern coast – Isla Holbox.
This fishing village has a friendly community and is very walkable. There is no crazy road traffic on the island because there are not many cars.
One of the best things to do in Holbox includes renting a bike and exploring the island on your own. We felt very safe cycling on the sandy roads of Holbox while visiting the furthermost corners on the island.
Moreover, we left our bikes unsecured on the beach so we could cross the water and see Flamingos. When we came back it was still there. However, if you have a bike lock, please always use it no matter where you go!
Isla Holbox is one of the safest places in Mexico because it is not packed with tourists and there are only 3000 residents on the island. We went for a morning run along the sandy beach of Holbox and we could only see a few other people around the island. This place is really beautiful and feels so safe so make sure to add it to your travel bucket list.
Paulina @ Ukeveryday
Todos Santos, Baja California Sur
Todos Santos is a popular destination in Baja California Sur less than one hour away from the popular resort Cabo San Lucas.
Todos Santos is a designated Pueblo Magico that is known for its history, cute architecture and beautiful beaches in the area.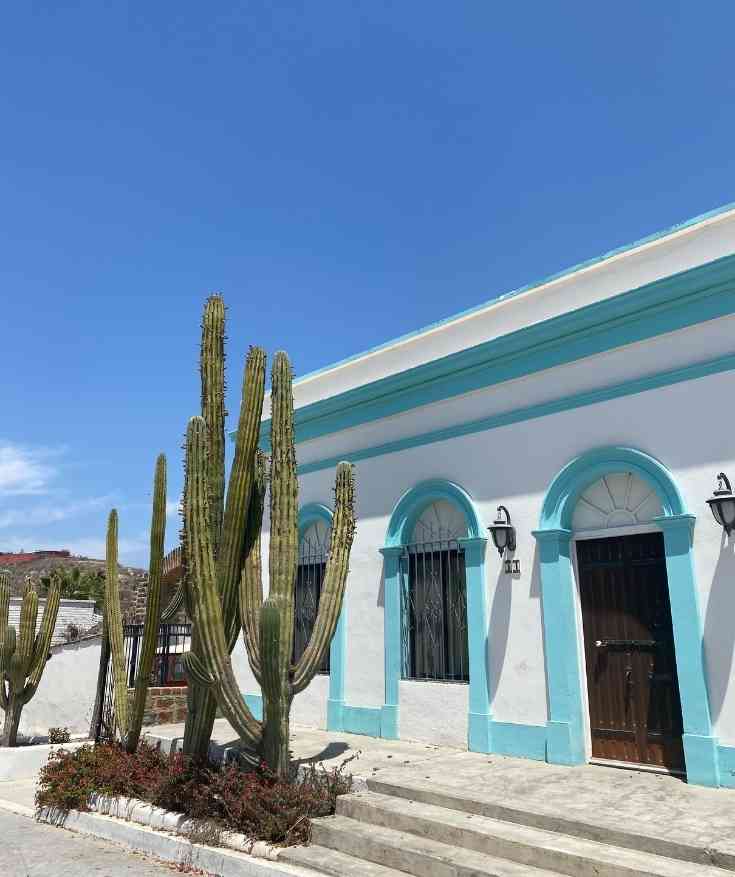 It's also a popular expat destination with many Canadian and U.S. travelers. Many travelers visit Todos Santos on a day trip from Cabo San Lucas, which can be done by renting a car or booking a guided tour.
The town was founded by the Jesuit Missionaries and boomed during the sugar cane production before becoming a popular tourist spot that it is today.
Not only Todos Santos is one of the safest places to visit in Mexico, it's also a popular spot for connecting with the nature. From hiking in places like Punta Lobos to surfing and exploring local beaches, Todos Santos offers plenty of outdoor opportunities.
If you like surfing, Todos Santos is a must. The entire Todos Santos Bay is home to some of the best surfing beaches in Baja California with many surfing towns like Playa Pescadero, Playa Los Cerritos and Playa San Pedrito where you can ride the waves and enjoy spectacular sunsets.
Daria @ Explore Baja California
Mexico City
Contrary to the general perception, Mexico City is one of the safest places to visit in Mexico. I traveled there with my partner and we stayed in Polanco, which is one of the best neighborhoods in Mexico City.
The city also became one of my favorite destinations for a vacation in no time. Mexico City has a very convenient and well-connected public transport system. Plus, you will also notice the presence of police in all tourist areas and neighborhoods. Though the city has a pretty low crime rate, you will have to keep certain things in mind before visiting the city.
Stay in a safe neighborhood such as Reforma, Polanco, and Condesa. I felt safe while wandering through these neighborhoods whether it was day or night. Avoid visiting areas like Tepito, Iztapalapa and Doctores. The metro is generally crowded so I would recommend you to use the public bus or Uber cabs for transportation.
I found the locals very friendly and welcoming. Learning a few sentences in Spanish also helped in connecting with them. Interesting architecture, exceptional museums, heritage sites, cultural spots, great restaurants, and thriving nightlife makes Mexico City a destination worth visiting.
Anjali @ Cheerful Trails
Cancun, Quintana Roo
Cancun is known for its white sandy beaches and aqua blue-colored water. The city is a top destination for many travelers looking to escape winters up north or to have a relaxing resort-style vacation.
During my five days in Cancun, I felt completely safe and welcomed. To be fair – I usually prefer to travel to more local places without many tourists, but Cancun is the complete opposite.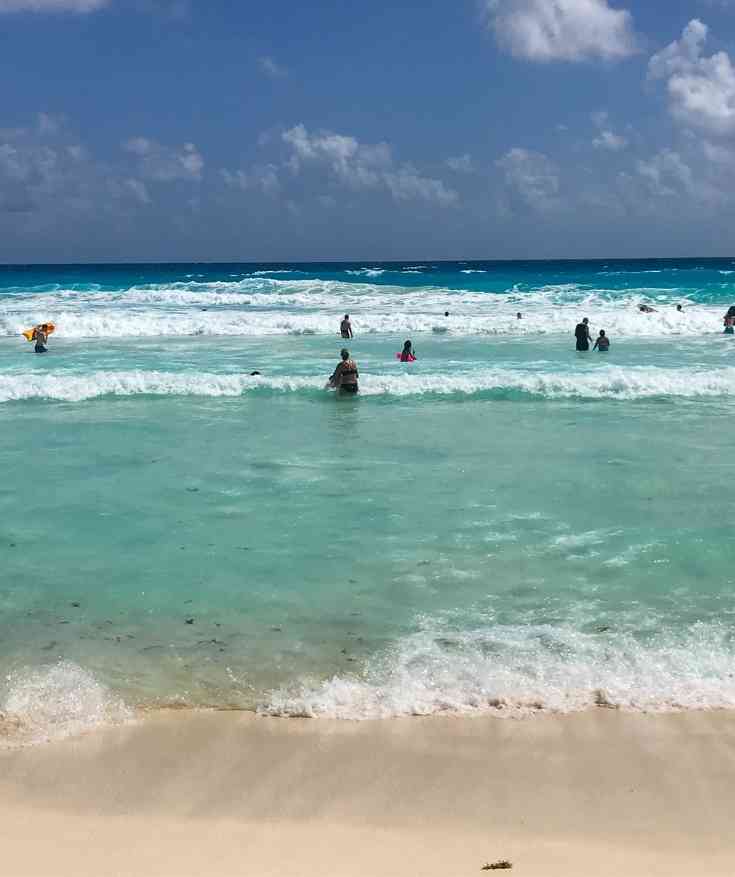 I almost felt like I was at a resort-town somewhere in the United States because of the huge amount of American tourists in the area. Since it's nice to have a sense of familiarity, I felt comfortable knowing that I could communicate with a lot of people due to the shared language.
Cancun is built on one long stretch of beach. Many of the big resorts have beach front property with pools and are often all-inclusive. If you don't want to, you don't ever have to leave your hotel's property.
The hotel I was staying at was not all-inclusive, but I still had access to everything I needed within a 10-minute walk from my hotel and didn't have to venture out very far. This is a great perk if you don't feel very comfortable venturing out on your own.
All in all, I really enjoyed my time in Cancun and would recommend it as a safe place to visit in Mexico.
Jenoa @ One Year Around the World
San Jose del Pacifico, Oaxaca
One of the safest places in Mexico is
San Jose del Pacifico
, a small mountainous town in the Oaxaca State. Situated about 2,440 above sea level, this town is lush and offers the perfect escape from the hustle and bustle of Mexico. When it comes to safety, it is worth noting that there are no police in town. Though this might not sound safe at all, it is a testament to how safe the town is – there is no need for police. And because tourism is such a big part of this community, the locals try their best to make it as safe and accommodating as possible.
In fact, when I visited, the locals were a lot more friendly than in other cities in Mexico. It wasn't the type of friendliness you get when they are trying to sell you something. They were just genuinely happy to see that you are enjoying your visit to their small town called home.
Sean @ Living Out Lau
San Miguel de Allende, Guanajuato
San Miguel de Allende is well known for its spectacularly preserved historic center and gorgeous churches. The peaceful destination in Guanajuato is a haven for expats and retirees from all over the world and one of the reasons is because of how safe it is.
Few things bring you more comfort in an unfamiliar city than seeing foreign retirees going about their daily routine without a worry in the world.
One reason I felt safe is that life moves slowly here. The sloped cobblestone streets cause people and cars to navigate the city at reduced speeds. Because of this, you won't experience the sensory overload that can disorient you in more chaotic cities.
The roads aren't suitable for motorbikes, so you don't have to worry about "motoladrones" stealing your phone. Plus, I never worried about being targeted for crime because of my appearance due to the large expat community.
Another reason San Miguel de Allende felt safe is because of the noticeable police presence. Unlike in some other parts of Mexico, police officers don't carry big guns. This conveyed a message that there are no big security threats in the city.
Overall, I felt very safe at all hours of the day and didn't think twice about pulling out my iPhone on the streets.
Mark George @ George's Backpacking Guides
San Cristobal de las Casas, Chiapas
Located in the popular state of Chiapas in Southern Mexico, San Cristobal is one the most picturesque towns to visit and one of the safest places to visit in Mexico.
With colonial churches, winding cobblestone paths and incredible sceneries nearby, it's a highlight on any trip to Mexico. While backpacking in Mexico we spent 3 days in San Cristóbal, and found it was much safer and relaxing compared to previous areas of Mexico we had visited.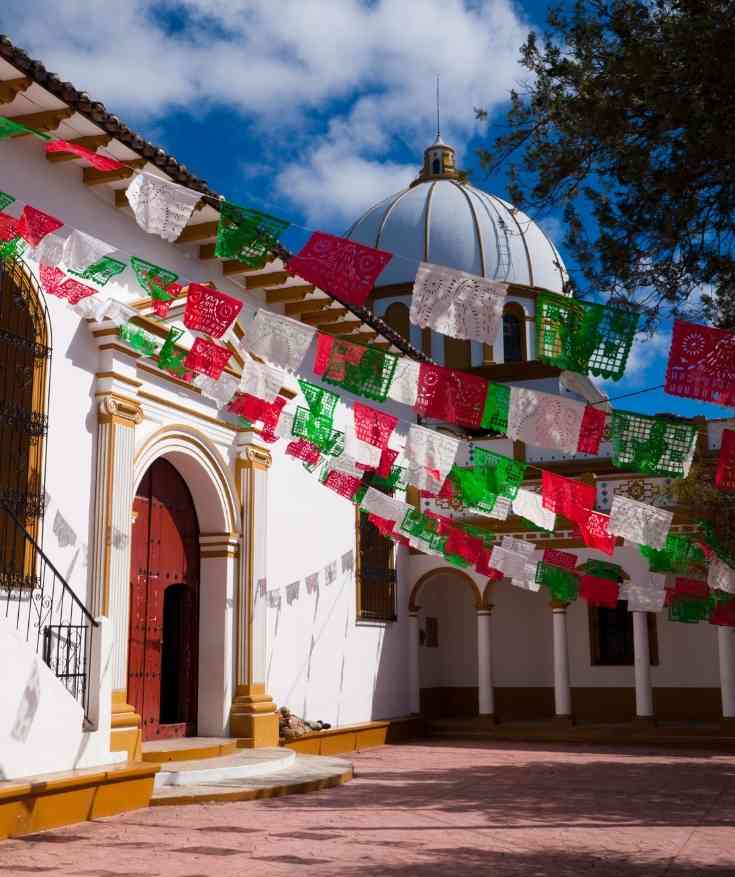 We stayed near the Parque Central, along the bustling street of Real de Guadalupe. This area is definitely the safest, and even in restaurants and bars there's a very welcoming and "inclusive" vibe from the locals, like you would get from living in a small town.
Firstly, be sure to stay in the heart of San Cristóbal, which is anywhere near the Parque Central. We didn't visit the outskirts so can't comment on this, however generally in Mexican towns and cities these outlying areas tend to be less safe.
Secondly, whilst San Cristóbal is generally a very safe destination to visit, you'll still need to keep valuables locked up in your accommodation. This is because there's always a risk of pickpocketing, which is common throughout Mexico.
Dan & George @ from Backpacking Latin America
Mazatlan, Sinaloa
Mazatlan is a beautiful city on Mexico's Pacific Coast. Known as 'the Pearl of the Pacific', it features many miles of gorgeous beaches. There are many great things to do in Mazatlan, from exploring its historic center to strolling the Malecon, its oceanfront boardwalk.
There is a large community of English-speaking expatriates living in Mazatlan. Whenever cruise ships are in town, they volunteer and provide maps, directions, and recommendations.
I think just having this brief orientation with friendly people makes you feel more comfortable with your stay in Mazatlan. The tips also help visitors to have the best experience here.
One of the volunteers joked that in Mazatlan you don't need to watch out for the people – just the sidewalks. It's true: Mazatlan gets most of its income from its fishing industry, not from tourism. As such, visitors are not continually harassed by locals trying to sell them something. This is a welcome change from some other popular destinations in Mexico!
Mazatlan is a place that I have always felt safe visiting in Mexico, even as a solo female traveler. Still, you should always be aware of your surroundings. But that is good advice whether you are at home or abroad.
Lisa @ Waves and Cobblestones
Sayulita, Nayarit
Sayulita is a colorful beach town along the Pacific coastline, about an hour north of the resort town of Puerto Vallarta.
While the town has a cute downtown full of hip boutiques and restaurants, it's primarily known for one thing – surfing! Perhaps it's no surprise, then, that this town has a kind of boho charm, mixed with sleepy, laidback vibes.
Sayulita is quite small (the primary mode of transportation here is simply walking or by golf cart) so it's easy to get a grasp on its layout. In addition to its manageable size, Sayulita's a pueblo magico (i.e., a town selected by Mexico's tourism board as providing visitors with a "magical" experience), so it's well maintained and fairly clean.
While I was visiting Sayulita, I felt perfectly safe walking around the streets during the day, passing by surfers, local families, and other visitors alike.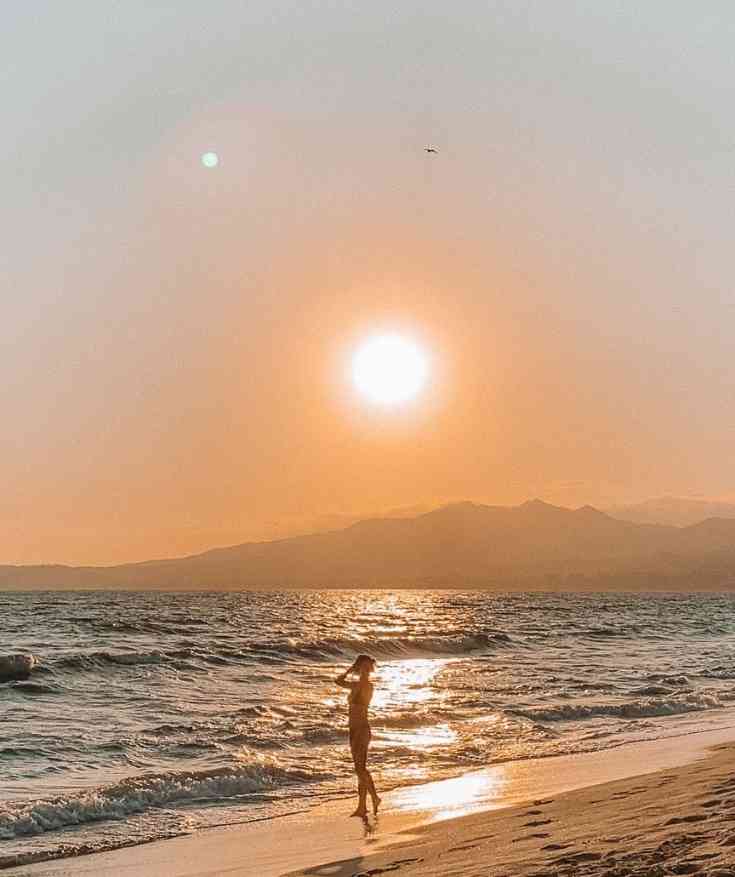 While I never felt unsafe here, even in the dead of night, it's worth mentioning that Sayulita has a wild party scene, which can certainly increase the risk of petty crime. So, to be on the safe side, I'd recommend sticking to well-lit streets and using caution if you're walking back to your accommodations late at night (as I'd recommend pretty much anywhere!).
Jess @ Uprooted Traveler
Leon, Mexico
When I first landed in Mexico, I remember feeling an instant pressure of panic creeping up on me because I had never been outside of the USA. As a young teenage girl, I knew my feelings were not unusual, especially as I felt leering eyes at the airport for my choice of eccentric attire.
However, I'm glad I was proved wrong about my uneasiness as I made my way to Leon's beautiful and welcoming city. I took a taxi from the airport to the Leon outskirts, where I stayed with my partner's family. At the same time, the poverty level was steeper in this area. It was nothing like I had experienced before; the people of this small community were tightly woven together. Neighbors helped each other, and wandering tourists like myself were given tips on things nearby that were amazing to do but also safe for travelers.
As we took the advice of the locals, we decided to explore the many recommendations they told us, such as visiting the Arco Triunfal, Tempel Expiatorio Del Sagrado, Zona Piel, and the main touristy area of Leon, aka Martyrs Square. We always felt safe walking around the touristy areas of Leon; maybe this was because Leon has a lower crime rate than other nearby cities in Mexico, or perhaps it was because the locals appreciated tourists who took the time to visit their humble leather city.
Whatever the reason, even when visiting Leon during the later evenings, we were not harassed and never experienced an unfortunate case of pit pocketing. Overall, we felt very safe visiting Leon and would recommend visiting this underrated city to others.
Yesenia and Sierra @ The sisters who voyage
Huatulco, Oaxaca
The coastal community of Huatulco, Oaxaca is known for its nine bays that encompass more than 30 beaches. But did you know it is also one of the safest places in Mexico?
Huatulco was developed as a tourist destination, although without the towering buildings of other developments like Cancun, it feels more like a high-end community that you would call home.
The area borders the Huatulco National Park, a protected green space where I found some of the best beaches in Huatulco.
I felt incredibly safe in the small town of La Crucecita and the surrounding community. Whether jumping in a taxi to explore a different beach or walking to dinner in the evenings, everyone was more than friendly.
The feeling of a planned community with wide sidewalks and well-lit streets also made me feel safe. And while Huatulco mostly draws national tourists, there is a reputation to uphold for safety.
Julien @ Oaxaca Travel Tips
✈️ Ready to visit a few of these safe places in Mexico? If you need more information about the safest places in Mexico, I'd be happy to update this post – just leave your questions below!
Trisha traveled to Mexico in 2018 and after a year, she found herself obtaining a 4-year residency visa in Mexico. She is the Editor-in-chief for our Living in Mexico Series which has helped over 3,000 Americans move to Mexico with ease. Trisha currently resides in Cabo San Lucas, Baja California Sur.