Are you deciding if you should visit PV or another destination in Mexico? Here are some of the best reasons to visit Puerto Vallarta and pick PV as your next destination!
Puerto Vallarta stands out among other destinations in Mexico for its unique blend of natural beauty, cultural richness, and welcoming hospitality. Set along the beautiful Banderas Bay, one of the largest and deepest in the world, the city boasts spectacular coastal views, lush mountain landscapes, and vibrant biodiversity.
Unlike many tourist destinations, Puerto Vallarta has preserved its quaint charm and traditional Mexican feel, with cobblestone streets and white-washed houses while offering modern amenities. Its historic center, El Centro, is brimming with charming boutiques, restaurants, and art galleries.
The city is also famous for its dynamic food scene, from street food to high-end dining, reflecting the rich culinary tradition of the region. The diverse range of activities, from whale-watching and scuba diving to golfing and yoga retreats, caters to various interests, making it a versatile travel destination.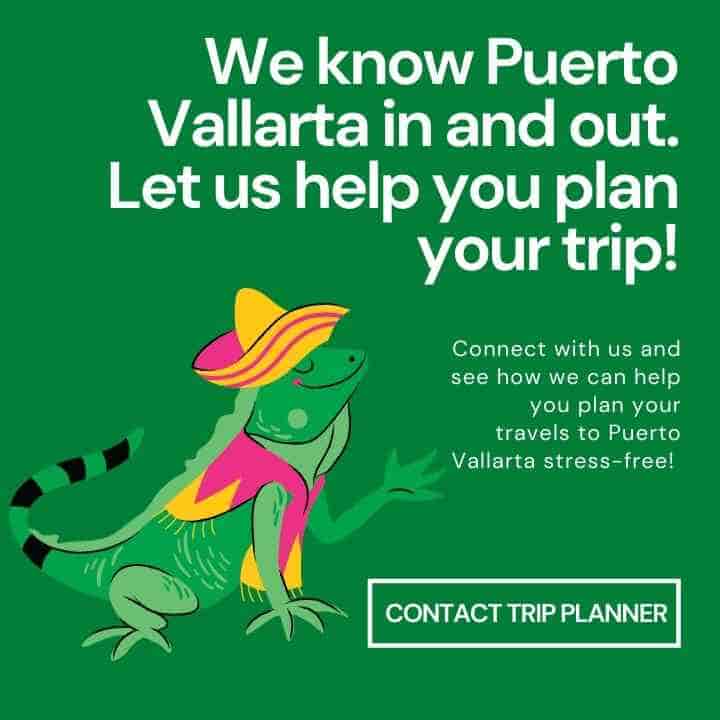 👉🏽 See also: The first-timers guide to Puerto Vallarta
Comparatively, Puerto Vallarta can be more affordable than other popular beach destinations in Mexico, such as Los Cabos or Cancun, depending on the type of vacation one is seeking. While all these destinations offer a range of accommodations from budget to luxury, overall, the cost of living in Puerto Vallarta is lower.
This means that day-to-day expenses, such as dining, shopping, and local transportation, are less expensive. Puerto Vallarta offers many affordable activities and experiences, from exploring local markets and free art walks in the historic center to hiking in the surrounding jungle-covered mountains.
However, like any travel destination, costs can vary depending on the season, with prices generally higher during the peak tourist seasons and lower during the off-peak periods. Read on and find more reasons to visit Puerto Vallarta!
🧐 Questions about Puerto Vallarta? Ask us on Tiktok.
🔗 Puerto Vallarta Travel: quick links
🙋 Is Puerto Vallarta worth visiting?
YES! Puerto Vallarta is a destination worthy of a visit. The city on the Pacific Coast of Mexico offers abundant outdoor activities, including beach excursions, cultural experiences, and lively nightlife.
The primary attraction of Puerto Vallarta is its beaches, which feature clear water and soft sand. The city also has a rich cultural heritage, as evidenced by its colorful buildings and cobblestone streets.
Moreover, Puerto Vallarta is renowned for its lively entertainment and delicious cuisine. Due to the abundance of bars, nightclubs, and restaurants in the area, you can dance while imbibing cocktails and eating delicious food.
🌟 Top reasons to visit Puerto Vallarta
#1: There are over 20 beaches in Puerto Vallarta
Puerto Vallarta is a coastal city with numerous beaches. When traveling to the town, you can visit over 20 distinct beaches. And with more than 300 days of sunshine a year, Puerto Vallarta's beaches make your visit worthwhile.
Playa de Oro, Boca de Tomates, and Playa Camarones are three of the region's most renowned beaches. These beaches offer swimming, sunbathing, and a variety of water activities.
Meanwhile, Caballo Beach, Quimixto Beach, and Yelapa Beach are among the lesser-known beaches. You can visit these instead if you search for a more secluded and tranquil beach.
#2: Puerto Vallarta is a resort city
Since Puerto Vallarta is home to several beaches, it has become a resort city. You can find many all-inclusive resorts and hotels in the area, which are great accommodations for first-time travelers.
All-inclusive resorts provide nearly everything, including food, lodging, and daily activities. Occasionally, they even offer child-care facilities and travel bundles. In addition, these resorts are typically situated on the beachfront, providing convenient access to the sand.
#3: Puerto Vallarta is child-friendly
If you want to take a break from your daily routine and take your family on vacation in Mexico, consider Puerto Vallarta. Not only is the city ideal for solo and group travel, but it's also an excellent site for family vacations.
Numerous child-friendly activities and attractions in Puerto Vallarta will keep your children entertained throughout their stay. They can appreciate exploring places such as the Botanical Gardens or the Sea Turtle Conservation Center, where you and your children can learn about the efforts to conserve these fascinating creatures.
As stated previously, the majority of resorts in the city offer child-care services, allowing you to enjoy an intimate date with your companion.
#4: So many sailing and boat tours
One of the most popular things to do in Puerto Vallarta is to participate in water activities, such as sailing and boat excursions. Numerous tour operators offer a variety of boat and sailing excursions in Puerto Vallarta, each with individualized inclusions to suit your preferences.
Therefore, whether you want to take a romantic sunset cruise or explore the coastline's hidden beaches and coves, you can schedule something that suits your plan.
#5: Jalisco is the capital of tequila
One of the best reasons to visit Puerto Vallarta is that it is located in Jalisco, the tequila capital of Mexico. This will provide you with numerous opportunities to tour various tequila distilleries.
This is a once-in-a-lifetime opportunity to learn more about the tequila-making process. From harvesting the agave plants to the fermentation and distillation of the tequila, you will get an up-close glimpse at the production of this iconic beverage.
Moreover, a visit to a tequila distillery would only be complete with tasting the local varieties. You will have the opportunity to sample tequila blanco and reposado, as well as other combinations exclusive to this region.
#6: Puerto Vallarta is home to tacos de birria
Due to the abundance of food options in Puerto Vallarta, gastronomes will appreciate their stay in the city. And while Puerto Vallarta is home to several other dishes, it is the most famous for the world-renowed tacos de birria.
Slow-cooked meat marinated in aromatic seasonings and served with soft tortillas constitutes tacos de birria. The dish is available nearly everywhere, in every local eatery.
Birrieria Robles El Lic and Marisma Fish Taco are renowned restaurants that satisfy your cravings and provide an authentic experience.
#7: There is an international airport with direct flights from the USA
A second reason to visit Puerto Vallarta is its international airport, with direct flights from the United States.
The Puerto Vallarta International Airport (PVR) is a modern, well-equipped airport close to the city center. American Airlines, Delta, and United Airlines are well-known airlines that fly into PVR, so you will have many options.
In addition, transportation from the airport to the city center is convenient. You can take public transportation or a shuttle to your hotel upon arrival. Even automotive rental services are available in the city.
#8: Mountain hikes and outdoor activities
Puerto Vallarta also offers a variety of outdoor activities for those seeking excitement. Numerous outdoor activities are available, including ziplining, ATV riding, biking, hiking, and more.
And with various tour companies in Puerto Vallarta, you can easily find tour activities and packages that suit your preferences and budget. Some outdoor excursions you can try are the Puerto Vallarta ATV Adventure or the Canopy Zipline.
#9: So many nearby small towns to visit for day trips
Puerto Vallarta is renowned as an excellent base for exploring other Jalisco villages and cities. Sayulita is one of the prominent destinations in the region that you can visit if you wish to escape the bustle of Puerto Vallarta.
Sayulita is renowned for its beautiful coastlines, vibrant architecture, and thriving art scene. You have the option of booking day excursions or driving yourself to Sayulita.
Additionally, Bucerias, Punta Mita, and San Pancho offer unique cultures and attractions. Each town has its special allure awaiting discovery, from local markets to traditional celebrations.
#10: Puerto Vallarta weather is excellent all year
One reason you should consider visiting Puerto Vallarta is its weather. The city enjoys a sunny climate almost year-round, perfect for daily activities and excursions.
With the warm temperatures and very little rainfall, you'll be sure that your trip to Puerto Vallarta will be filled with plenty of sunny days. This is perfect for you to enjoy the beach, explore the city's historic architecture, or enjoy some delicious local cuisine in various restaurants.
#11: Not as crowded as Cancun
Other Mexican cities and villages, such as Cancun, can become extremely busy and crowded. And if you wish to escape the crowd and are searching for a more laid-back getaway, this is another reason to visit Puerto Vallarta.
Puerto Vallarta offers a more tranquil and relaxing environment but still the same experiences as Cancun. Like Cancun, Puerto Vallarta has several all-inclusive resorts and a rich cultural history.
And with the city's tropical climate and year-round sunshine, you can appreciate the outdoors, enhanced by a less crowded atmosphere.
#12: Cheaper than Cabo
When it comes to vacation planning, expenses are always a significant consideration. Fortunately, Puerto Vallarta is a budget-friendly destination. From cuisine to lodging to activities, the town offers various reasonable offerings.
Puerto Vallarta offers more affordable options than Cabo. In Puerto Vallarta, you can experience everything from local street food to upscale restaurants, all-inclusive resorts, and reasonable accommodations without breaking the bank.
In addition, the city also offers an abundance of inexpensive activities, such as visiting the local beaches, embarking on a boat excursion, or walking around the city to see nearby attractions.
#13: Still has local culture compared to other resort cities
While other resort cities have succumbed to a wave of commercialization and lost their local character, Puerto Vallarta has managed to preserve its local culture, traditions, and architecture. This is another excellent reason to consider a trip to Puerto Vallarta.
The city's cobblestone avenues, colorful buildings, and bustling markets give you a glimpse of authentic Mexican culture. The city's numerous art galleries and institutions also feature the work of local artists and the region's unique history.
#14: Affordable honeymoon destination
As previously stated, Puerto Vallarta is an affordable destination. And suppose you're looking for a place to spend your honeymoon in Mexico, Puerto Vallarta offers a variety of accommodations to suit your preferences, from beachfront bungalows to all-inclusive resorts with private Jacuzzis and ocean views.
This has made Puerto Vallarta a well-known honeymoon destination. In addition to the affordable accommodations, you can enjoy inexpensive honeymoon excursions such as a stroll through the Old Town, a romantic dinner for two, horseback riding on the shore, and sunset catamaran cruises.
#15: Puerto Vallarta is safe
In addition to offering a combination of modern amenities and traditional Mexican culture, Puerto Vallarta has a reputation for being a safe travel destination.
While exercising caution when traveling outside one's home country is always essential, Puerto Vallarta is a relatively secure destination. Tourism has contributed to the city's overall safety, as the local government and businesses have worked to establish a welcoming and safe environment for tourists.
#16: Banderas Bay
Banderas Bay is the world's second-largest bay. It provides a breathtaking view of the ocean and a variety of water activities to suit all tastes. And the fact that Banderas Bay stretches out in Puerto Vallarta is another reason you should visit the city.
In addition to the activities available in Banderas Bay, you can watch the sunset (or sunrise) from here. You can also consider visiting various restaurants, beach clubs, and resorts along the coastline.
#17: Vibrant nightlife
Numerous restaurants and nightclubs make Puerto Vallarta ideal for a vibrant nightlife scene. Whether you're in the mood for live music, dancing, or sipping a delectable cocktail, you'll find a venue in the city.
Many bars and clubs are located downtown, making exploring and hopping from one location to another simple. In Puerto Vallarta, you can enjoy everything from hip and contemporary rooftop bars to nightclubs open until the wee hours of the morning.
#18: So many islands nearby
With so many islands close to Puerto Vallarta, you can easily experience a variety of excursions, including snorkeling and hiking, to these islands.
So, if you are searching for a location that makes island tours convenient, Puerto Vallarta should be at the top of your list. Several tour companies can organize these excursions for you, but you can always go your way and make the most out of your trip.
Trisha traveled to Mexico in 2018 and after a year, she found herself obtaining a 4-year residency visa in Mexico. She is the Editor-in-chief for our Living in Mexico Series which has helped over 3,000 Americans move to Mexico with ease. Trisha currently resides in Cabo San Lucas, Baja California Sur.