Puerto Escondido restaurants growth has increased since this beach town on the Pacific coast has been an iconic destination for surfers. There are all kinds of cuisine including the Latin American street at La Punta where you will find Peruvian, Venezuelan, and Argentine cuisines.
Because of the rich waters surrounding Puerto Escondido, most menus star seafood dishes like ceviche and pescado frito. Whatever neighborhood you choose to stay in, there are many cafes, restaurants, and hidden local spots (like the seafood joint in a car wash on this list).
???? Are restaurants in Puerto Escondido expensive?
Menus in Puerto Escondido restaurants start for as low as US$7 when you're eating at the local food markets. Mid-range restaurants can cost up to US$15 while the high-end ones (which are very few) start at US$25.
You may also like: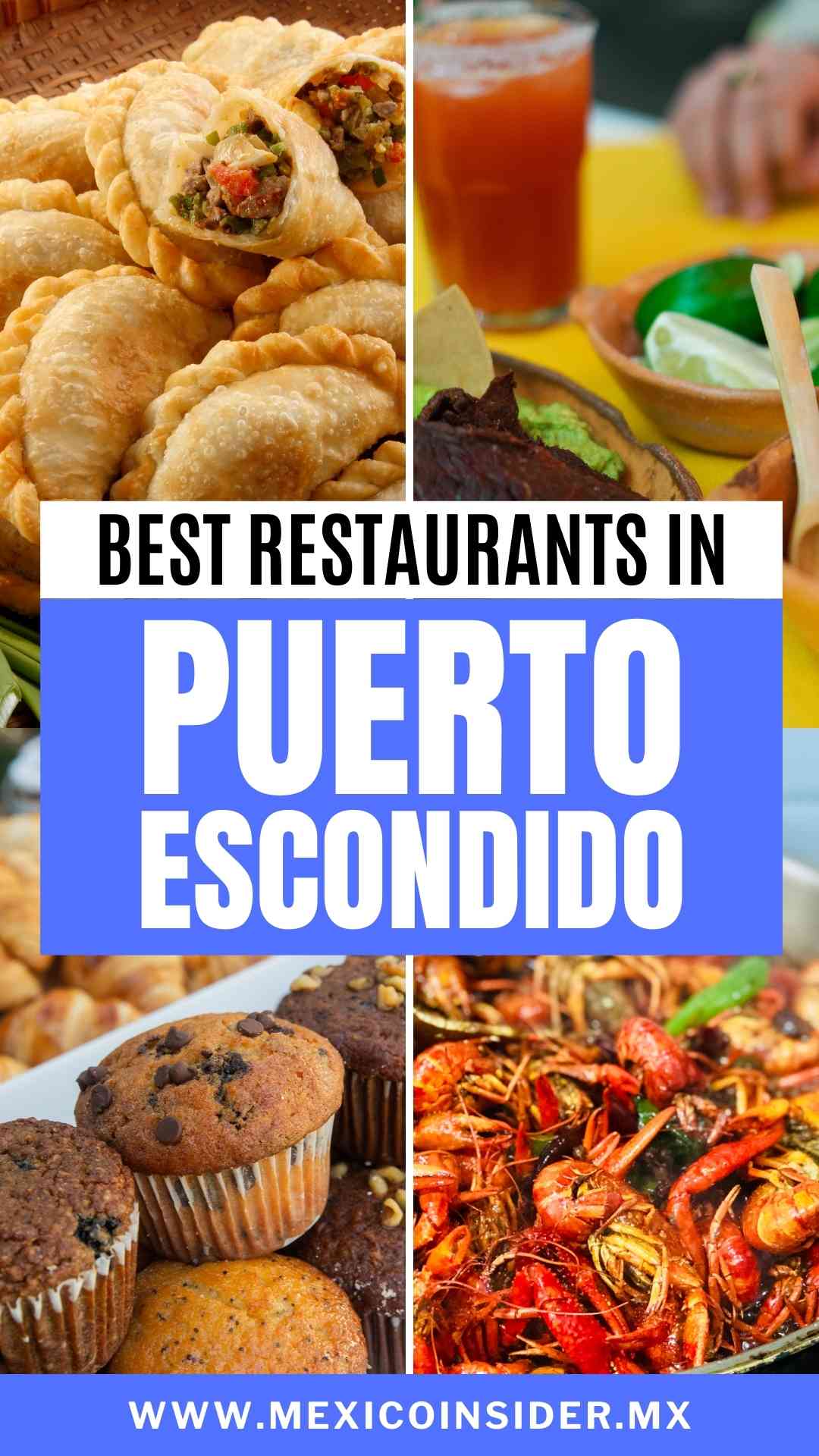 ???? Editor's Pick: 10 best Puerto Escondido restaurants
#1: Lychee: best Thai
???? Alejandro Cárdenas Peralta S/N
Getting access to Thai food is not difficult in Puerto Escondido. Pad thai, mango sticky rice, and fresh spring rolls make up the menu at Lychee. This is one of the biggest Puerto Escondido restaurants that serve Asian food. Lychee has a big restaurant space so you can easily find a table here for big groups.

#2: Mercado Benito Juarez: best food market
???? Benito Juarez
For those who are extra adventurous, there is a food market in Puerto Escondido called Mercado Benito Juarez. Here, you will find all the typical dishes of Oaxaca for less than US$5.
There are many food stalls inside this market and most of them are locally owned. Every Oaxacan dish you will encounter is unique and this is the best place to explore those many options.
#3: El Bunker de JP: best local spot
???? 71980, Calle Primera Pte. 305
This used to be a spot for locals but now many visitors already discovered it. El Bunker de JP is right next to a carwash so come here when you need to have your Oaxaca road trip car cleaned.
This is one of the Puerto Escondido restaurants that always have fresh oysters on the menu. Some of our favorites include their sashimi starter, best paired with a cold Pacifico.

#4: Almoraduz: best in Oaxaca cuisine
???? Allende 124, Centro, Malecon
There is no other restaurant in Puerto Escondido that knows the essence of Oaxacan cuisine but Almoraduz. You can find excellent food here such as the world-class mole to iconic tlayuda.
They also change their menu depending on the season. The owners and chefs have their own farm where they locally produce organic ingredients to serve at Almoraduz.
#5: Fish Shack: best fish tacos
???? C. Matamoros 906
We are obsessed with Fish Shack's coconut shrimps and Baja-style fish tacos! This is a good place to eat different kinds of seafood tacos with the cheapest national beers in town.
The Fish Shack's space is really small and is located in an alley that leads to the beach. It is definitely a local hang-out, especially after sunset surf sessions at La Punta!
#6: Espadin: best restaurant in Carrizalillo
???? Camino Carrizalillo
You'd most likely be attracted to Restaurante Espadin's view of the Carrizalillo beach but you'll love the concept of this restaurant. The name Espadin is from a type of agave plant in Oaxaca.
The dishes at Restaurante Espadin are all perfectly paired with mezcal. The best plates to order here are the coconut shrimp and the fish of the day.
#7: El Cafecito: best coffee shop
???? Av del Morro | Rinconada
We first found out about El Cafecito when we were looking for cafes with wifi in Puerto Escondido. They have 2 branches and both didn't have a good Internet connection.
But what drew us to come here daily was their all-day breakfast: American, Mexican, and Continental are some of the options. We recommend trying huevos divorciados.
#8: Food Market La Punta: best food park
???? La Punta Zicatela
If you're traveling with a group with different food preferences, the Food Market La Punta is the place to go. They have different restaurants inside that your party can choose from!
There is a coffee shop here that we frequent but they don't have fast wifi so we always take it to go. The sushi place here is also super affordable and has over 15 items on its menu.
#9: Mundaka: best Italian
The ambiance of this restaurant is dark and homey which makes Mundaka a good restaurant for dinner dates. They don't take reservations so you may have to fall in line for a few minutes.
Come to Mundaka for their woodfire pizza and handmade pasta. They also have a bar with a selection of great wines to pair with your meal. The salads are good for sharing!
#10: Filomena: best Argentine
The Argentines once again hit the Mexican land bringing their iconic dishes to Mexico like empanada, choripan, and of course, their legendary asado (steak).
Filomena represents the dishes of their country but is also doing a fusion with Mexican cuisine.
Tip: order the empanadas here frozen to take to your home or Airbnb!
✈️ Ready for your trip to Puerto Escondido? If you need more information about the best Puerto Escondido restaurants, we'd be happy to update this post – just leave your questions below!
???????? Puerto Escondido Travel Resources
???? Flights to Puerto Escondido: Puerto Escondido has its own international airport (PXM). Use the code MXINSIDER to get discounts on flights to Puerto Escondido!
???? Puerto Escondido Airport transfer: the airport is very close to Puerto Escondido center (about 17 minutes). Book your transfer in advance for as low as US$12.
???? Rent a car at Puerto Escondido Airport: doing a road trip around the state of Oaxaca? Rent a car at PXM Airport as soon as you arrive. A credit card is required for the security deposit.
???? Puerto Escondido bus transportation: you can also book bus tickets online to get to and from Puerto Escondido and around Oaxaca state.
????‍♂️ Activities in Puerto Escondido: find things to do, surfing lessons, trips to the bioluminescence lagoon, Oaxacan food tours, and other outdoor activities for as low as US$25.
???? Puerto Escondido Local Tours: support our work at Mexico Insider and book with our local tour guides! Our readers get a special discount!
????️ Hostels in Puerto Escondido: traveling to PE on a budget? We got you! These hotels in PE start at US$25 per night – ideal for solo travelers and budget backpackers.
???? Hotels in Puerto Escondido: boutique hotels with pools are very affordable in Puerto Escondido and usually have deal prices for 2 travelers.
????️ Luxury hotels in Puerto Escondido: the luxe lifestyle is also a thing for this surf town. Get luxury accommodations for your family starting at US$250 per night.
✅ Puerto Escondido Trip Planner: we have local staff on the ground in Puerto Escondido who knows the state of Oaxaca well. Contact us and we will help you plan your trip for a fixed rate. No hidden fees, just simple charges.
???? Mexico Travel insurance: do not travel to Mexico without insurance. Check which plans work for you for as low as US$40 for full travel coverage.
???? Puerto Escondido Updates: subscribe to our newsletter and get honest and transparent updates about Puerto Escondido. You will love our monthly news in your inbox! NO SPAM. NEVER.
☕ Buy us coffee: readers who support Mexico Insider help us continue bringing you the most honest content about Tulum. Consider donating to our coffee fund if you like the content that we do.
Trisha traveled to Mexico in 2018 and after a year, she found herself obtaining a 4-year residency visa in Mexico. She is the Editor-in-chief for our Living in Mexico Series which has helped over 3,000 Americans move to Mexico with ease. Trisha currently resides in Cabo San Lucas, Baja California Sur.