Oaxacan tamales is one of the top dishes not just in the state of Oaxaca but all over Mexico. Each Mexican state has its own version of making the legendary tamal but today, we are only sharing the Oaxacan tamales recipe.
Oaxacans eat tamales for all occasions. It is mostly served at weddings, Day of the dead, and during the Christmas season. You will see many street food carts selling tamales around Oaxaca City for less than US$2.50. We listed down a few local places in Oaxaca to try the tamales together with how these sub-cities in Oaxaca make their Oaxacan tamales.
☕ Readers who buy us coffee make Mexico Insider FREE for all. Consider donating to our coffee fund so we can continue updating the best of Mexico travel to you without a cost.
You may also like:
???? The history of tamales in Mesoamerica
Mexico's food staple is corn but the history of tamal dates back to 8000 BC. According to research by the Smithsonian, tamal was first made by the Aztecs. Tamales were portable and easy to transport so they became a quick snack for those who are continuously moving around (as nomads or in battle). The most traditional way of making tamales is underground where the tamales are buried with fire.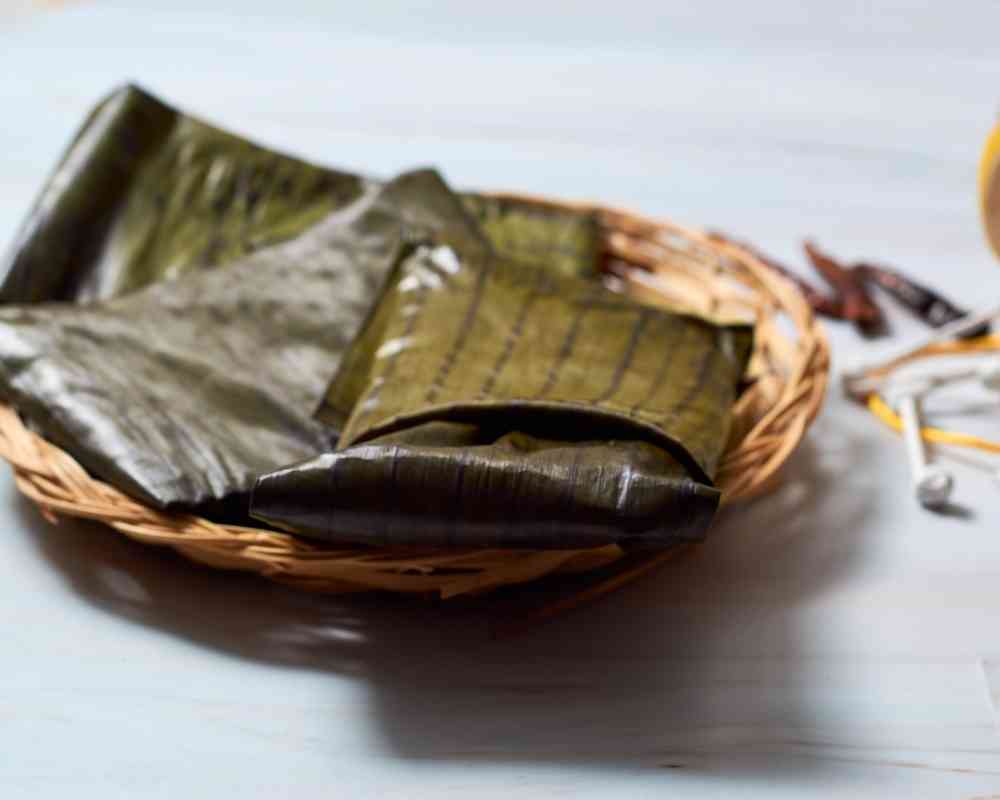 ✅ Types of Oaxacan tamales
The most famous tamal in Oaxaca is called tamal de mole negro. Mole is a traditional dish in Oaxaca and of course, the Oaxacans found a way to make a tamal-mole fusion. Making mole alone is already very laborious. It has over 40 ingredients that contain seeds, herbs, and many different spices. It is the best seller and can be found in the markets of Oaxaca.
However, Oaxaca is such a diverse state and this is the capital of tamal. The different types of tamales in Oaxaca are:
Tamales de tichinda: The coast of Oaxaca uses mussels called tichindas which are commonly found in the Manialtepec and Chacahua lagoons. You will find this type of Oaxacan tamales at the Benito Juarez Market in Puerto Escondido.
Tamales de Pescado: Fish tamal is very common in traditional Mixe cultures where they barbecue the fish and put it in the tamal. They are served during special occasions of the Mixe.
Tamales de frijol: The Sierra Norte mountains of Oaxaca (i.e. San Jose del Pacifico) is very fond of their bean tamal. This is a one-of-a-kind Oaxacan tamales because they are rectangular and are usually served with soup.
Tamales de Tamala: The southern mountains of Oaxaca loves their tamal sweet. The traditional tamales de Tamala has squash, beans, and sugar. The type of squash used is called the Tamala squash (calabaza Tamala).
Tamales de yuca: Yuca (cassava) is a staple ingredient in the Papaloapan region. The mazatecos love their tamales de yuca with pork and red salsa (just like the recipe you will find below). All over Oaxaca, you will find this commonly sold during Semana Santa (Holy Week).
Tamal de Iguana: Iguanas are harvested to make tamal de iguana for Semana Santa celebrations. This may not be your preferred protein for a tamal but the government of Oaxaca supervises this harvest so it is sustainable and eco-friendly. Tamales de Iguana is very common in Istmo de Tehuantepec.
Salsa verde de Pollo: if you are in Oaxaca City, there are many types of tamales to try but the most popular is the salsa verde de pollo (chicken tamales with green sauce).
Tamales Canarios: These Oaxacan tamales are served during the Dia de La Candelaria, a religious holiday honoring the patron saint of Candelaria. Like tamales de talama, Tamales Canarios is a dessert that consists of egg yolks, egg custard, butter, nuts, and of course, sugar.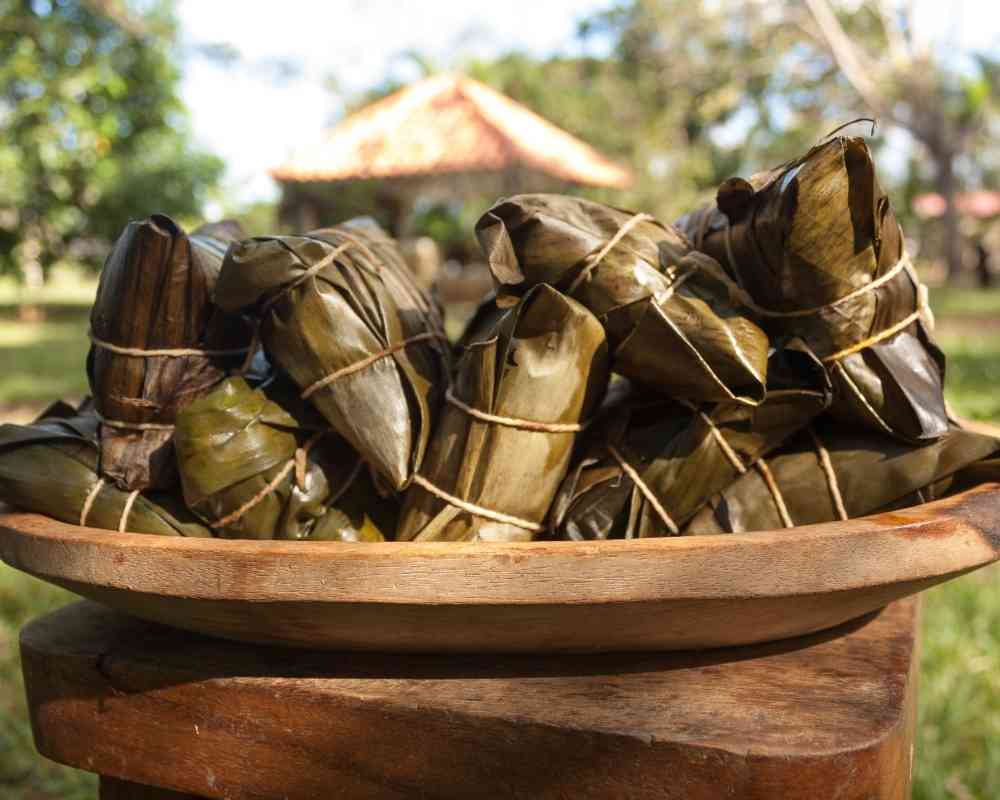 ???? Tamal Festival in Mexico
The state of Oaxaca has many festivals but in Mexico City, they hold an annual Tamal Festival where you can try different types of tamales from the states of Mexico, Michoacan, Tlaxcala, Veracruz, and Oaxaca. They also invite guest countries like Venezuela, Nicaragua, Colombia, and Honduras. Tamal is not only a national dish of Mexico but in many Latin American countries as well.
???? Get genuine and honest content like this by subscribing to our newsletter. We send high-quality information once a month. NO SPAM. NEVER.
????‍???? Enjoy this Oaxacan tamales recipe!
Oaxacan Tamales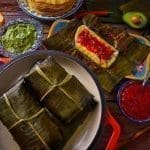 Try this Oaxacan recipe that will take you to the state of Oaxaca!
large pan
steamer
pan for saute
blender
1.5 kilos pork
3 garlic cloves
1 onion (cut in half)
1 tbsp salt
6 ancho chili peppers (remove seeds)
8 guajillo chili peppers (remove seeds)
2 tomatoes
1 tbsp marjoram (dry)
4 whole black pepper
2 cloves
1.5 kilos corn dough
5 tbsp lard
2 banana leaves
In a large saucepan, cover pork with water and add 1 garlic clove, 1/4 onion, and 1/2 teaspoon salt.

When it starts to boil, cover and simmer for 45-60 minutes or until the meat is tender.

Mince the meat but leave the broth boiling on low heat.

Roast the chillis and place them in a container. The chillis should be covered with hot water. Leave it to rest for 20 minutes.

Meanwhile, roast the tomatoes on a pan. When it's charred, peel them and put them in a blender. This will be used for the sauce so make sure it's blended well.

Grill 1/4 onion, 2 garlic cloves, marjoram, pepper, and cloves

Drain the chiles from the container after they have rested for 20 minutes. Put them in the blender together with the roasted onion, garlic, marjoram, pepper, and cloves.

Add 1 cup of broth from the pork

In a separate pan, melt 1 tablespoon of butter and sauté the previous mixture for 5 minutes.

Add the tomato puree to the pan and continue for another 5 minutes. Add the meat, mix well and cover. Cook over low heat for 10 minutes.

On the stove, place the banana leaf to roast for 5 seconds.

Cut the banana leaf into 13×15 cm squares

Mix 2 tablespoons of butter with the dough for 5 minutes

Grease one side of the banana leaf with butter

Place a square of dough (about 8 cm) on the side of the leaf with greased with butter. Put 1/2 tablespoon of the pork on top of the dough.

Fold the opposite edges of the sheet to the center and then do the same with the other two edges so that a closed rectangle is formed. To secure the tamales, tie them together with thin strips of the same leaf.

Add 2 cups of the water to a pressure cooker with a steam rack and cover the rack with the other banana leaves spread out.

Place the tamales on the leaves of the rack and cover them with more banana leaves.

Cover the pot and cook for 20 minutes. It can also be cooked in a steamer.
Trisha traveled to Mexico in 2018 and after a year, she found herself obtaining a 4-year residency visa in Mexico. She is the Editor-in-chief for our Living in Mexico Series which has helped over 3,000 Americans move to Mexico with ease. Trisha currently resides in Cabo San Lucas, Baja California Sur.