Visiting mezcal bars in Oaxaca City is a must and should be on top of your list of things to do. Here are the best Oaxaca mezcalerias to visit for your trip to this wonderful city.
Mezcalerias are bars or establishments in Oaxaca City, that specialize in serving mezcal, a traditional distilled alcoholic beverage made from agave plants. These bars are known for their unique atmosphere and the quality of their mezcal, often produced by small, family-owned distilleries.
Visiting a mezcaleria is a must if you want to experience Oaxaca's rich cultural heritage. Mezcal is deeply rooted in the region's history and integral to the local economy.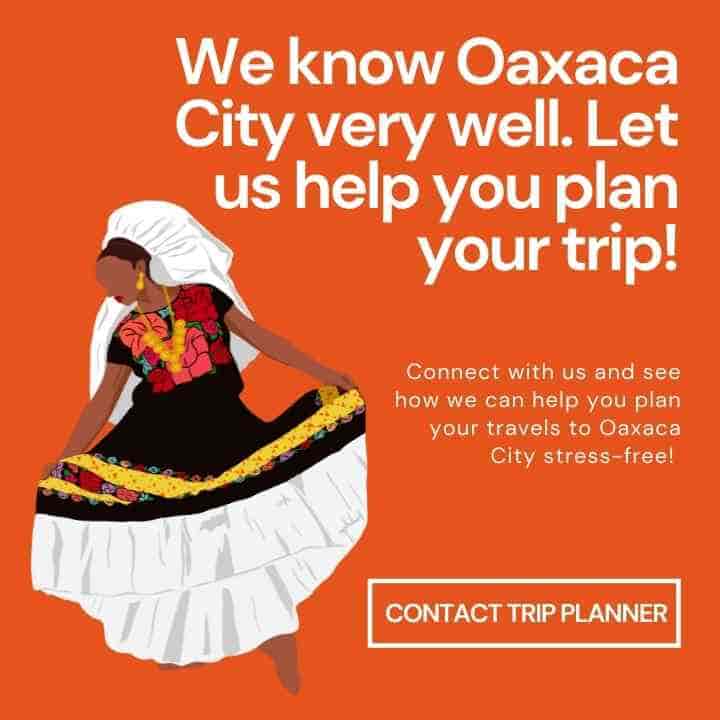 By visiting a mezcaleria, you can learn about the different types of mezcal, how it is made, and the traditions and rituals surrounding its consumption.
In addition to the cultural experience, visiting a mezcaleria is also a great opportunity to taste some of the best mezcal in the world.
Mezcalerias often offer a wide variety of mezcal, from small-batch artisanal varieties to more commercial options. You can also enjoy mezcal cocktails and other traditional Oaxacan drinks and snacks while enjoying the atmosphere of these mezcal bars in Oaxaca City.
🧐 Questions about Oaxaca mezcalerias? Ask us on Tiktok.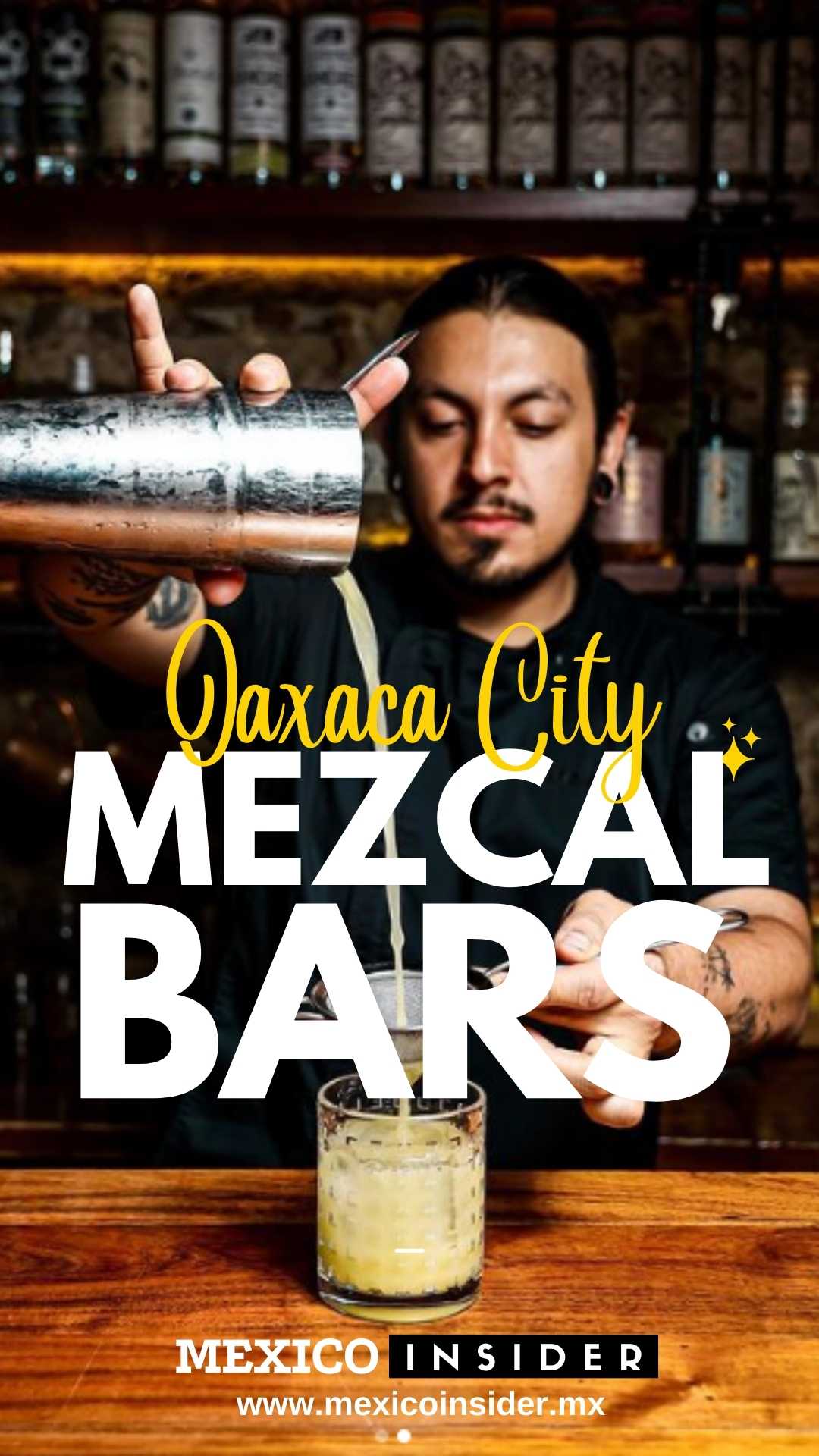 🔗 Oaxaca Mezcalerias: quick links
👉🏽 See also: Oaxaca City Travel Guide
🙋 What is a mezcal?
Mezcal is an alcoholic beverage made from the agave plant native to Mexico. The drink is similar to tequila. However, Mezcal is made from a different agave plant, creating a smoky flavor.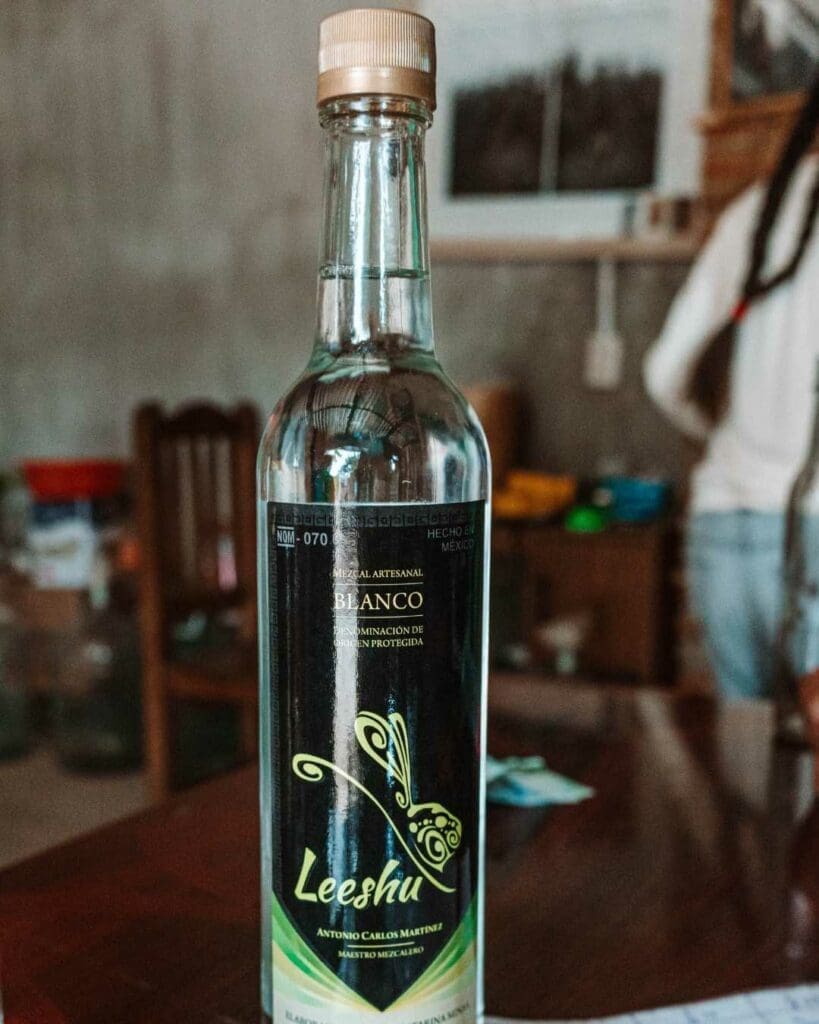 Mezcal can be enjoyed straight but is usually used as a cocktail base. It is often served with a slice of citrus fruits such as orange or lemon and a sprinkle of ground chili powder on the rim of the glass.
With this, Mezcal has recently gained popularity in Mexico and internationally. The drink is also considered a premium spirit due to its artisanal production methods and unique flavor profile.
🗺️ Map of Oaxaca Mezcalerias
👉🏽 Open this mezcal bars in Oaxaca City map in full view
🥃 Best mezcal bars in Oaxaca City
Los Amantes
📍 C. de Ignacio Allende 107
💲 from $5 USD
Los Amantes Oaxaca Mezcaleria is a bar in the center of Oaxaca City that boasts an excellent city view, a relaxing atmosphere, and great drinks. It is a chic cocktail bar that uses its own locally produced mezcals.
Aside from the fact that you can enjoy the night at their rooftop location, they also have a more intimate and private single room inside the building.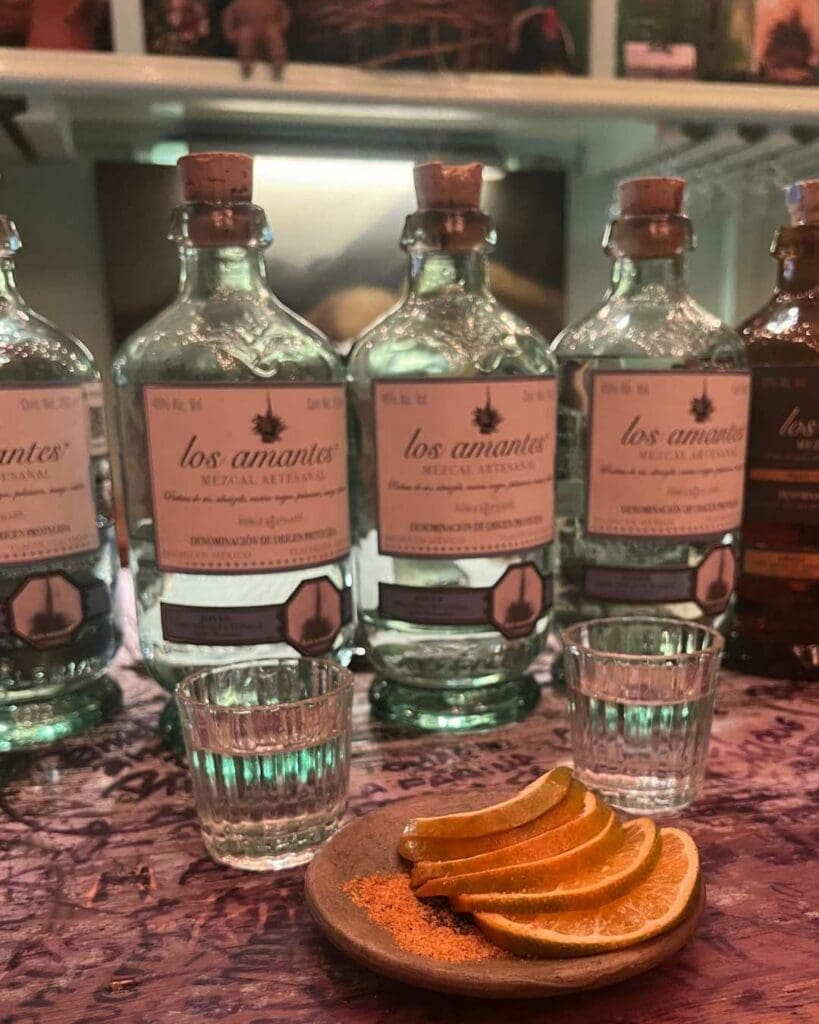 Los Amantes Mezcaleria also serves great mezcal cocktails. Bartenders usually ask about your preference so that they can customize the drink for you.
Drinks and food prices here are expensive compared to other Oaxaca bars and restaurants. With the base price of $5 USD, you'll need a budget of at least $20 USD to $30 USD to enjoy their drinks.
Selva Oaxaca
📍 C. Macedonio Alcalá #403-int. 6
💲 from $10 USD
Selva Cocktail Bar is a bar in Oaxaca that opened back in 2019. It is known to serve drinks inspired by the Sierra Madre Oriental and Occidental, which houses the richest ecosystems on the planet. Inside the bar, you'll see lots of artworks, and where Raul Herrera creates one notable painting.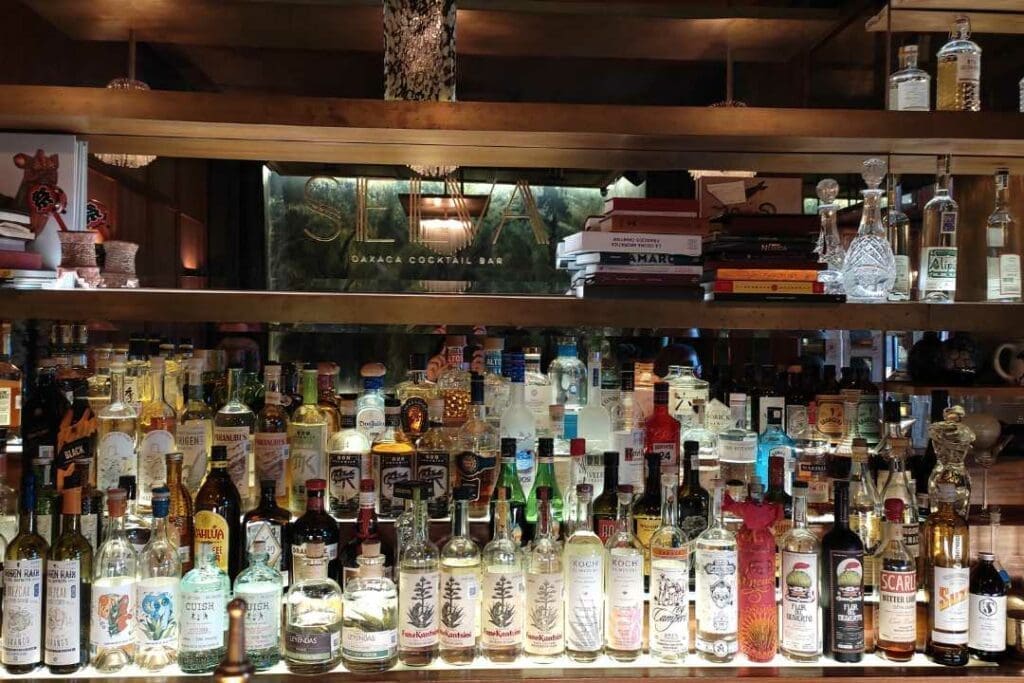 One of their must-try classic drink is the Virgen de Guadalupe, made of tomato juice, celery cordial, lime juice, chili tincture, and garum. This is best paired with mezcal as your alcohol base. Another best-selling Mezcal drink is the Tio Leonardo or Tio Jesus.
And since you are paying for artisanal drinks, drinks here are pretty expensive, starting at $10 USD per glass. They also serve a few food and snacks with the same range of $10 USD to $30 USD per dish.
Sabina Sabe
📍 5 de Mayo 209, RUTA INDEPENDENCIA
💲 from $3 USD
Sabina Sabe is a relatively new yet famous cocktail bar in the historic center of Oaxaca City. With chic and modern interiors and minimalist furnishings, customers can enjoy their drinks at the bar's counter, in an open-air patio area, or at indoor group tables.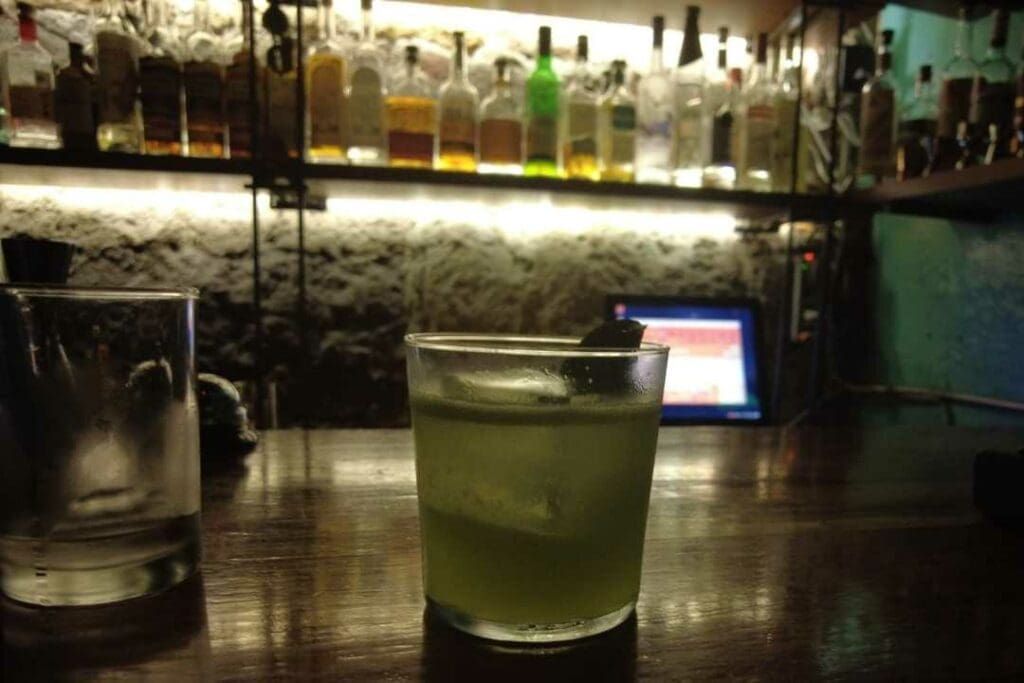 The bar has a nice list of cocktails, and one of their best-selling drink is the mezcal cocktail. Meanwhile, you can also ask their bartender to come up with a drink that will suit your preference.
Aside from the drinks, they boast well-presented food, and one of the crowd's favorites is Sabina Sabe's tacos con chapulines.
When heading to Sabina Sabe, at least prepare a budget of at least $10 USD to $20 USD per person. Drinks here range from $3 to $8 USD, while food costs $5 USD.
Mezcalogia
📍 C. de Manuel García Vigil # 509
💲 from $20 USD
Mezcalogia is a famous Mezcaleria bar in Oaxaca, especially among sommeliers and mezcal enthusiasts. It is a small space that can cater to 30 people at a time, giving that intimate and private feel.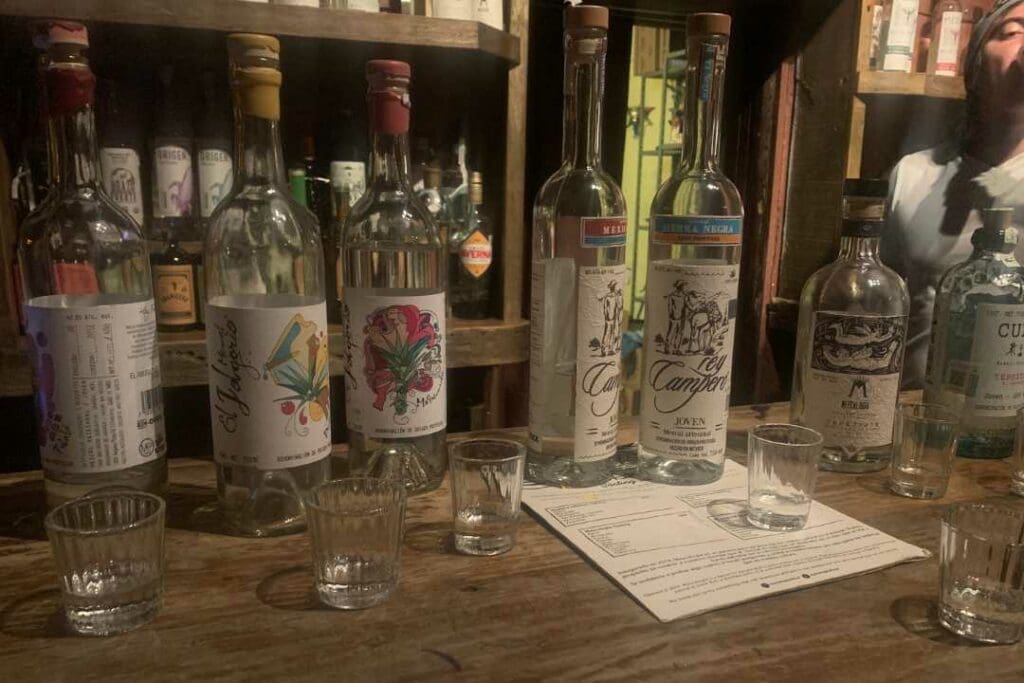 They have an extensive selection of drinks, including house mezcals. The owner, who is also sometimes the bartender, takes time to explain each kind of Mezcal they have so that they can offer you a drink that will suit your taste and preference. If you cannot decide what to get, you can do a mezcal tasting which is highly recommended.
Drinks here at Mezcalogia are affordable but costly. You can get four shots of Mezcal for $30 USD, while a glass of drink may range between $10 to $20 USD.
Mezontle
📍 Reforma 405, RUTA INDEPENDENCIA, Centro
💲 from $7 USD
Mezontle is among the many famous mezcal bars in Oaxaca City, where you can get good mezcal drinks. It has a warm and vibrant atmosphere, surrounded by art and good music playing in the background. Compared to other bars, it is a more relaxing place to chill, perfect for friends who want to go on a night out in Oaxaca.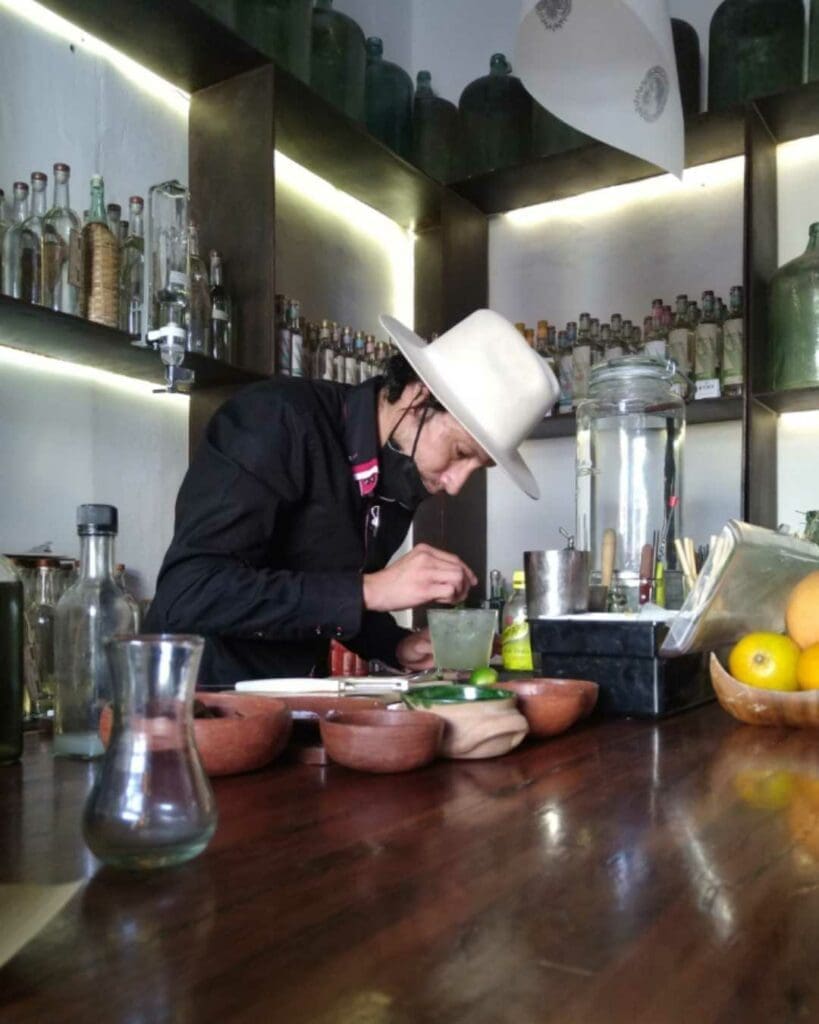 They have lots of artisanal mezcal drinks available for you to choose from. Their branded stuff is by Koch, but they also have many off-menu house bottles.
Their drinks are also reasonably affordable, given that their mezcals are high-quality. You can already have a shot of mezcal in Mezontle starting at $7 USD.
La Mezcalerita
📍 C. Macedonio Alcalá 706, RUTA INDEPENDENCIA, Centro
💲 from $4 USD
La Mezcalerita is a colorful two-story bar on Calle Macedonia Alcala, with available indoor and outdoor (roof-top) seating. They offer wide selections of craft cocktails, beer, and grub. In addition, they take pride in having artisan masters that work with their beverages and preserve the authentic flavors of these drinks.
This mezcaleria has an intensive selection of mezcal, including a healthy drink that the bar's artisan themselves produces. Aside from serving bottles and shots, their best-selling drinks are mezcal cocktails infused with citrus fruits.
The drinks at La Mezcalerita cost $4 USD, while bottles range from $5 USD to $22 USD.
La Mezcaloteca
📍 Reforma No. 506, RUTA INDEPENDENCIA, Centro
💲 from $28 USD
La Mezcaloteca has served excellent mezcals in Oaxaca to locals and tourists alike ever since 2010. They are dedicated to conserving the process of creating traditional Mezcal and simultaneously share with people how mixed the drink is. La Mezcaloteca even has its mezcaleros who design and produce their in-house mezcal.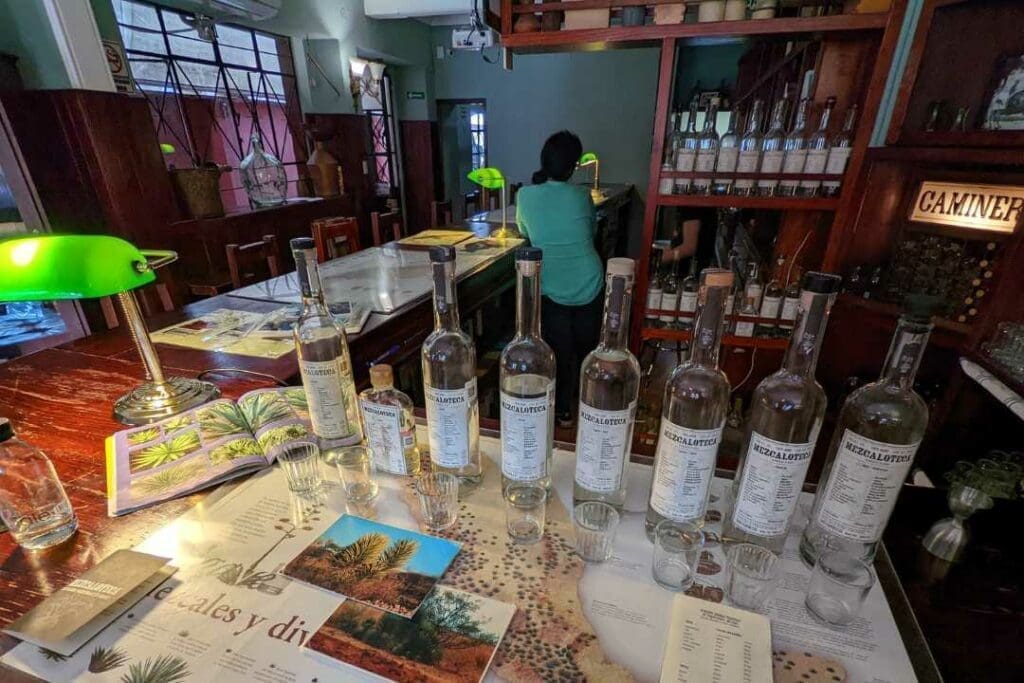 It is a must to avail of mezcal tasting when in La Mezcaloteca. You will be brought to a room where the bottles of mezcals are. And what's great about this experience is you get a taste of different mezcals produced by mezcaleros of other regions.
Because of La Mezcaloteca's popularity, book a reservation with them in advance. The cost of tasting starts at $28 USD.
Archivo Maguey
📍 Av. José María Morelos 509, RUTA INDEPENDENCIA, Centro
💲from $12 USD
Archivo Maguey is a renowned mezcal bar in Oaxaca, Mexico, known for its extensive selection of high-quality mezcals. The bar is situated in a beautifully restored colonial building that dates back to the 18th century, offering live music and dancing, especially at night. "Archivo Maguey" means "agave archive," which takes its name from — meaning an impressive collection of rare and hard-to-find mezcals.
One of the standout features of Archivo Maguey is its impressive selection of mezcals from throughout Mexico, including many small-batch and artisanal brands. In addition to its extensive selection of mezcals, the mezcaleria also offers a variety of mezcal-based cocktails and serves traditional Oaxacan snacks to complement the flavors of the mezcals.
You'll need at least a budget of $30 USD to try out a few glasses and shots of mezcal in Archivo Maguey.
El Espacio
📍 Reforma 502a, RUTA INDEPENDENCIA, Centro
💲 from $6 USD
El Espacio is one of the local's and tourists' favorite cocktail bars in Oaxaca. It's small and quaint, decorated with several artworks and colorful wallpapers. It is conveniently located in the city's historic center, with a lively and trendy atmosphere, perfect for anyone looking to enjoy a night out with friends or a romantic evening with a loved one.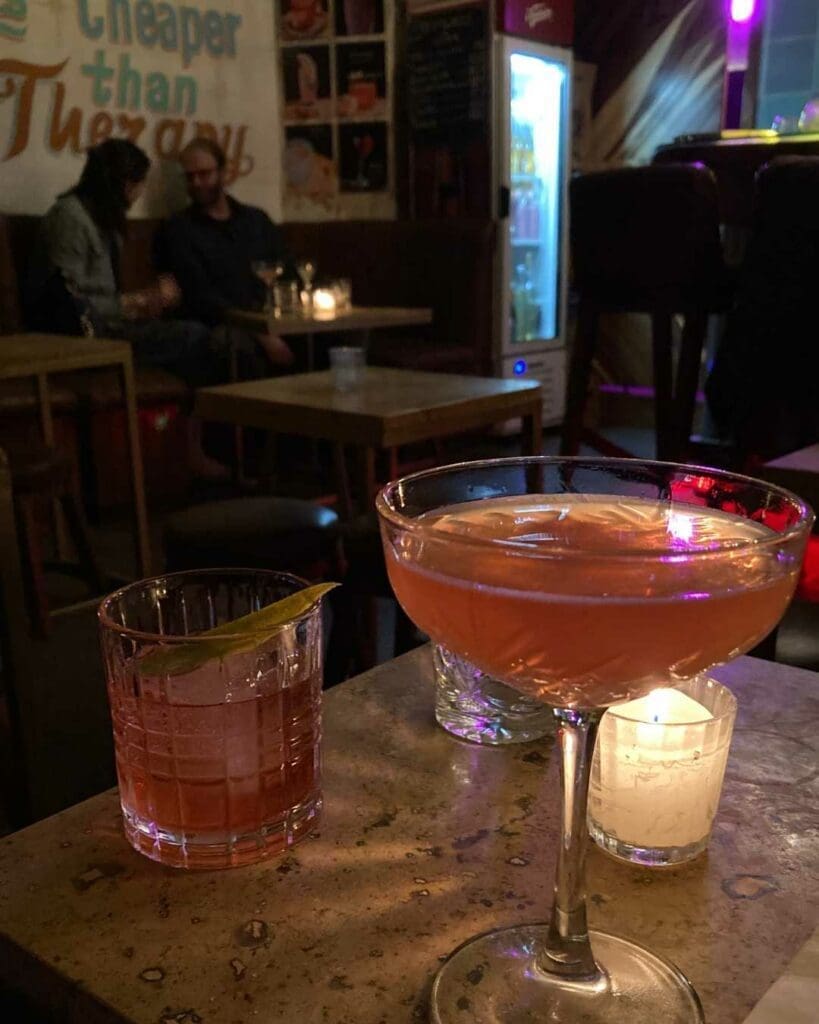 Regarding drinks, El Espacio Cocktail Bar has an impressive selection of mezcal cocktails and beverages. It is also highly suggested you request a custom drink from their bartender.
Prices are higher, with cocktails averaging around $6 USD, but the quality of the drinks and the atmosphere more than makeup for it. Plus, the bartenders are skilled and passionate enough to reason out the bar's price point.
Mezcaleria Cuish
📍 Díaz Ordaz 712, Zona Lunes Feb 09, Centro
💲 from $6 USD
Mezcaleria Cuish is a sleek and modern mezcal bar in Oaxaca. It is known for its exceptional selection of mezcals and its dedication to supporting small-scale mezcal producers throughout the region. The bar is in the heart of Oaxaca's historic center, just a short walk from the city's largest market.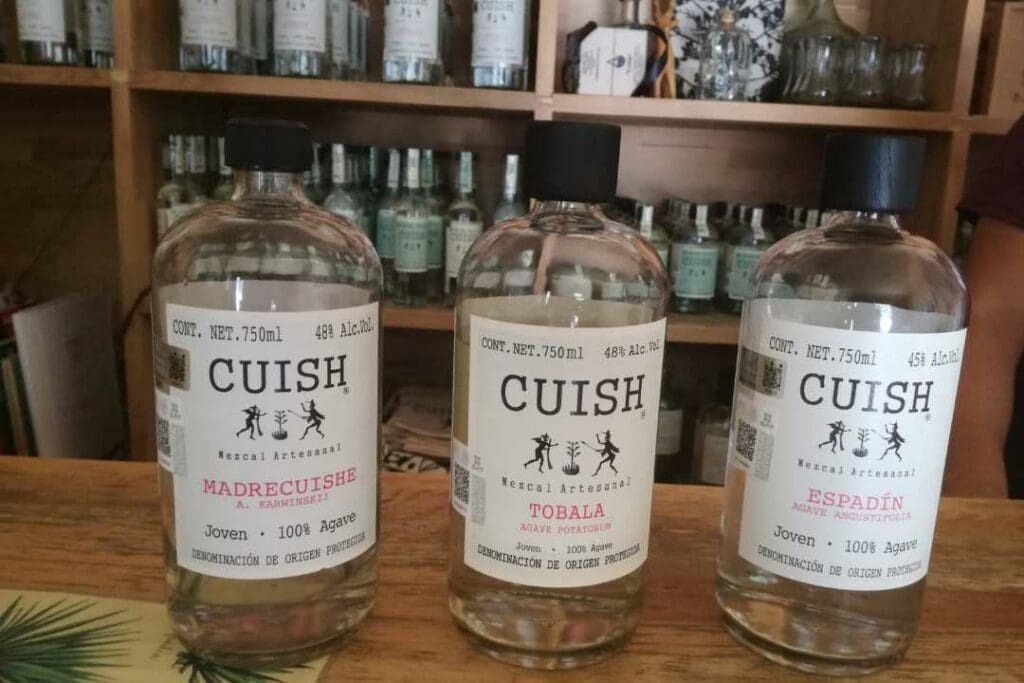 Cuish has a variety of rare and hard-to-find mezcal brands from throughout Mexico. They both serve mezcal by shots or infused in mezcal cocktails.
The tasting set at Mezcalaria Cuish starts at $11 USD. Single-glass drinks and shots will vary, starting at $6 USD.
Mezcaleria In Situ
📍 Vicente Guerrero 413, Zona Feb 10 2015, Centro
💲 from $30 USD
In Situ is a Mezcalaria with a shop and bar inside the premises. It is known to offer guided tastings and also sells mezcal-related souvenirs. The bar is situated inside a blue and white building, and the atmosphere is well-lit, making the ambiance cozy and lively.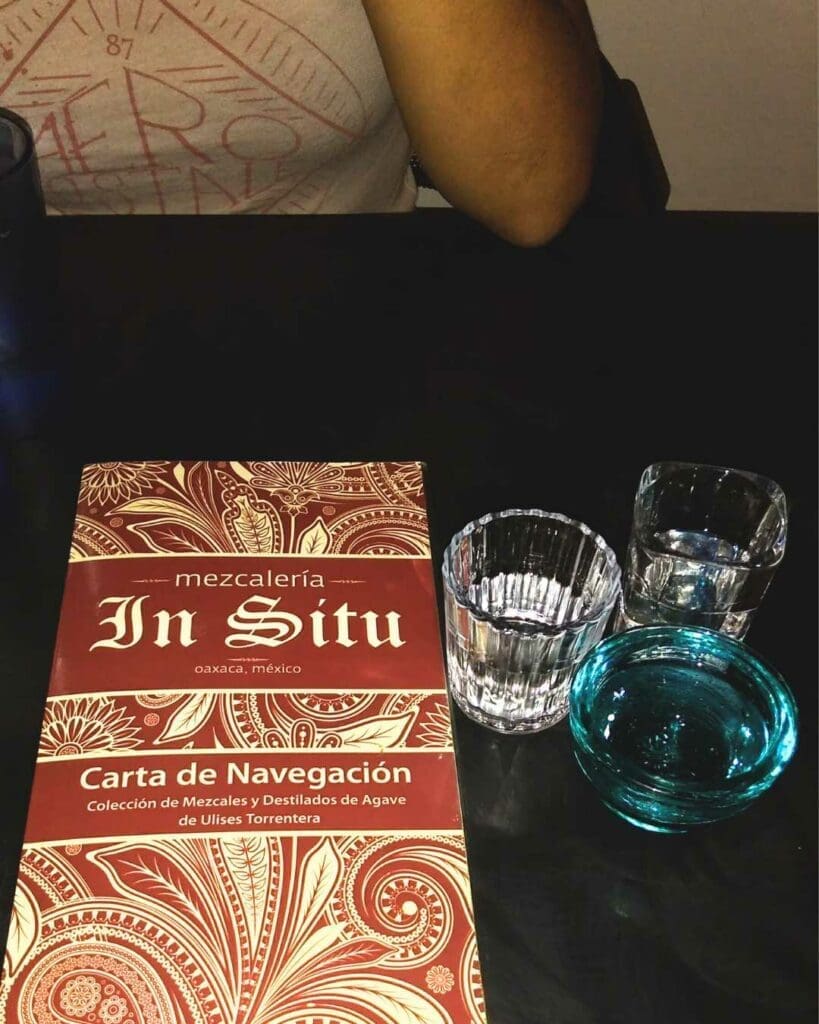 During the mezcal tasting, the bartender or the owner will share information regarding the different varieties of Mezcal and how it came to be. Since they have various mezcals available, you can always ask for something that will suit your preference and taste.
In Situ, sell mezcals by bottle, shots, and by glass. A mezcal bottle is priced at $69 USD, while tasting sets is around $30 USD to $40 USD.
La Mezcaleria
📍 Miguel Hidalgo 1119, Centro
💲 from $7 USD
La Mezcaleria is a small, cozy mezcaleria inside an old Oaxacan building. It is regarded as one of the best places to visit, especially for those new to Mezcal tasting. It is managed and owned by a couple, who are hands-on in serving guests, and kind enough to discuss and share information about their mezcals.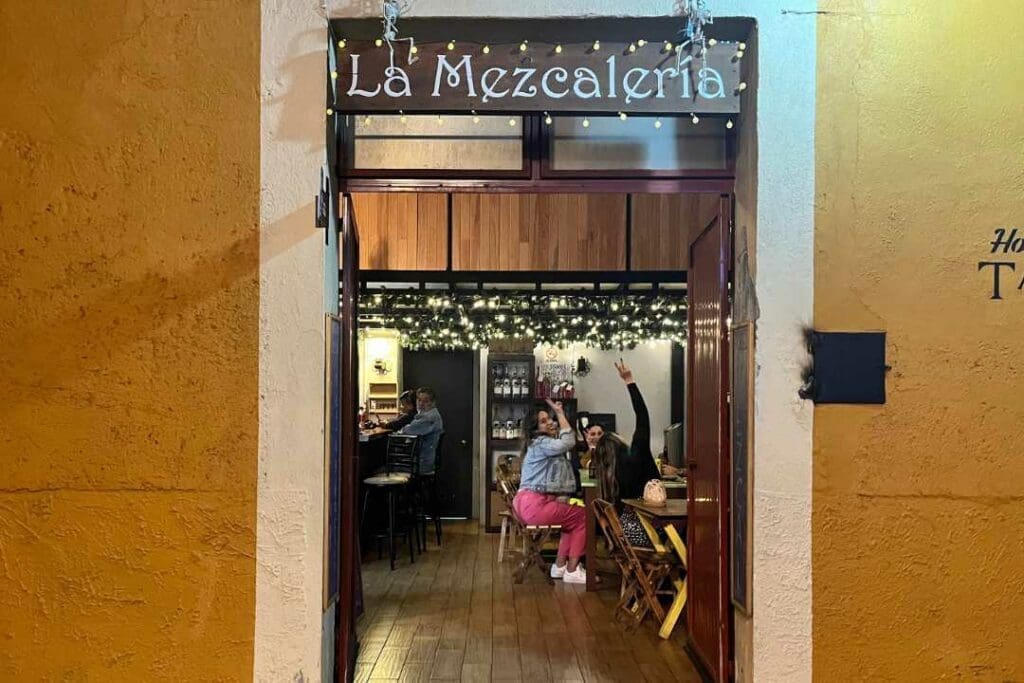 You can avail of a mezcal tasting set in La Mezcaleria. Try the jabali, cucharilla, and sierra negra for a tasting of three mezcals.
A tasting of three mezcals is fixed at $7 USD.
La Casa del Mezcal
📍 Flores Magón # 209, OAX_RE_BENITO JUAREZ, Centro
💲 from $4 USD
La Casa del Mezcal (meaning, The House of Mezcal in Spanish) is a classic Mexican cantina that serves as a traditional Oaxaca mezcaleria for the locals. Inside, you can sit at the bar or head into a side room featuring lovely stained glass and colorful murals. They even have a jukebox to enjoy while playing around the area.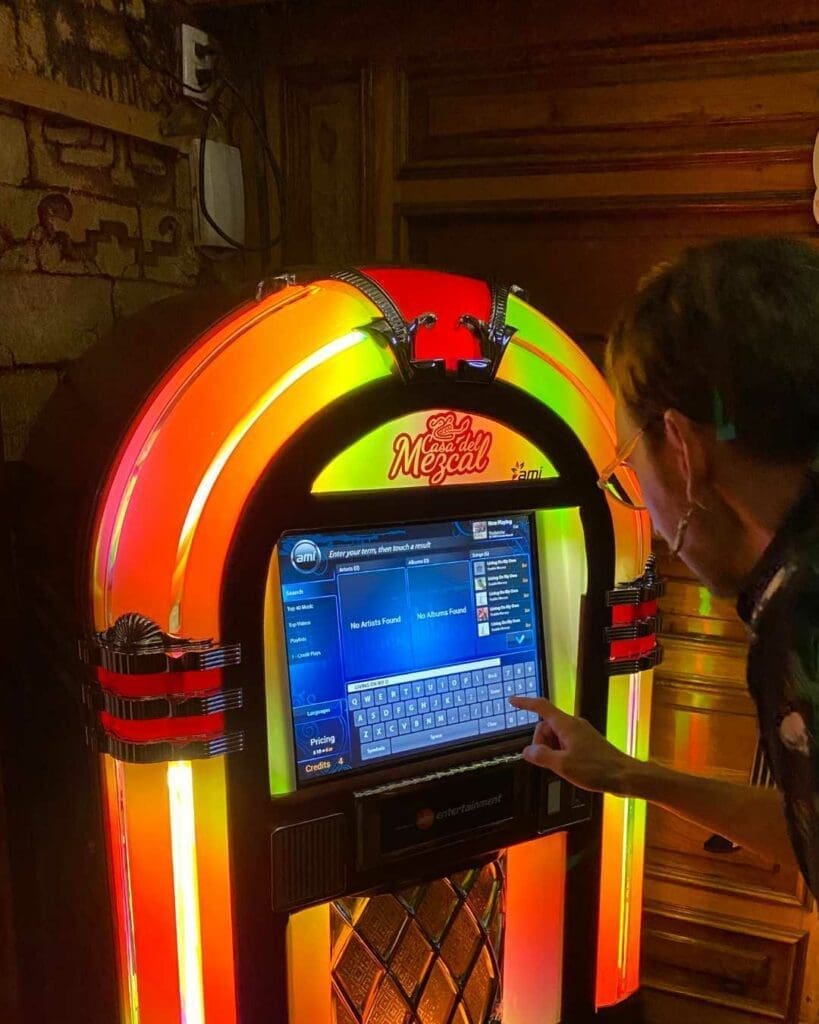 La Casa del Mezcal has a great selection of mezcals and beer. And one of the locals' favorites is the coyote mezcal.
For $10 USD, you can already get two shots of mezcal. Meanwhile, other drink selections, like beer, start at $4 USD.
La Querencia Mezcaleria
📍 C. de Manuel García Vigil 603, RUTA INDEPENDENCIA, Centro
💲 from $6 USD
La Querencia Mrzcaleria is another hidden gem nestled in the heart of the historic city of Oaxaca. The ambiance here is cozy and intimate. In addition, their menu features a carefully curated selection of mezcal, focusing on small-batch, artisanal varieties from the surrounding Oaxacan region.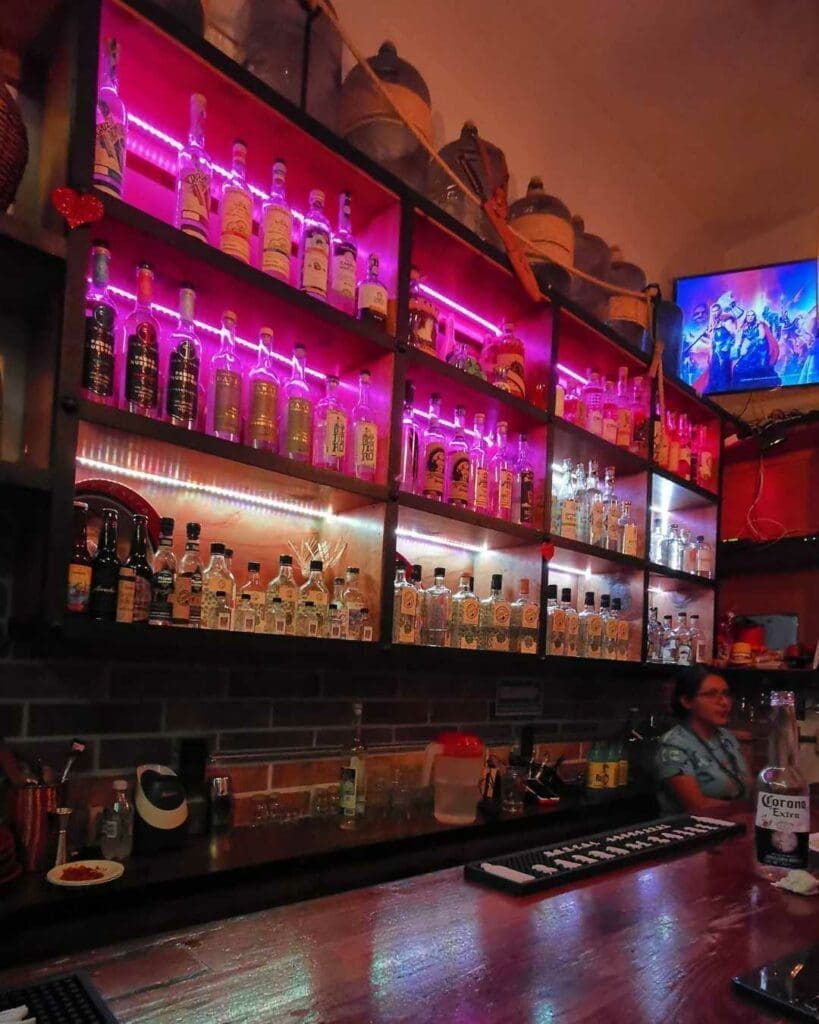 The bartenders are kind enough to help you select your drink, depending on your taste and preference. They also have available mezcal tasting with in-depth explanations, which is an excellent experience for first-timers.
The price of drinks and food grubs at La Querencia Mezcaleria is generally affordable but not cheap. Starting at $6 USD, you can already have a glass of mezcal or a beverage of your choice.
Cortijo La Mezcaleria
📍 5 de Mayo 305, RUTA INDEPENDENCIA, Centro
💲 from $5 USD
If you're looking for a one-stop shop with excellent mezcals and expert insight about the drink, then Cortijo Mezcaleria Oaxaca is the place to be. Regarding ambiance, El Cortijo is small, charming, vibrant, and located at the city's center.
With a great list of unique mezcals, you can sample a few for an affordable price while the baristas share a detailed explanation of the mezcal-making process.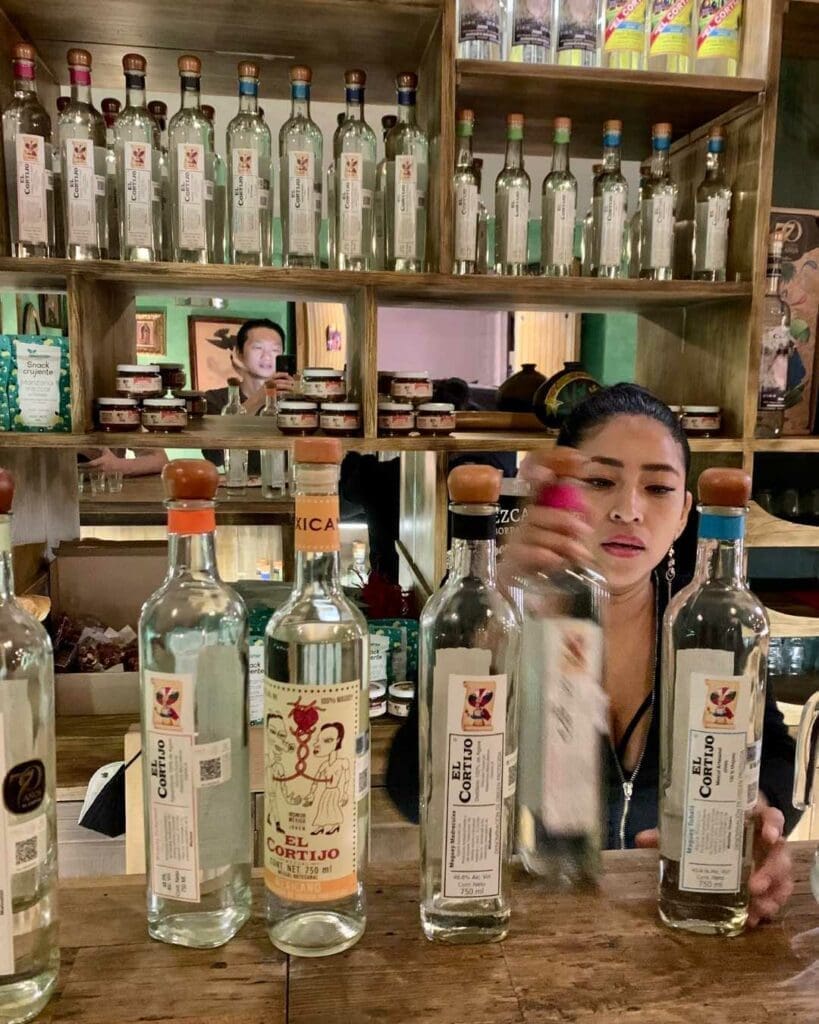 A glass of mezcal at Corijo La Mezcaleria starts at $5 USD. This will vary depending on the kind of mezcal you will be getting.
El Tendajon Agaveria
📍 Calle de José María Pino Suárez 409, RUTA INDEPENDENCIA
💲 from $6 USD
El Tendajon Agaveria is a restaurant and mezcaleria that does not only take pride in its wide selection of mezcal drinks but also in good Mexican food. The place's ambiance is more rustic yet vibrant, with artwork painted all over the walls of the inside and outdoor area.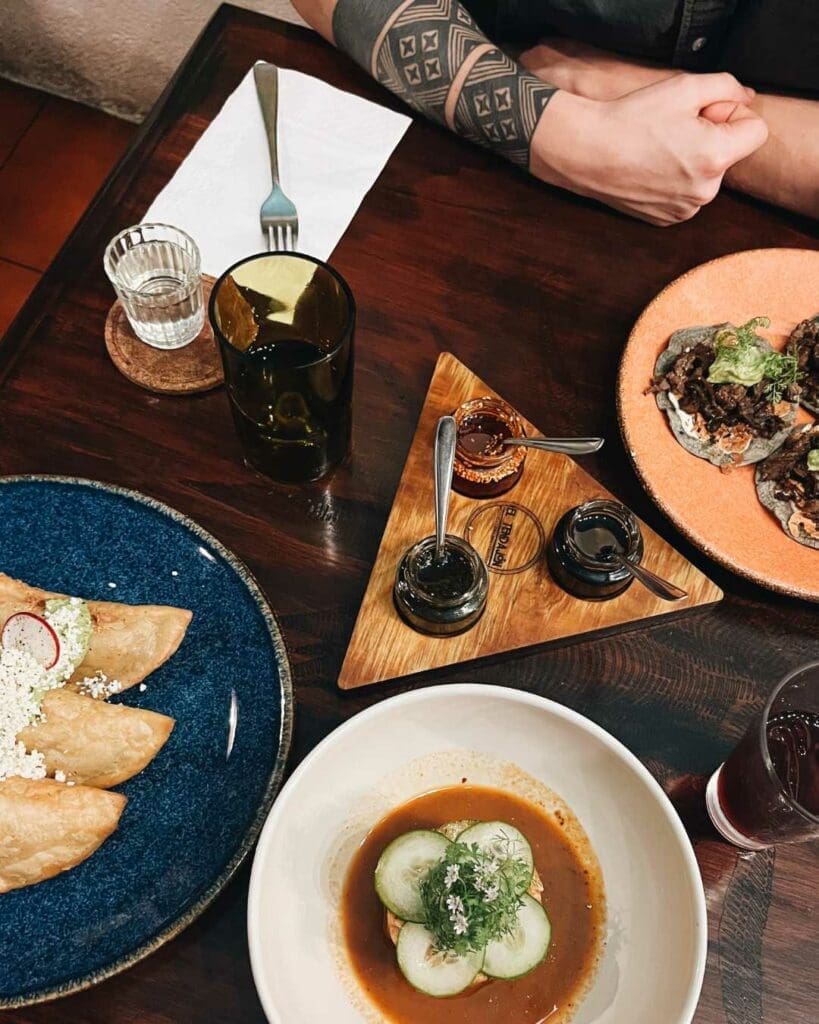 Owned by Chef Andrea Sanchez Lopez, they work on creating dishes that will compliment the taste of authentic mezcals they have at El Tendajon. You can choose from their wide selection of mezcal and order some food to go with it.
The mezcal drinks at El Tendajon start at $6 USD, while other beverages begin at $3 USD.
Expendio Cuish
📍 C. Macedonio Alcalá 802, RUTA INDEPENDENCIA, Centro
💲 from $5 USD
Expendio Cuish is an intimate and relaxing mezcaleria in Oaxaca. They are known to produce their in-house mezcal, some rare and might be available elsewhere. These mezcals are packaged in eye-catching vintage bottles displayed on their bar.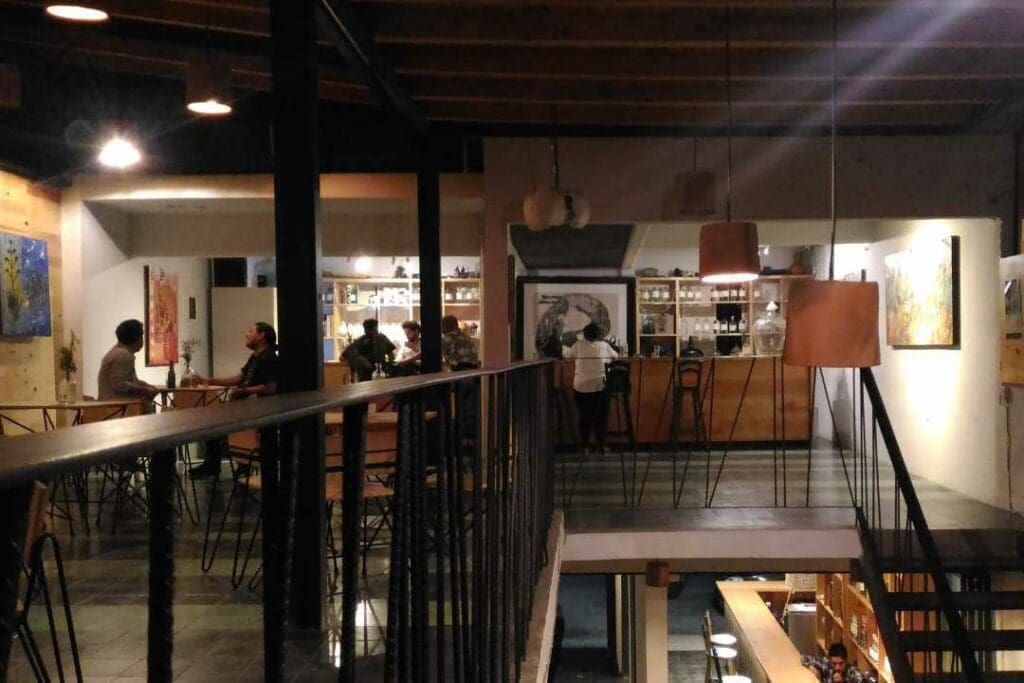 Since they have various Mezcals available, ask their friendly barista which drinks will suit your preference and taste. But for most, their texpextate is one of the best.
Prices at Expendio Cuish vary from $5 USD to $10 USD per shot. This depends on the kind of mezcal you will be getting. But compared to other Oaxacan mezcalerias, this is already cheap for its price.
☕ Support this blog's honest and transparent journalism. Help us add value to what we are sharing. Keep Mexico Insider FREE for all by donating to our coffee fund. Muchas gracias!
🍹 Oaxaca Mezcalerias (in a restaurant)
Los Danzantes
📍 C. Macedonio Alcalá 403-interior 4, RUTA INDEPENDENCIA, Centro
💲 from $3 USD
Los Danzantes Oaxaca is a fine-dining Mexican restaurant in an old converted monastery near the Museum of Cultures. The restaurant has earth-tone walls, which reach three stories in height and are made up of triangular columns of rough stone, making the place look spacious and airy. It has its mezcaleria inside, which is usually packed, so it's best to book beforehand if you want to dine here.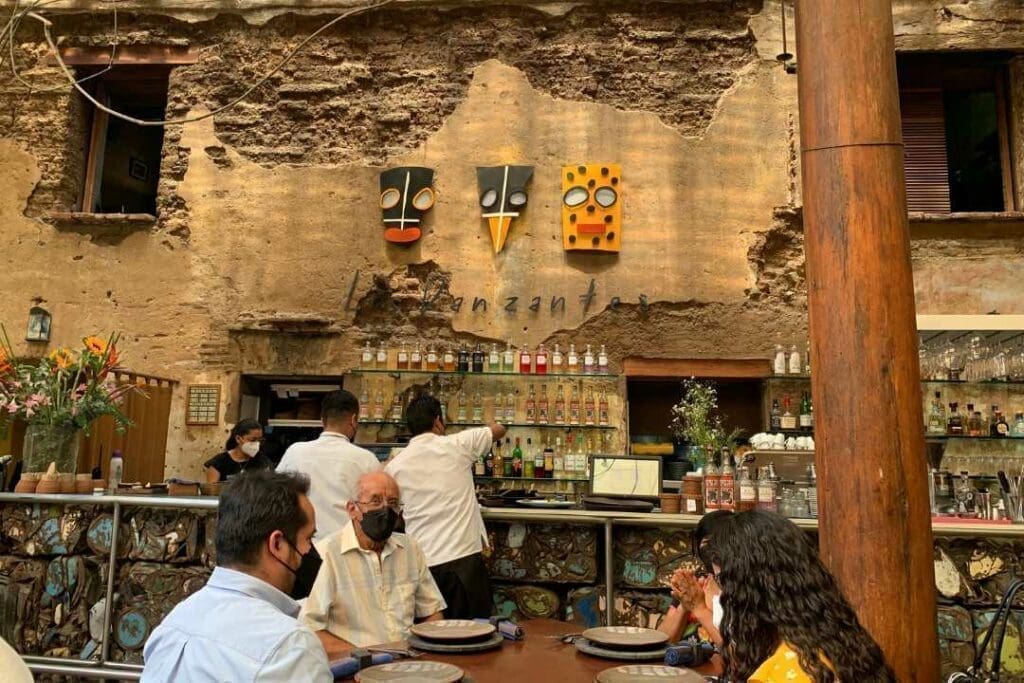 Their menu consists of classic Mexican dishes recreated to appeal to a wide range of palates. Plus, they are well known for having great drinks, including mezcals, beers, and cocktails.
The restaurant accepts reservations and payments made with cards and cash. Drinks here start at $3 USD, while food begins at $8 USD.
El Destilado
📍 5 de Mayo 409, RUTA INDEPENDENCIA, Centro
💲 from $4 USD
El Destilado is a contemporary Mexican restaurant owned by Americans who fell in love with Oaxaca's rich culinary history. It is an indoor restaurant and mezcaleria decorated with classic wooden furniture and earthy tones.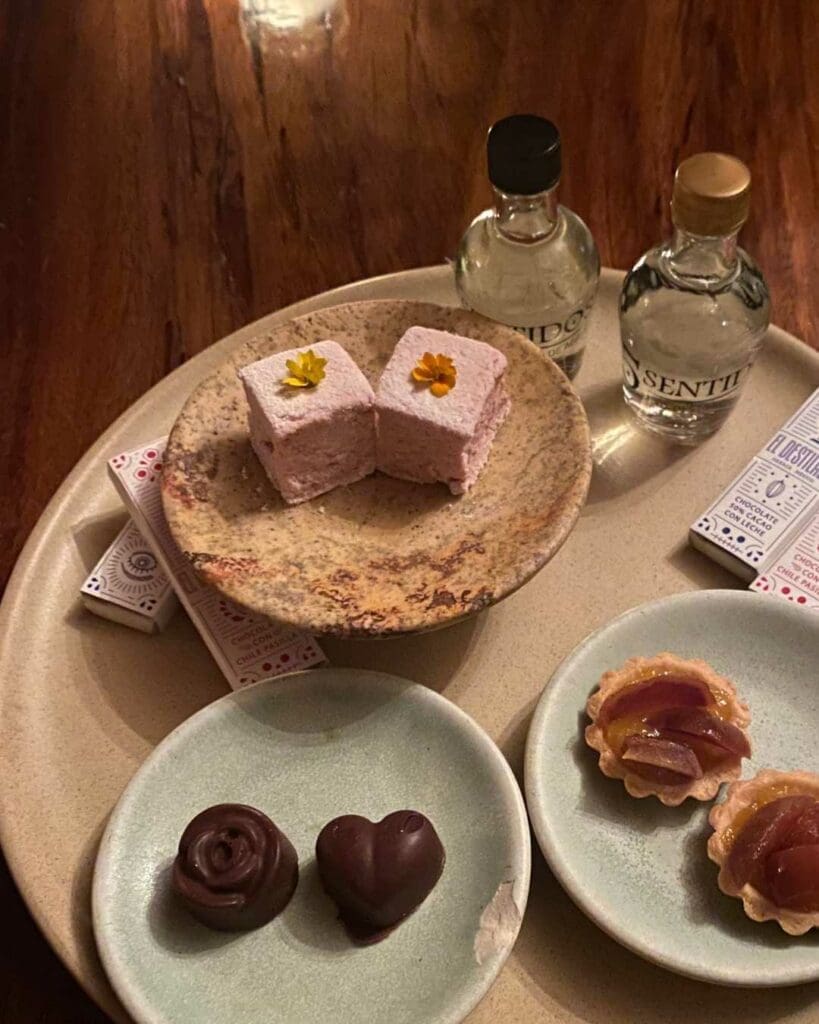 Their menu consists of ala carte specialties that the owners came up with. They even have tasting menus that offer dynamic flavors to those wanting to immerse in a rich Oaxacan culinary experience. Plus, after dining here, they give out an aperitif goody bag with chocolate and a small mezcal bottle.
You can get something as cheap as $4 USD for their ala carte menu. Meanwhile, the tasting menu varies depending on the course meal you will avail.
La Popular
📍 Jesús Carranza 110, RUTA INDEPENDENCIA, Centr
💲 from $2 USD
La Popular is a local casual restaurant and mezcal bar at the intersection of Manuel Garcia Vigil and Jesus Carranza. The restaurant can accommodate around 30 people at a time in a modest room with three huge doors that provides access to natural light and ventilation.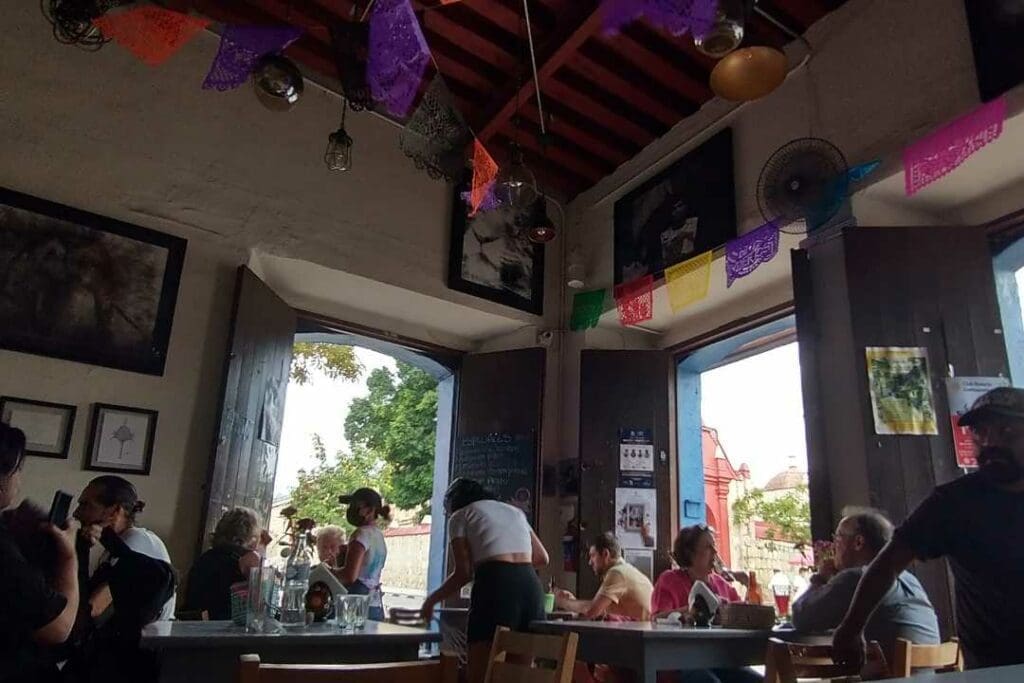 The menu of La Popular is diverse, where you may have soups, appetizers, local tacos, tlayudas, and much more. But, among the most recommended dish in La Popular is their Tlayudas (Oaxacan-style pizza) and pozole. All these go great with any mezcal drink from the vast mezcal collection.
The food and drinks at La Popular are affordable, starting at $2 USD. Meanwhile, Mezcal drinks and cocktails begin at $7 USD.
La Casa Grande
📍 Vicente Guerrero 413-A, Zona Feb 10 2015, Centro
💲 from $7 USD
La Casa Grande is one of the newest mezcalerias in Oaxaca. Inside you will find a small bar seating eight people and a few tables and chairs accommodating around 20 people. The ambiance here is rather intimate and chill compared to energetic and vibrant.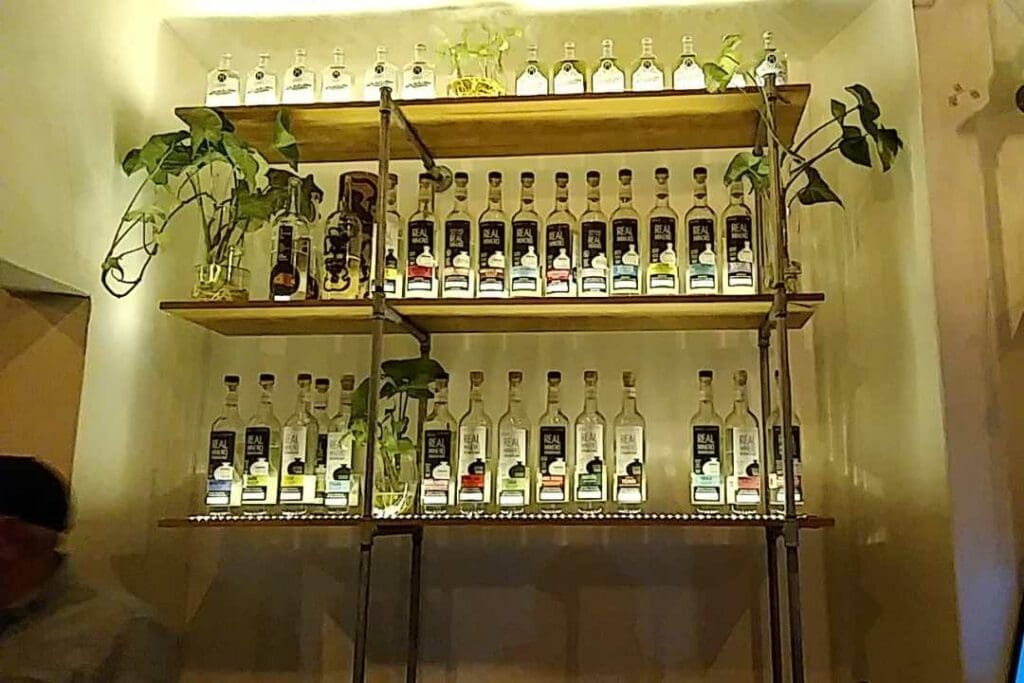 Compared to other mezcalerias on this list, La Casa Grande doesn't offer mezcal tastings; you must order each glass ala carte. This is because La Casa Grande is a bar focused on serving authentic Mexican drinks, including other spirits, but has recently decided to enter the mezcal game.
The mezcals at La Casa Grande ranges from $7 USD to $10 USD. You'll need at least $30 USD to taste three to four mezcal shots.
Puro Burro
📍 5 de Mayo 411, RUTA INDEPENDENCIA, Centro
💲 from $5 USD
Puro Burro is a rooftop bar and restaurant with a great night city view. It is not that spacious but can still accommodate a few groups. You can even buy a few mezcal bottles, handicrafts, and accessories from their shop.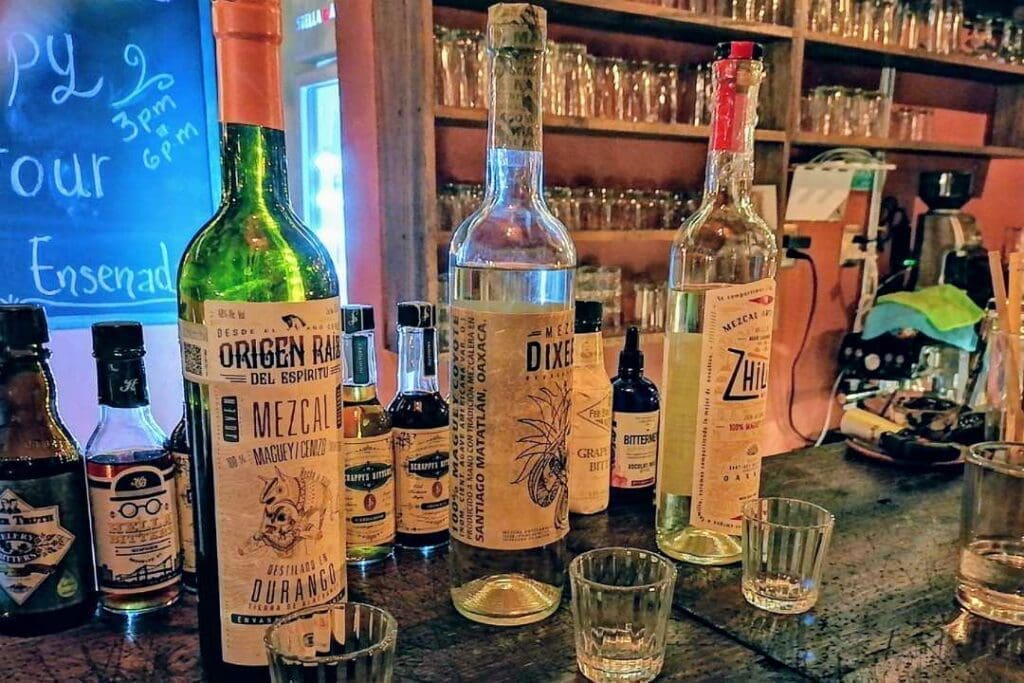 Puro Burro is an expert in creating excellent mezcal cocktail drinks. Make sure to ask their bartender for a drink that will suit your preference and, at the same time, compliment your food.
For only $1 USD, you can already get a bottle of beer at Purro Burro. Meanwhile, other drinks, such as mezcal cocktails, start at $5 USD.
Expendio Tradicion
📍 Reforma, Murguía &, Centro
💲 from $5 USD
Expendio Tradicion is a beautiful, stand-out space with gorgeous aesthetics that offers great mezcal drinks and food. This gastropub serves traditional Oaxacan cuisine with a unique and elevated twist. It is situated in a historic building later remodeled by an avant-garde design studio, resulting in a warm and comfortable spot for locals and travelers.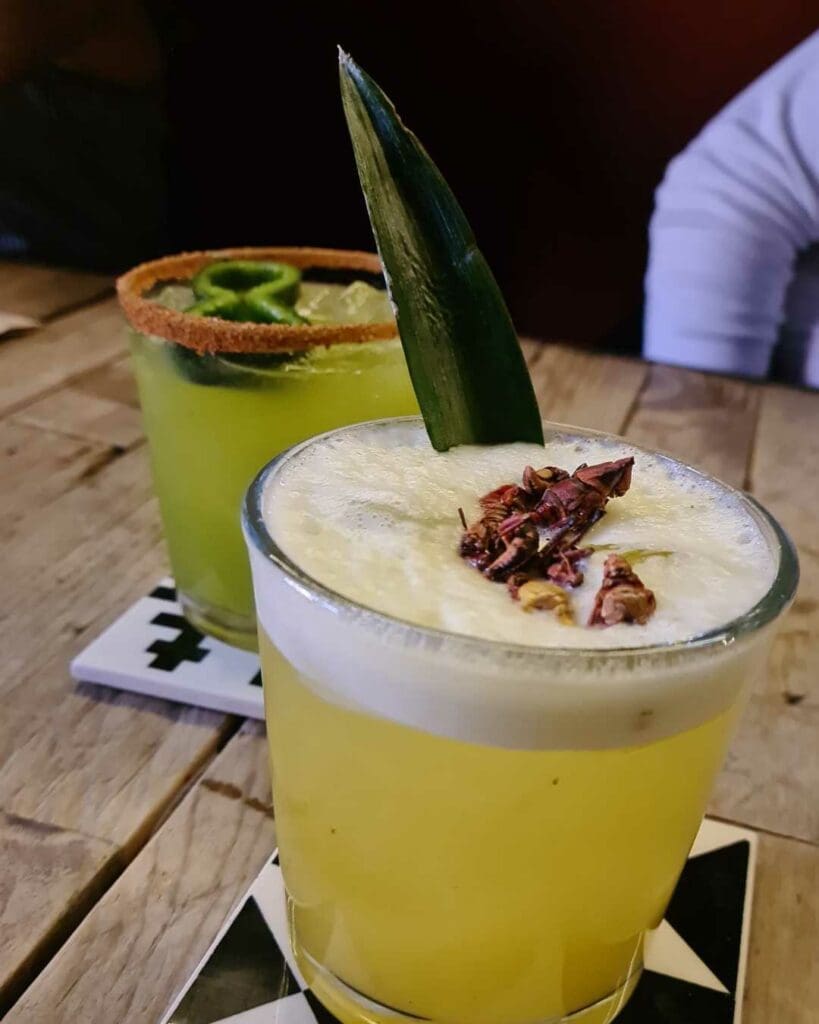 Aside from good food, they also offer a wide selection of locally made Mezcal. You can order them as it is, but I highly recommend trying their mezcal cocktails. They also have a small mezcal-tasting set menu to taste a few more drinks.
The prices here at Expendio Tradicion are on the expensive side. While some beverages cost $5 USD, a glass of Mezcal will cost you $9 USD or more.
Casa Convite
📍 Calle, Jesús Carranza #113, Centro
💲 from $15 USD
Casa Convite is a restaurant that has its mezcaleria inside. It is located near the downtown of Oaxaca but still exudes a tranquil spot to chill in. As mentioned, the restaurant has its tasting room inside and even has a store and exhibit all dedicated to mezcal.
Lots of people come to visit the place to experience mezcal tasting. And since they have a wide selection of in-house mezcals, you can always ask your guide or barista what drink he will recommend.
Book ahead to get a whole mezcaleria experience at Casa Convite. Prices will vary depending on your book and availability, starting at $15 USD.
Tobaziche
📍 5 de mayo #311, Col. Centro
💲 from $3 USD
Tobaziche is a small and cozy bar and restaurant in Oaxaca's center. Inside, you will find a few counter seats and small wooden chairs and tables that can house about 20 people simultaneously. But they also have a few comfortable booths on the second floor for a more private and intimate vibe.
They offer good food such as peasant pumpkin soup and cottage cheese talcums. Yet, they also have rare and great mezcal drinks, which they use as a base for their mezcal cocktails. Aside from this, the menu also offers choices that include vodka, ginebra, brandy, and several types of tequila.
The food and drinks here at Tobaziche start at $3 USD. They also accept cards and cash for payment.
🆚 Tequila vs Mezcal: what is the difference?
Mezcal and Tequila are two different alcoholic beverages with a common origin in Mexico – the agave plant. However, the two differ significantly in their production methods, flavor profiles, and cultural significance.
Tequila is produced exclusively from blue agave and is typically made using large industrial ovens to steam the agave before mashing, fermenting, and distilling it in copper stills. It is also made using a more industrialized process that involves steaming the agave rather than roasting it in underground pits, which is the traditional method used to make Mezcal.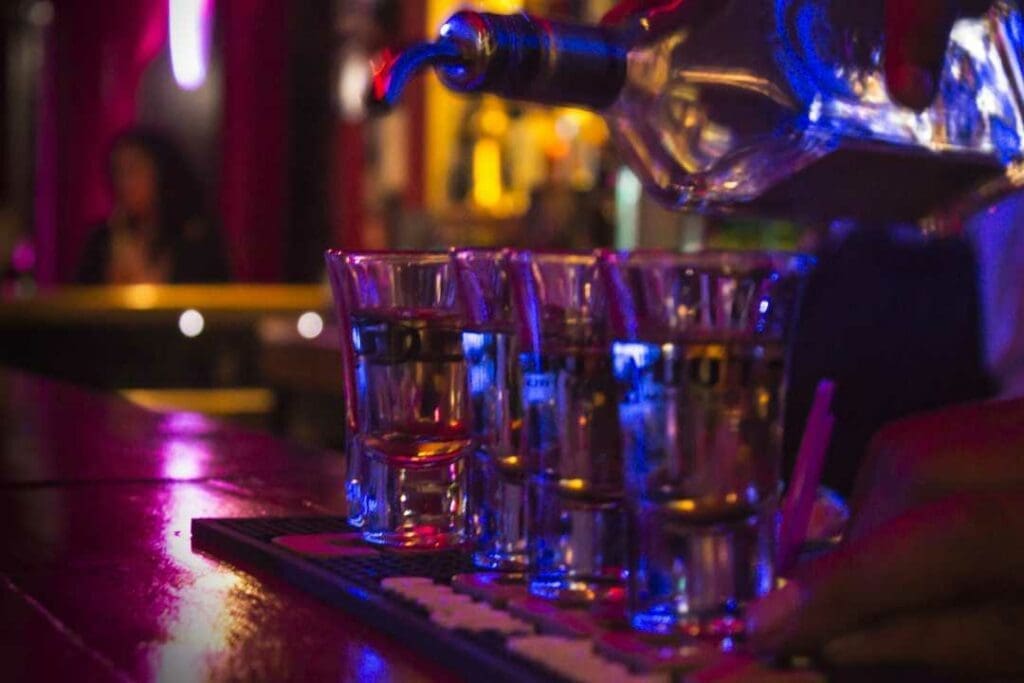 On the other hand, Mezcal can be made from any agave plant, and it is traditionally made by roasting the agave in underground pits lined with lava rocks, giving it a unique smoky flavor. Mezcal is also distilled in clay pots.
Another difference is that Mezcal is deeply rooted in Mexican culture and tradition and is often associated with rural communities and artisanal production methods. Meanwhile, Tequila can only be produced in five specific states in Mexico.
Lastly, Mezcal is also usually bottled at a higher alcohol content and is considered more premium than Tequila, which is more commercialized and often associated with partying and cocktails.
⁉️ FAQ: Oaxaca mezcalerias
Where does mezcal come from?
Mezcal can be made from any species of agave plant, while tequila must be made only from blue agave.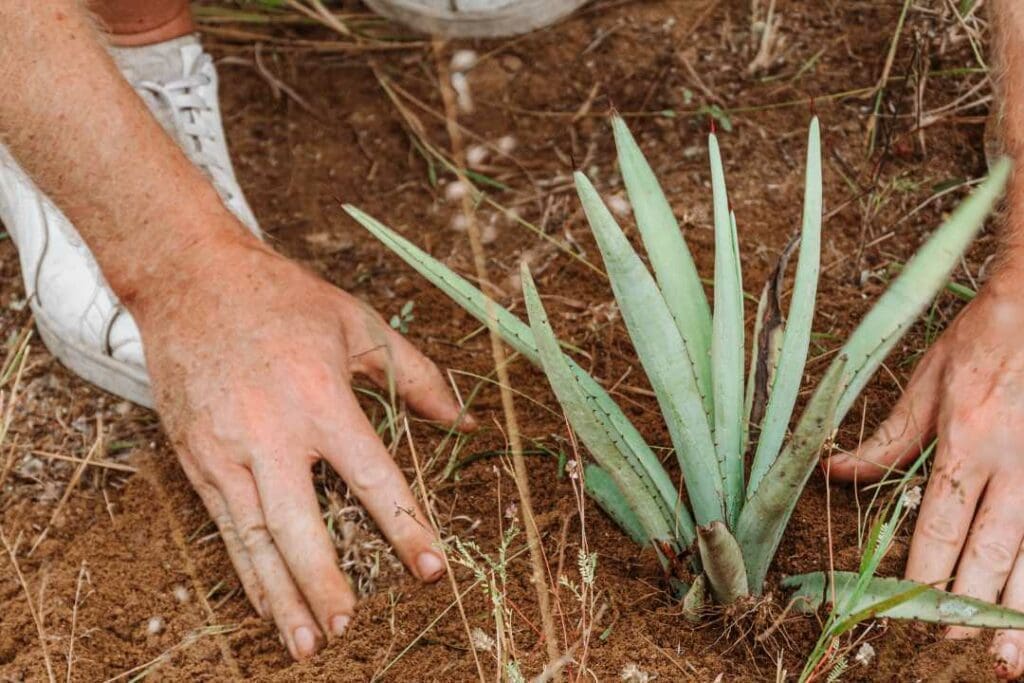 Mezcal production has been a part of Mexican culture for centuries. It is typically produced using traditional methods, which involve cooking the agave in underground pits lined with lava rocks and wood, giving it a smoky flavor.
Today, mezcal is now regulated by the Mexican government to ensure that it is made according to traditional methods and standards and to protect the quality and authenticity of the drink.
Is mezcal stronger than tequila?
Mezcal and tequila are alcoholic beverages made from the agave plant, but this does not mean they are similarly strong in alcohol content.
Generally, mezcal is considered to be stronger than tequila. It is often bottled at a higher alcohol content than tequila, with many varieties ranging between 40% and 55% alcohol by volume (ABV). Tequila, on the other hand, is typically bottled at around 38% to 40% ABV.
The higher alcohol content in mezcal is partly due to the traditional production process, which involves roasting the agave in underground pits, leading to a more concentrated flavor and higher alcohol content.
However, it's important to note that the strength of mezcal and tequila can vary depending on the specific brand and type, so it's always best to double-check when purchasing a bottle.
How do you drink mezcal?
Mezcal can be enjoyed in several ways, either straight or mixed-in cocktails. And some of the common ways to drink mezcal are sipped neat, with lime and salt with sangrita, or in cocktails.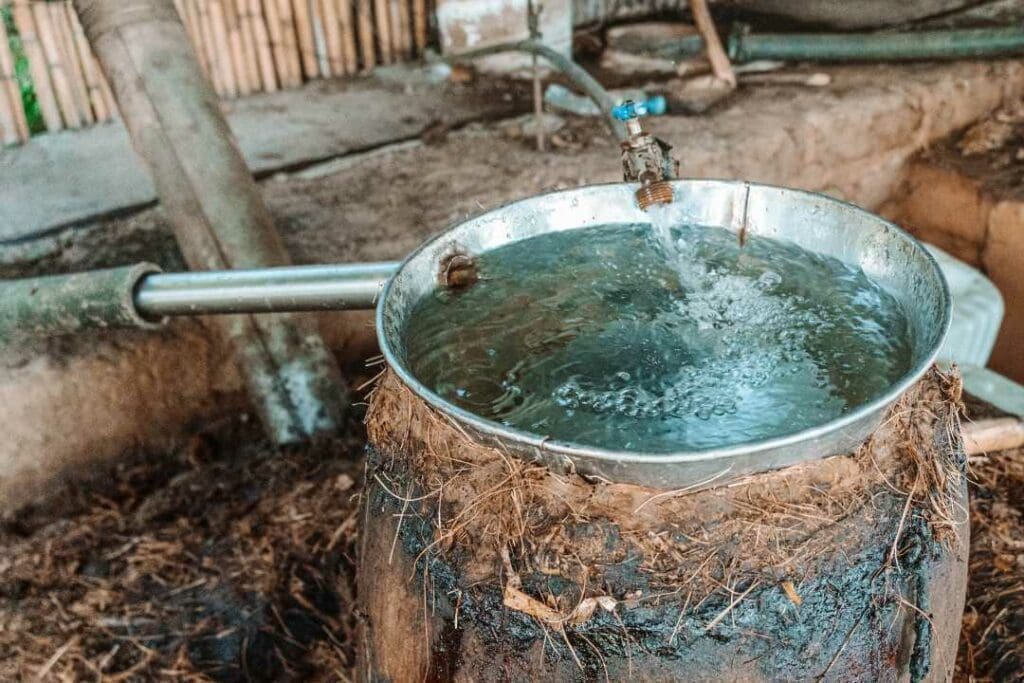 Mezcal is often consumed sipped neat, meaning you consume it straight, slowly, and savored for its complex flavor profile savoring the complex and smoky flavors. Some prefer to drink it with a slice of lime and a pinch of salt, while others pair it with a spicy tomato-based drink called sangrita.
Mezcal can also be used as a base for cocktails, adding depth and complexity to the drink. And some of the popular mezcal cocktails include the Mezcal Margarita, Oaxaca Old-Fashioned, and Mezcal Paloma.
How does mezcal taste like?
Mezcal has a distinctive taste that sets it apart from other spirits. Its complex flavor profile can vary depending on the type of agave used, the production method, and the region where it's produced.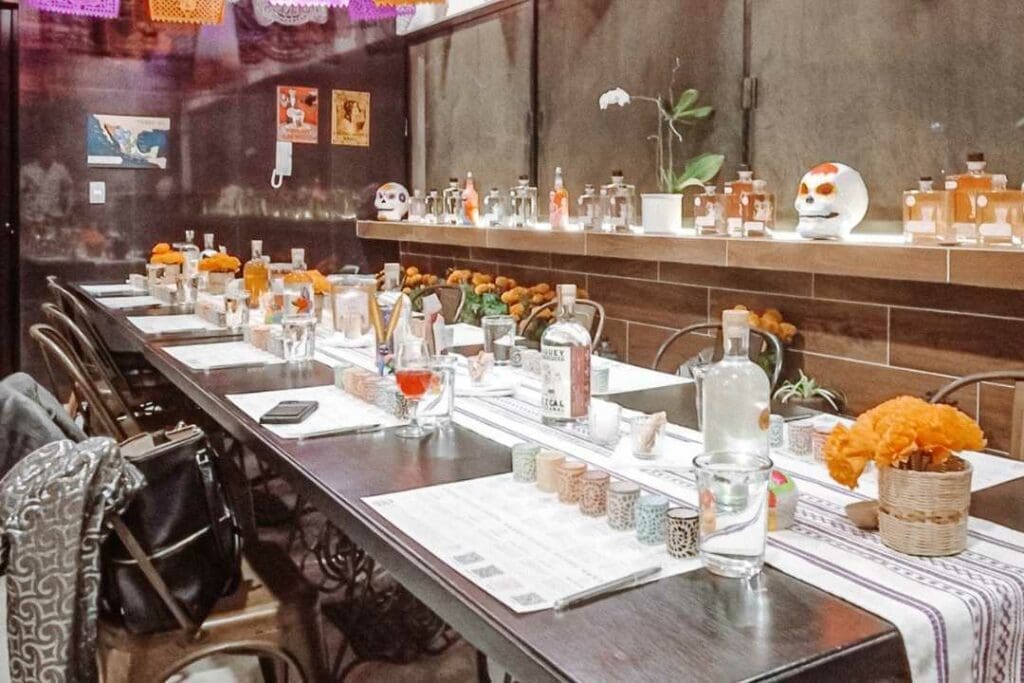 To precisely describe what it tastes like, mezcal has a smoky and earthy taste, with fruit, wood, and herbs notes. Some also prefer slight sweetness or spiciness, while others taste a hint of caramel or chocolate. You can also compare its flavor to a fine whiskey, with a smoky character that lingers on the palate.
Does mezcal give you hangover?
Most alcoholic drinks consumed in a large amount of quantity, including mezcal, give you a hangover. The severity of a hangover can vary depending on a person's tolerance, the amount of alcohol consumed, and other factors such as dehydration and lack of sleep.
But to reduce the risk of a hangover when drinking mezcal, it's essential to consume high-quality mezcal without mixers, as it contains fewer additives than cheaper varieties.
This accordingly helps minimize the hangover symptoms. Moreover, it's essential to drink it in moderation and to stay hydrated by drinking water before, during, and after drinking alcohol.
Why is mezcal getting more popular in the USA?
Mezcal's growing popularity in the USA can be attributed to several factors. One factor is the growing interest of consumers in artisanal and craft spirits, which has led to increased attention to Mezcal's unique production methods and flavor profile.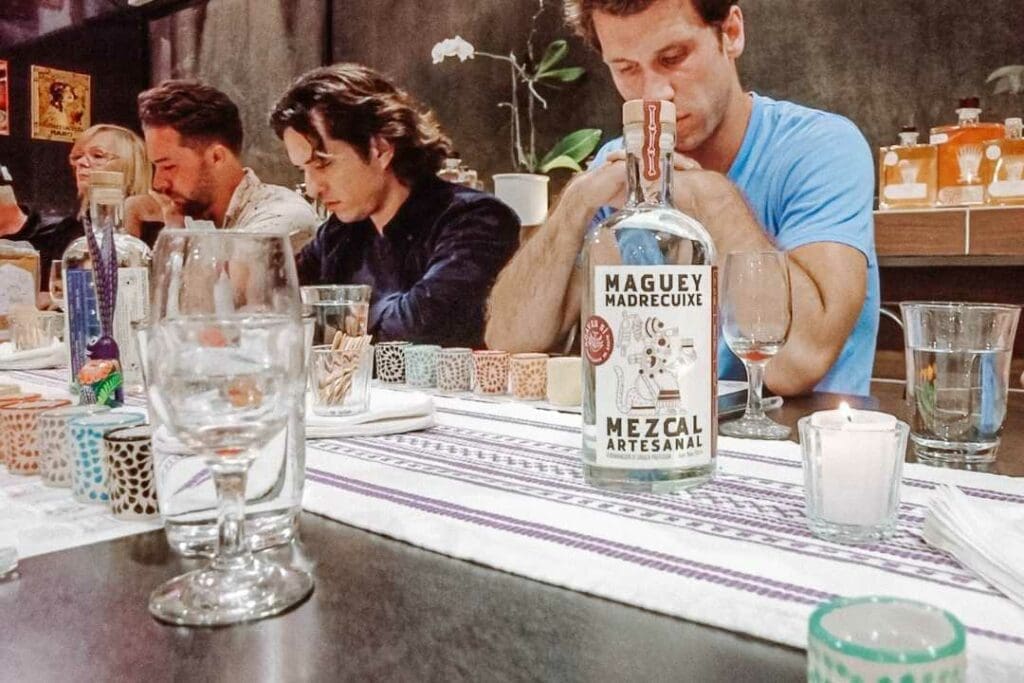 Another reason is the influence of Mexican culture and cuisine in the US, which has created a demand for authentic Mexican beverages such as Mezcal. With this, the rise of the cocktail culture in the US has led to bartenders and mixologists experimenting with Mezcal in their cocktails.
Furthermore, Mezcal is often marketed as a premium and high-quality spirit, with many brands emphasizing its small-batch production and traditional production methods. Social media even played a role in increasing Mezcal's visibility and popularity.
This has helped to create a perception of Mezcal as a sophisticated and complex spirit, which appeals to consumers looking for a unique and elevated drinking experience.
In summary, Mezcal's popularity in the USA can be attributed to the citizens' growing sustainable and socially responsible consumerism, especially since Mezcal has a unique flavor profile that aligns with their interests.
Is mezcal from Oaxaca?
While mezcal can be produced in many regions throughout Mexico, Oaxaca is considered the heartland of mezcal production. The main reason is that the region of Oaxaca is home to various agave species. This resulted in a long mezcal production history, with many artisanal producers still using traditional production methods.
The state of Oaxaca produces more than 70% of all mezcal in Mexico and is known for producing some of the world's highest quality and most unique mezcals.
Additionally, Oaxaca has also received recognition from the Mexican government for its importance in producing mezcal, with the creation of the "Denomination of Origin Mezcal" designation in 1994, which includes several regions within Oaxaca as authorized producers of mezcal.
Does mezcal need to be from Oaxaca?
No, mezcal does not need to be from Oaxaca. While the region is most known for producing Mezcal, the drink can still be made in many areas throughout Mexico.
The Mexican government regulates mezcal production, and any spirit produced following these regulations can be legally called "mezcal."
However, it is essential to note that different regions of Mexico may have their unique styles of Mezcal, depending on the agave species used, the production methods, and the local climate and terroir. For example, Mezcal produced in Durango is known for its floral and herbal notes, while Mezcal from Guerrero tends to be fruity and smoky.
Meanwhile, Mezcal from Oaxaca is often considered among the world's highest quality and most unique mezcals. This is because of the agave species grown in the region and the use of traditional production methods.
Ultimately, as long as a region adheres to the legal definition and regulations of the government when producing Mezcal, then it's still considered authentic Mezcal.
Trisha traveled to Mexico in 2018 and after a year, she found herself obtaining a 4-year residency visa in Mexico. She is the Editor-in-chief for our Living in Mexico Series which has helped over 3,000 Americans move to Mexico with ease. Trisha currently resides in Cabo San Lucas, Baja California Sur.