Last month, I went on a Mexico City apartments hunting spree, and here's what I discovered – from the areas you need to live in, apartment living trends, contract signing, advance deposit, short-term rentals, and many more!
It's time for me to move on again! I have been living in the Puerto Vallarta and Sayulita area for the last 3 years and last week, I just had this sudden urge to move to Mexico City.
I've visited Mexico City at least 13 times as there's always a layover there when you're flying anywhere in the country.
The reason why I want to explore living in Mexico City is not only that it is one of my favorite cities in the world but also I did the math: since I travel a lot within Mexico, I realized that all the flights from Puerto Vallarta where I currently reside stop in Mexico City.
As in all of them! Whether you are going to Oaxaca, Baja California, etc, there is a layover in Mexico City which is not that long so it's not really a problem.
However, for frequent travelers like me, there's always an extra cost when I am flying from Puerto Vallarta. For example, last April, a friend and I went on a trip to Acapulco.
Since he's living in Mexico City, he paid a $35 USD flight (one way) and I pay $85 USD. We both booked through the same airlines but I just realized that if I am already living in Mexico, I will really save money on flights if I am based there. But that is because my job entails a lot of traveling.
I know you found this post because you are either a digital nomad or looking into living in Mexico City long-term so here's some tips, insights, and short stories on my recent Mexico City apartment hunting.
✨ I have a 3-BR Airbnb in Mexico City that I am renting per month. It is located in Polanco and can host up to 10 people. Get in touch for prices!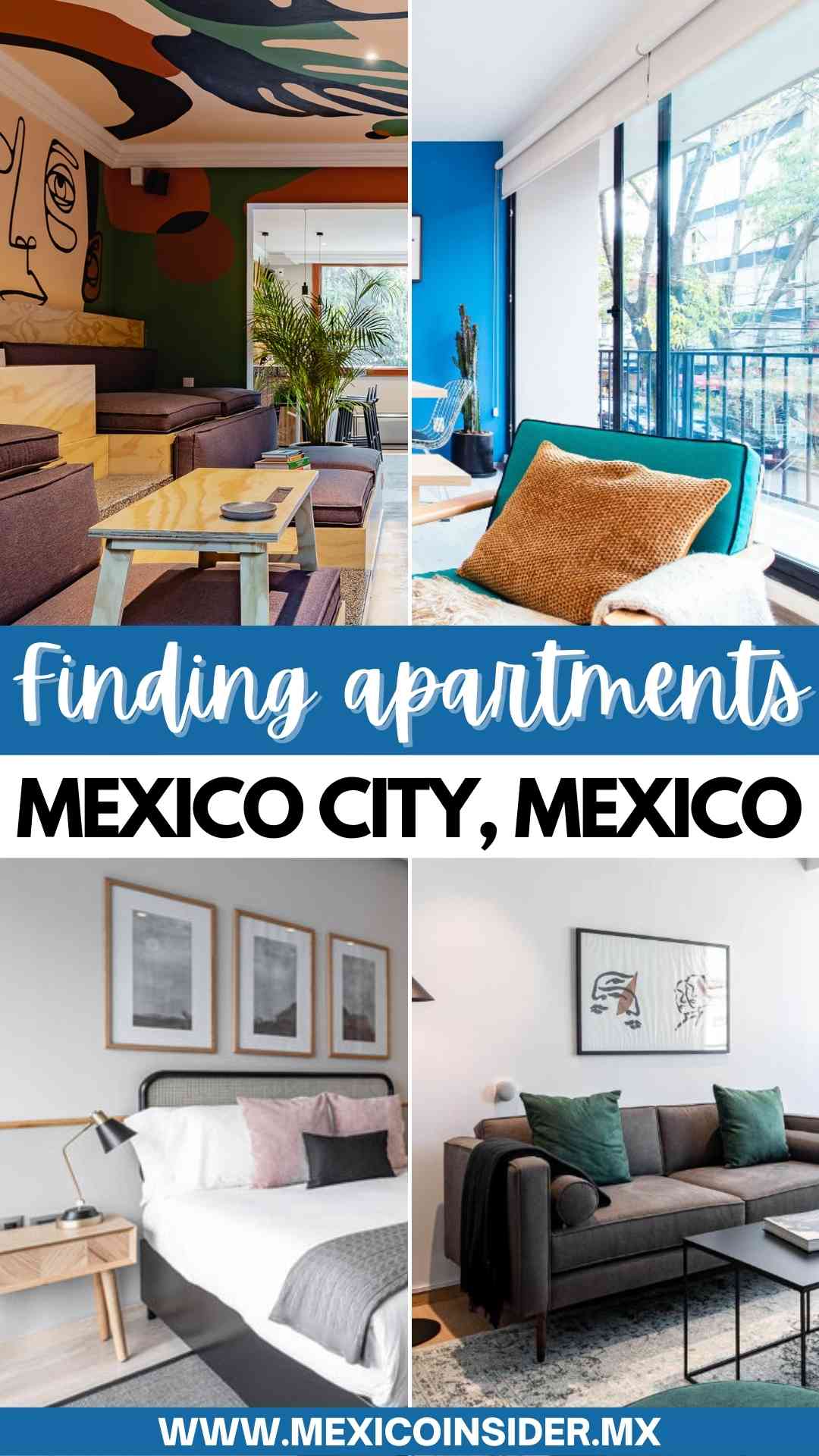 Mexico City Apartments: quick links
💲 What is the average rent cost in Mexico City?
During my first time living here in 2018, I paid $650 USD for a 1-bedroom apartment in Roma Sur. In 2021, I tried to look again and guess what? The apartments are 5 times more expensive.
Many people will tell you that it is only expensive in the Roma and Condesa neighborhoods but that is not the case. All neighborhoods are now expensive, with landlords evicting locals to participate in the Airbnb craze.
If you really want a nice apartment that can be comparable to your comfort back home, be prepared to pay $1,300 USD for a one-bedroom apartment in a good area. There is nothing cheaper below that.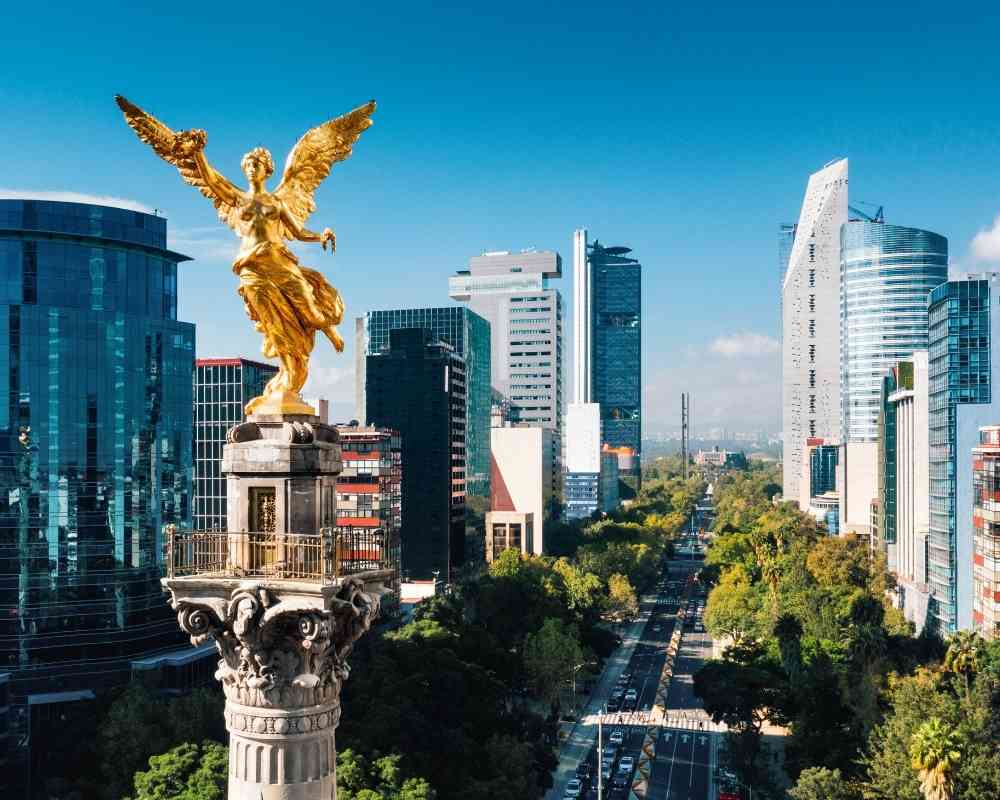 🇺🇸 Can a US citizen rent an apartment in Mexico?
Absolutely! It does apply to all nationalities, to be honest. Even on a tourist visa! The good thing about renting an apartment in Mexico City is that they don't really ask if you have a residency visa in Mexico.
I do have my temporary visa though (4 years) but they never asked for it. Wherever you are from or whatever visa you have, it won't be a problem. They won't even ask for your entry visa when you sign a contract.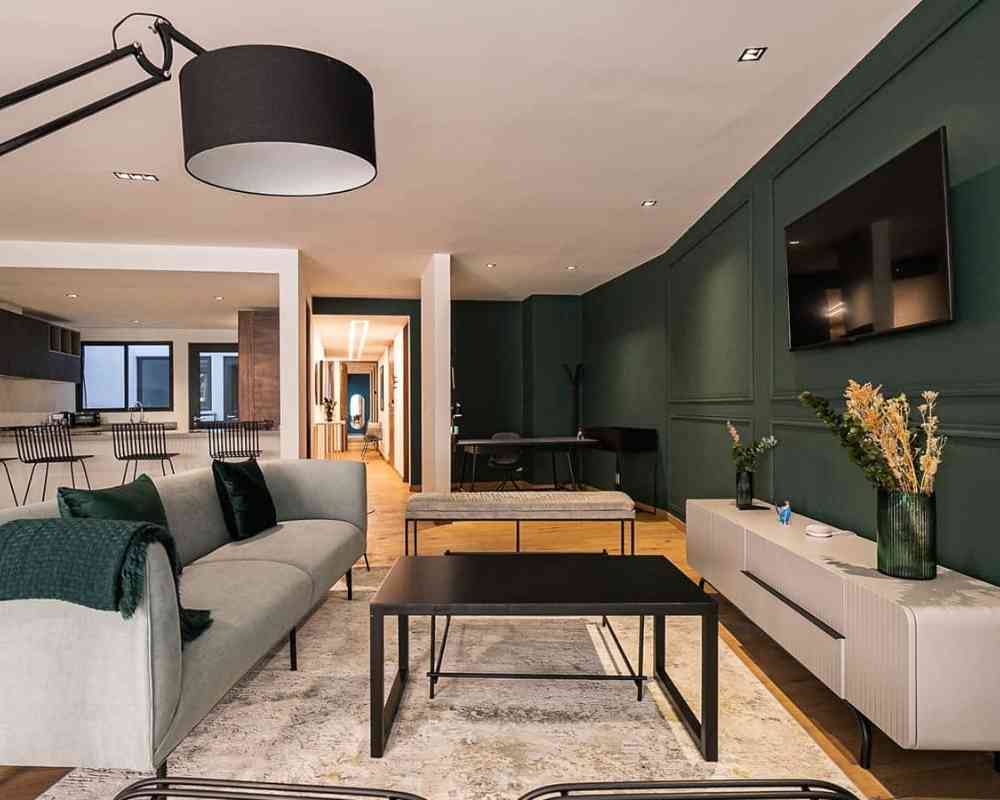 I also don't remember being asked for a passport or an identification but of course, this does not apply to every rental. Some landlords prefer to see your documents.
But honestly, Mexicans are very friendly to foreigners especially if you are paying the advance/deposit. It is also assumed that foreigners pay on time.
🏠 Roma Mexico City apartments for rent
🆚 Mexico City apartment prices: furnished vs non-furnished
Apartment costs in Mexico City really vary. For example, a digital nomad like me will always choose a furnished apartment since I move every 6 months.
I learned that if you rent a non-furnished one in the famous expat areas like Condesa, Roma, Juarez, and Polanco, it's really way cheaper.
But then you have to buy everything (as in everything) which, in turn, would be extra costs for you.
For example, when I saw this unfurnished apartment in Condesa (4-br and super nice area), the cost was $1,200 USD while a furnished one will be at $2,247 USD – same size, same area.
If you want to live permanently in Mexico City, then you should definitely get an unfurnished one. Buying furniture is also not that expensive as they sell it in groups (very often) and there are also big markets and wood shops within the city for personalized furniture.
🔌 Mexico City apartments utilities costs
Yes and no. But more often than not, it is. The best way to do this is to read the listing carefully and ask the landlord if it is included.
If you rent via Airbnb and Vrbo, they're included for sure. Mexico City electricity bills are not that high because apartments don't have AC.
Remember that Mexico City has decent weather all year round. You don't need an AC but during the summer, you might.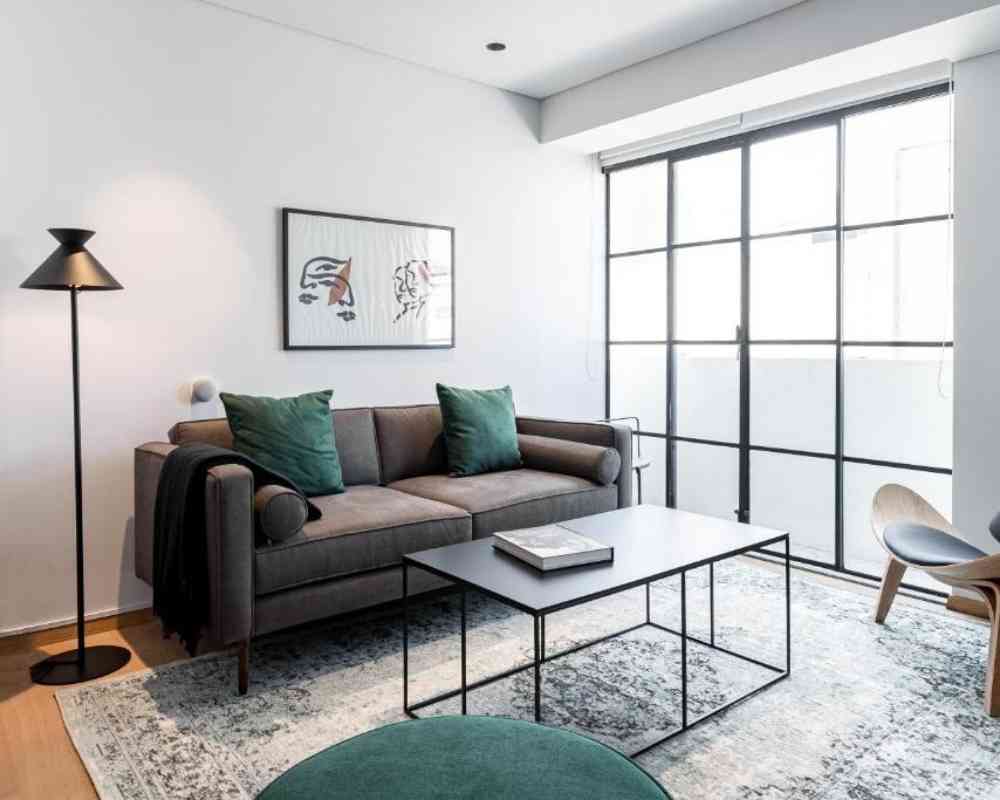 So ask your landlord about it. So far, in all of the apartments, I stayed in Mexico City, none of them have air conditioning.
What's also very important for me when looking for Mexico City apartments is that if a washing machine is included. If that's not important to you, there are many laundromats (lavanderia in Spanish) that costs between $2 – $4 USD per kilo.
✍️ Contract signing for Mexico City apartments
Almost all Mexico City apartments ask for an advanced payment (usually one month advance and one month deposit) except if you are opting for the roommate option.
If you are going to live long-term in Mexico City, you might need to prepare extra for these deposits. I encountered a landlord who asked for this deposit but since I was only staying for 3 months, she agreed that I only do one deposit.
This always comes in the form of cash and will be returned to you when you leave. You can also carry that over for the last month of your rent. The key is to be clear with your landlord about it.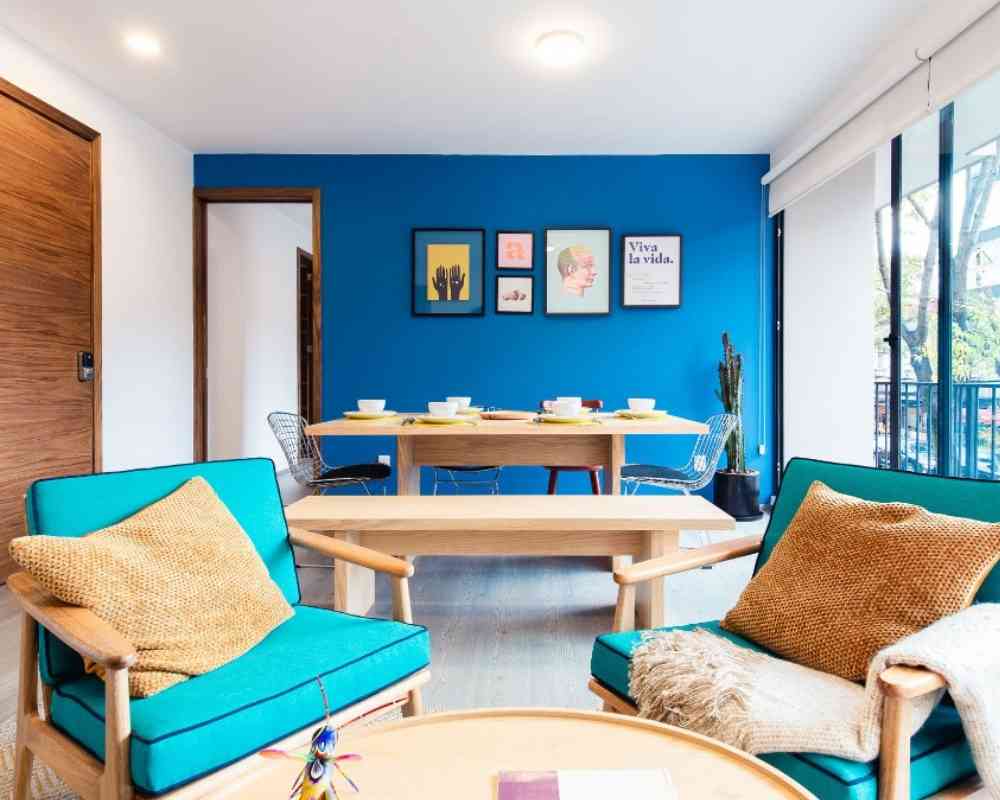 🧐 What do Mexico City rentals typically look like?
Colonial buildings are the typical format in Mexico City. Meaning, if you want to live here, you need to be willing to live in apartment buildings or condominiums.
Not all of them have a terrace. And if they have one, they are very small. Honestly, since I have pets, having a terrace is important to me.
I did not find a lot of apartments with terraces or outdoor areas as they are often more expensive.
Some condominiums are more modern with a clubhouse, pool, and reception area. I am just not a fan of living this way so I never checked them out but there are lots of homes in this format.
🏘️ Best neighborhoods in Mexico City
Personally, I only lived in the Roma, Condesa, or Juarez area since most of my job transactions are in this neighborhood.
Although Uber is very cheap in Mexico City, it just wasn't ideal for me to take the Uber all the time as it also adds up to rent.
To be honest, Roma and Condesa apartments are more expensive than the outskirts of Mexico but if you add up the Uber costs (let's say you are going out every day), the rent will be the same.
Foreigners usually live in Roma, Condesa, and Juarez as these are the most European areas and are considered very safe.
Coyoacan, Santa Fe, Del Valle, and Reforma are also popular with foreigners. I know most of you check apartments online without knowing the area but the best thing to do is to think about your lifestyle and check out the neighborhood feel first before closing a deal.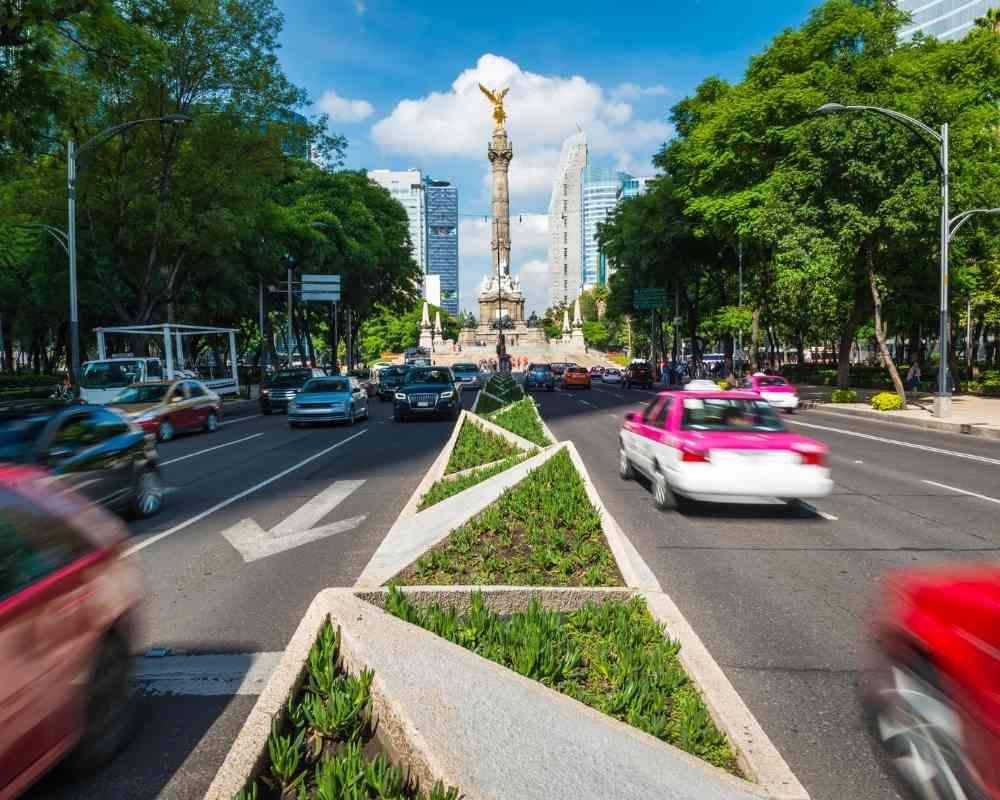 In the beginning, I wanted to live in Polanco but when I visited, I felt like it was too upper-class for me. I also felt there wasn't a chance to meet people there easily (as I am traveling alone).
For my age (I am 33), Roma and Condesa fit my requirements more. Since Roma and Condesa are more expensive areas, the trend is to have roommates. I myself am not a fan of roommates.
I only tried this for a few months to save on Uber. Honestly, the space is very small for sharing. I even found an apartment in Condesa for 5 people sharing – it was just too much!
But if you are on a budget and are only looking for short-term rent (I did this for 3 months), then Roma and Condesa are the best areas to live in Mexico City.
🏡 Mexico City short-term rentals for digital nomads
This was one of my concerns when looking for apartments all over Mexico – I can't do an advance payment or deposit since I only want to stay short-term.
There are many digital nomads in Mexico City as the Internet is decent and the costs are pretty cheap but finding cheap rent is not easy, especially for short-term visitors.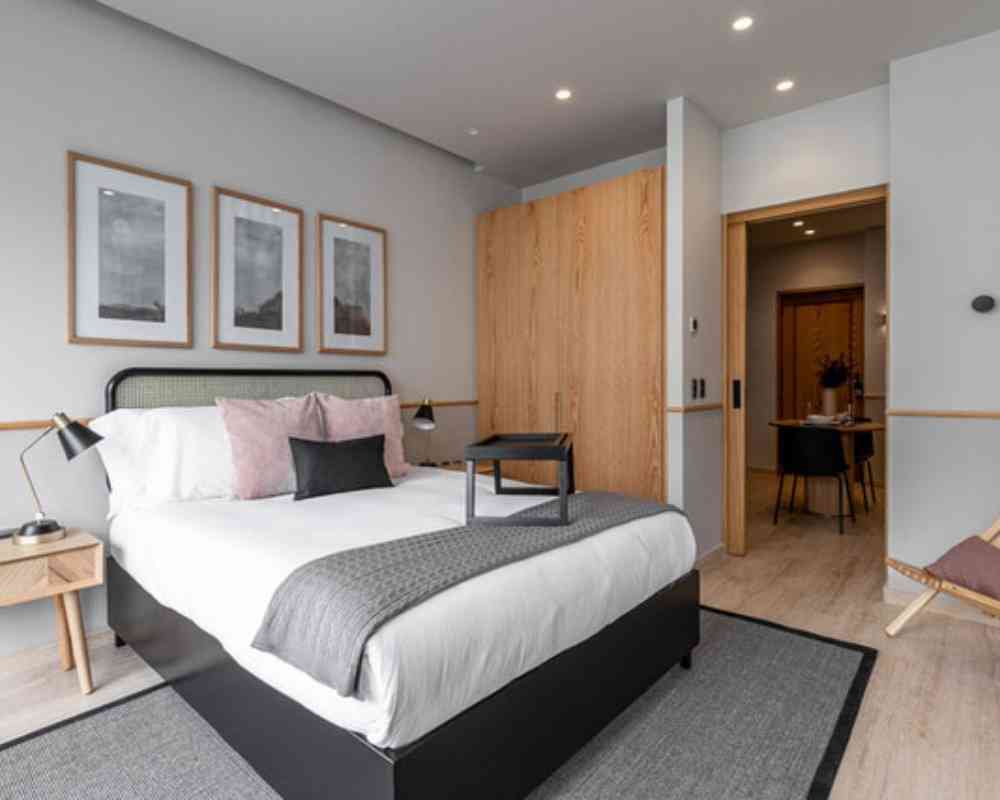 Airbnb is always the go-to website for digital nomads but since I stopped supporting Airbnb this year, I found another platform in Mexico City where digital nomads can rent without an advanced payment or security deposit.
Read this article to find a list of short-term rentals for digital nomads.
🏚️ Mexico City apartments for sale
I also received a lot of inquiries from readers of this blog about buying an apartment in Mexico City.
Personally, this is not a place where I will buy a place but if you have a few bucks to invest, you might get that back easily because short-term rentals (like Airbnb) are very big in this city.
People will always come to Mexico City so it is guaranteed that you can put it on short-term rent while you are traveling or back in your home in the United States.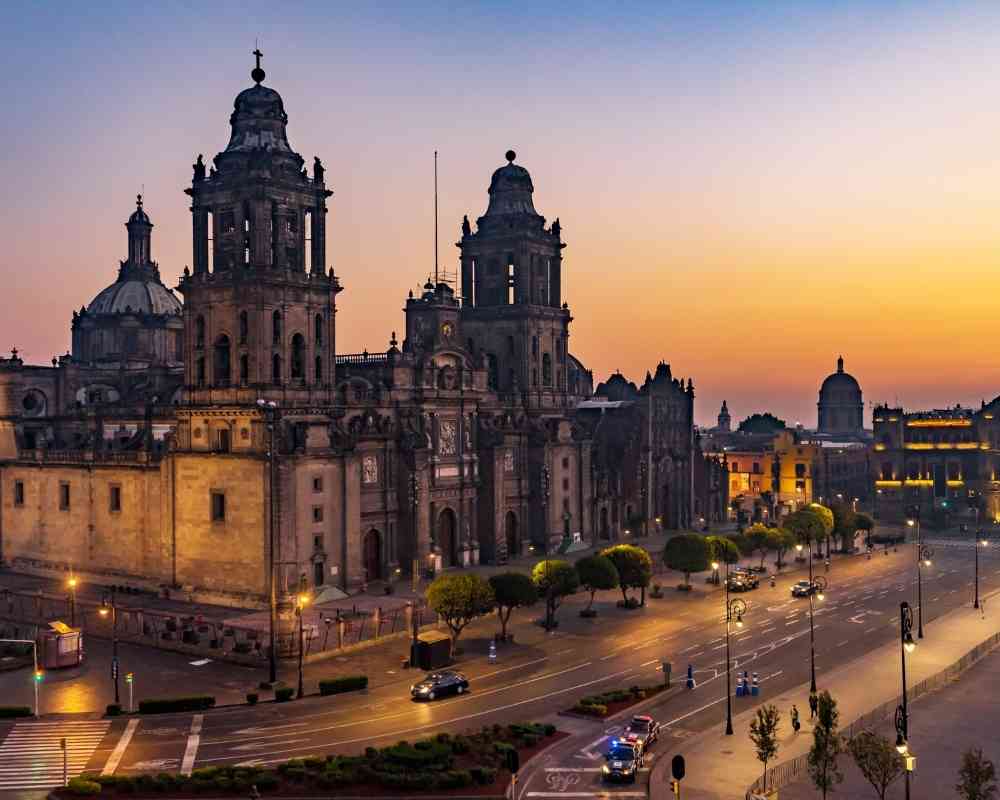 My only tip is to check if the property can be transferred in your name. Foreigners can definitely own properties in Mexico but some of the titles are non-transferable and/or you need a Mexican national to help you with the paperwork.
I can recommend a few realtors in Mexico City to help you with this but if you are researching on your own, make sure you know the legalities first. It is also very important that you know the legitimacy of the real estate owners.
🔎 Mexico City apartments challenges
As we all know, apartment hunting is not easy, especially in a country we do not know very well. Here are some of the challenges I encountered based on my personal experience.
Location
Again, I am a digital nomad so location is very important to me. As I prefer to live in the Condesa and Roma areas, I was actually torn about the prices – they are just so expensive!
I had the chance to live in Coyoacan in a great apartment for cheap but the problem is that it's about 20 minutes Uber ride (and a 1.5-hour walk) to Roma and Condesa.
I would rather just walk than take Uber all the time.
Pet-friendly apartments in Mexico City
I also have dogs so this was my number one challenge. Most apartments I found did not accept dogs. One apartment I found in Condesa said there were dogs in the building but they don't accept pets anymore for new tenants, even if I was only living short term.
Out of the 10 apartments I saw and liked, only 2 of them accepted dogs. These 2 were not even my first choices.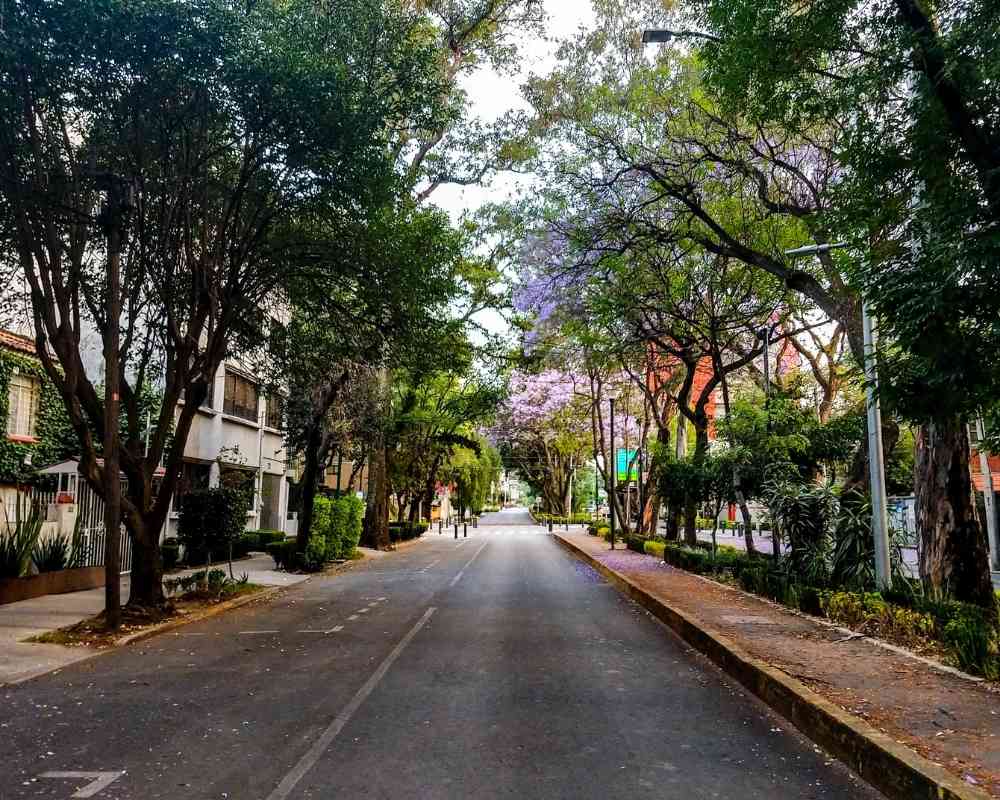 Parking
I also have a car and living in Mexico City with one is impossible! Most of the apartments I looked at have street parking.
Since Uber is cheap in Mexico City, I did not plan to use my car a lot. Not to mention the traffic in this city is insane – there is no way I am going to drive all the time.
I also did not feel safe leaving my car on the street for a long period of time. Note that street parking is public and not reserved for your car.
Sometimes, you can't even park in front of your apartment building. There are a lot of safe parking lots in Mexico City but they come with a cost.
The last time I checked, it will cost around $250 USD for one month of parking, and for me, that's an extra monthly cost (on top of the rent).
Safety in Mexico City
Mexico City is not the safest city in the country but since I've lived here a long time, I don't feel unsafe. However, I only have experiences living in Roma and Condesa which are 100% safe neighborhoods.
I can't speak for the other neighborhoods. If I am meeting friends outside of Roma/Condesa, I always have to take an Uber. It's less than $5 USD but I won't walk far (example: Roma to Reforma) if I am by myself.
I also do long walks if I am with the dogs. We always walk from my house in Roma to Polanco which is about an hour then take the Uber back to our home.
Best time to live in Mexico City
Another thing that made me super concerned about this is the Mexico City weather. In fact, it's hard to plan where to live in Mexico as a digital nomad depending on the months.
For example, the coast which are Puerto Vallarta, Sayulita, San Pancho, Puerto Escondido, etc is super wet from July – October. Guess what?
The same goes for Mexico City so right now, it's really hard to decide where to go!
🛋️ Where to find Mexico City apartments
#1: Airbnb? NOT REALLY.
Most people who are visiting Mexico City for the first time opt for Airbnb but it has a lot of commission costs. Some people do a one-week rental and then just talk to the host outside of Airbnb but note that it doesn't always work.
A lot of hosts in Mexico City opt for guests to pay through the app for security reasons. Airbnbs are surely the easiest way for foreigners but let me tell you that you will save money A LOT if you don't use Airbnb.
No joke – Airbnb fees are ridiculous!
#2: List of Facebook groups for looking for Mexico City Apartments
Facebook groups are always very reliable as you can see the profile of the landlord. Not only that – you will also get tips on living in Mexico City.
All groups have experienced ex-pats when it comes to CDMX living so you don't have to speak in Spanish. Below are some of the groups I heavily rely on:
If you are on a budget and is okay to share, there are lots of roommate groups in Mexico City like ¡Roomies CDMX!. The other group called Roomies CDMX (Mujeres) is exclusive for women.
#3: Private Whatsapp group
I am a member of an exclusive Whatsapp group for rentals in Mexico City but I am not really sure if I can share it. If you want to be a member, send me a message on Instagram and I will ask the admin to add you.
I did not ask for permission to publicly share the link so I hope you understand. But this group has quality apartments and the group members are super helpful!

#4: Mexico City apartments on Craigslist
Mexico City Craigslist of also super reliable as there are more photos there and the description is very detailed. I also think that the apartments here are cheaper.
The only thing is it takes a lot of time for the owners to reply. Each listing on this platform is assigned a Craigslist e-mail address so I feel like owners don't check it often since it's not their personal e-mail address.
Some have Whatsapp numbers though!

#5: Mexico City apartments on Facebook Marketplace
I know not many people use Facebook Marketplace as their go-to when it comes to looking for apartments but honestly, this is where I found most of my apartments in Sayulita and Puerto Vallarta.
Facebook Marketplace is super direct to the point as the prices are already there. It is so much cheaper than Airbnb and you can also choose the neighborhood using this platform.
You will also have direct contact with the seller/host/landlord which makes the transaction easier and faster.
✈️ Ready to move to Mexico City? If you have any questions about finding Mexico City apartments, I'd be happy to update this post – just leave a comment below!
Trisha traveled to Mexico in 2018 and after a year, she found herself obtaining a 4-year residency visa in Mexico. She is the Editor-in-chief for our Living in Mexico Series which has helped over 3,000 Americans move to Mexico with ease. Trisha currently resides in Cabo San Lucas, Baja California Sur.