Tired of Quintana Roo? Why don't you give Chihuahua a try? We went on a 7-day road trip in this misunderstood state of Mexico and here's what we've uncovered.
Doing a Chihuahua road trip is very uncommon since the state is known for the El Chepe train journey. In our case, we mixed both train and car journeys this time.
I know there are many confusing routes on how to do your trip to Chihuahua but we have many resources in this blog about our trip.
We did this Chihuahua road trip itinerary on our own. Actually, we started to change courses after our first train ride and decided that Chihuahua is also a great area in Mexico for road trips.
Daniela and I are also very slow travelers – we don't want to plan things in advance and that's the beauty of having your own car!
⛔ Is it safe to drive in Chihuahua?
Driving in Chihuahua is safe but take note that both Daniela and I can speak Spanish fluently. This definitely affects the way you travel in Mexico.
There were many places in this drive where there was no phone signal and we barely saw people on the road. It was difficult to ask questions and we also didn't see many gas stations.
What I am proud to really share is how kind and warm the people of Chihuahua are. I would normally be scared of Mexican police but the policemen in Chihuahua are super friendly and helpful!
There are many off-road drives so I recommend renting a high car (SUV) or a truck when doing your Chihuahua road trip.
If you are returning the car in the same spot, you don't have to pay a drop-off location fee. If you want to return the car to Los Mochis Airport, there will be an extra US$150 fee.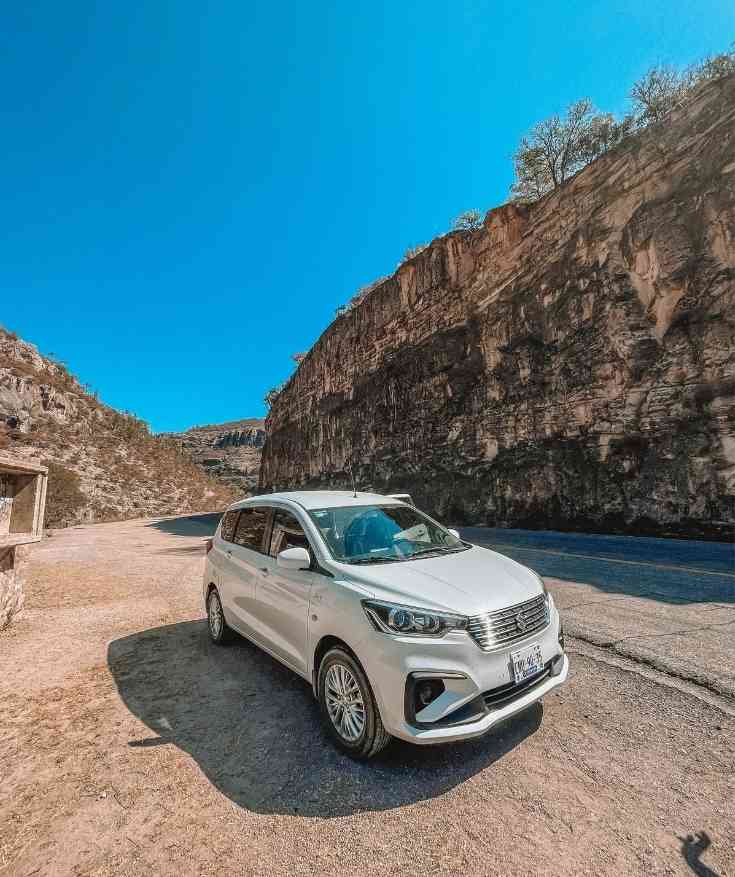 🗺️ Planning your Chihuahua road trip
There are two routes to choose from: you can start in Chihuahua City (like we did) or start in Los Mochis. Both cities have International airports so there will be many rental car companies available.
Renting a car at Chihuahua Airport was easy. I arrived at 8:00 PM and they were still open. It only cost US$15 per day plus a security deposit of US$500.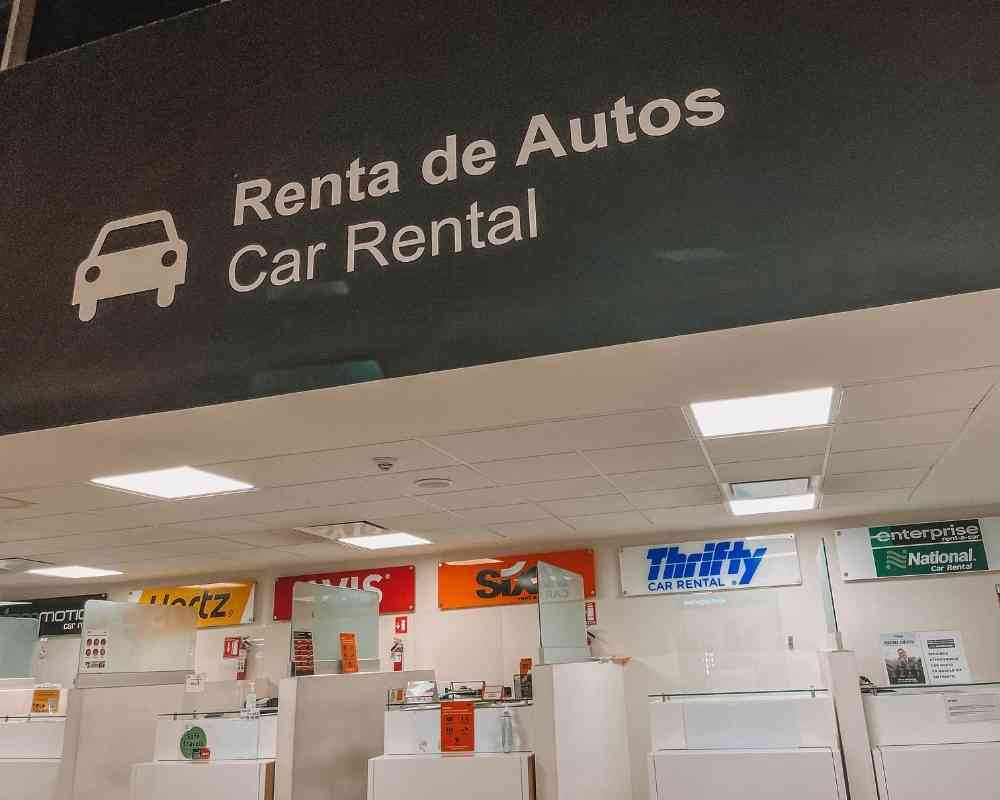 They will ask for a valid credit card and of course, a copy of your driver's license. Normally, the driver should present all these documents but they were lenient in Chihuahua.
To give you an idea, this Chihuahua road trip itinerary covers the following:
1 night in Chihuahua City
3 nights in Creel
2 nights in Divisadero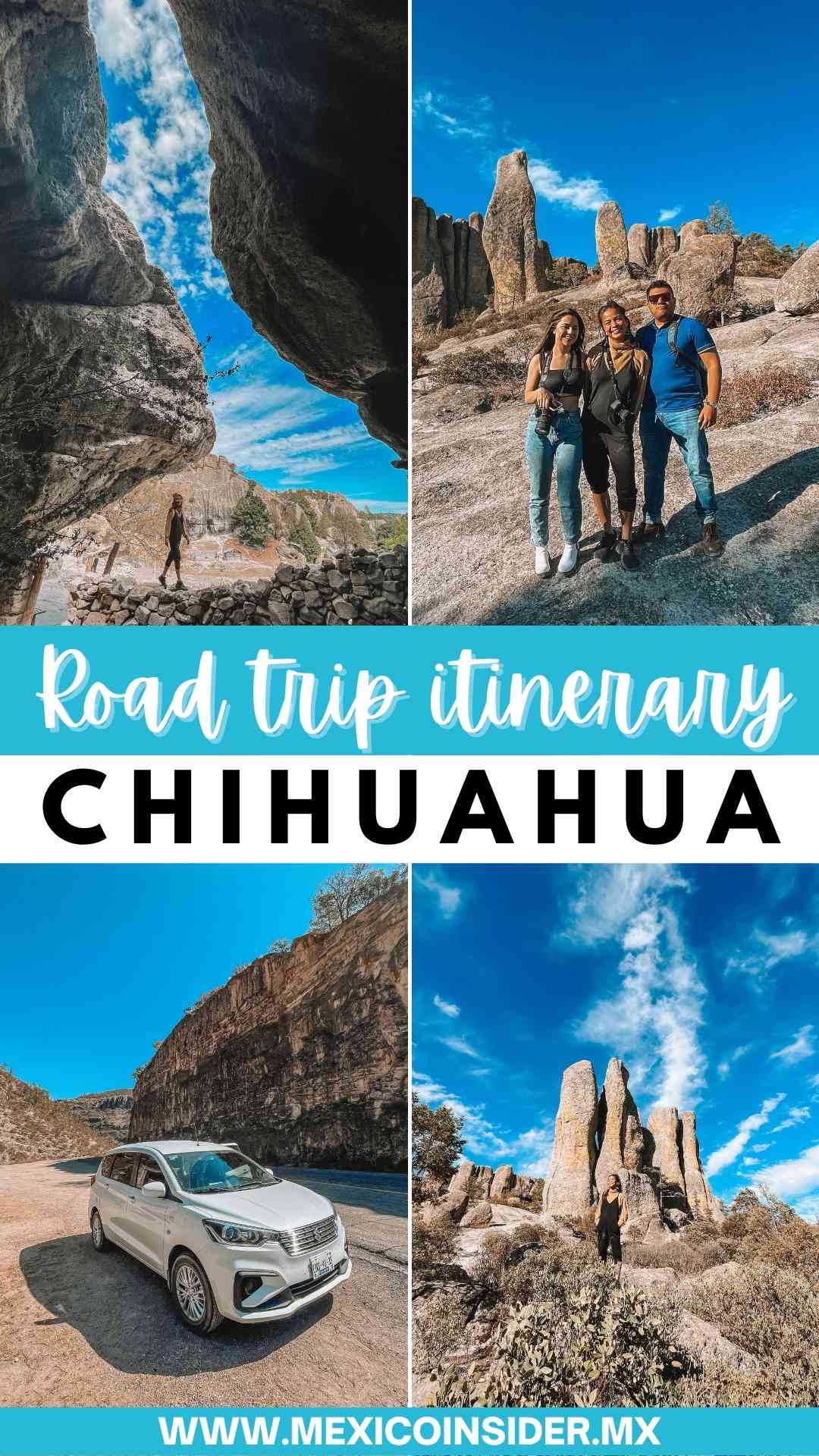 You might also like:
⛰️ Chihuahua road trip itinerary (7 days)
Day 1: Chihuahua City
We chose to stay in Chihuahua City for one night. Many of my Mexican friends didn't understand why a foreigner like me would visit Chihuahua City.
It has a reputation for being the most dangerous city in Mexico because of its close proximity to Ciudad Juarez. With all this news, we did take extra precautions in Chihuahua by taking the Uber at night.
Walking during the day is fine but Chihuahua is a very quiet city. We didn't see a lot of people on the streets even during the day.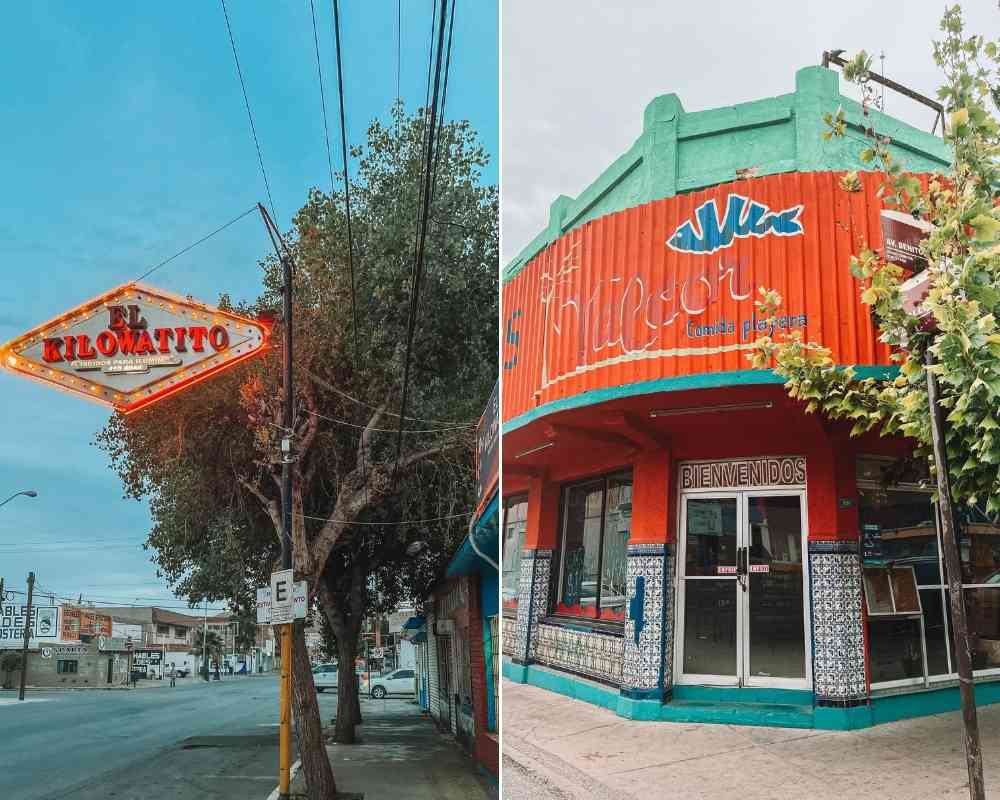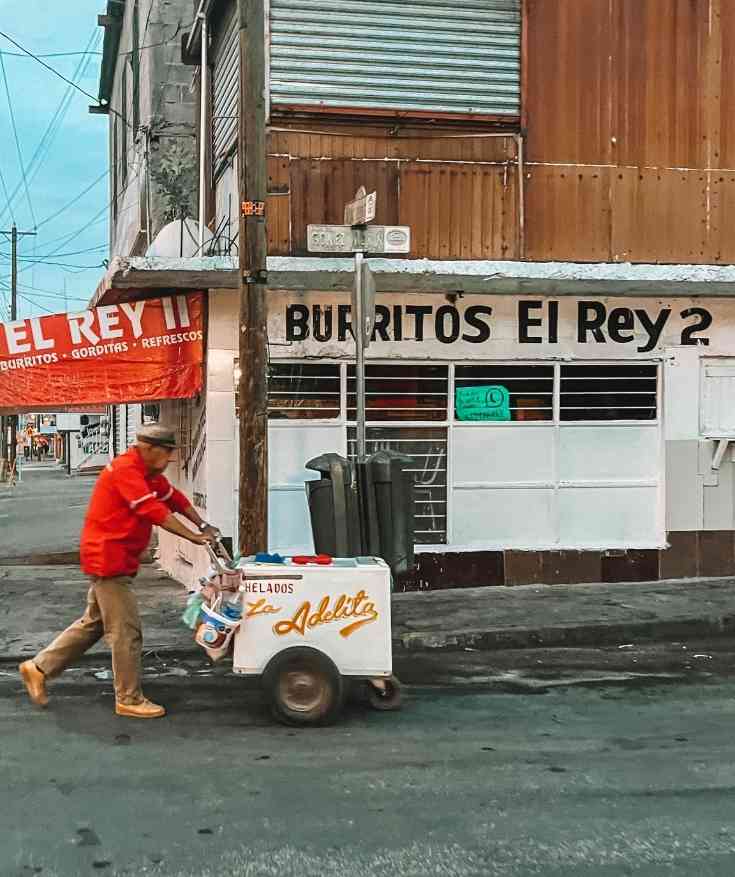 What I loved about Chihuahua City is that it feels like you are walking through an old Mexican movie. The store fonts and colors are still like the 50s' and 60s' – it's such a sight to see!
I used to tell friends that Mexico isn't like what they see in the movies but after strolling around Chihuahua City, I couldn't believe that this kind of Mexican structure still exists!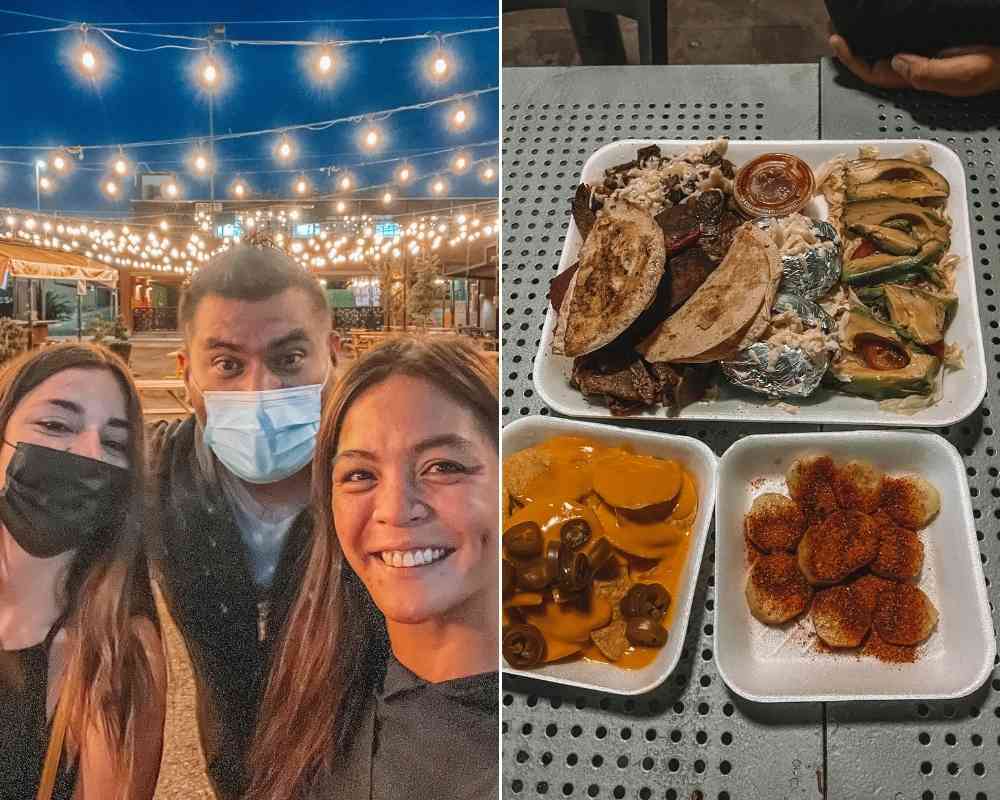 We didn't do a lot of things in Chihuahua City but many locals we came across highly recommended La Cerve, a food park slash party place where all the locals go.
At La Cerve, we had the chance to try many different Northern Mexican food like the papas preparadas. There was also a barbecue place at La Cerve and a platter of meat for 3 people cost us US$5 per person.
After our evening at La Cerve, we went back to our hotel and prepared for the drive for the next day.
Where to stay in Chihuahua City: We stayed in Hotel Posada Tierra Blanca which is one of the highly-rated hotels in Chihuahua City. We shared a room for 3 and paid US$50.
It's a basic inn but they have all the amenities like a swimming pool and a restaurant on-site. The staff is very nice! In fact, I left my phone here (we were already at the train station) and they kept it for me!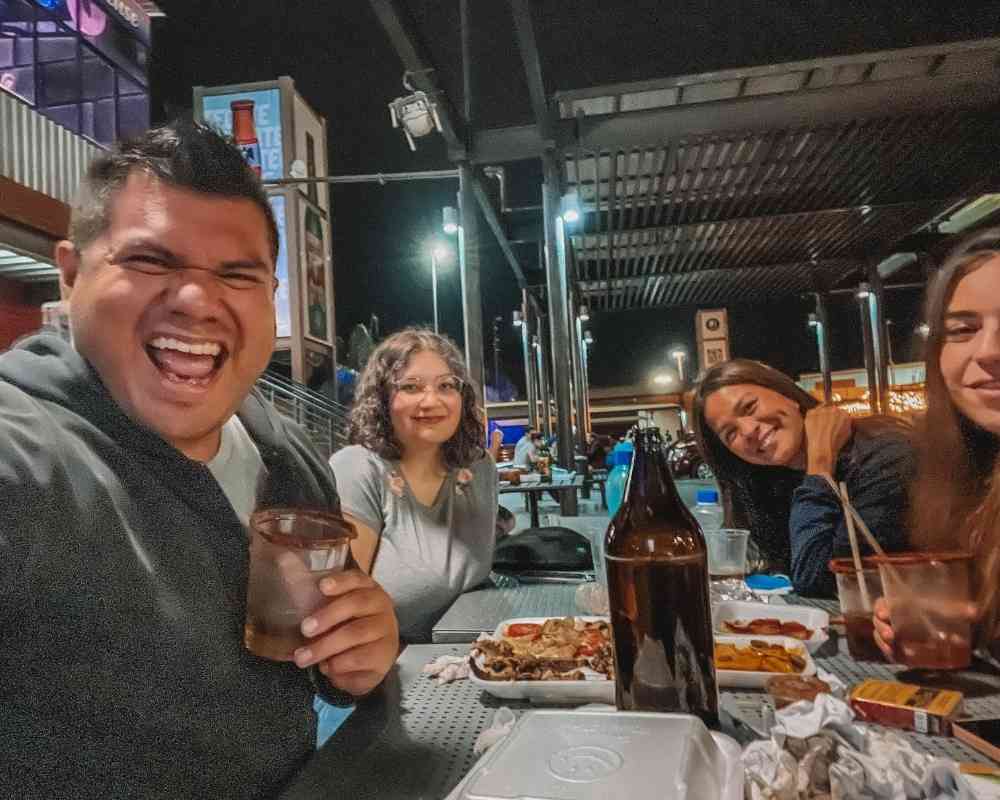 Day 2: The Valleys of Creel
The drive from Chihuahua City to Creel took 3 hours while the train ride is 6 hours (via Chepe Regional). Creel is one of the pueblos magicos of Mexico.
It is a really small town and easy to explore within hours. We arrived by lunchtime and had lunch at Restaurante Veronica, a popular Mexican restaurant in Creel.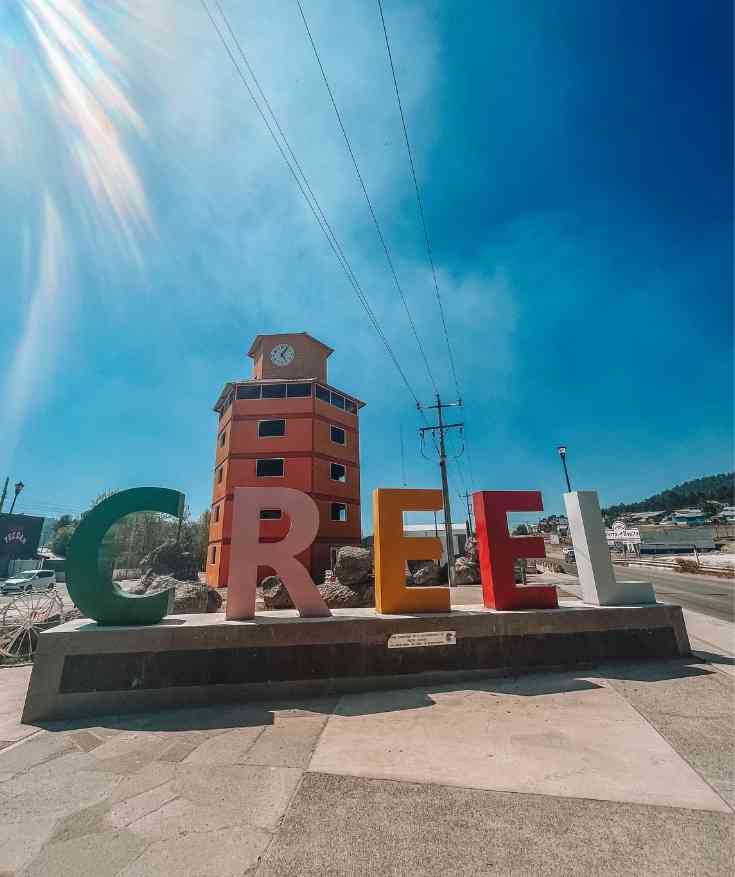 Check-in time for hotels in Creel is at 3:00 PM so after lunch, we had a few hours to explore the valleys of Creel, which are the most-visited in the state.
They are about 15 minutes drive from Creel's plaza and are right next to each other. The first one we visited was Valle de Los Hongos (Mushroom Valley). Which, by the way, I thought were real mushrooms.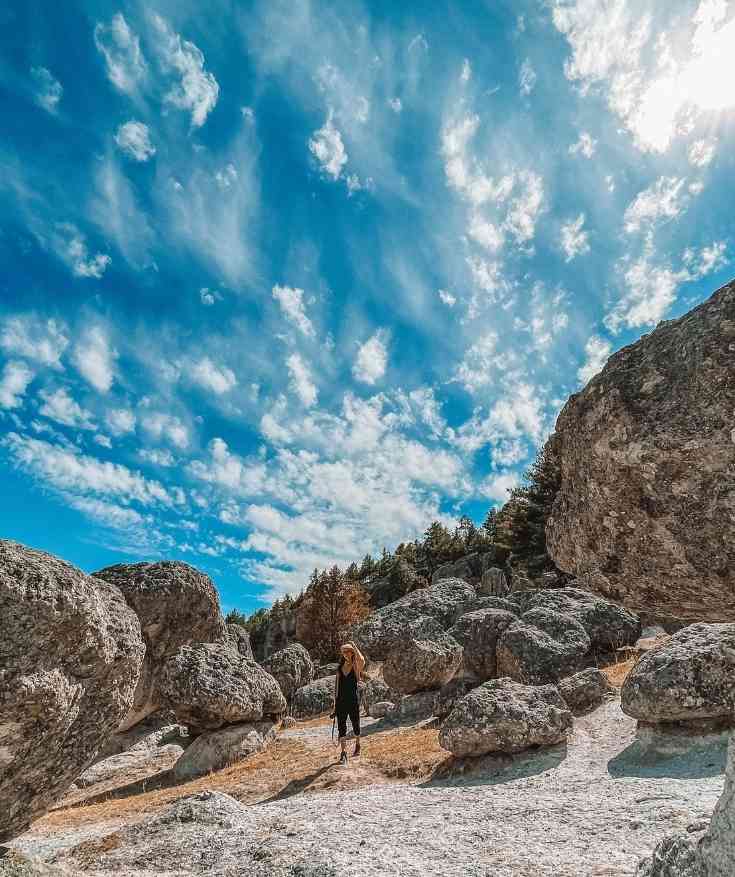 These are rocks that naturally formed into the shape of mushrooms. It's really amazing to see a natural phenomenon – they really looked like mushrooms!
Right next to it is the Valle de Las Ranas (Frog Valley) which, obviously, are rocks in the shape of frogs. There are many things like this in Creel.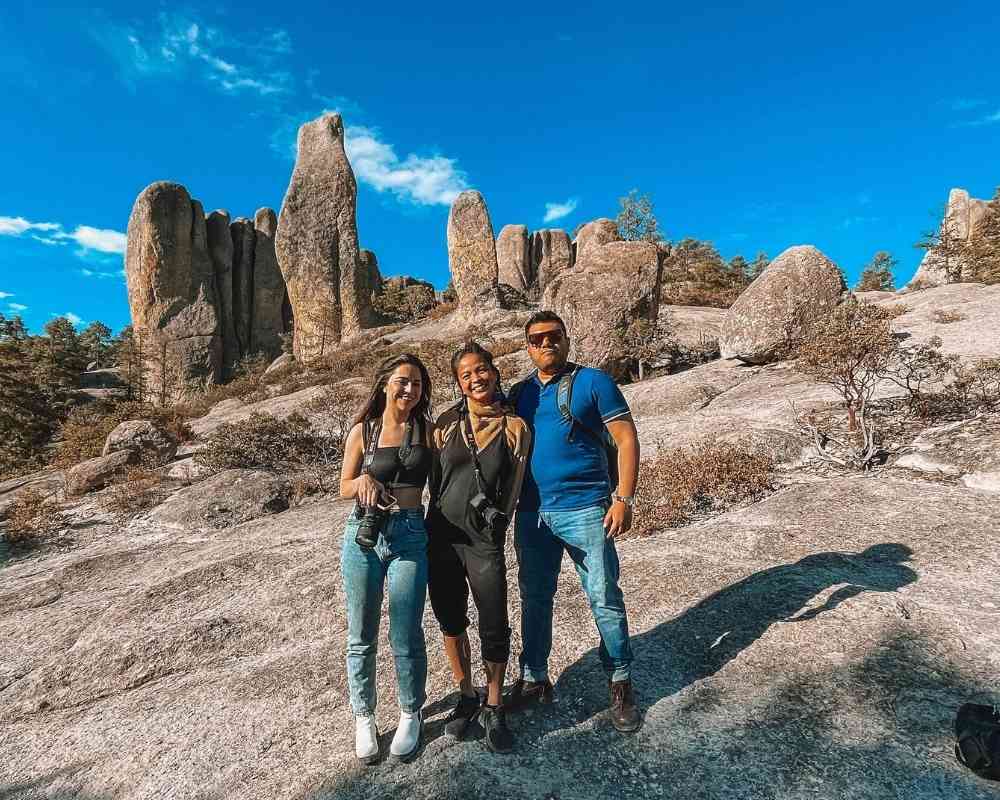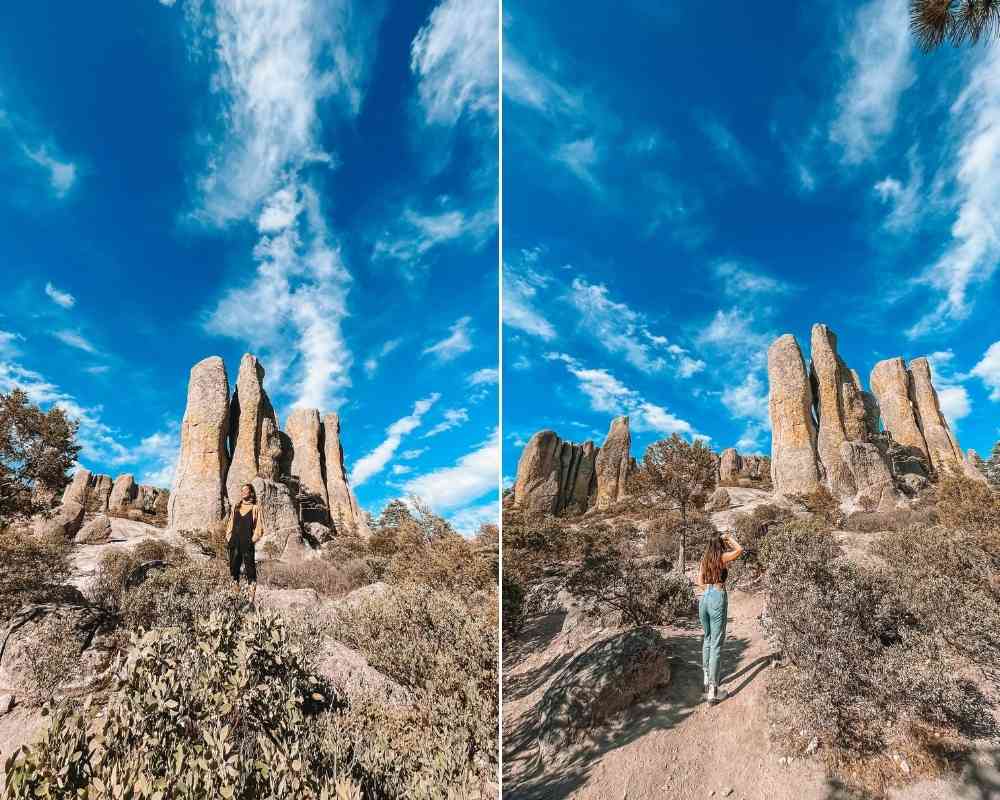 The highlight of the valley trip in Creel is the Valle de los Monjes (Monks Valley). These tall imposing monks in the form of rocks are one of my favorites in Chihuahua.
Lastly, we went to the San Sebastian Cave which is the only inhabited cave that the raramuris (a tribe in Chihuahua) allow visitors to visit.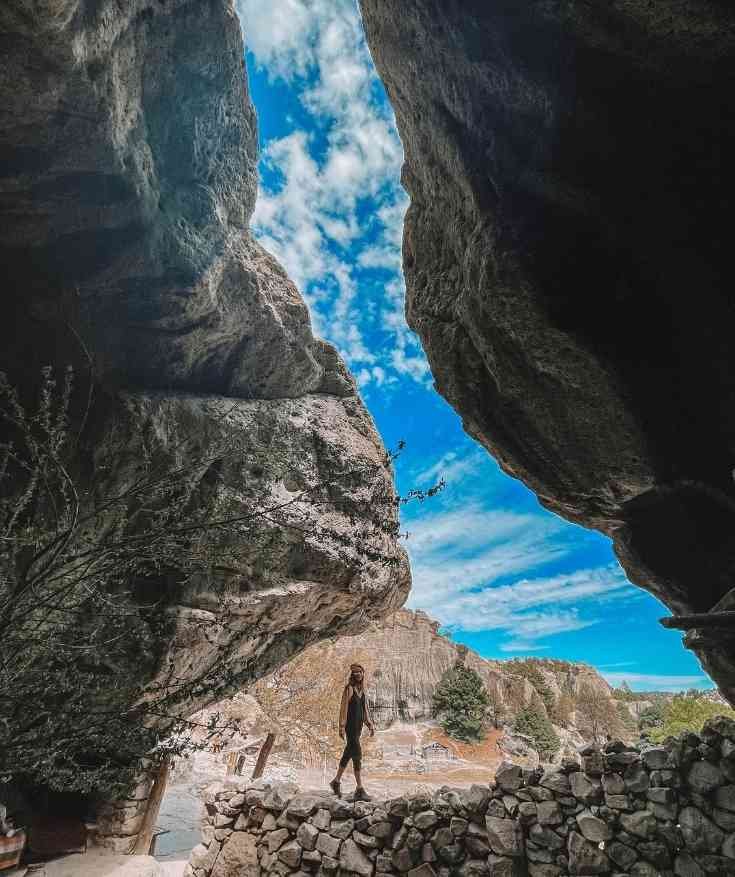 We didn't check in at the hotel until the evening. After visiting the valleys, we went to an Italian restaurant in The Lodge that has a reputation for having the best Italian food in town.
The Lodge's restaurant not only has Italian food but also has artisanal beers. This is also the first place I knew about wines in Chihuahua – I learned that Chihuahua has vineyards!
Pizza Menonitas (Mennonite pizza) is their best seller so we decided to order that together with a good bottle of red from Chihuahua.
Day 3: Stay in Bubble Hotel, Creel
A Chihuahua road trip is rough and exhausting so there was one day when we decided to stay in. We stayed in Wooden Inn, the newest unique accommodation in Creel.
Wooden Inn has cabins and transparent bubble accommodations. We stayed in both. I liked the cabin more because there was a fireplace inside. Creel can be cold at night!
The beauty of sleeping in the bubble accommodation is that you will be able to see the stars at night. There are also common areas and terraces where the staff can set up campfires.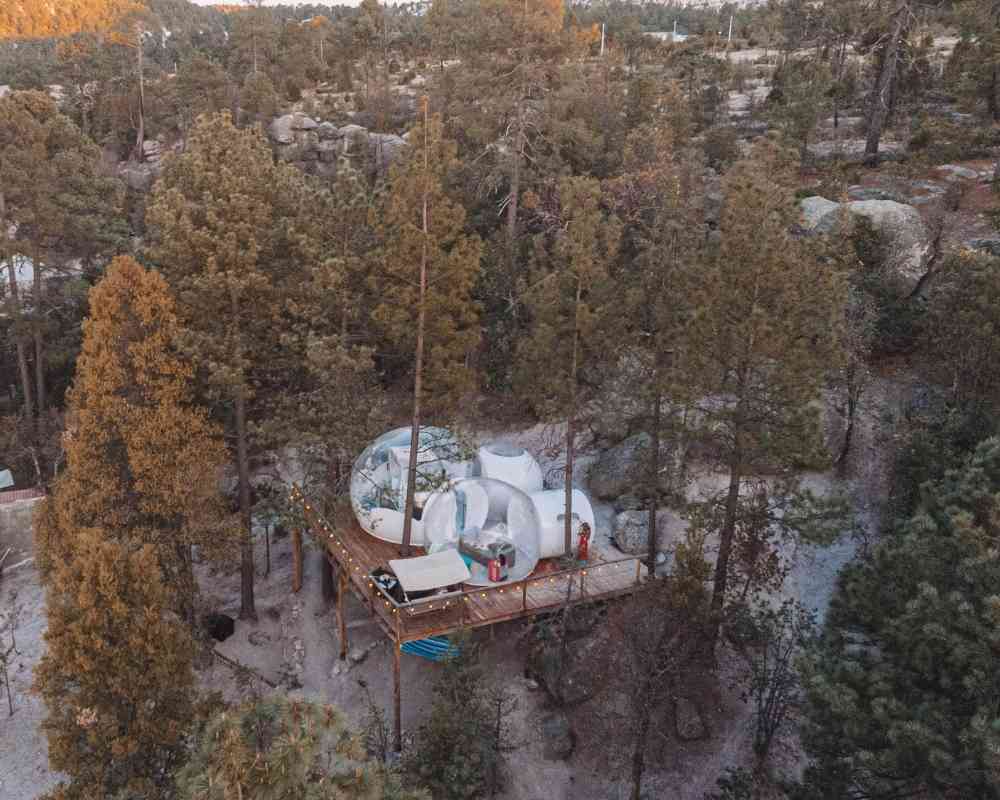 The Wooden Inn sells alcohol (bottles of wine) although they didn't have a lot of wine from Chihuahua. The bottles cost less than US$15.
We took this day off as an opportunity to edit pictures and do our jobs. However, the Internet in Wooden Inn is not as strong so at midday, we went to the city and sat down at a cafe called Ice Creel.
It was super quiet and we were the only guests there. Since Wooden Inn is a new hotel, not many tourists know about it. And if they do, they refer to it as the "Bubble Hotel."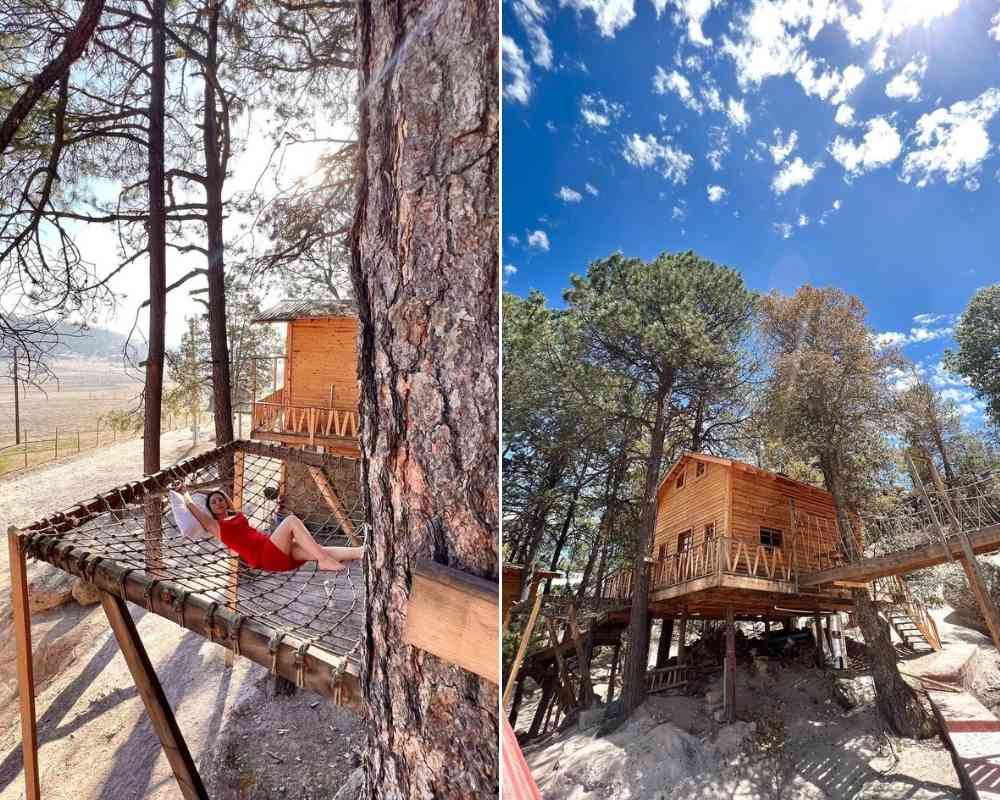 Day 4: Batopilas, Pueblo Magico
This was probably the longest day we ever had. From Creel, we drove to Batopilas, a small town at the foot of the Copper Canyon.
The drive from Creel to Batopilas took 4 hours and there were many scenic stops along the way. I feel like this was the best road we ever took but there was completely zero phone signal during the drive.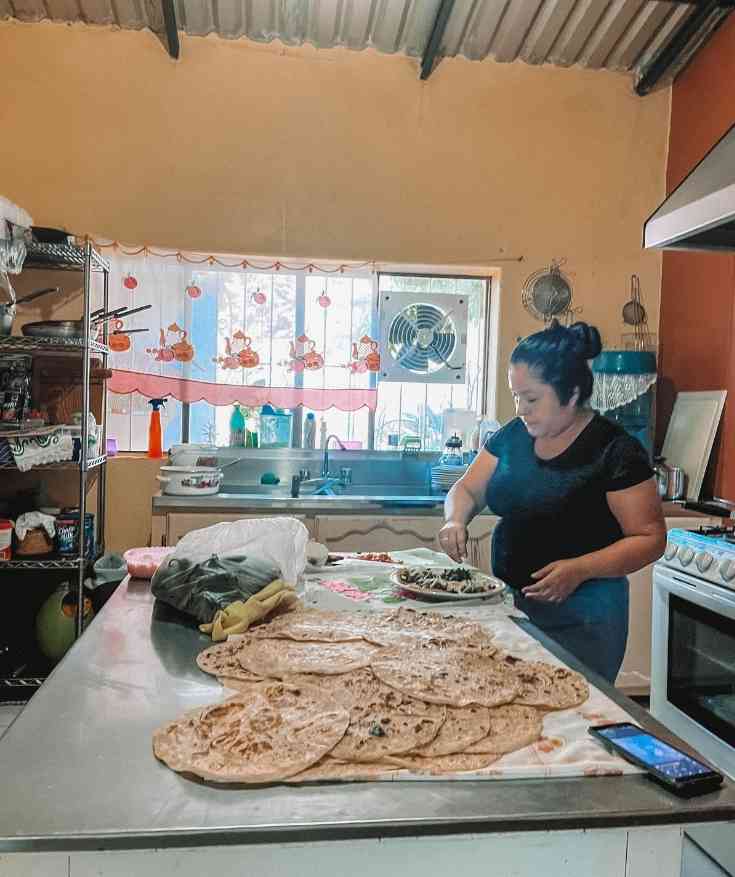 As soon as we arrived Batopilas, we went to the most famous Restaurant Carolina, a home-style restaurant that serves Mexican food. It really is a house with a few tables and chairs and they do the food really well!
After which, we decided to walk around town. Batopilas was super hot and humid. I actually got sick from the many climate changes in Chihuahua.
We drove back to Creel after spending a full day in Batopilas. It really is a beautiful pueblo magico and is not a very popular tourist spot. I loved the vibe and colors in Batopilas!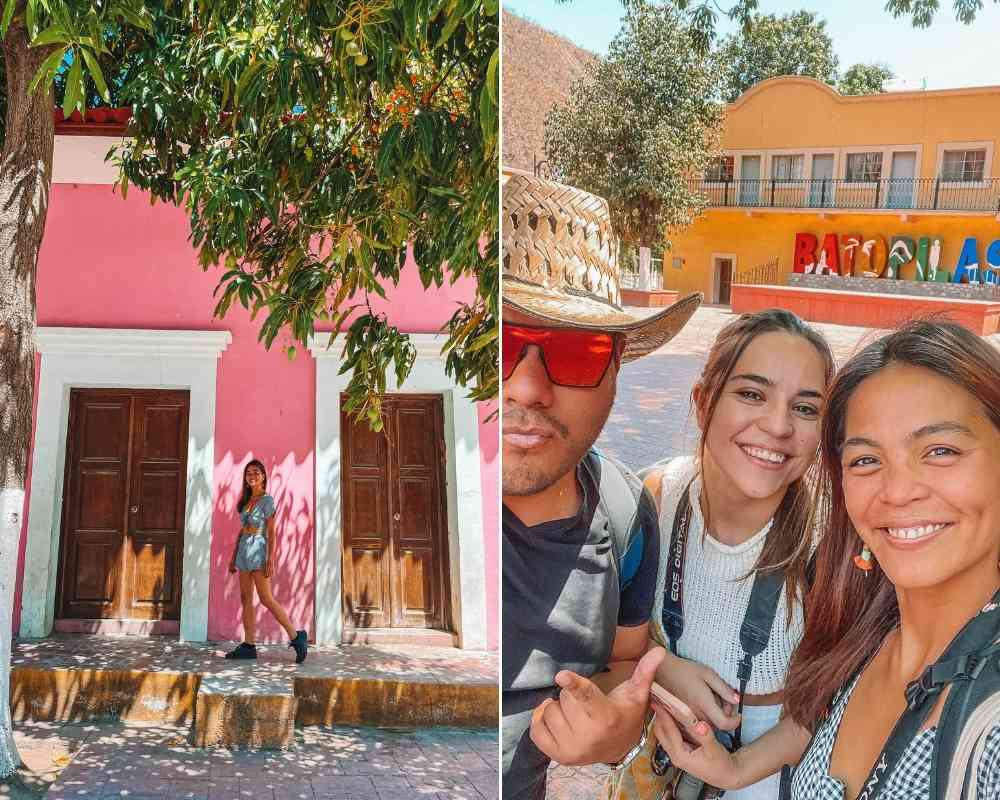 Day 5: Cerocahui
On this day, we checked out from our hotel in Creel as we are moving on to Divisadero where the Copper Canyon Adventure Park is located. Along the way, we did a few stops and one of them is the town of Cerocahui.
In Cerocahui, we did a wine tasting at Hotel Mission by the Valderrama group. They are a small winemaker in Chihuahua and they only have four types of wines.
The tasting cost US$12 per person and a cheese platter is included. We did 1 white, 1 rose, and 2 reds. I started to get more interested in the wine culture of Chihuahua after my extensive trip to Valle de Guadalupe.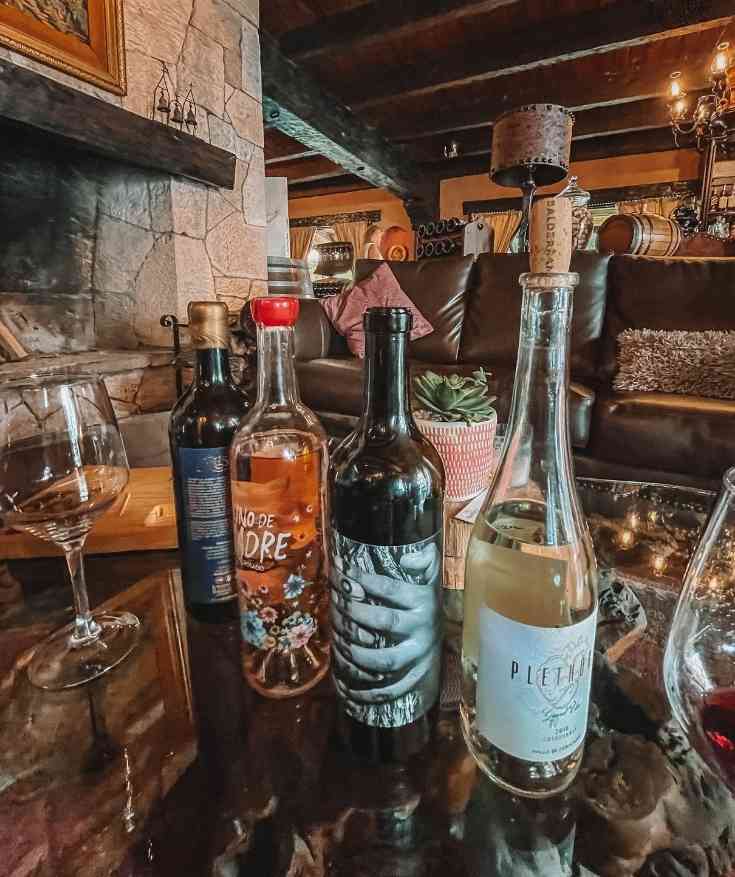 I really feel like everyone should know about Mexican wine and I will make it my mission! The vineyard was dry (no grapes at all) so we did the tasting at the hotel lobby.
After the wine tasting, we drove an hour to Mirador del Gallego, another good part of the Copper Canyon. this visit was a little traumatizing for me since my drone crashed and we had to rescue it from a high cliff.
There are many different spots and view decks to take pictures. There aren't any difficult hikes but we stayed here a bit since there weren't many tourists around. We had the place to ourselves!
We headed to Divisadero from Mirador del Gallego and the drive took another 1 hour.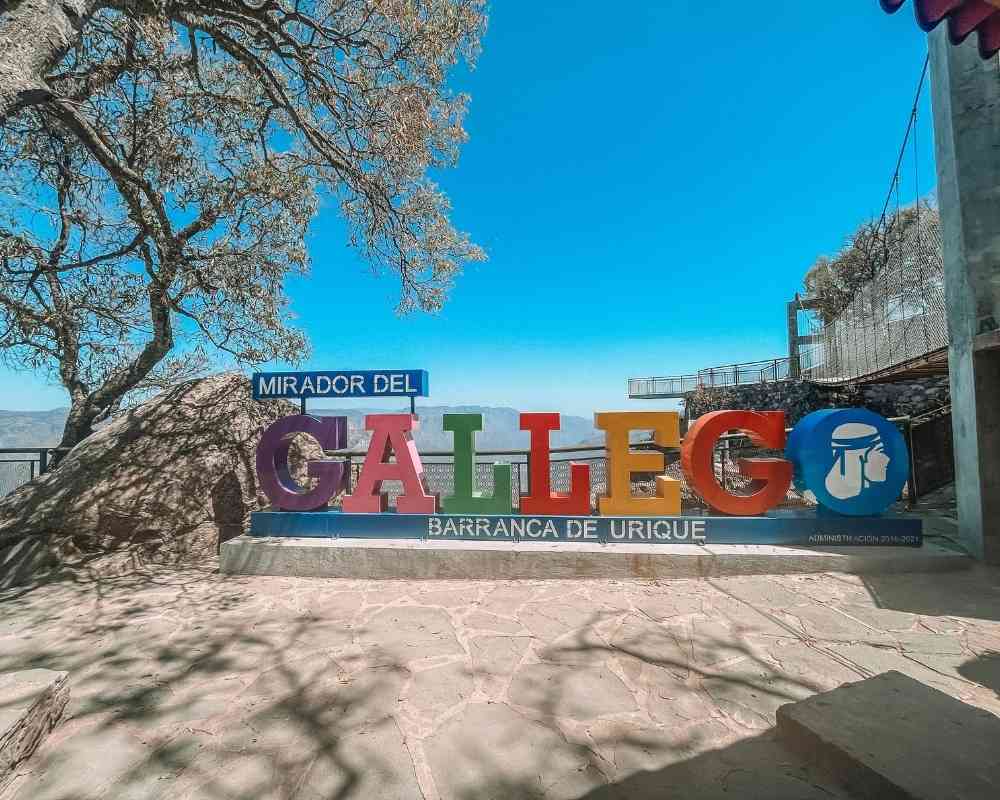 Day 6: Copper Canyon Adventure Park
We arrived at Divisadero around 5:00 PM, just enough time to see the sunset and check in our hotel. We stayed in Hotel Divisadero, a hotel with rooms overlooking the Copper Canyon.
This is probably the hotel in Divisadero where everyone stays because it is just a 2-minute walk to the Copper Canyon Adventure Park entrance.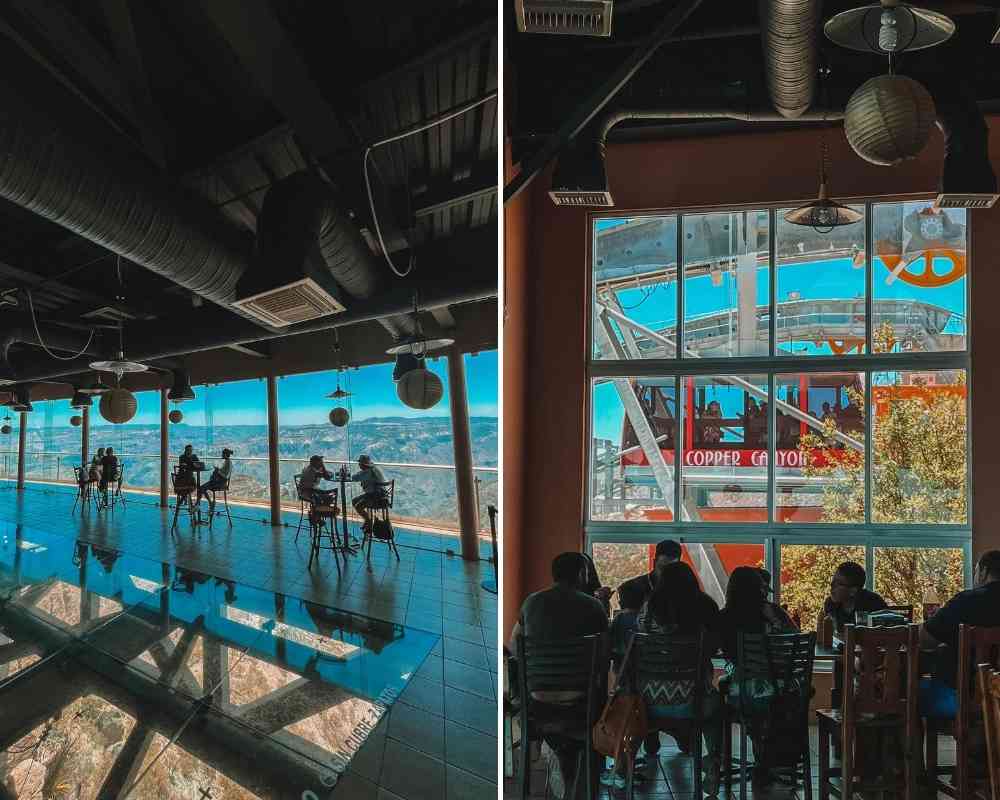 We opted to stay in Divisadero for two nights although the park is the only thing to do here. It was just smart to have a rest because the hotel is also very beautiful!
The next day, we took our time and walked to the park ourselves although there are many tours available. You can read our Copper Canyon guide to see how to spend the day in Divisadero.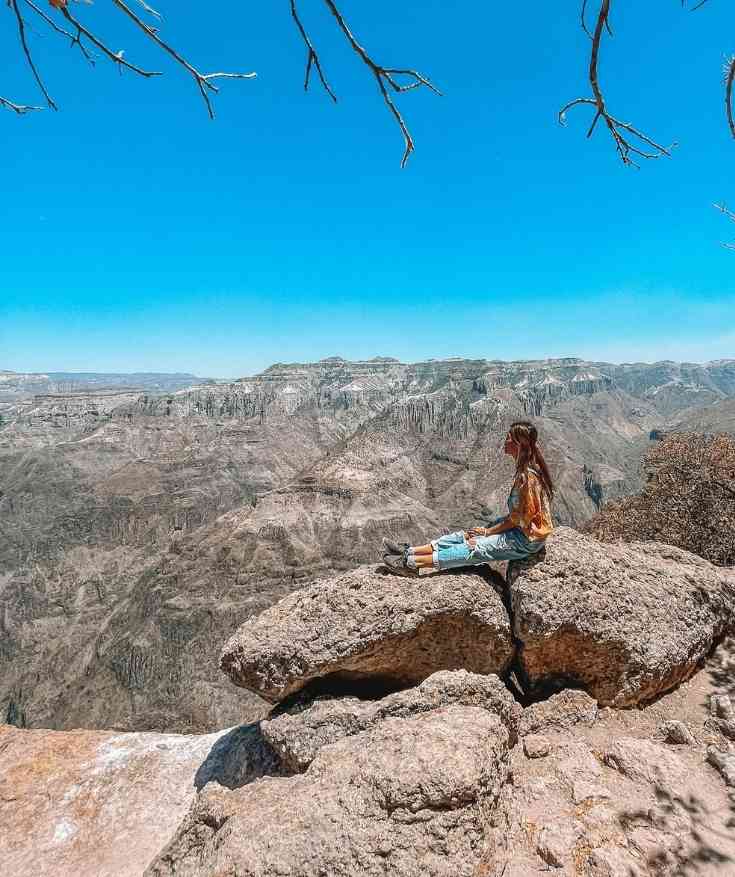 Day 7: Cuauhtemoc (Mennonite Community)
After checking out in Divisadero, we headed to Cuauhtemoc which is a 4-hour drive. Originally, we planned to visit Basaseachi as well but decided to cancel since the waterfalls are dry and it has been for the last 2 years.
It wasn't worth visiting if there are is no water. Basaseachi was also a 2-hour opposite Cuauhtemoc so it would take extra time. We decided to move forward with our Chihuahua road trip by visiting the Mennonite community in Cuauhtemoc.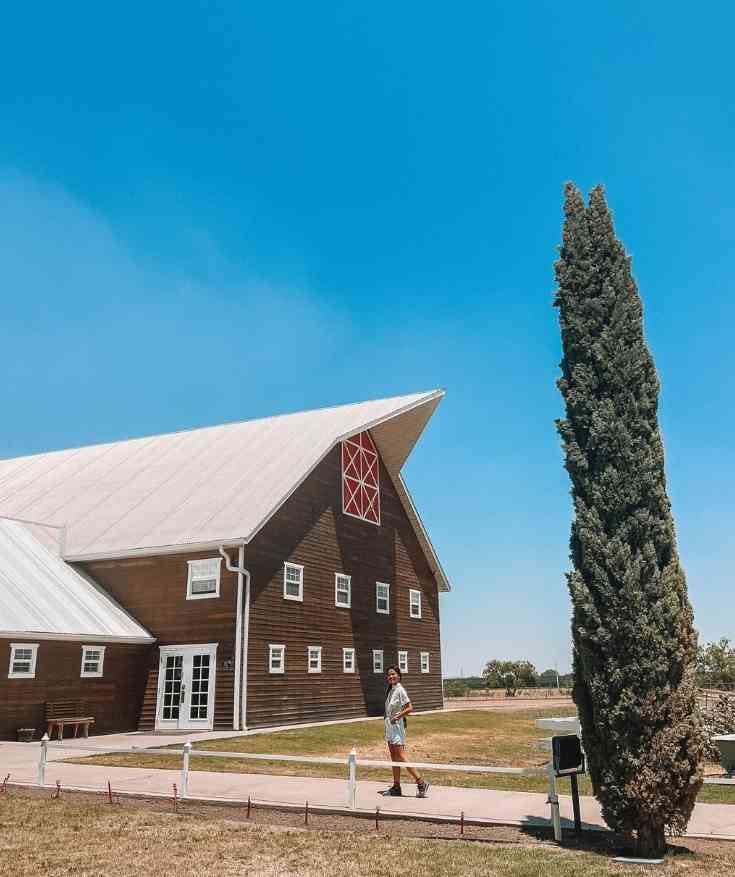 The Mennonites have been in Mexico since the 1920s'. Oddly, they ended up migrating to Chihuahua from Canada and they have really put their roots in the country.
This area has German-style houses and you will really feel the big Mennonite community – they are everywhere! The Mennonite Museum was the highlight where we learned a lot about the Mennonite culture and even saw old machinery from their migration.
There is also a really good cafe inside the museum where you can buy sweets, coffee, and desserts. The Mennonites are known for their cookies and cheese. I bought some for home because I really liked their products!
Lastly, you can visit a traditional Mennonite home where they will show you how they make their famous cookies. For them to show the process, you have to guarantee you are going to buy their products as they wouldn't do it without payment.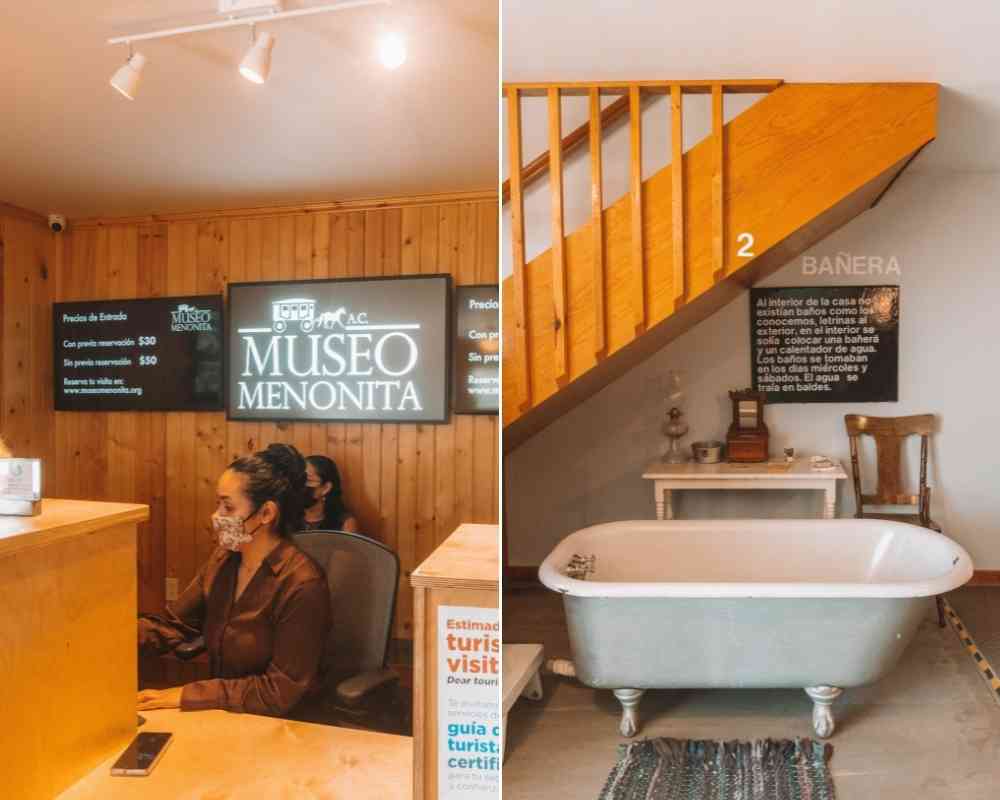 There are also many cheese factories operated by the community but we weren't allowed to see the cheese-making process. You can just go to the factory to buy cheese.
The Mennonites in Chihuahua are 100% Mexicans and not migrants. They speak fluent Spanish (and German) and they also pay taxes like normal citizens of Mexico.
Day 8: Fly out of Chihuahua City
Our Chihuahua road trip has come to an end. We didn't stay the night in Cuauhtemoc. We drove straight to Chihuahua City as it was only an hour away.
If you are arriving at Chihuahua Airport at night, make sure to return the car before 8:00 PM. Since we arrived late, we decided to stay another night in Chihuahua City and took the morning flight the next day (to Mexico City).
✈️ Ready for your trip to Chihuahua? If you need more information about this Chihuahua road trip itinerary, I'd be happy to update this post – just leave your questions below or join our Facebook community where we answer questions without a cost.
🇲🇽 Chihuahua Travel Resources
✈️ Flights to Chihuahua: use the code MXINSIDER to get discounts on flights to Chihuahua upon checkout on WayAway. Chihuahua has its own international airport. For your guaranteed safety, we do not recommend flying through Juarez.
🚕 Chihuahua Airport transfer: we have a local driver who can take you around the state of Chihuahua. Just get in touch and we will connect you with him!
🚗 Chihuahua Airport rental cars: Rent a car and go around this magnificent state for only US$35 per day (credit card required for car deposit). Check prices at Rental Cars Chihuahua.
🚌 Chihuahua bus transportation: you can also book bus tickets online to get around Chihuahua. BusBud Chihuahua is the best platform to use!
🧭 Chihuahua Tours: want to do our itinerary with locals? Support our community by booking our tours in Chihuahua, Mexico. Use the code MXINSIDER10 to get a 10% discount on all Chihuahua tours.
✅ Chihuahua Travel Planner: we have local staff on the ground in Chihuahua who knows the state well. Contact us and we will help you plan your trip for a fixed rate. No hidden fees, just simple charges.
🏥 Mexico Travel Insurance: do not travel to Chihuahua without insurance. Check insurance plans on SafetyWing SafetyWing for as low as US$40 for full travel coverage.
📧 Chihuahua Updates: subscribe to our newsletter and get honest and transparent updates about Chihuahua. You will love our monthly news in your inbox! NO SPAM. NEVER.
☕ Buy us coffee: readers who support Mexico Insider help us continue bringing you the most honest content about Tulum. Consider donating to our coffee fund if you like the content that we do.
Trisha traveled to Mexico in 2018 and after a year, she found herself obtaining a 4-year residency visa in Mexico. She is the Editor-in-chief for our Living in Mexico Series which has helped over 3,000 Americans move to Mexico with ease. Trisha currently resides in Cabo San Lucas, Baja California Sur.