Donato Winery Queretaro is a Mexican family-owned winery in the reputable wine and cheese state of the country.
As one of the pioneers of good wine-making in Mexico, this winery is flocked by Mexicans on the weekends coming for a short getaway from Mexico City, Guanajuato City, San Miguel de Allende, and of course, Queretaro City.
This is one of our favorite wineries in Queretaro because of its very interactive and strategically planned tour route. They begin their tours at the vineyard where a guide will take you through Donato's fine wine-making process.
After which, you will proceed to the underground cellar to have more wines and learn about the history of Donato Winery. The final event takes place as you climb a spiral staircase that connects the underground cellar and the rooftop restaurant.
We truly enjoyed our time at Donato Winery and here's a full review of how the experience went.
🪅 Editor's Note: Our visit to Donato Winery Queretaro was complimentary but all opinions are our own. Our sponsored partners do not tell our Editors what to publish as all are based on our experiences. Book wine activities for this vineyard here.
🍾 Donato Winery quick info
Address: Carretera Crucero de Bernal a Ezequiel, Montes km 2, Carretera, 76280 San Martín, Qro., Mexico
Phone Number: +52 442 161 0082
Where to stay: Donato Winery is located in San Martin, Queretaro. You can stay in Queretaro City hotels and drive for the wine tour here (48 minutes).
Best time to visit: The best time to visit Donato Winery Queretaro is from July to September. That is somehow rainy season in the state of Queretaro but this is also harvest season so there will be extra activities at Donato Winery. We visited in July 2022 so you will observe that most of the images on this post have a gloomy feel.
Wine tasting prices: from US$25 – US$200 (depending on the package; more info below)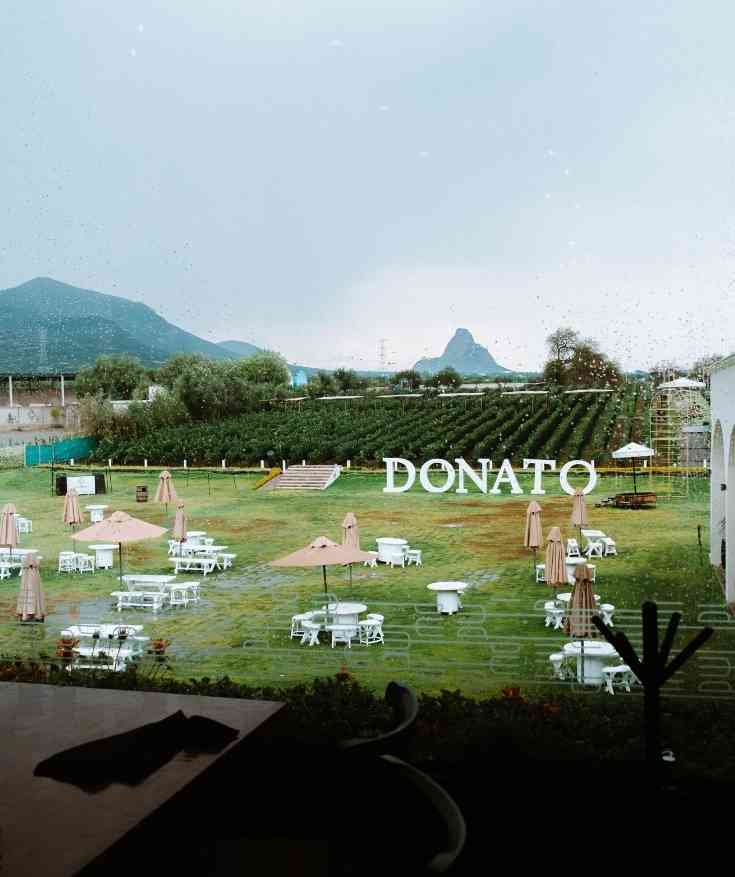 You might also like: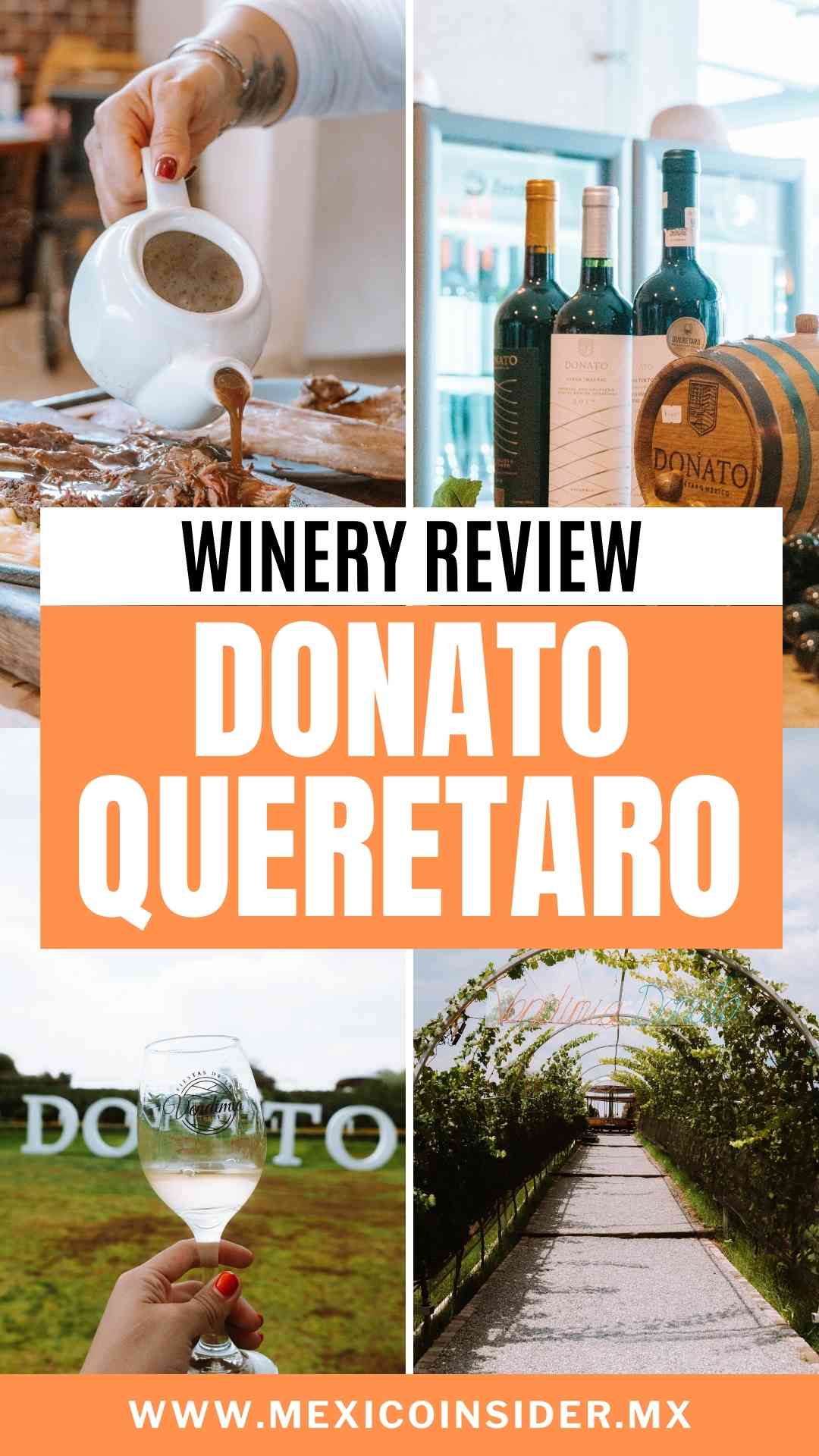 🌟 Donato Winery Queretaro review
The location
Donato Winery is located in San Martin in the state of Queretaro which is also the area for Queretaro's wine and cheese route. Queretaro is both the name of the state and the capital city, Santiago de Queretaro or simply Queretaro City.
The airport that serves Queretaro is called Queretaro Intercontinental Airport but most tourists from the US opt for a direct flight to Silao (Guanajuato International Airport/Silao BJX) or Mexico City (Benito Juarez International Airport).
Ideally, you'll stay in Queretaro City hotels and rent a car in the capital to go to Donato Winery. All three airports above have rental car companies.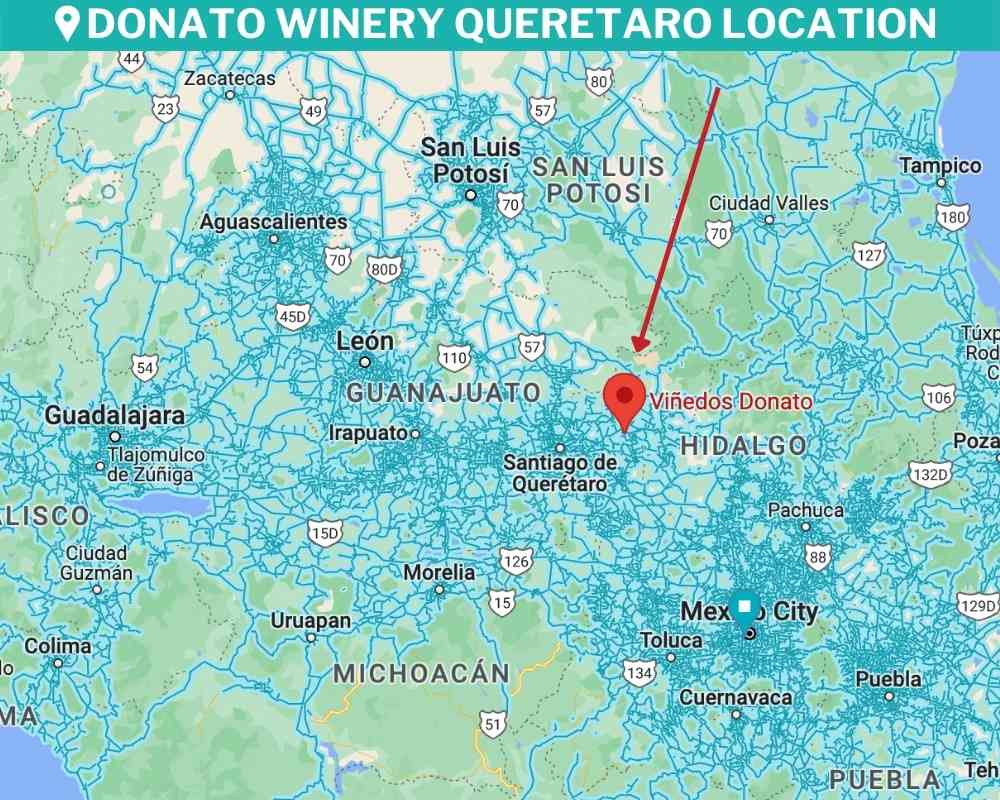 🇲🇽 Spanish 101: In this article, you will read the word "viñedo" a lot which translates to "vineyard" in English.
To have an idea about the distance and surrounding areas (by car), see quick info below:
from Queretaro City: 48 minutes
from Guanajuato/Leon/Bajio Airport: 2 hours & 17 minutes
from Mexico City International Airport: 3 hours
from Guanajuato City: 3 hours & 2 minutes
from San Miguel de Allende: 1 hour & 43 minutes
from Dolores Hidalgo: 2 hours & 17 minutes
If you don't want to drive (because, ehem, wine tasting does not really blend well with driving cars, we have trusted local drivers who can bring you from any point in Queretaro City, San Miguel de Allende, Guanajuato City, and Mexico City.
Just get in touch with us our visit our tour pages to see your transportation options to Donato Winery Queretaro.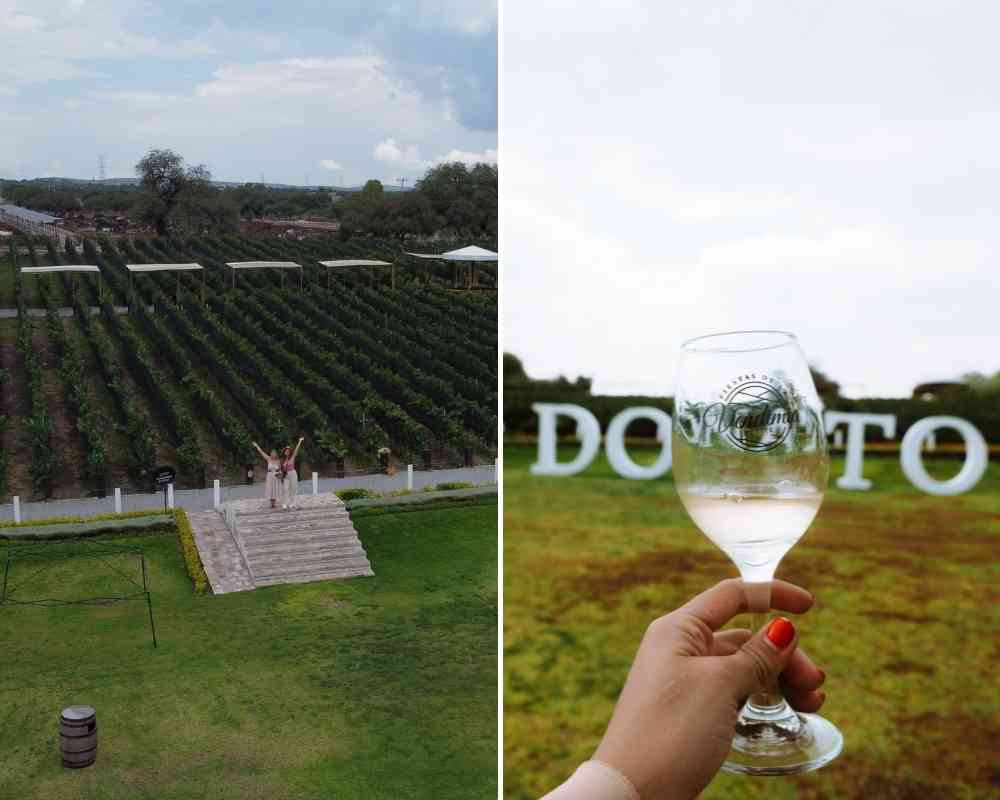 The vineyard and the wine
The vineyard at Donato Winery Queretaro is not that big as they are one of the small producers who maintain the quality of the wine they put on the market.
The grapes they grow are predominantly Syrah and Merlot. To date, there are 10 wines that star the Donato Winery roster that has 7 premium reds, 2 roses, and 1 sparkling wine.
All their wine tours start in the vineyard where the guide will explain everything about Donato Winery's wine-making process.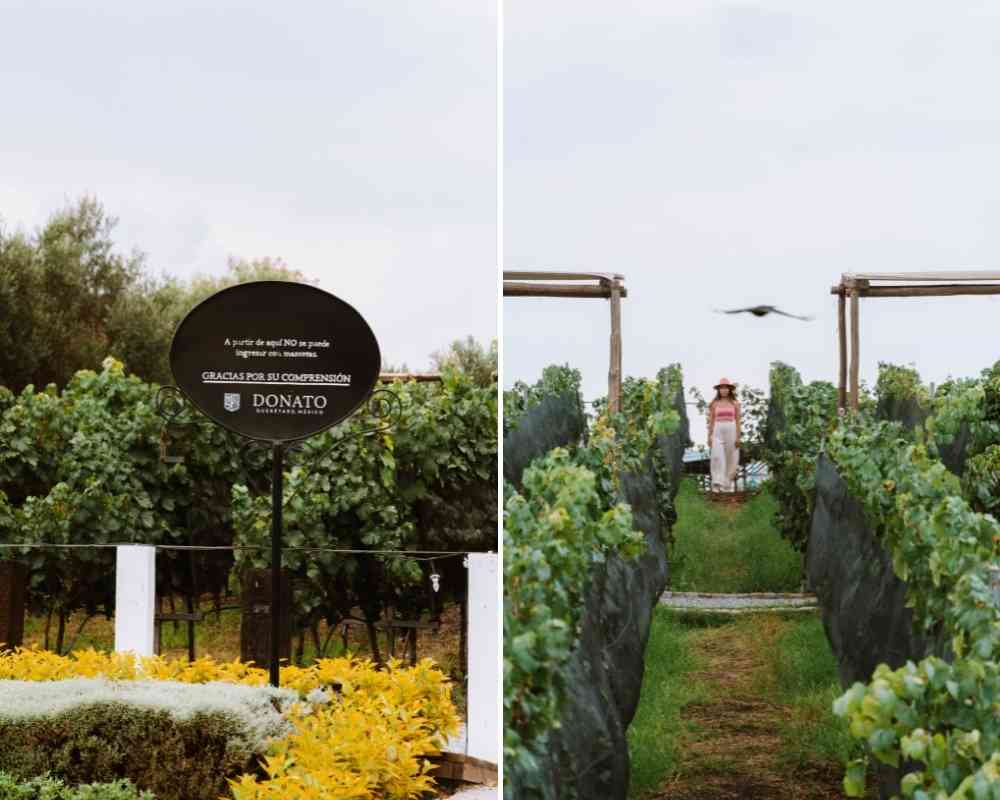 The cellar
The underground cellar is the highlight of this wine tour at Donato. First, we were introduced to the French and American oak barrels that Donato Winery uses 4 times in the course of four years.
The cellar is really dark which gives a different ambiance compared to other wine tours we've experienced before.
There are many salons in the underground cellar including a dome-like space where you will find all Donato's premium wines that have won awards not just in North America but all over the world.
Donato Winery is a big fan of events so every year, they do a mask-making contest from local Mexican artists, all of which are displayed in Donato's cellar.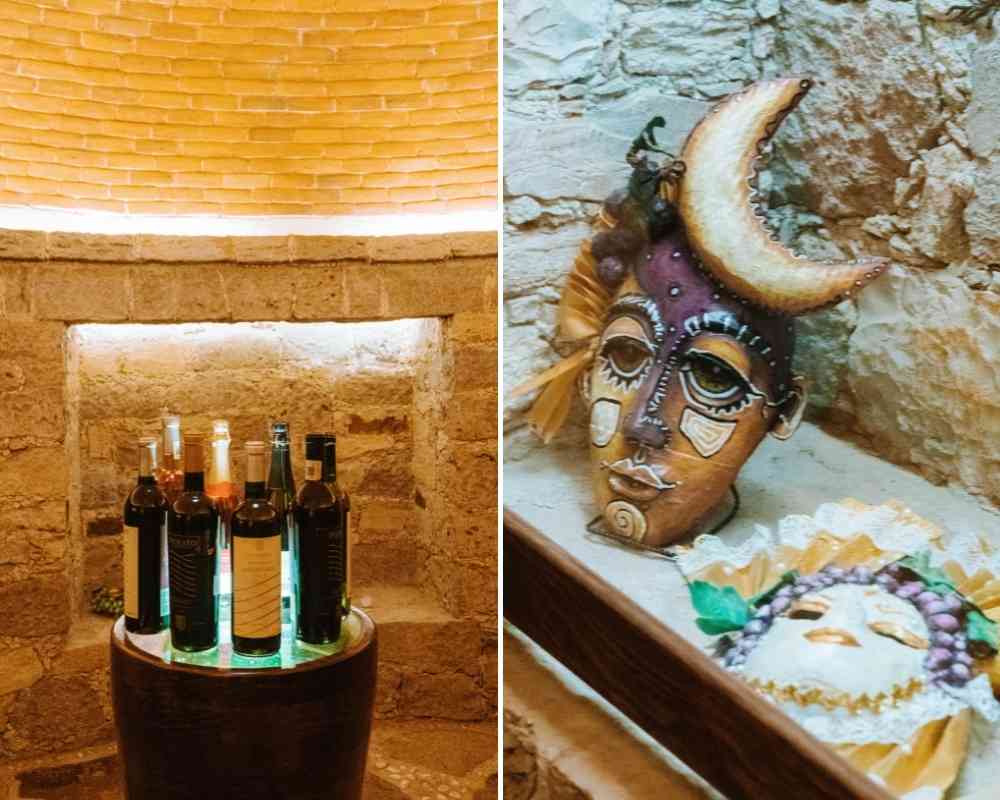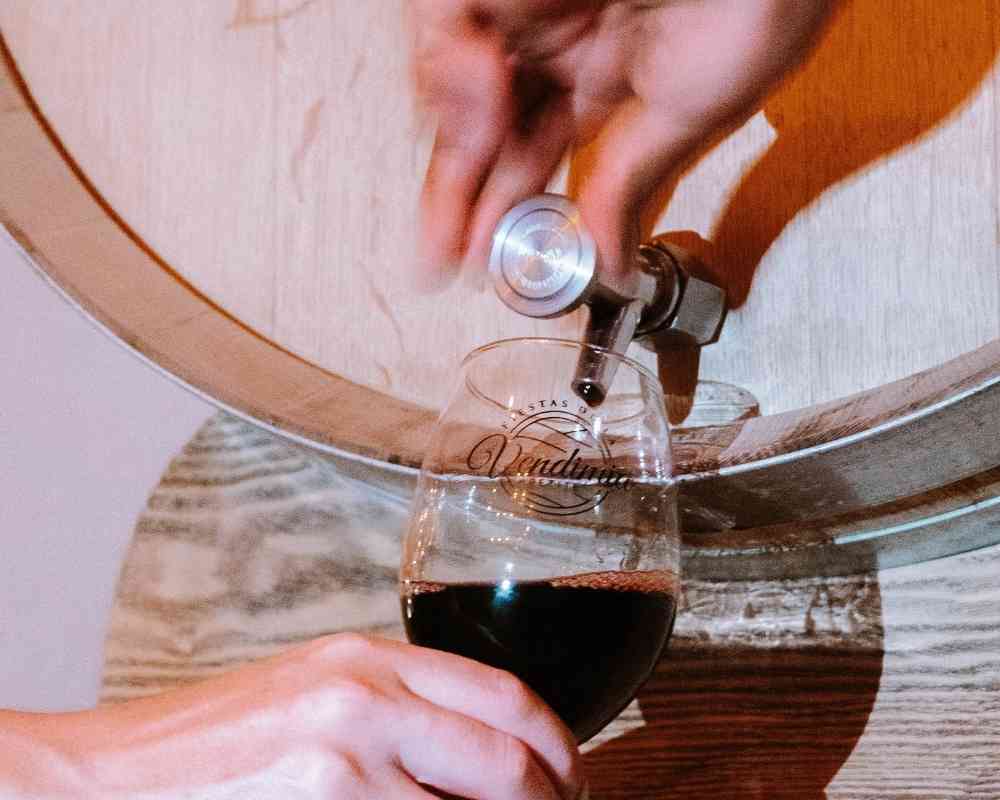 The Donato family also constructed a small church that can seat 12 people in the underground cellar to cater to weddings or baptismal. The church is also for the family's private use.
The church also has a bar, lounge, and dining area that is for private tastings and events.
Here, you will also find a private/gated/locked cellar that features the family's best wine collections from Europe, North America, and Africa. You can't go in but you will see all the bottles from the outside.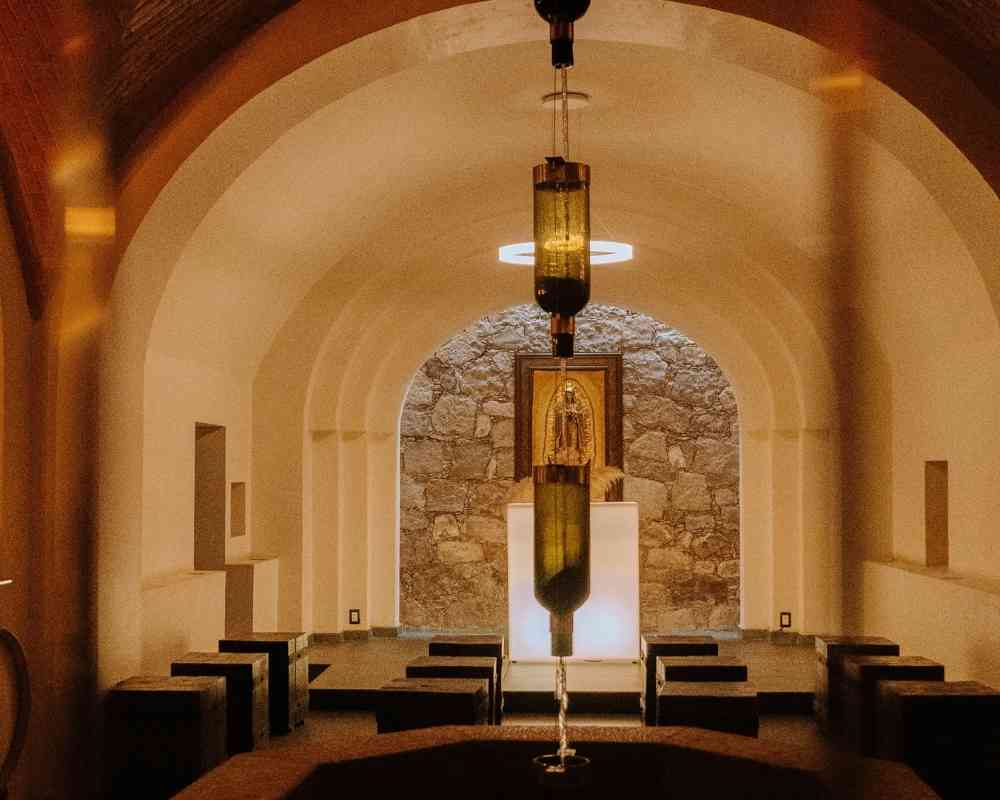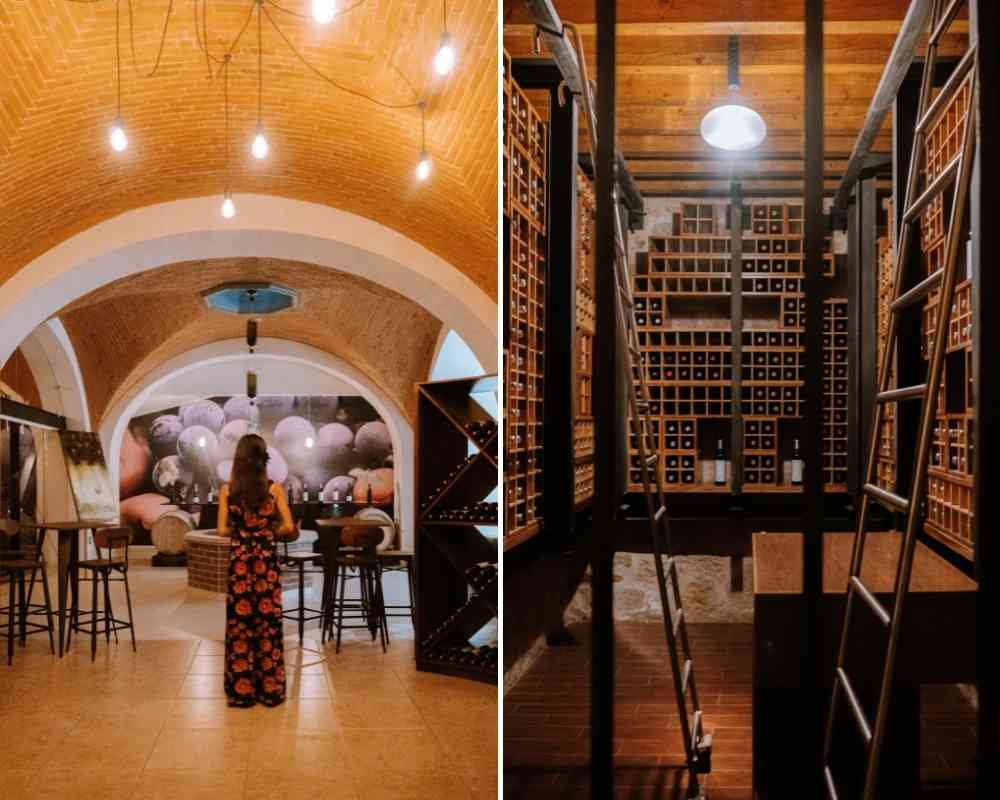 The last part of the tour is a short presentation in which Donato Winery put a lot of effort into creating. They made a visual animation presentation that narrates the history of wine in Mexico and how Donato began.
The animation is projected to a pile of wine oak barrels that serve as the background of the animation.
The images projected are perfectly designed to appear on the round circles of the barrels – it is truly a unique and well-done presentation!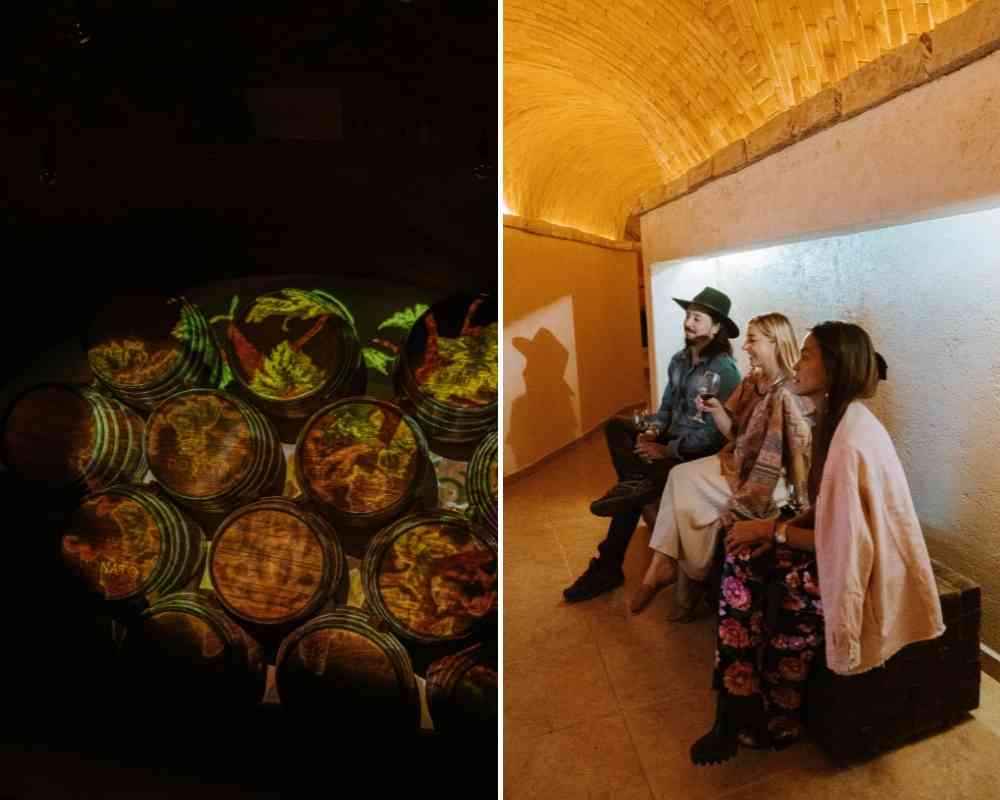 The restaurant
After the presentation, you will climb a spiral staircase that is connected to the rooftop terrace with large glass windows, overlooking the vineyard and Bernal's Peak.
The restaurant at Donato Winery has a loyal following. Many Mexicans rave about their food and it did not fail!
The highlight was the big platter of rib-eye steak that is slowly removed from the bones and topped with gravy. This platter is big and is enough for 4 people.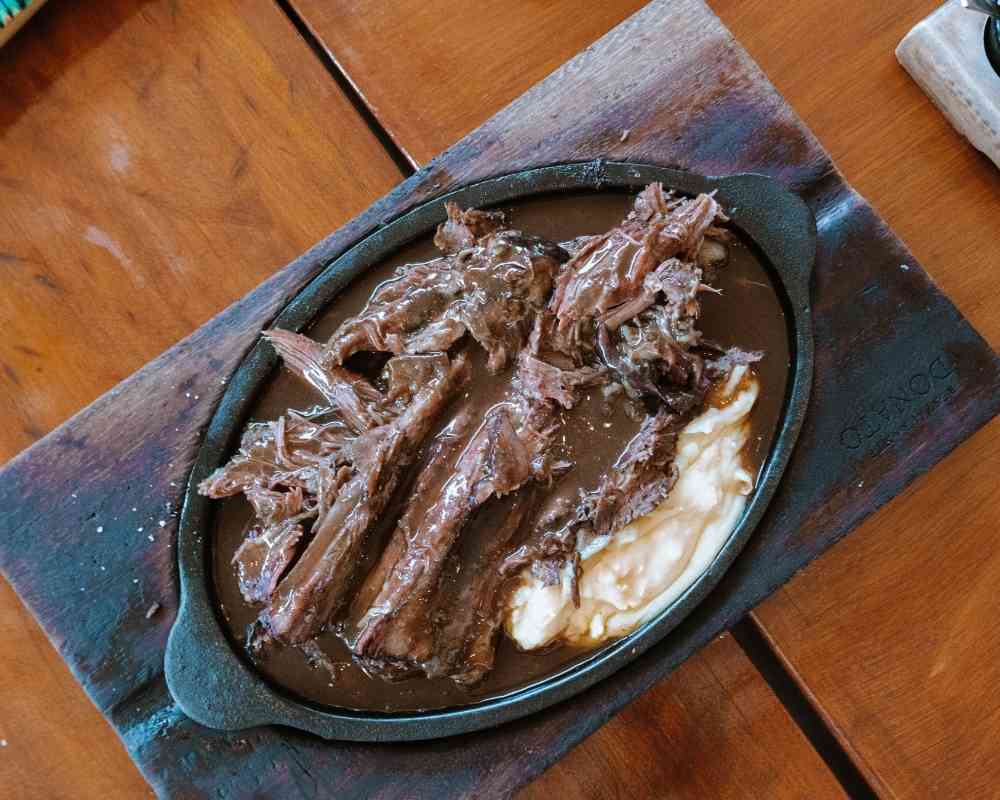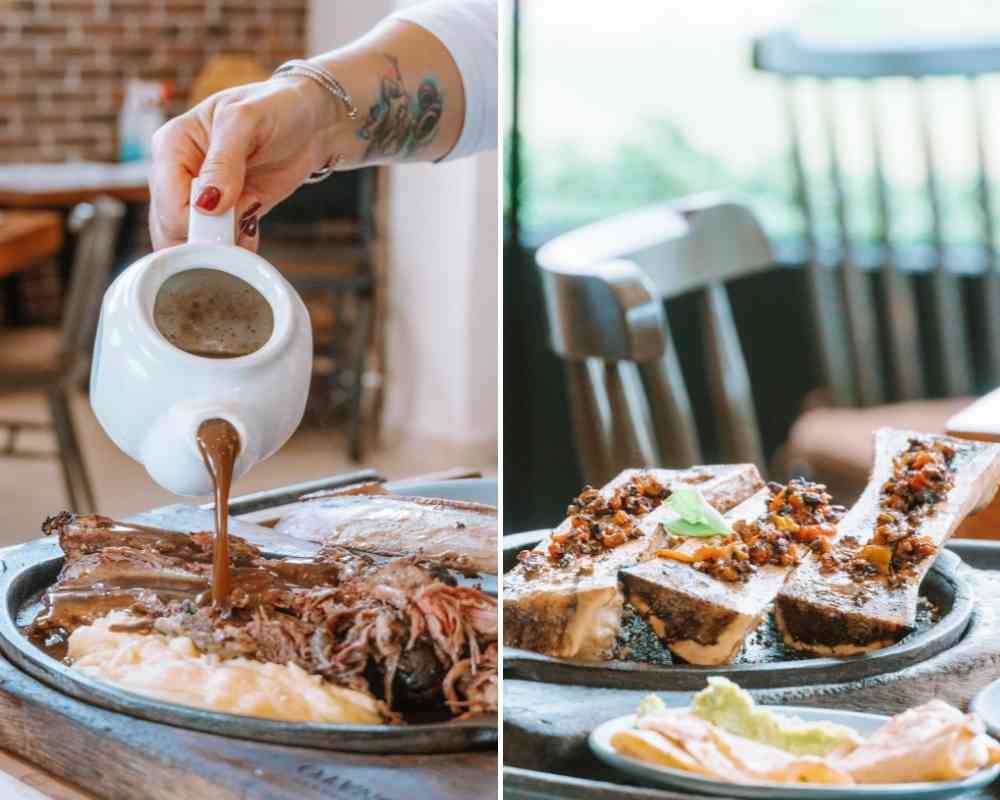 Then we had 1,300 grams of ribs, a salad, mashed potatoes, and fries for sides. Of course, a basket of tortilla is always present on a Mexican table so you can make a rib-eye taco!
Everything was so good and was served in the right quantities for our team of 4. You're not required to go for a wine tour to be able to dine at Donato Winery's restaurant.
You can reserve a table online for brunch or dinner online even without availing of the tours. This is probably one of the best restaurants in the state so even if you are not a fan of wine, this restaurant is a must-try!
In the experiences part of this article, we will give you an insight on the best dinner and brunch options to avail as well as detailed pricing for group packages (up to groups of 10).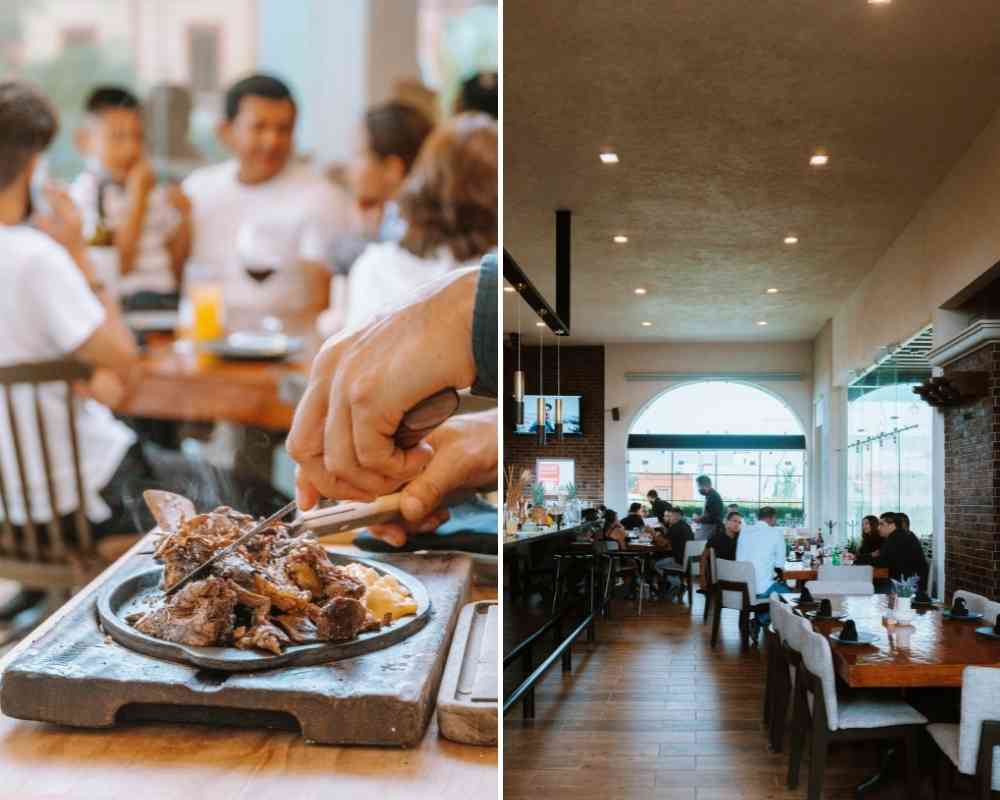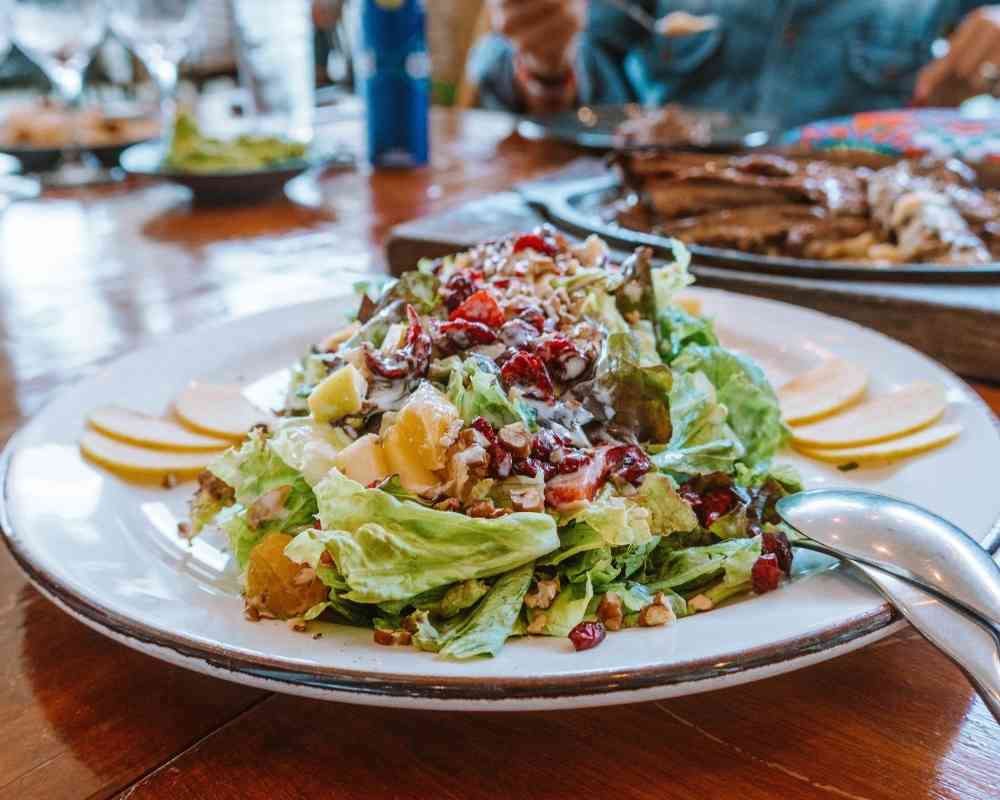 The wine shop
Finish your wine tour at Donato Winery by visiting their shop. If you liked the wines at Donato, better buy them here because they're not even widely available in Mexican markets.
Remember that Donato is a small producer and they are not like any other commercialized wineries that sell their products in Mexican supermarkets (La Comer, Mega, Walmart) or convenience stores like Oxxo.
Some other products you will find in Donato Winery include beauty products made of wine: eye cream, face masque, moisturizer, etc. Donato has a jewelry collection in the shop, not only for women but for all genders.
There are also wine trinkets like a set of bottle openers with stoppers, wine openers, and many more. Prices range from US$10 – US$45 for souvenirs. They are really affordable considering they are sold in an upper-scale vineyard.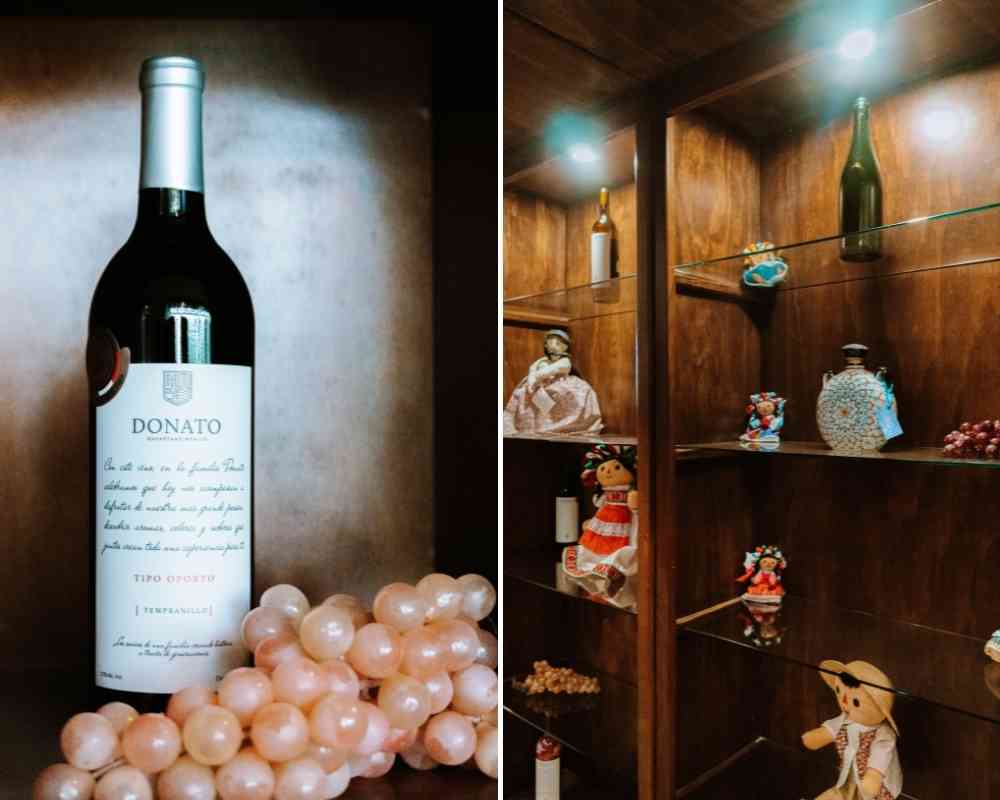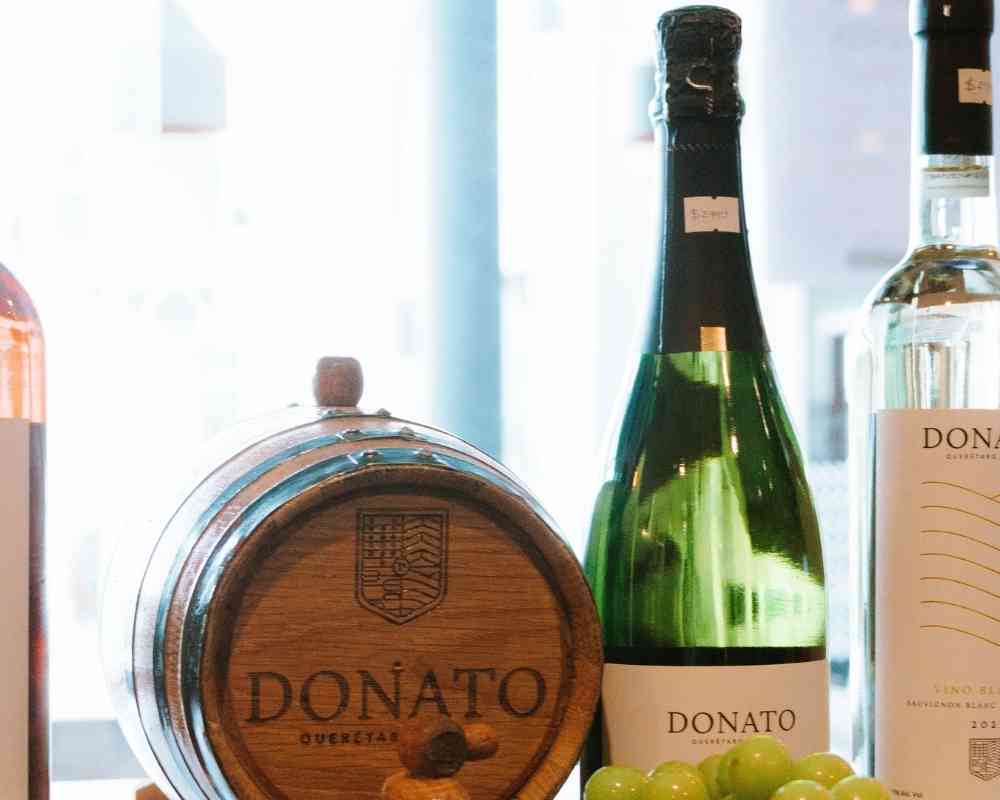 The events
Donato Winery Queretaro holds yearly wine events in the vineyard and this is when you should time your visit.
The most popular event is the Fiesta de la Vendimia which is the harvest season in Queretaro, but not the same harvest months in Baja California wineries.
Vendimia means "harvest" in English and you will also encounter this word/event in Spanish-speaking wine countries like Argentina, Chile, and Spain.
Below are the exact dates of wine events:
Vendimia Petite: all Saturdays of August, US$600 all-inclusive for 6 people with different packages per number of participants per group
Carnevinos Mexicano: a wine and meat pairing event that takes place for 3 days (September 16, 17, and 18) usually timed to celebrate Mexican Independence Day on September 15th.
Vineyard Halloween Party: Celebrate Halloween in the vineyards of Donato every year on October 29th (dates may change yearly).
Vineyard New Year's Party: a black-and-white-themed party to welcome the new year with an all-inclusive party at Donato Winery.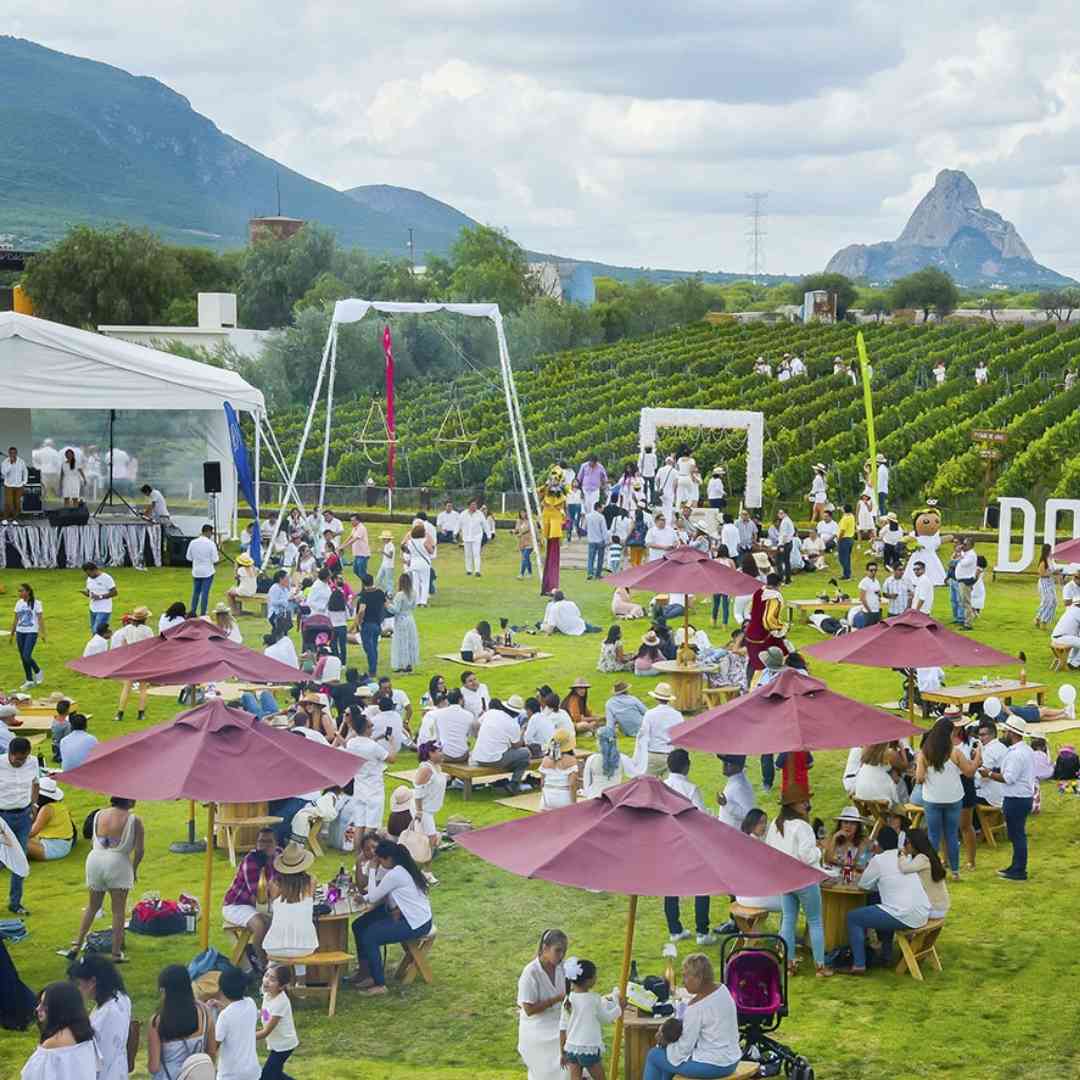 The staff
Our group was mixed of expats and Mexicans and some of us did not speak Spanish so Donato Winery provided 2 tour guides: 1 that speaks Spanish while the other translates into English.
I speak both Spanish and English fluently and the Spanish guide was really good at explaining everything. He talked really fast though so if you are a beginner in the Spanish language, you may not understand fully the technical terms of wine.
When booking this tour, you may request an English-speaking guide to spearhead your wine tasting. This way, you will understand the tour better.
From the receptionist at the receiving area to the restaurant staff, everyone at Donato Winery did a great service to our crew. They seem to be so in sync with their movements that everything was timed perfectly.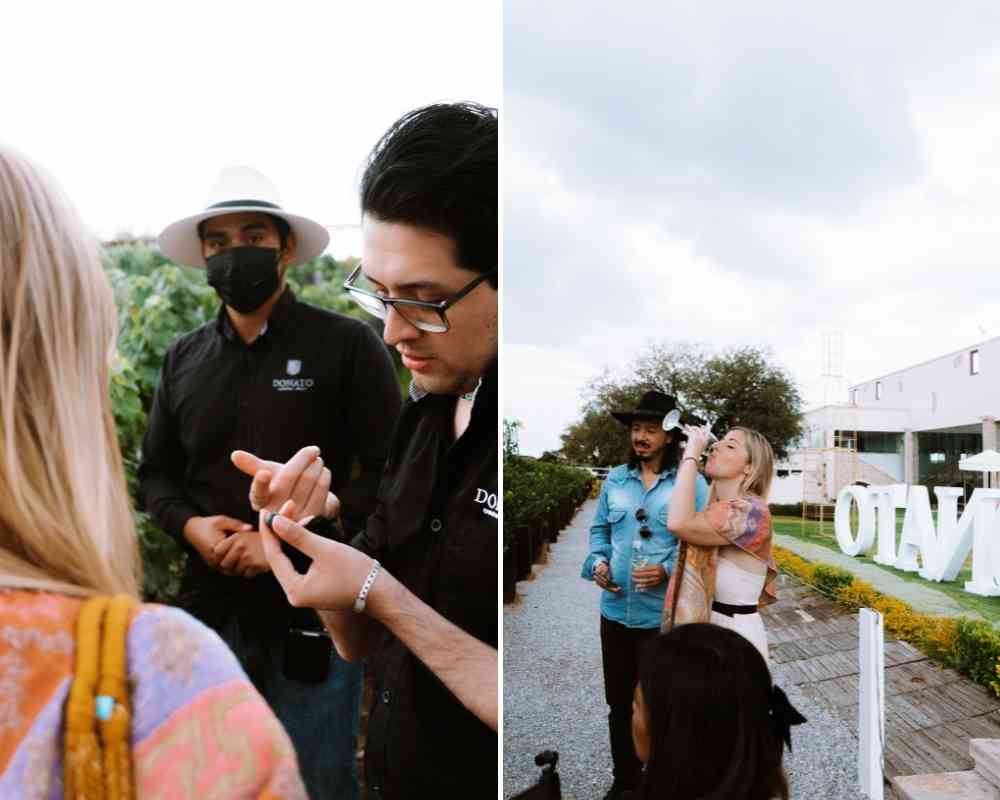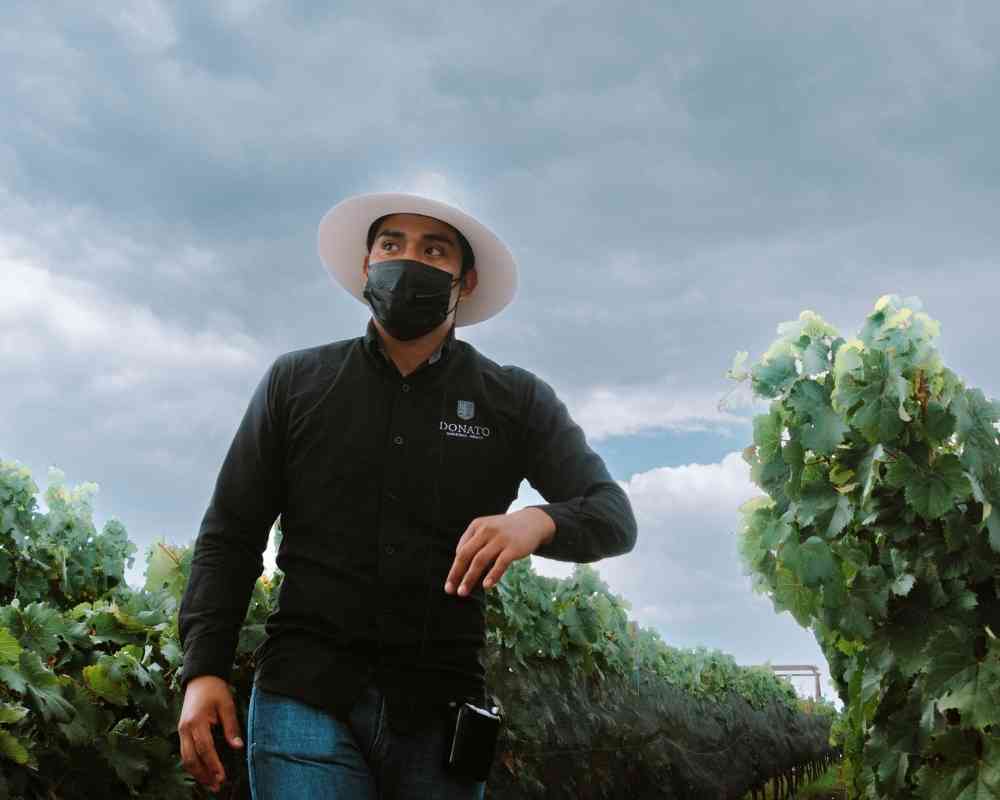 🍷 Donato Winery Queretaro tours and experiences
Wine tasting tours in Donato Winery may differ in packages or inclusion but the tasting is pretty much all the same. The basic wine tasting (3 glasses) without food is quite affordable and includes a vineyard and cellar tour.
The good thing about Donato Winery's packages is that they are priced in groups, except for the tasting-only activity which is priced per person.
For example, if you are a couple on a honeymoon, you can get an all-inclusive brunch or dinner with tours, tastings, drinks, and full meals (less than US$150 for 2 pax).
Groups of 4 packages are very lucrative and this is what we availed here. You and your friends can have a complete tour with meals for as low as US$200.
Lastly, Donato Winery has packages for groups of 10 which is ideal for weddings, bachelorette parties, or any other occasion that calls for wine and steak.
Although Queretaro is the cheese capital of Mexico, Donato Winery does not offer wine and cheese tours.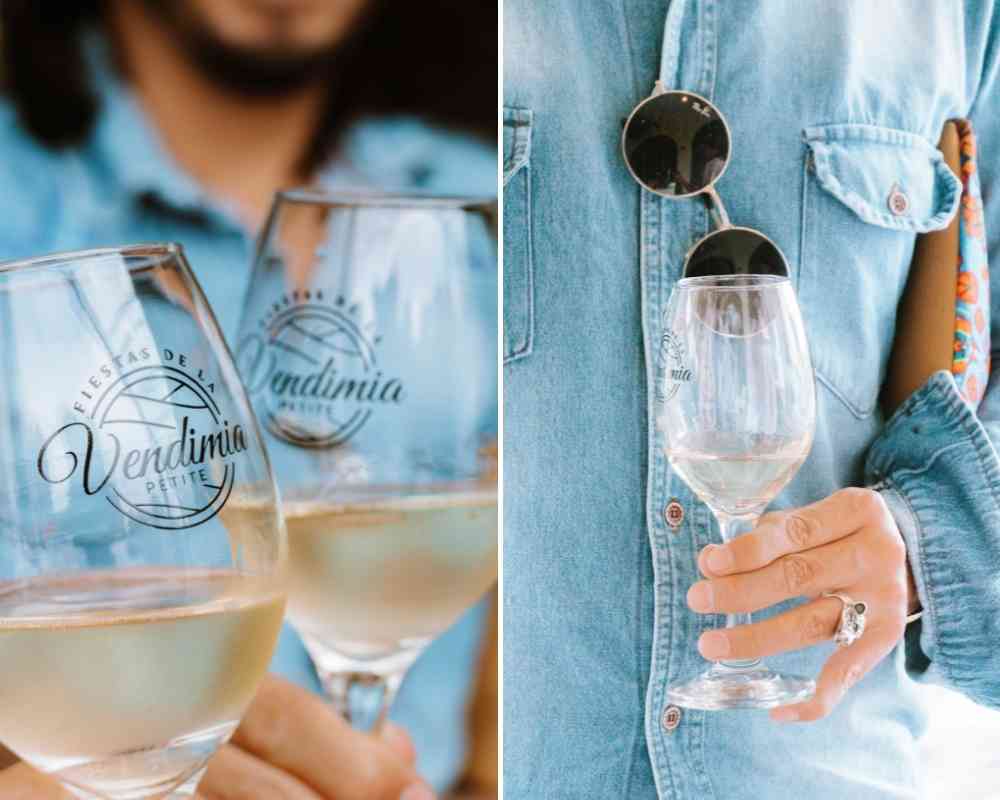 ✈️ Ready for your trip to Queretaro? If you need more information about Donato Winery Queretaro, we'd be happy to update this post – just leave your questions below or join our Facebook community where we answer questions without a cost.
🇲🇽 Queretaro Travel Resources
Trisha traveled to Mexico in 2018 and after a year, she found herself obtaining a 4-year residency visa in Mexico. She is the Editor-in-chief for our Living in Mexico Series which has helped over 3,000 Americans move to Mexico with ease. Trisha currently resides in Cabo San Lucas, Baja California Sur.