In 2016, Cassie Pearse and her family of 4 decided to leave London, UK to explore living in Merida. In this interview, she shares her story and transition on how she ended up in the Yucatan Peninsula.
Compared to London prices, there is no doubt that the cost of living in Merida Mexico is way cheaper. But apart from that, Cassie was looking for something more profound than her disappointment of the quality of life in the United Kingdom.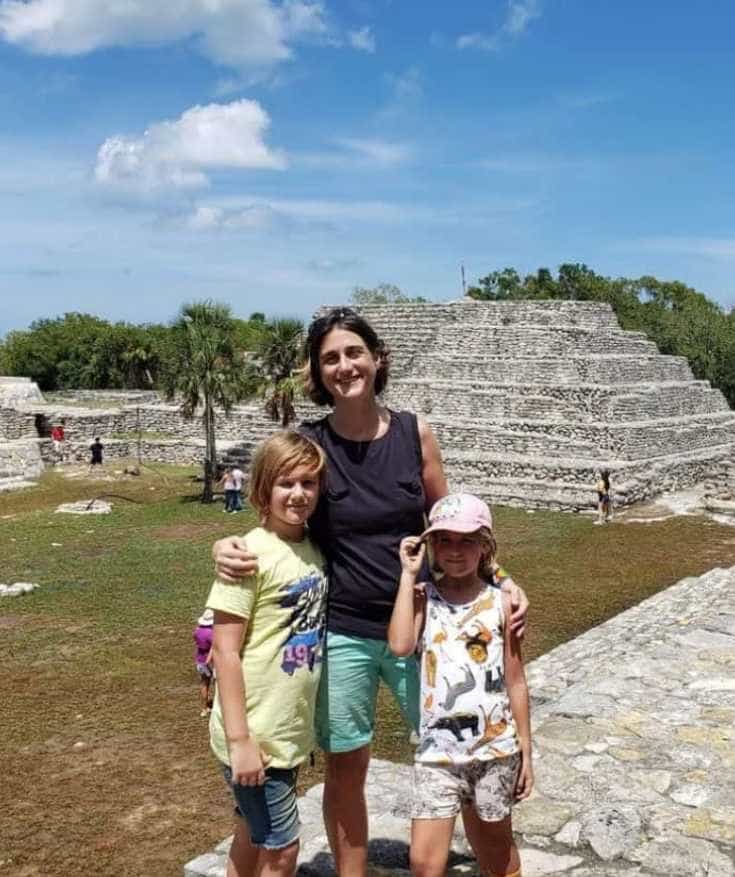 She mentioned how she did not want to adhere to the societal expectations of work-life balance in the UK and that she finds it very unrealistic, stressful, and well… expensive.
Apart from those reasons, Cassie also wanted to have a job where she can spend more time with her kids. The desire to move to Merida Mexico was also amplified by her mission to raise children to be well-rounded citizens and see that there is a bigger world out there than the UK.
See also: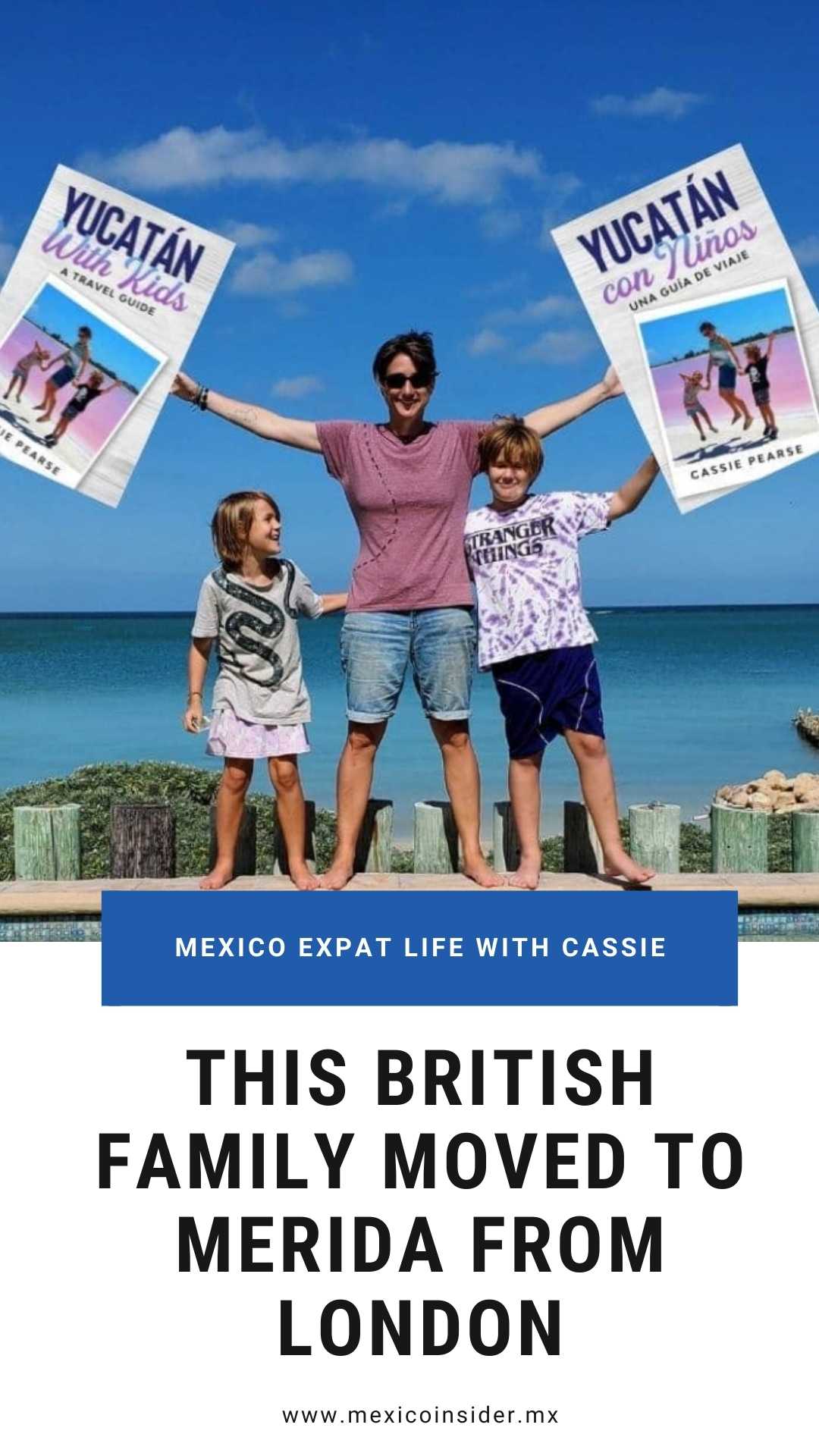 👋 🇬🇧 Goodbye UK, hello Mexico!
Cassie did not move to Merida right away. She first wanted to test the waters so together with her family, they started traveling around Mexico. You will be quite impressed with the amount of Mexico travels this British family has done.
They've been to the crazy outskirts of Chihuahua, a destination that many tourists won't even think of traveling to because it's unsafe.
She admitted that she did see much bad news about Chihuahua but still felt that she needed to see it for herself. She remembered vividly how her son got sick one night and had to go to the hospital in the middle of the night.
"I ordered an Uber at an odd hour and the taxi driver was so kind." Cassie remembers how many acts of kindness she witnessed in Chihuahua, not only from the taxi drivers but from everyone.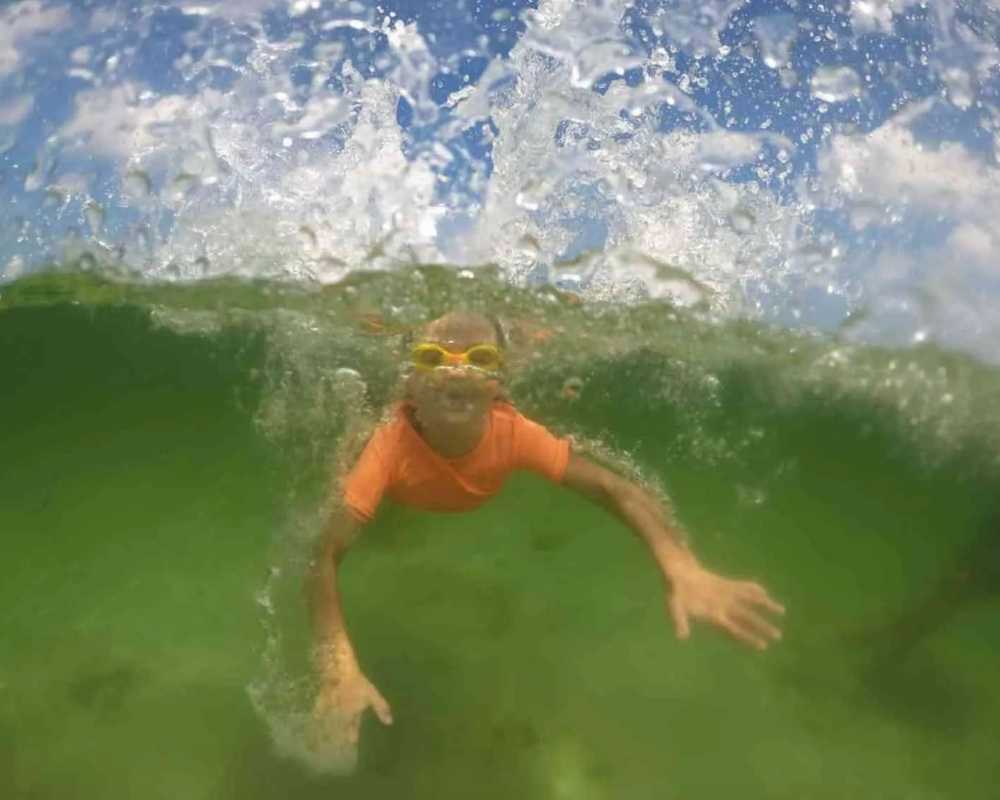 Here at Mexico Insider, we cover Chihuahua a lot and we personally go on trips there. We related so deeply with Cassie's sentiments towards the people of the north. But still, avoid Ciudad Juarez at all costs is our piece of advice.
Apart from Chihuahua, Cassie and her family have been to many destinations in Mexico like Chiapas, Aguascalientes, Colima, Queretaro, and many other places that probably don't ring a bell to you.
Cassie and her family are very adventurous people and at a young age, her children are very well-rounded travelers. Traveling around Mexico made her children become fluent in Spanish!
She says that they are more Mexicans now than British but they still remember their home in London.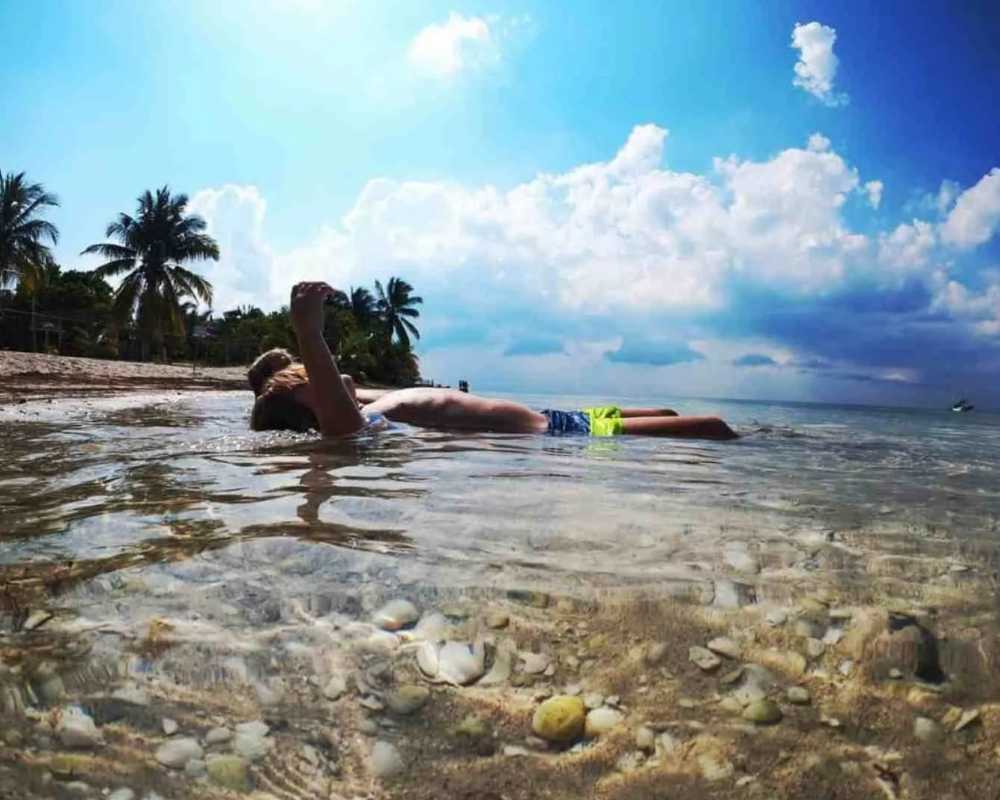 "We don't advocate conquering other lands in our family but we absolutely do advocate embracing new cultures. My kids may be British/Austrian on paper but in their hearts they're Mexican, and more specifically, Yucatecan. They've lived most of their lives here and it's clear that this is home."
🪅 Living in Merida Mexico
First stop: Oaxaca and Tulum. Cassie and her family were learning Spanish as this was a high priority. From there, they decided to move to Merida.
Merida is a great place to live with children. It is labeled the safest place in Mexico with lower crime rates compared to the rest of the country.
Adapting to the Mexican school system
Most foreigners and expats who move to Mexico would enroll their children in an International school but Cassie did the opposite: her children went to public schools with Mexican locals as their tribe.
The community she and her family has found in Merida is what made them feel at home here instantly. Every week, Cassie would drive her kids to school and then have brunch with the Mexican moms.
She speaks fluently in Spanish so she did not have to find a tribe of ex-pats from the UK or the US. She actively participated in parent-teacher meetings.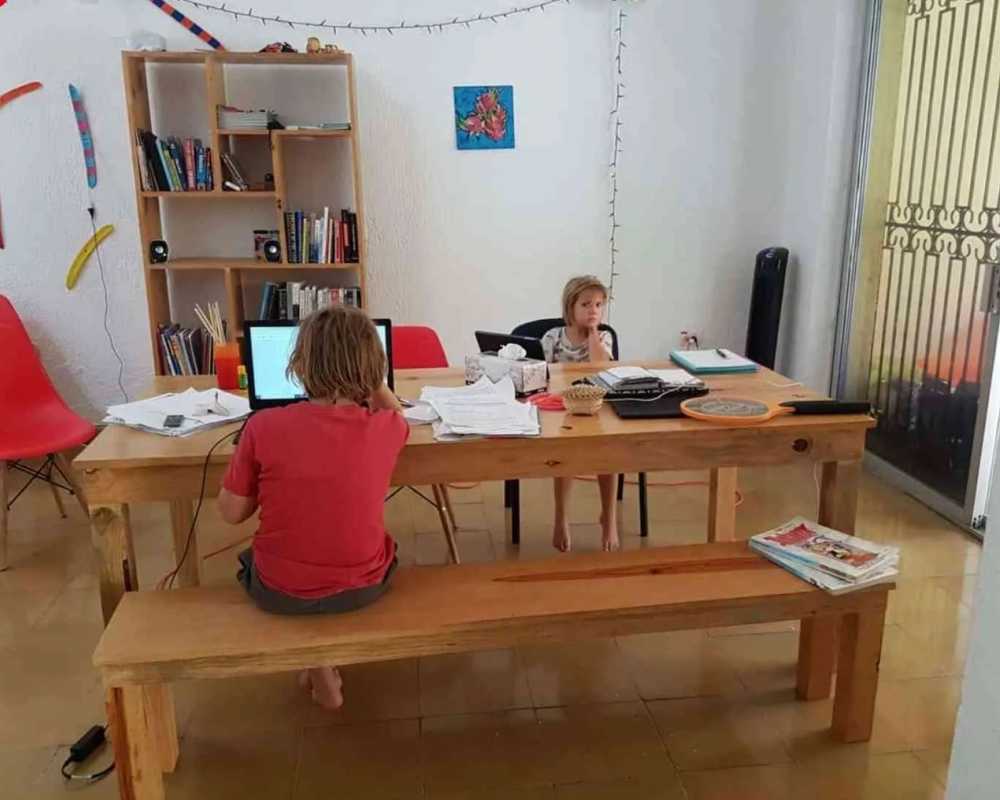 Bars, restaurants, and lifestyle in Merida
Within Merida, there are speakeasy bars, artisanal beer bars, and a vibrant nightlife. She also shares how there are plenty of specialty coffee shops and a very serious ice cream culture.
"If you want to see how serious Merida is with their ice cream game, go to Colon at dusk. There, you will find the city's oldest ice cream shop. Get a cone, sit, and people-watch!"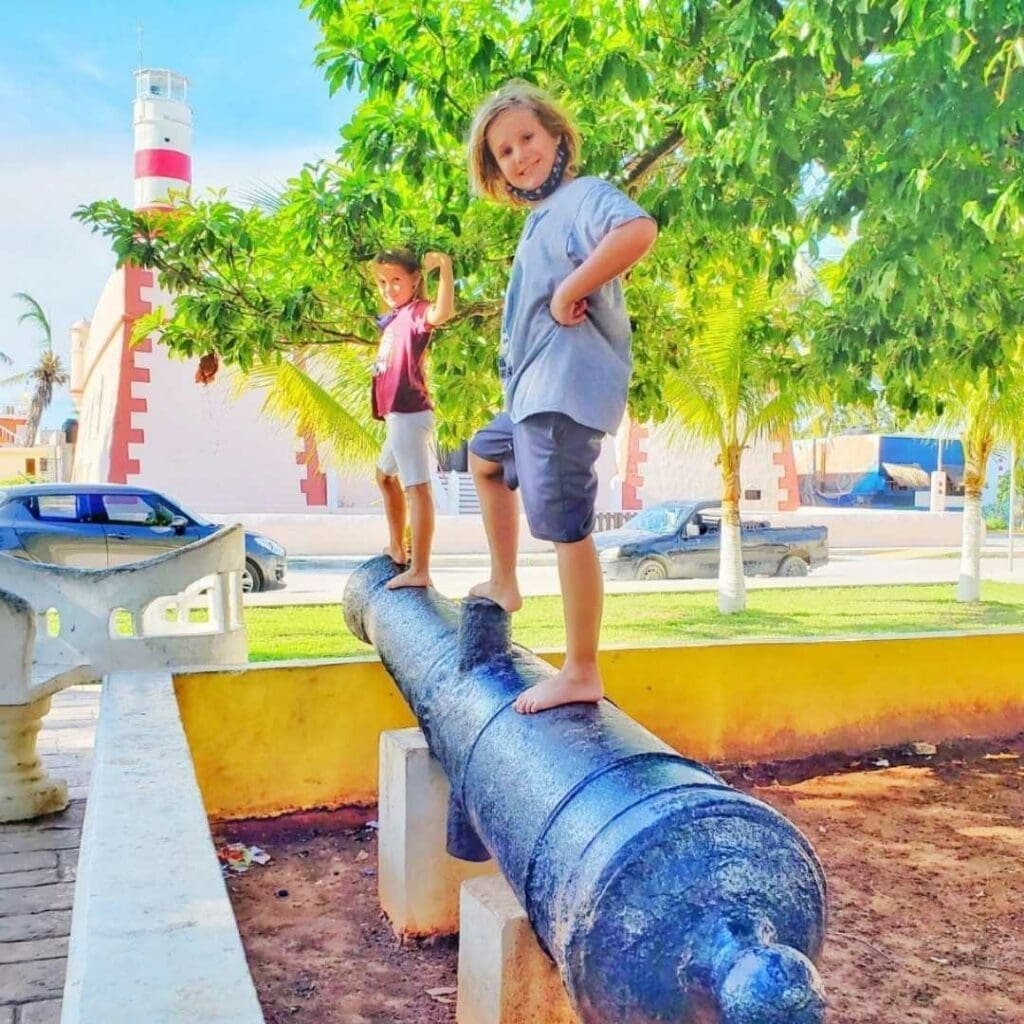 Expats in Merida
While Cassie is already an honorary Mexican, she still gets in touch with other expats in Merida that are not necessarily British but from all over the world. Canadians, Americans, a bunch of Europeans, and many Latin nationalities like Argentina and Colombia live in Merida.
The expat community in Merida is highly dependent on Facebook. Cassie's advice is to go on the following groups especially if you are new to living in Merida:
As for real-life interactions, she told us to go to bars such as Henessy's or La Negrita to meet foreigners and expats. We visited these bars during our field assignment in Merida and Cassie really gave us an insider tip! These bars were so good!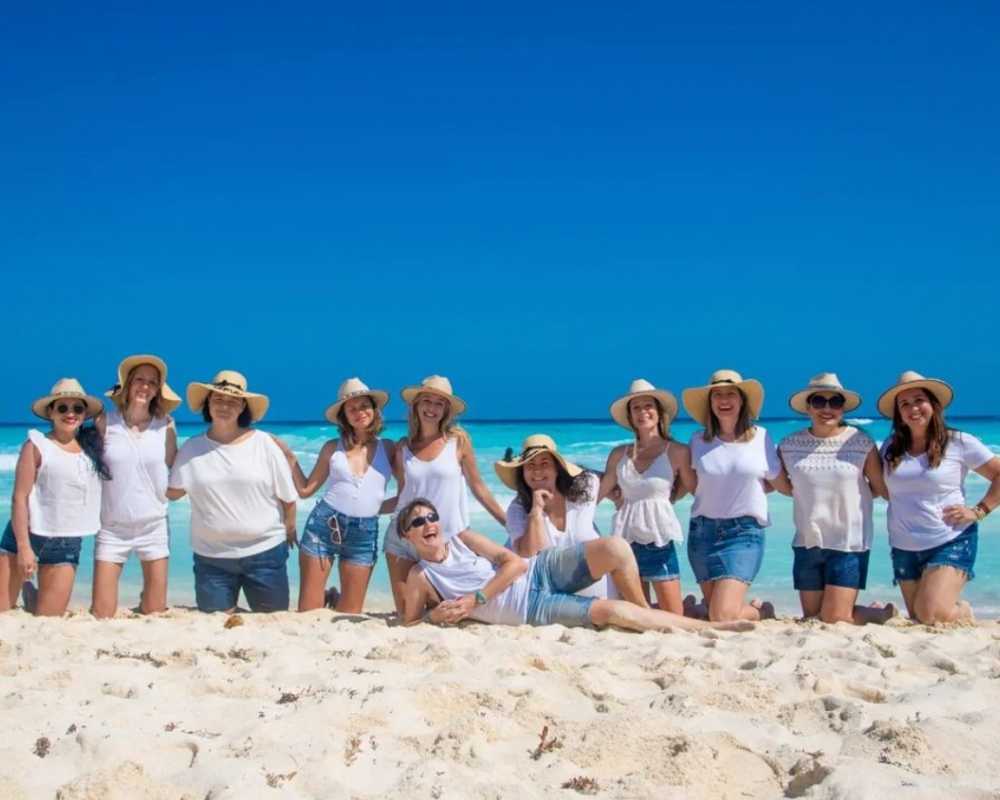 💲 Cost of living in Merida Mexico
Since Cassie is a part of a family of 4, her expenses are way higher so let's start with the basic costs of Merida for a single person or a couple:
Monthly rent (85 m2): from US$1,200
Monthly rent (studio): from US$438
Utilities: US$38
Eating out at a restaurant in the center: US$13
Dinner for 2 (upscale restaurant): US$49
Beer in a pub: US$2
Cocktails in a club/bar: US$5
500 gr of chicken breast (supermarket): US$3
1 kg of apples: US$2.31
A bottle of red wine (supermarket): US$15
Gym membership: US$50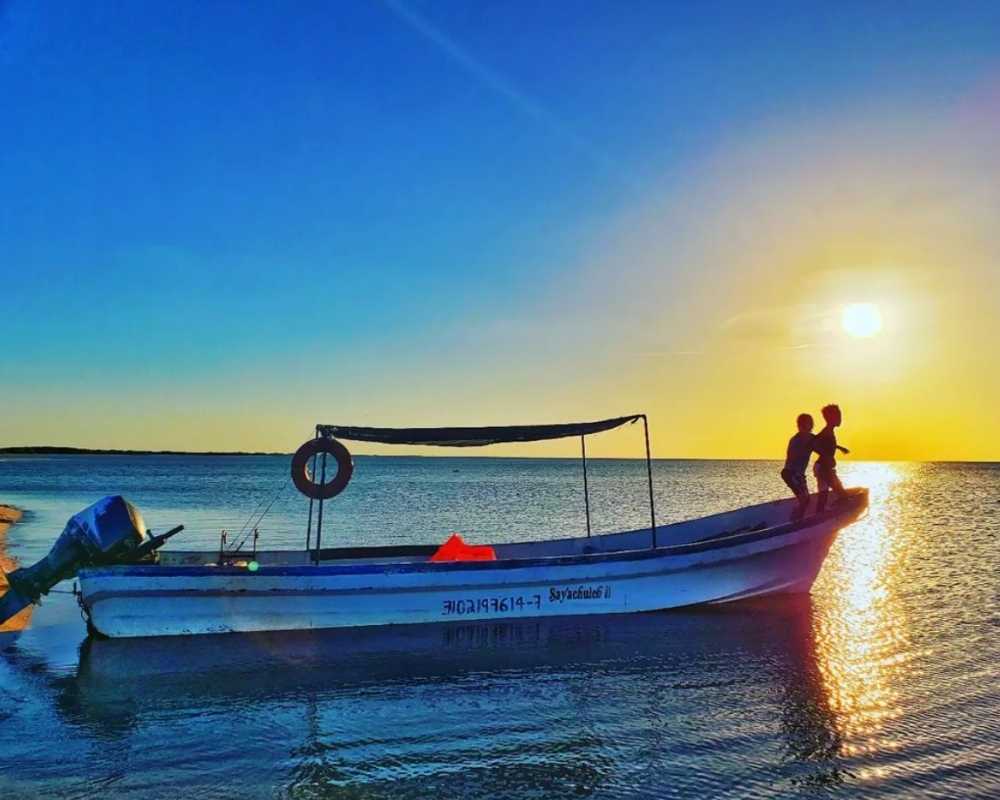 Cassie's monthly expenses in Merida (family of 4)
Rent (4-bedrooms): US$1,000
Street food adventures with kids: US$1
Eating out: US$45
FYI, Cassie has different priorities so these are her normal cost of living in Merida Mexico. The Pearse family are very focused on spending their money on traveling around Yucatan.
"We go on adventures almost every week and I want the kids to be outside all the time as opposed to spending time on their gadgets."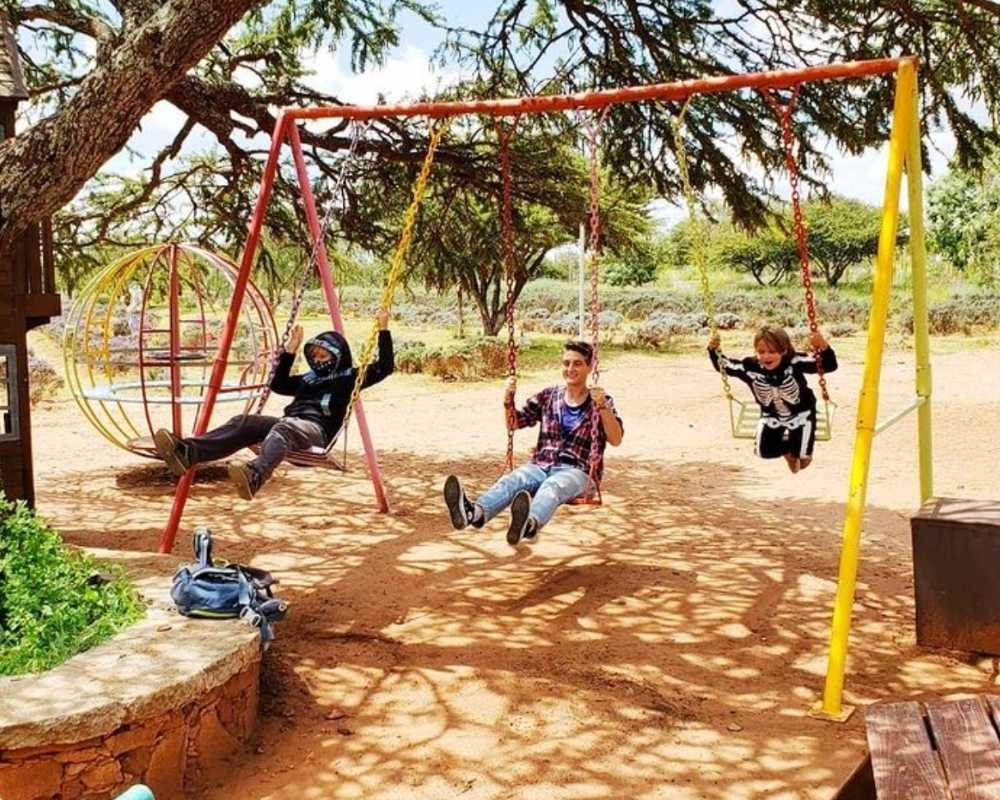 👌 Pros of living in Merida
Sustainability and ethics
Cassie shares that Merida has a thriving community of expats (both foreign and national) who care deeply about the environment they are living in Merida.
Merida has a Zero-Waste Market which is held once a month in Merida. They also recycle, buy zero-waste products, support vegan fairs in town, and actively participate in community projects.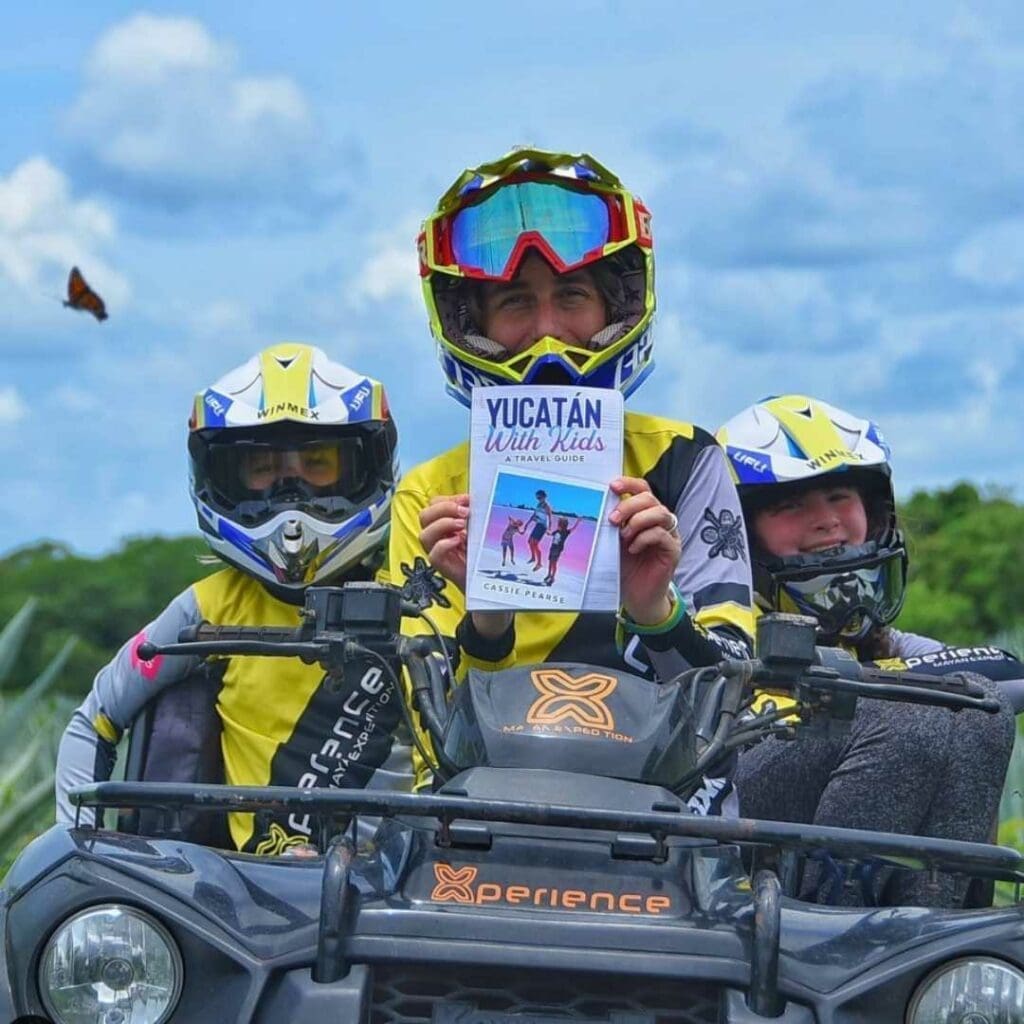 A great base to explore Yucatan
Living in Merida means access to the Yucatan Peninsula: the food, the close proximity to Cancun/Quintana Roo, and of course, the cenotes! Cassie says that they go out almost every week to drive to the next town or do a quick day trip.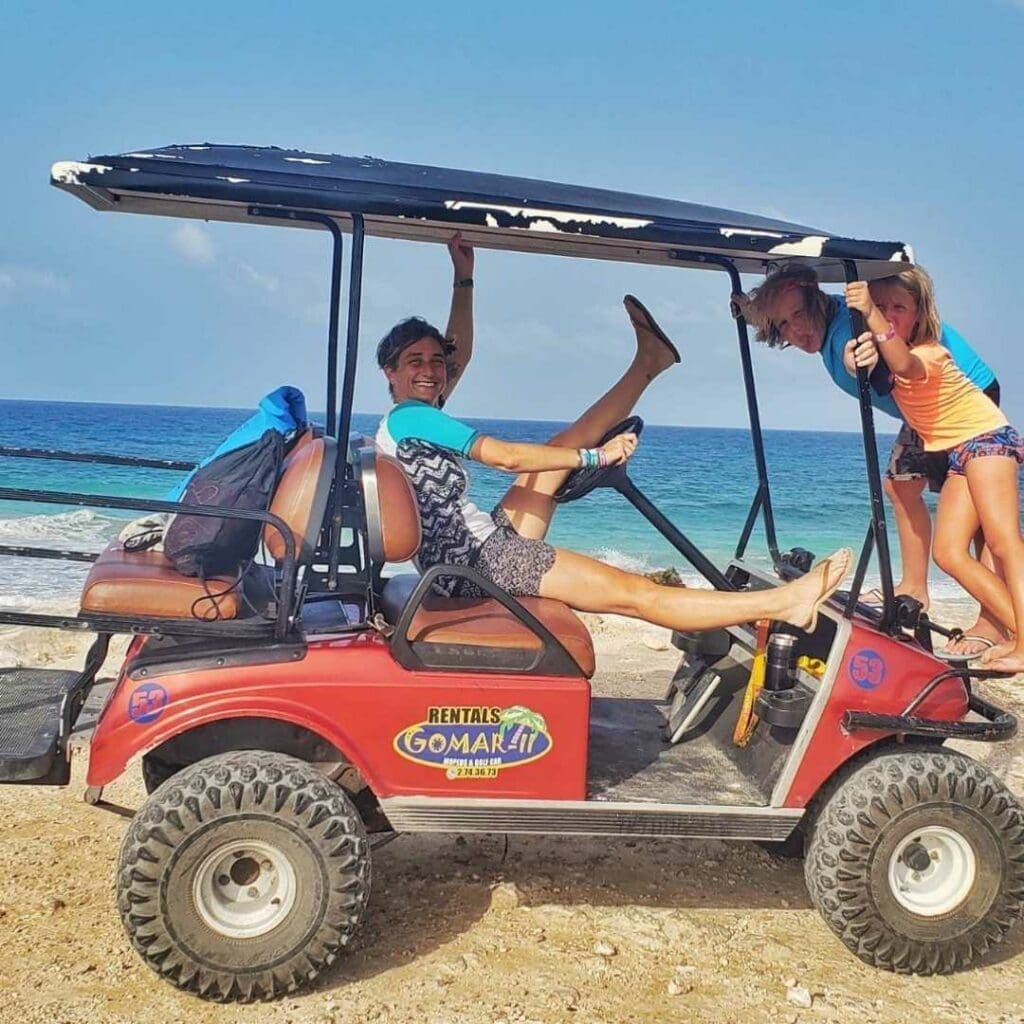 Merida is safe
Merida is considered as the safest place in Mexico and in all of North America. Cassie never had to worry about walking with her kids late at night. She also doesn't feel like she needs to be vigilant with her kids all the time. Which, for her, makes her life in Merida stress-free compared to living in the UK.
Cassie also says that even though Merida is the safest place to live in Mexico, there are still petty crimes and you really can't say that Merida has zero crimes. It is just relatively lower than other Mexican cities.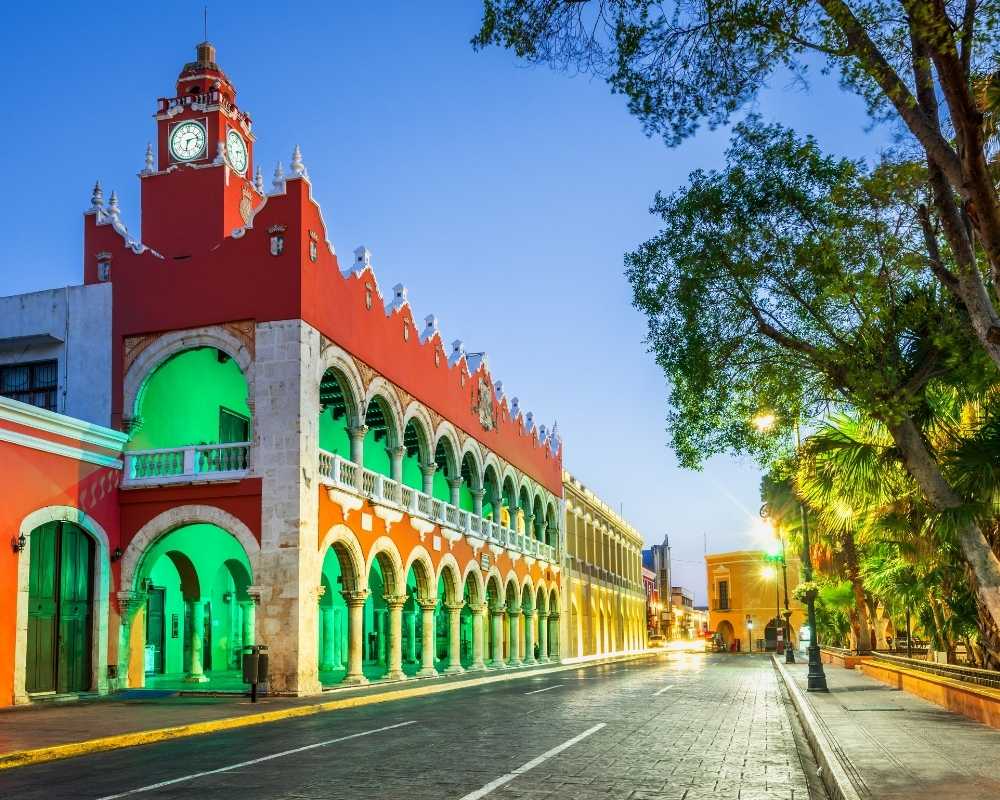 Merida is still cheaper
Compared to other expat cities in Mexico, Merida is still way cheaper. For a family of 4, it is not easy to find a 4-bedroom house in popular expat cities like Puerto Vallarta or Los Cabos.
In Merida, single people can rent an apartment for as low as US$400! As we have traveled Mexico extensively, we love seeing how different cities in Mexico have different costs and that's what we aim to share with you in our Mexico Expat Life series.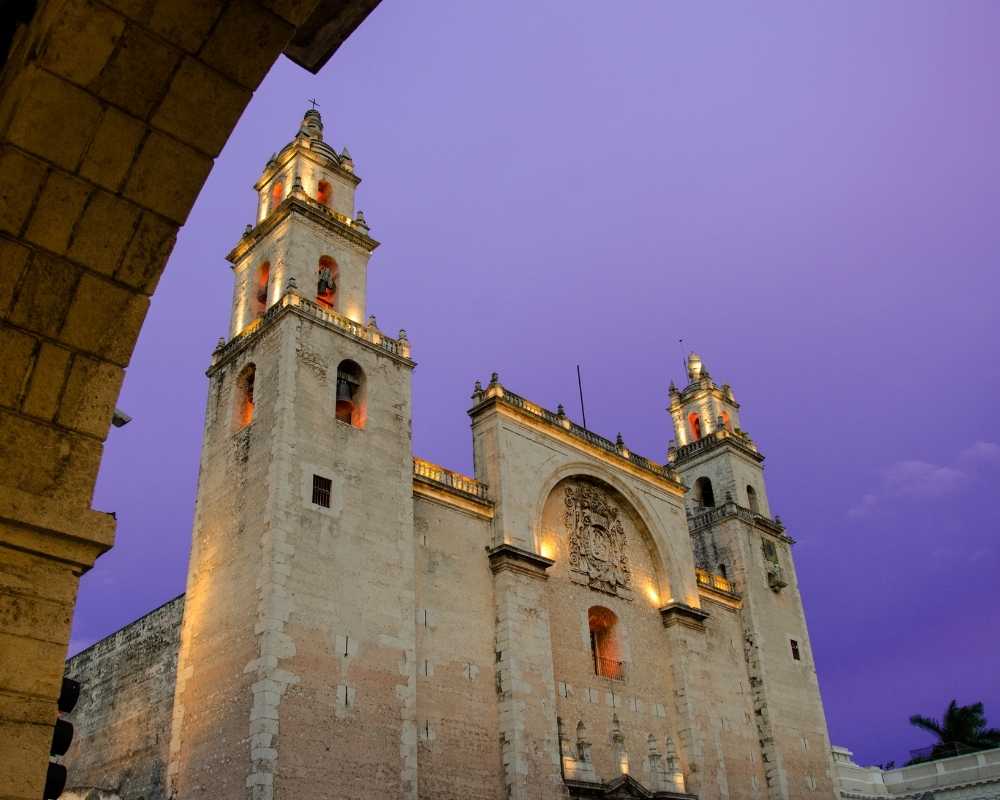 When asked about the cons of living in Merida, Cassie couldn't come up with anything so we were really convinced that she fell in love with Merida and is here to stay.
If you plan to move to Merida, we recommend Cassie's books, Moving to Merida and Yucatan With Kids.
✈️ Ready to move to Merida? If you need more information about the cost of living in Merida, we'd be happy to update this post – just leave your questions on the comment box below or join our communities where we answer questions for FREE.
🇲🇽 Living in Mexico Resources
🚗💨 I'm moving to Mexico. What do I need to prepare?
We have many resources about moving to Mexico on this blog. But first, we recommend you talk to our relocation expert for a more personalized plan.
⚖️ How do I get a residency visa in Mexico?
There are many types of Mexico residency visas. It's best to get in touch with an attorney to know the right type of visa for you. Book a call with our in-house attorney to get started!
🏠 Can you help me find housing in Mexico?
ABSOLUTELY! We have a house rental viewing program where we schedule a full itinerary for you to find one-year rentals. Get in touch for more info!
🏡 Can you assist with Real Estate buying in Mexico?
FOR SURE! We have our own certified Mexico realtors who can help you with buying. We also send available properties via e-mail. Feel free to subscribe to get these listings!
Trisha traveled to Mexico in 2018 and after a year, she found herself obtaining a 4-year residency visa in Mexico. She is the Editor-in-chief for our Living in Mexico Series which has helped over 3,000 Americans move to Mexico with ease. Trisha currently resides in Cabo San Lucas, Baja California Sur.