Everything you need to know about visiting Casa Cenote Tulum, including prices, entrance fees, what to bring, and more!
Nestled amidst the lush jungles and pristine beaches, Casa Cenote is a natural wonder that promises to take your breath away.
This underwater haven is a gateway to an ethereal world where the veil between the realms of the living and the ancient spirits is at its thinnest.
As you plunge into its crystal-clear waters, you'll be transported to a serene oasis that is as mysterious as it is mesmerizing.
Join me as I share the story of my wonderful trip to Casa Cenote, an adventure that will inspire you to explore Tulum's magical underworld.
🧐 Questions about Casa Cenote Tulum? Ask us on Tiktok.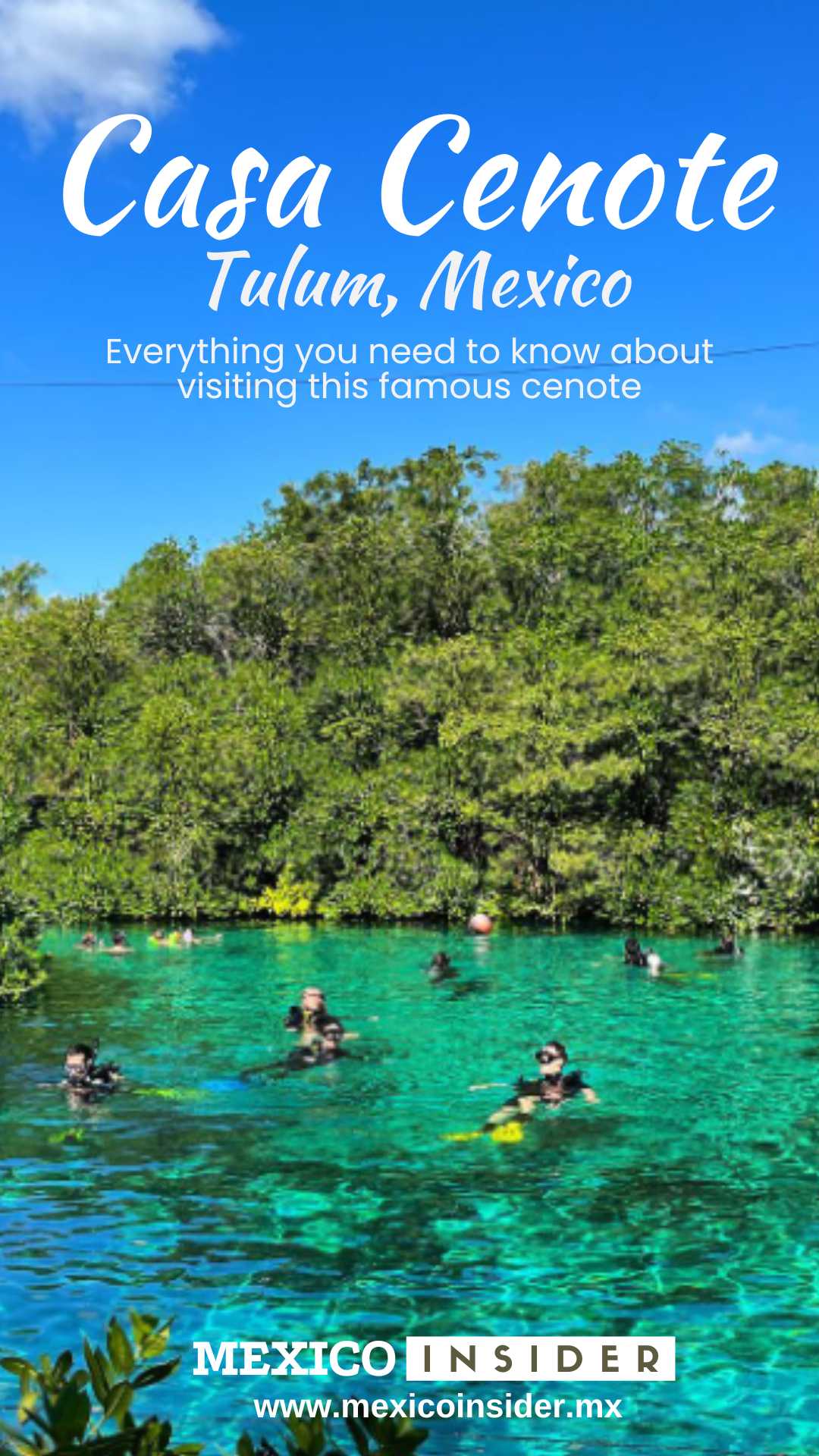 🔗 Casa Cenote Tulum: quick links
🏊 Can you swim in Casa Cenote?
Absolutely! You can swim in Casa Cenote. Casa Cenote is the largest open cenote in Tulum and Riviera Maya, 250 meters long.
The cenote is also known for its crystal clear water, so while swimming in Casa Cenote, you can see several caverns and species of waterbirds, fishes, and a beautiful halocline.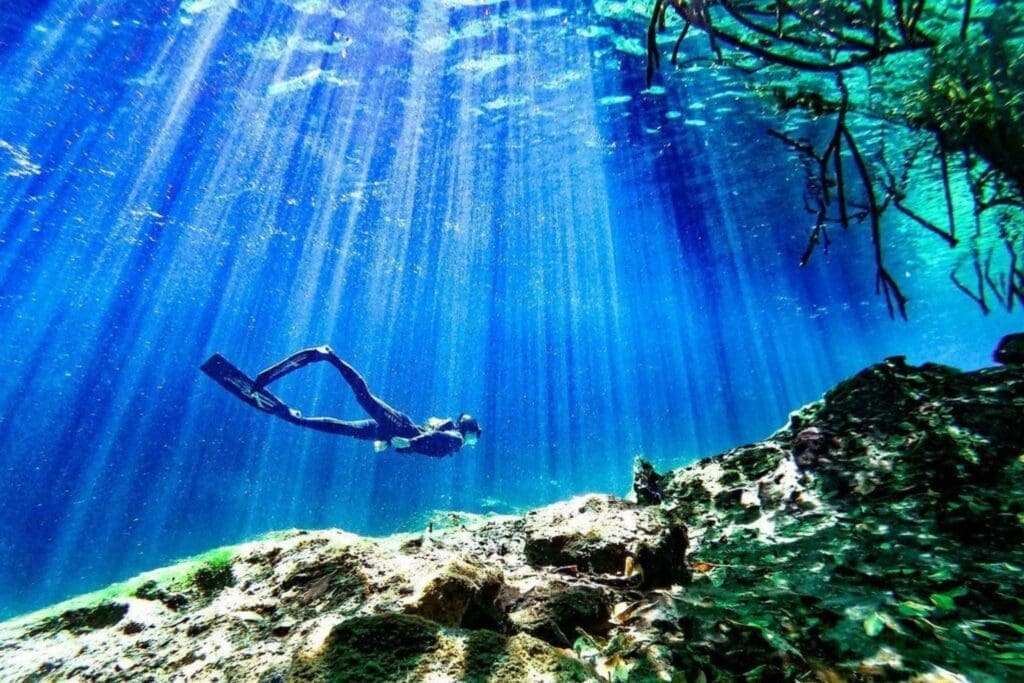 Swimming at Casa Cenote is ideal for nature enthusiasts who want to explore and discover hidden wonders. Not only is it rich in water species, but it is also surrounded by lush mangroves and limestone walls that are unique to the cenotes of this region.
At Casa Cenote, you can do various water activities like swimming, snorkeling, and paddle boarding. There's even the option to participate in cave tours leading you through mysterious chambers and tunnels below the surface.
💲 How much is the entrance fee to Casa Cenote?
The entrance fee to Casa Cenote is only around $9 USD per person. This is pretty reasonable for you to pay, especially since you are visiting one of the most famous destinations in Mexico.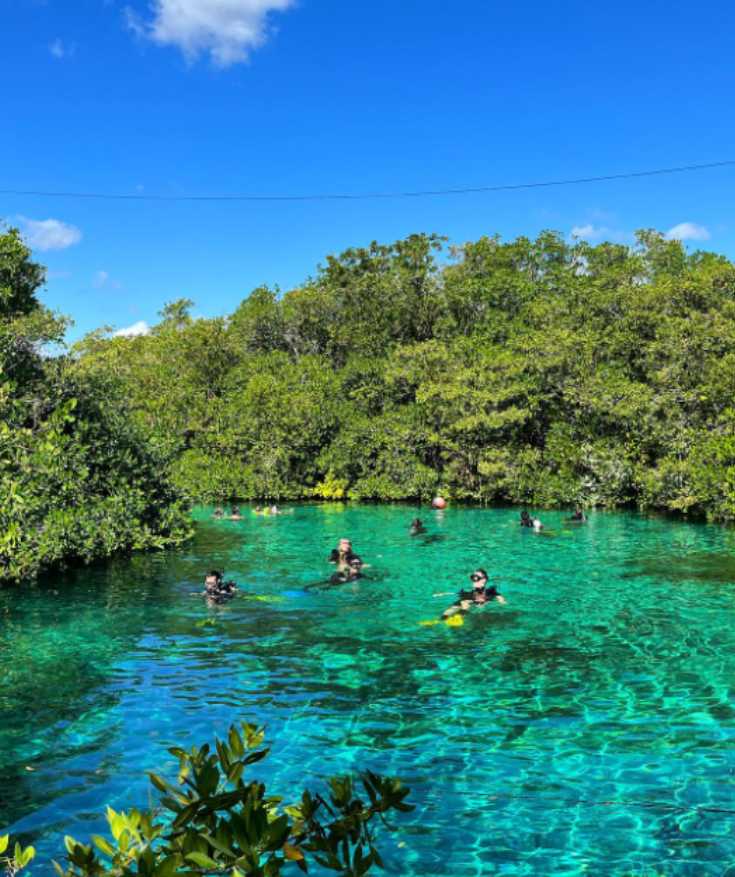 Admission to Casa Cenote includes the right to swim and dive in the area and a life jacket rental for you to use. You are also free to explore its lush surroundings independently.
You might need to pay extra fees if you rent snorkeling gear ($20 USD) and avail yourself of locker rentals ($3 USD).
🐊 Are there crocodiles in Casa Cenote?
The answer is: YES. Although crocs don't typically inhabit cenotes (sinkholes), they may occasionally appear. And in Casa Cenote, a tiny to medium crocodile lives there.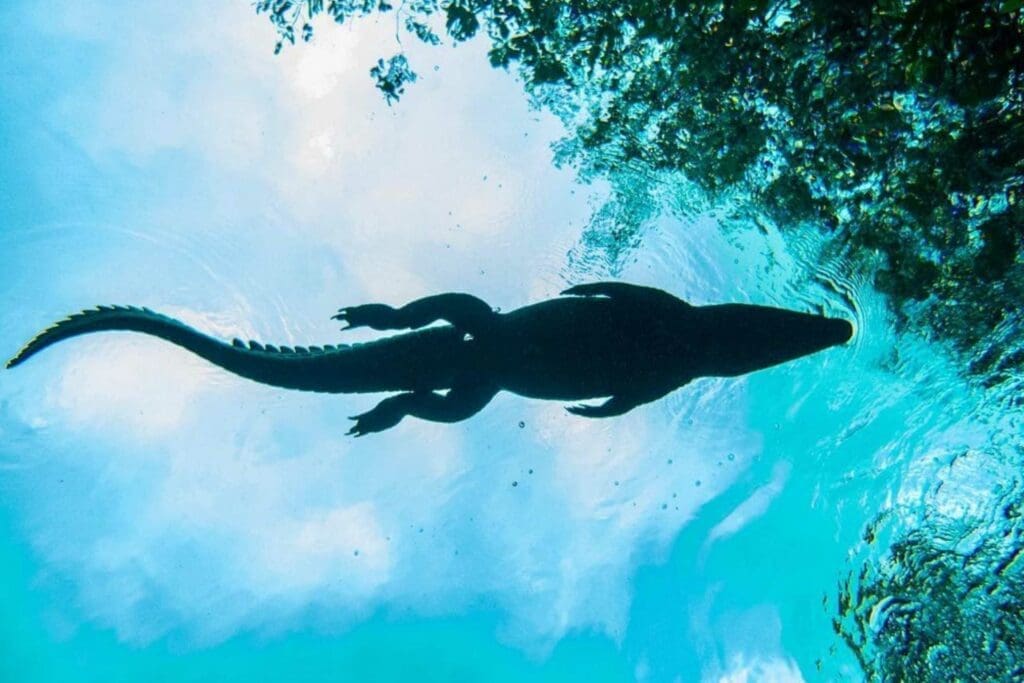 The crocodile in Casa Cenote is named Pancho or Panchito. According to the local guides, he has lived there since he was a baby, and because he's used to being around people constantly, tourists should not be worried about him.
You can even explore Casa Cenote and swim with Pancho, the crocodile, as long as you get the correct guidance from your local guides.
🗺️ Casa Cenote Tulum Map
🚘 How to get to Casa Cenote
How to get to Casa Cenote from Tulum
Driving or renting a car (or scooter) is the best way to get to Casa Cenote from Tulum. This gives you more freedom to explore Casa Cenotes at your own pace.
And for those wanting a more scenic journey, explore more minor roads and check out roadside shops and restaurants along the way.
There are several rental vehicles available in Mexico that you can check out. The site Discover Cars also help you compare multiple rental companies.
Just head on to the main highway 307 north for about 5 miles, and if you see the sign for Cielo Maya Tulum, follow the road that leads to it until you come across the cenote entrance.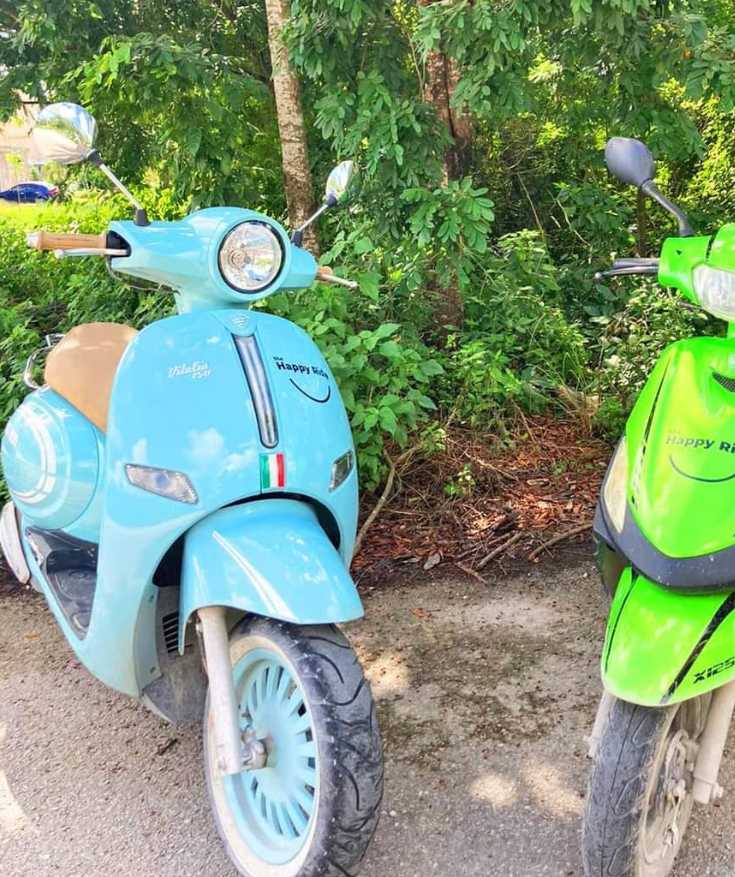 Alternatively, taking a Colectivo will be your best choice if you're looking for an easy and affordable way to get from Tulum to Casa Cenote. You have to look for the Colectivo station in Tulum and take one that heads north to Playa del Carmen.
Once you get on the Colectivo, tell the driver that you are going to Casa Cenote and must pay at least $2 USD for the ride.
You will be dropped off on the side of the highway, and from there, you will need to walk around 20 minutes to the cenote. Track the place on your GPS so you won't get lost!
How to get to Casa Cenote from Cancun
Located about an hour and a half south of Cancun, getting to Casa Cenote from Cancun is easy and can be done in several ways.
The first option is renting a car from one of Cancun's many car rental companies.
Taking a car lets you explore Mexico at your own pace, especially the road you will take along the way. You can make frequent stops for sightseeing or grabbing snacks.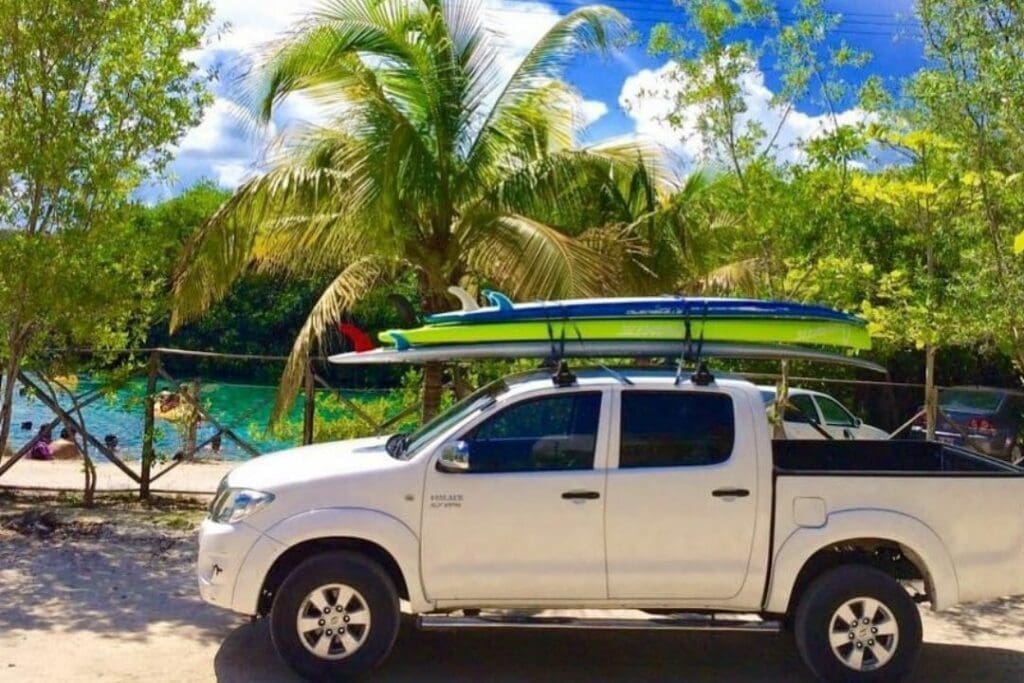 Although, it's important to note that renting a car requires additional paperwork, such as proof of insurance, before being able to drive away.
Another option (especially when on a budget) is bus travel. You'll find a variety of buses that can take you directly to Casa Cenote, which usually cost around $3 USD per person.
Once you hop on the bus, reaching your destination will take around an hour and 45 minutes. Make sure to let the bus driver know that you are heading to Casa Cenote.
How to get to Casa Cenote from Playa del Carmen
From Playa del Carmen, you can rent a car or taxi or ride a colectivo to Casa Cenote.
If you're driving from Playa del Carmen, start by heading south on Highway 307 towards Tulum. You will pass through Puerto Aventuras before seeing signs for Casa Cenote.
Once you see the highway sign for Casa Cenote, you will need to make a U-turn to get to the road that leads to Cielo Maya Tulum. Signs that lead you to Casa Cenote are hard to miss, so you don't have to worry!
Another choice you have is to take a taxi from Playa del Carmen. Getting one in Playa del Carmen is easy, but a cab from Casa Cenote to the city might be more difficult.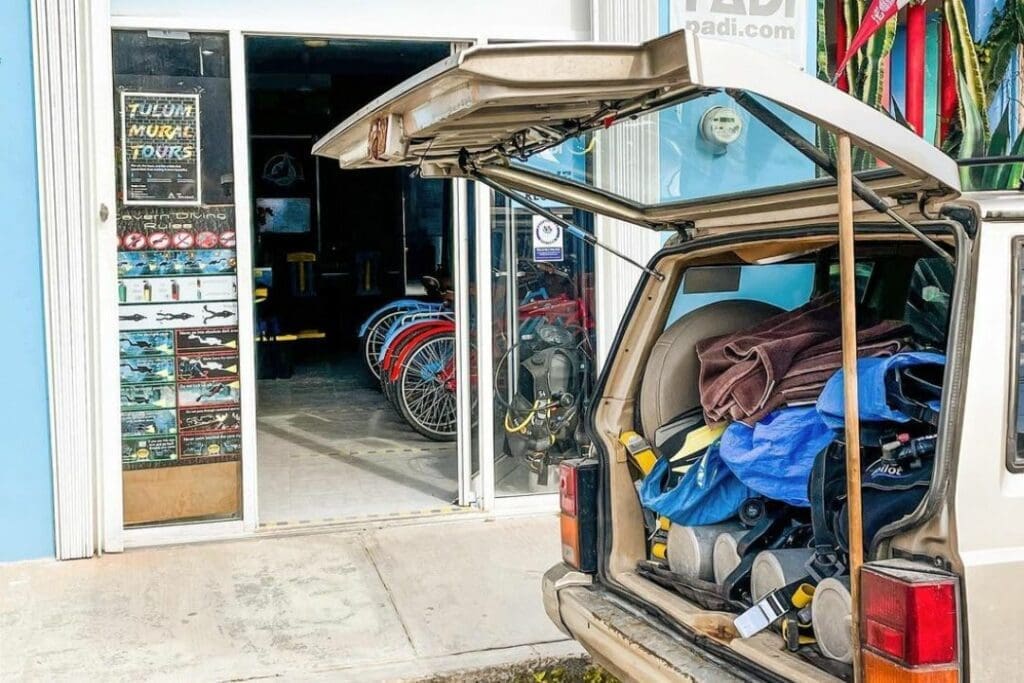 The best way is to arrange a pre-pick-up with the taxi driver who dropped you off. Also, expect to pay $30 USD for one taxi ride.
Meanwhile, taking the Colectivo is your choice if you wish to take a more affordable route. You must take a colectivo to Tulum in downtown Playa del Carmen. Once you get on, pay the fare, around $3 USD.
Make sure to let the driver know you are going to Casa Cenote so that he can drop you off on the highway. You must walk from the other side of the road, so ensure you have your GPS ready.
How to get to Casa Cenote from Merida
Merida is 3 hours and 40 minutes away from Casa Cenote, so it's best to plan to visit the famous cenote there. The best choice is renting a car from Merida to Casa Cenote.
Now, start your journey from Merida, heading to Tulum. You will be taking Highway 180 as you head on to Tulum. Once you reach Tulum, you must take Highway 307, as I mentioned above. Just remember to keep your GPS on so you don't get lost.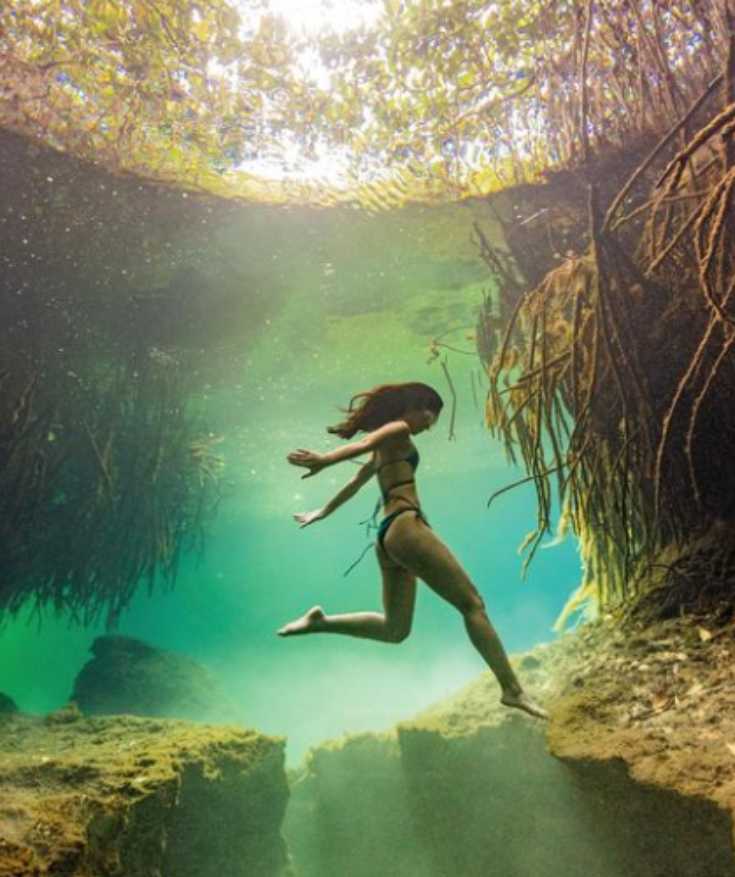 You can also take the bus for a much easier and cheaper alternative. Take the ADO bus headed to Tulum and ask the driver to let you off at Dos Ojos or Gran Cenote (the closest stops to Casa Cenote). This will cost you around $28 USD.
Once you arrive, you can take a taxi from there ($5 to $10 USD), and you'll be at Casa Cenote within 10 minutes.
🛥️Casa Cenote Tours
Casa Cenote + Ocean Reef & Lunch
🕒 6 hours
💲 from $144 USD
This all-day snorkeling tour of Casa Cenote and Ocean Reef lets you explore the unique underwater sights and freshwater and saltwater species.
You will swim at Casa Cenote and experience snorkeling at the Tulum Barrier reef, with an experienced guide leading the way.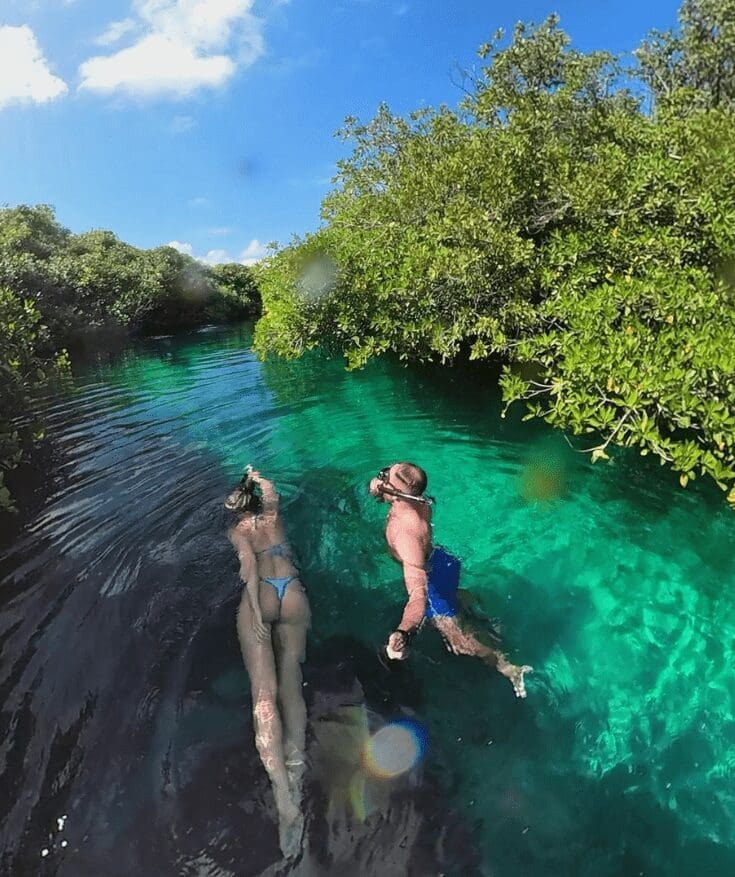 At Casa Cenote, you can observe various freshwater life and explore this incredible cenote – a sinkhole formed by limestone bedrock. The crystal clear waters provide excellent visibility and make it easy for snorkelers of all levels to enjoy their time in the water.
After half a day at Casa Cenote, it will then be followed by a local Mayan lunch prepared beforehand.
If you need more than that, you would also have an opportunity to dive into the Tulum Barrier Reef in the Caribbean sea. There, you'll be able to experience the sea life and see how rich the biodiversity in the region is.
Casa Cenote diving adventure and lunch (2 tanks)
🕒 5 hours
💲 from $170 USD
In this exclusive, small-group scuba diving excursion, certified divers will head beneath the water and explore Casa Cenote and Dos Ojos Cenote.
The tour's first stop will be at Casa Cenote – an underground river system perfect for swimming and snorkeling. And once you are fully equipped, you will be given 40 minutes to dive and explore the cenote and its underwater sights.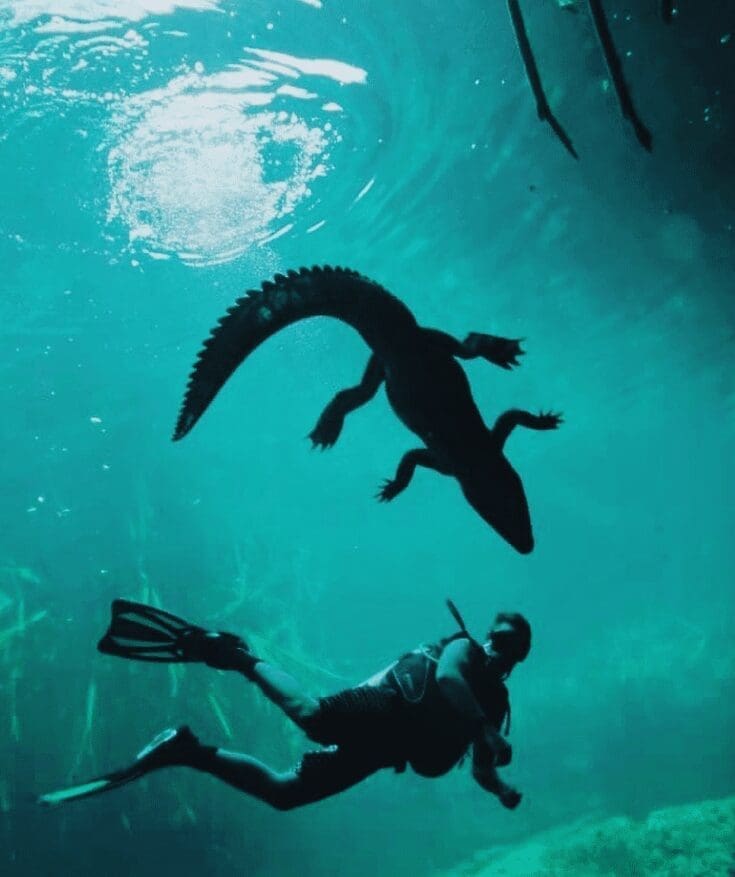 The second destination is Dos Ojos Cenote. Here you can observe millions of limestone formations, its bat cave, and an array of exotic fish and other aquatic creatures. Although certified divers are only allowed to take this tour, you will still have a professional guide to ensure safety at all times.
Paddle boarding and snorkeling in Casa Cenote
🕒 4 hours
💲 from $110 USD
Get to explore the waters of Casa Cenote while snorkeling and paddle boarding. In this tour, you will start early in the morning to avoid the crowd. And no worries, because this package already includes round-trip transportation from Tulum.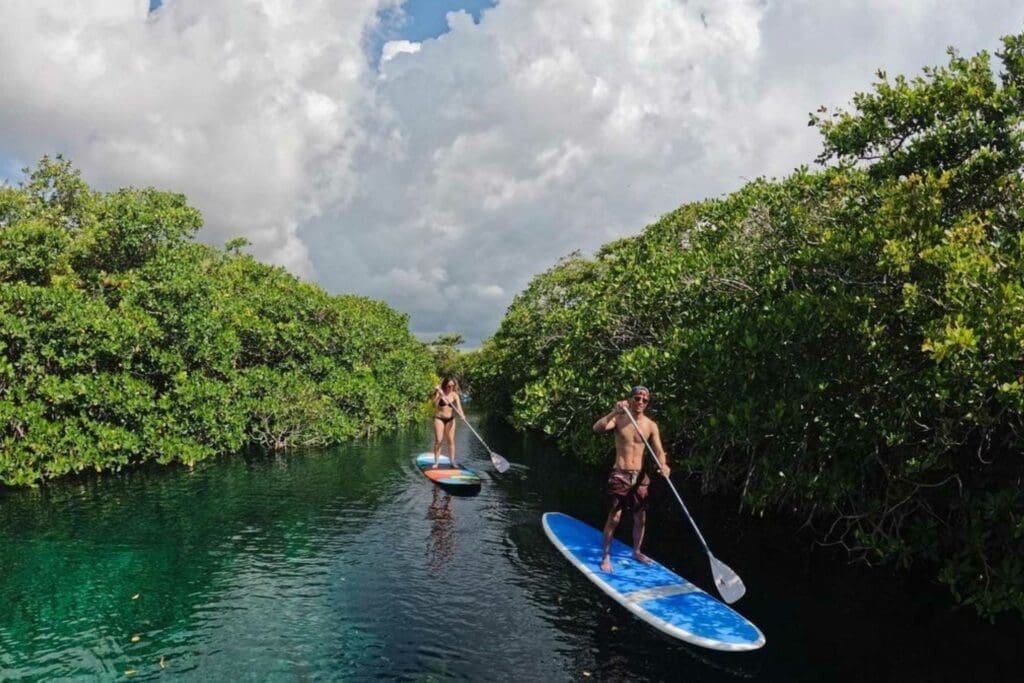 Once you arrive at Casa Cenote, you'll start by taking a unique paddle-boarding journey on the crystal-clear waters of the cenote. You don't need prior experience to try it out because a guide will be helping you throughout.
You will also be exploring the cenote through snorkeling. Enjoy the waters and get close to incredible natural wonders like starfish, jellyfish, sea turtles, and much more.
⏲️ Best time to visit Casa Cenote
Although Casa Cenote can be visited all year round, the best time to visit is during the dry season (December to April).
During this time, the weather is typically sunny and dry, and the water in the cenote is clear and calm, making it ideal for swimming, snorkeling, and diving.
During the rainy season (May to November), the water level in the cenote may be higher and murky due to the increased flow from rainfall. But you can enjoy the jungle around the cenote as it will be lush and green.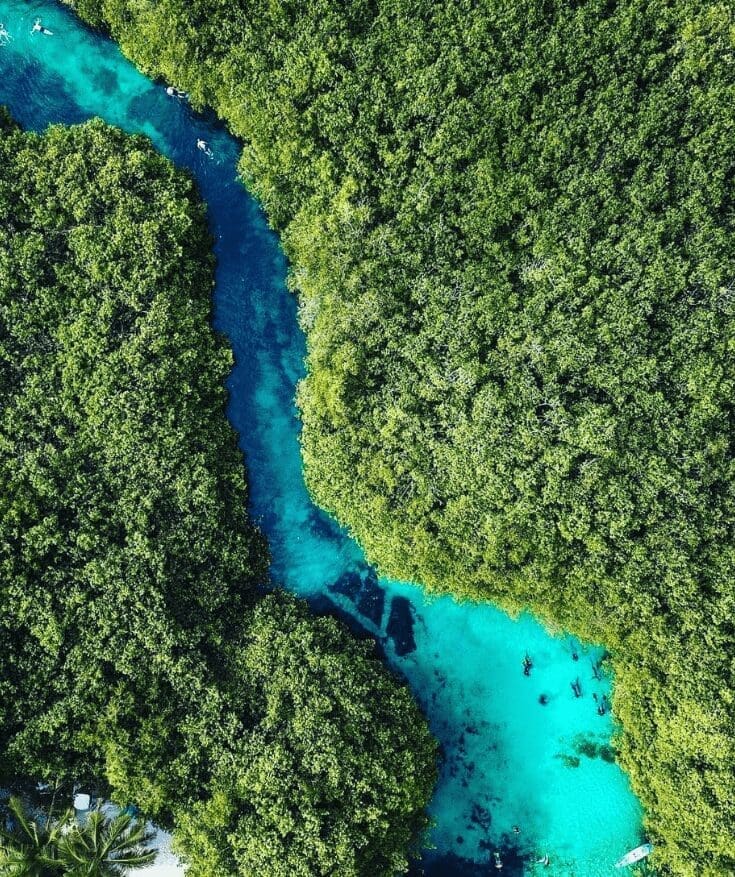 Once you've decided, come to Casa Cenote in the morning or early afternoon. This way, you don't have to worry about packed crowds and can experience all Casa Cenote offers in peace.
Ultimately, the best time to visit Casa Cenote will depend on your preferences and what kind of experience you're looking for.
If you're looking for optimal swimming and snorkeling conditions, aim to visit during the dry season. But if you want to see the jungle in full bloom, consider visiting during the rainy season.
🎒What to bring to Casa Cenote
Towel
When visiting Casa Cenote, you must pack the right gear to maximize your experience. And since you are sure to go swimming, you must first bring a towel.
A towel is a must-have item when visiting Casa Cenote. After swimming or snorkeling in the cenote, you'll want to dry off and warm up, especially if you're visiting during the cooler months.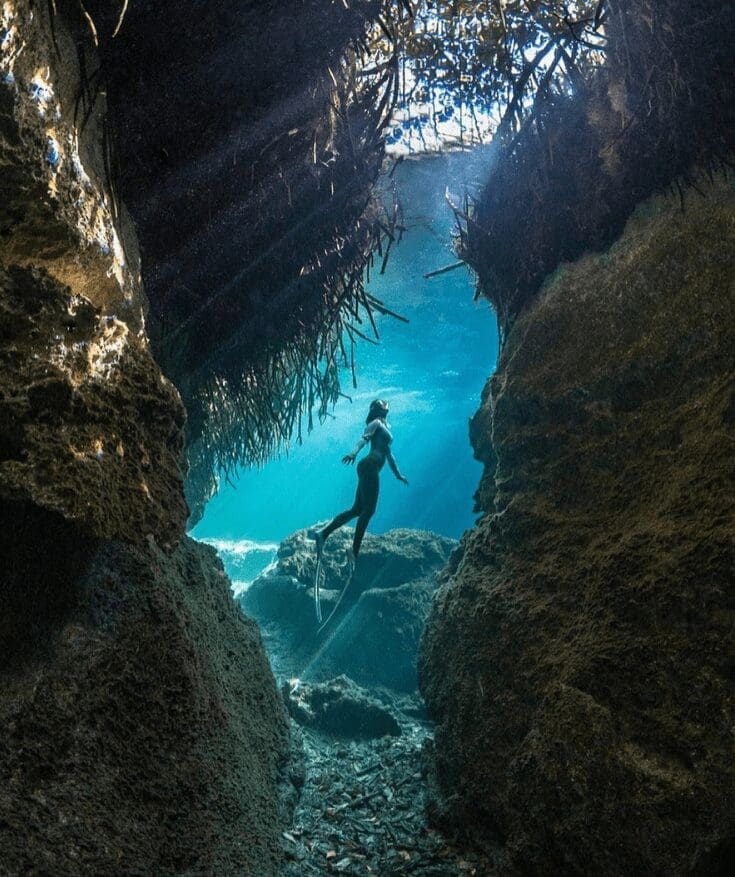 A lightweight and quick-drying towel is ideal for this activity to avoid the hassle of bringing bulky things.
And although Casa Cenote does have towels available for rent at their facilities, why pay extra when you can bring your beach towel from home? Not only will bringing your towel help save you money and hassle, but it'll also help promote eco-friendly practices.
Swimming shoes
Casa Cenote has a rocky bottom, making exploring challenging without proper footwear. So, another must-have when visiting Casa Cenote is a pair of swimming shoes.
Swimming shoes are recommended and highly encouraged for visiting this tropical paradise. Swimming shoes protect your feet from sharp rocks or coral that could cause abrasions or cuts.
Moreover, wearing one will provide better traction and help prevent slips and falls as you navigate the cenote's shallow areas.
GoPro camera
Casa Cenote is a paradise for underwater photography and videography enthusiasts. And when visiting Casa Cenote, it's a MUST to capture your moment swimming under the crystal clear waters of the cenote.
This is why a GoPro camera is the perfect device to capture stunning footage of the underwater world. Its compact size and waterproof capabilities make it easy to use in the cenote.
Get to capture up close shots of fish swimming among coral or snap images from afar that show off its massive limestone formations. Also, enjoy taking the best pictures under the bright sunshine that will cast glistening light on the turquoise waters as you explore the caverns and caves in this natural wonder.
Waterproof bag
A waterproof bag is a MUST-HAVE to prepare you for your day at Casa Cenote.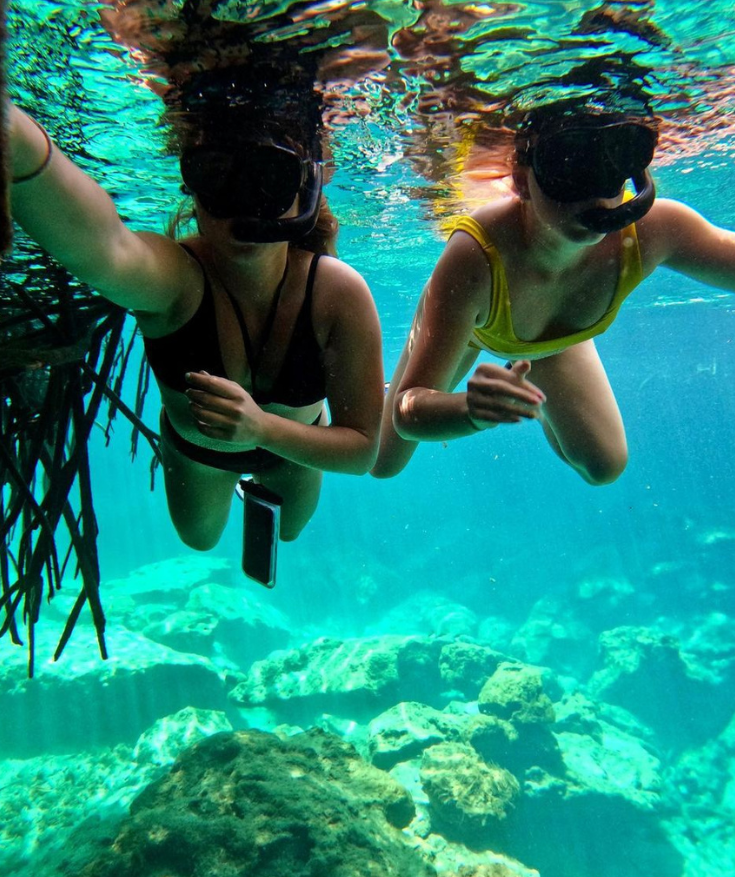 As you enjoy swimming and exploring the cenote, you'll also want to protect your belongings, such as your phone, wallet, and camera, from getting wet.
And the best way to keep these items safe and dry is by storing them in a waterproof bag. You can easily carry it as you swim and explore the cenote.
Casa Cenote Tips
Casa Cenote is quite out of the way, and the best way to reach it is through a rental car or tour guide. And no worries because there are available parking spaces at Casa Cenote.
If you want to go to Casa Cenote independently, note there will be some walking along the way. A colectivo or bus will drop you off the highway, so ensure you know your way to the entrance.
Before visiting, be prepared to swim 500 meters beneath the water's surface. If you are not a strong swimmer, swimming in this long cenote may be challenging, as the water is constantly deep.
Bring with you cash for admission, gear rental, locker rental, and guide fees, as there are no ATMs or credit card machines at Casa Cenote.
If you want to see everything in this location, arrive early. This way, you can avoid the crowd and see more marine life.
Wear appropriate gear such as swimming shoes, a snorkel and mask, and a rash guard or wetsuit for comfort and safety in the water.
Respect the environment and its inhabitants by avoiding touching or disturbing marine life and not littering.
Hire a guide to help you navigate the underwater environment and highlight interesting features and marine life.
⁉️ Casa Cenote Tulum FAQ
How many hours should I spend in Casa Cenote Tulum?
The answer to this question depends on your interests and the activities you plan to do. If you plan to snorkel or dive, you may want to spend several hours exploring the underwater environment and observing marine life.
On the other hand, if you're looking to relax and enjoy the beautiful scenery, you may only need an hour or two to soak in the natural beauty and take some photos.
Generally, most visitors spend 2-3 hours at Casa Cenote, allowing some time to explore the cenote, swim or snorkel, and enjoy the surroundings. This is already enough to take in its beauty and appreciate the vibrant life it holds beneath the surface.
But then again, the time you spend at Casa Cenote is up to you and your preferences. Just plan accordingly and check the operating hours to ensure you have enough time to enjoy your visit.
What is the most beautiful cenote in Tulum?
Tulum is known for having stunning cenotes, and there are many beautiful ones to choose from. However, it's difficult to say the most beautiful, as each cenote has unique features and charm. There's a lot of debate over which one takes the crown. For many, Gran Cenote stands out as the most beautiful.
Gran Cenote is an open cenote surrounded by caves and caverns and has crystal clear waters, perfect for swimming and snorkeling. Still, there are other cenotes that you can still explore in Tulum. Cenote Dos Ojos, Casa Cenote, and Cenote Calavera are among Tulum's famous and beautiful cenotes.
Do sharks swim in cenotes?
Cenotes are freshwater sinkholes typically located inland, far from the ocean. Sharks are saltwater creatures and are not adapted to survive in freshwater environments. Moreover, the entrance to most cenotes is narrow and difficult for larger animals to navigate.
Overall, cenotes are safe places to swim, snorkel, and dive. So, you don't have to worry about encountering sharks while exploring these underground paradises.
Is the water in a cenote drinkable?
Drinking water from cenotes is generally not recommended, as the water may contain harmful bacteria or other contaminants.
While cenotes are natural swimming holes and the water is typically crystal-clear and inviting, it's important to remember that they are open-air systems connected to the groundwater system. As such, the water in cenotes can be affected by pollution, runoff, and other environmental factors.
In addition, many cenotes are located where human activity is common, such as near tourist destinations or residential areas. This can increase the risk of contamination from sewage or other sources.
To stay safe, it's best to avoid drinking water from cenotes and bring bottled water or other drinks.
Are there sea animals in cenotes?
YES, there are sea animals in cenotes. While cenotes are primarily freshwater systems, some near the coast may contain marine animals.
Cenotes are typically connected to the ocean through underground cave systems or channels, creating a brackish environment where freshwater and saltwater mix. This makes it possible for marine animals to live in it.
These underground pools of crystal-clear water are home to many sea creatures, including angelfish, grunts, snappers, damselfish, barracuda, and more.
You may also be lucky to spot certain invertebrates, such as lobster, crabs, and shrimp. Plus, it's also common to come across turtles gliding through the calm waters of a cenote.
Do I need water shoes for the cenotes?
Water shoes are not always necessary when visiting a cenote, but they can be beneficial because they give you extra grip when walking on slippery surfaces like rocks or mud.
Many cenotes have rocky bottoms and uneven surfaces, making walking or swimming difficult without proper footwear. In these cases, water shoes can provide better traction and protect your feet from cuts or scrapes.
So if you plan to explore the edges of the cenote, invest in a pair of water shoes and bring them to Mexico. Also, choose comfortable, lightweight shoes that provide good traction.
🇲🇽 Tulum Travel Resources
✈️ Flights to Tulum
The airport that serves Tulum is Cancun International Airport. Use Kiwi.com to find the cheapest flights to Cancun. This is our favorite booking engine because they compare prices across all airlines for your route.
🛏️ Hotels and resorts in Tulum
Budget travelers can use HostelWorld to find cheap accommodations for as low as $25 USD per night. Resort vacationers, the best deals for all-inclusive stays in Tulum are on Booking.com!
🚑 Mexico Travel Insurance
Be prepared for the possibility that something can happen to you while traveling abroad. Do not travel to Tulum without travel insurance! We recommend SafetyWing (for digital nomad and entrepreneur trips) and Ekta Travel for comprehensive medical insurance starting at $0.99 USD!
Marianela Clement is a Swiss-Argentine marketing expert who moved to Mexico in 2017. She has lived in Queretaro for 4 years, traveling and working around Central Mexico. In 2021, Marianela decided to move to Tulum, and up until today, she is enjoying the joys of living in Tulum, Mexico.