This Cancun nightlife guide will take you to the best bars in Cancun, where to go clubbing, nightlife tours, and more! Door charges and prices are also included, so browse away!
Cancun is known for its vibrant nightlife scene, with an array of options to suit every taste. The city offers a mix of bars, nightclubs, and entertainment venues, making it a popular destination for party-goers.
The most famous nightlife district in Cancun is the Hotel Zone, where you can find everything from beachfront clubs to rooftop bars.
The Hotel Zone (Zona Hotelera) is home to many of the biggest and most popular nightclubs, such as Coco Bongo, The City, and Mandala. These clubs are known for their lively atmosphere, flashy performances, and famous DJs.
For those looking for a more low-key experience, there are plenty of bars and lounges to choose from. You can find everything from sports bars to jazz clubs, with many venues offering live music and entertainment. Some popular spots include Carlos'n Charlie's, The Black Pub, and La Vaquita.
Aside from the traditional nightlife offerings, Cancun offers a range of unique experiences. For example, you can take a nighttime boat tour to see the city from a different perspective or attend a dinner show at one of the many entertainment venues.
Cancun's nightlife scene is diverse, exciting, and constantly evolving. Whether you're looking to dance the night away or enjoy a few drinks with friends, you will surely find something to suit your style.
🧐 Questions about Cancun nightlife? Ask us on Tiktok.
🔗 Cancun nightlife: quick links
🗺️ Cancun Nightlife Map
🥳 Cancun Nightlife Tours
Coco Bongo Cancun Gold Member VIP Night Out by After Dark
🕒 5 hours
💲 from $150 USD
The Coco Bongo Gold Member VIP Ticket takes travelers to the famous Coco Bongo nightclub, known for its spectacular shows and performances.
The Gold Member VIP Ticket provides guests many benefits, including a VIP entrance with no lines, access to an exclusive VIP area with reserved seating, an open bar with unlimited drinks, and a bottle of champagne.
Once inside, you can enjoy a thrilling show featuring acrobats, dancers, and live music. The show includes a variety of performances ranging from popular music hits to theatrical tributes to famous movies like Moulin Rouge and The Mask.
You can dance the night away, relax, and enjoy the show from their VIP seating area. The tour is suitable for adults of all ages and is perfect for those who enjoy a lively and entertaining nightlife experience.
Xochimilco Park: Ticket with Transportation from Cancun
🕒 5 hours
💲 from $129 USD
The Xoximilco Cruise Cultural Mexican Fiesta in Cancun is a tour package that takes guests on a unique journey through the canals of Xoximilco, located just outside of Cancun.
The tour begins with a pickup from the guest's hotel and a transfer to Xoximilco Park. Once there, guests board a traditional trajinera boat and embark on a Mexican cultural fiesta.
The boat ride is accompanied by live music and performances by traditional Mexican artists, such as mariachis, folk dancers, and other entertainers. Guests can also enjoy unlimited food and drinks, including tequila and beer.
During the cruise, guests can interact with other passengers and enjoy the festive atmosphere. The canals are decorated with colorful lights, creating a unique and memorable experience.
The tour is suitable for all ages and is perfect for anyone looking for an authentic Mexican experience.
The Xoximilco Cruise Cultural Mexican Fiesta in Cancun provides a fun way to learn about Mexican culture, music, and traditions while enjoying the beautiful scenery of Xoximilco.
Mandala Club Cancun – Golden Personal Pass
🕒 5 hours
💲 from $129 USD
The Mandala Club Cancun Golden Personal Pass is a VIP tour package that provides guests exclusive access to the Mandala Nightclub in Cancun.
The tour begins with a pickup from the guest's hotel and a transfer to the Mandala Nightclub. Once there, guests are escorted to a private VIP area with reserved seating, where they can enjoy unlimited premium drinks and bottle service.
The Mandala Nightclub is known for its high-energy atmosphere and music, featuring performances by some of the best DJs in the world. The club has multiple dance floors, each with its unique theme and style of music.
The Golden Personal Pass gives guests priority entrance, meaning they can skip the line and avoid the crowds. The tour is suitable for adults of all ages and is perfect for those who enjoy a lively and entertaining nightlife experience.
The Ultimate Cancun Club Crawl
🕒 7 hours
💲 from $144 USD
The Ultimate Cancun Club Crawl is a party bus tour that takes guests on a wild ride through the city's hottest nightlife spots, including the famous Coco Bongo nightclub.
The tour begins with a pickup from the guest's hotel and a transfer to the party bus. Once aboard, guests can enjoy unlimited drinks, including beer and tequila, while they dance and sing along to the music played by the onboard DJ.
The party bus makes stops at multiple bars and clubs, including the Coco Bongo nightclub, where guests can experience a thrilling show featuring acrobats, dancers, and live music.
The Cabo Bongo Tour is suitable for adults of all ages and is perfect for those who enjoy a lively and entertaining nightlife experience. The tour provides a safe and fun way to explore Cancun's nightlife while meeting new people and making memories.
🧭 WE CUSTOMIZE TOURS IN CANCUN!
We live here and have traveled the whole state of Quintana Roo. Contact us for a quote: no hidden costs, just simple prices. E-mail us at [email protected] or call our office at +52 473 171 5259.
🍹 Best bars in Cancun
The City
📍 Blvd. Kukulcan Km 9.5, Punta Cancun
The City Club is one of the most famous nightclubs in Cancun. Not only because it is the biggest but also because of its excellent light show, powerful audio, and good music.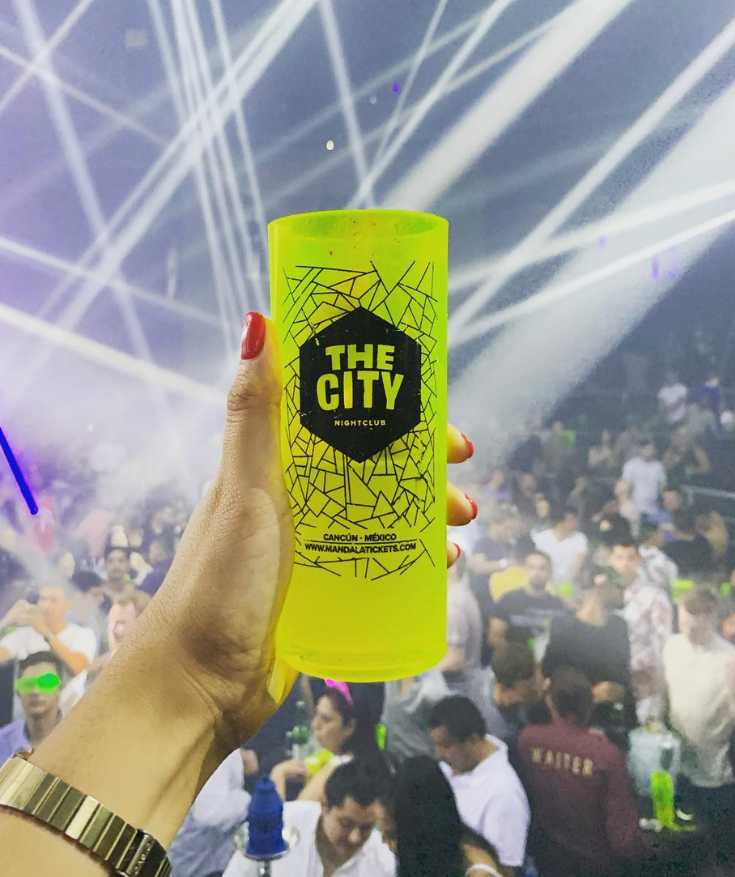 Located in the heart of downtown Cancun, this famous club offers multiple floors full of entertainment; from its open-air terrace to its spacious indoor dance floor and live music stage, the City offers an exclusive experience to its guests.
Guests of the City Club have access to two expansive bars offering craft cocktails, beer, and wine alongside Mexican-inspired dishes. A luxurious VIP section also provides a more exclusive experience with private seating areas but still enjoys the live party and music.
La Vaquita
📍 Blvd. Kukulcan Km. 9.5, Punta Cancun
La Vaquita is considered the wildest nightclub in Cancun. This lively bar has been a favorite of locals and tourists, offering an energetic, vibrant, and friendly atmosphere.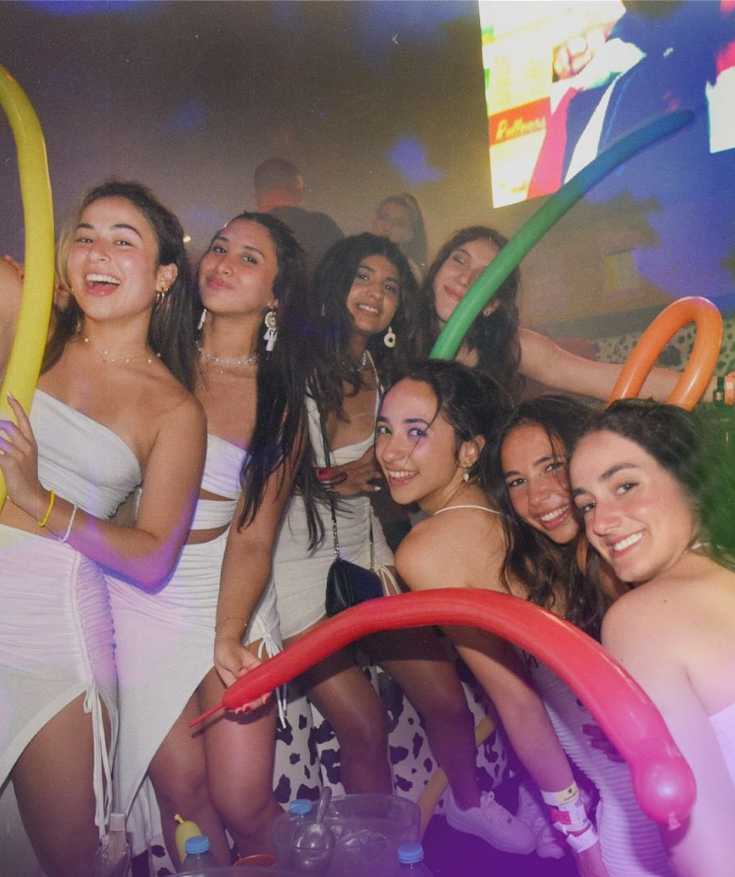 The nightclub is famous to partygoers not only because of how its crazy cow-print decorations stand out but also because of its great atmosphere. It has an open facade, great live music by DJs all over the region, and an open bar that features classic Mexican cocktails and unique concoctions created by their master mixologists.
If you are a fan of big parties, it's a must to experience the vibe of La Vaquita – dance your night away, drink that tequila, and meet new friends throughout the night.
Coco Bongo
📍 Blvd. Kukulcan 30, Punta Cancun
Coco Bongo Cancun is a must-visit when you want to party in Cancun. It is in the world-famous Hotel Zone of Cancun, offering guests a Vegas-like party.
Expect to see a four-hour show of dancers, performers, acrobats, and singers as you enjoy a night in Coco Bongo. They offer guests an all-inclusive experience of all those mentioned, with a unique blend of music and entertainment.
Moreover, with the club's illustrious lineup of DJs, guests can enjoy Latin pop, EDM, and a wide array of musical styles. They also have a promo of unlimited drinks that you can easily avail of!
Congo
📍 Blvd. Kukulcan Km 9.5, Punta Cancun
Congo Bar has become a favorite among locals and travelers visiting Cancun. It is famous for having the best conga lines every night, where guests bond over good music.
The bar has been operating for 15 years already. Still, it boasts one of the most vibrant atmospheres on the Caribbean coast, with live music and colorful decorations.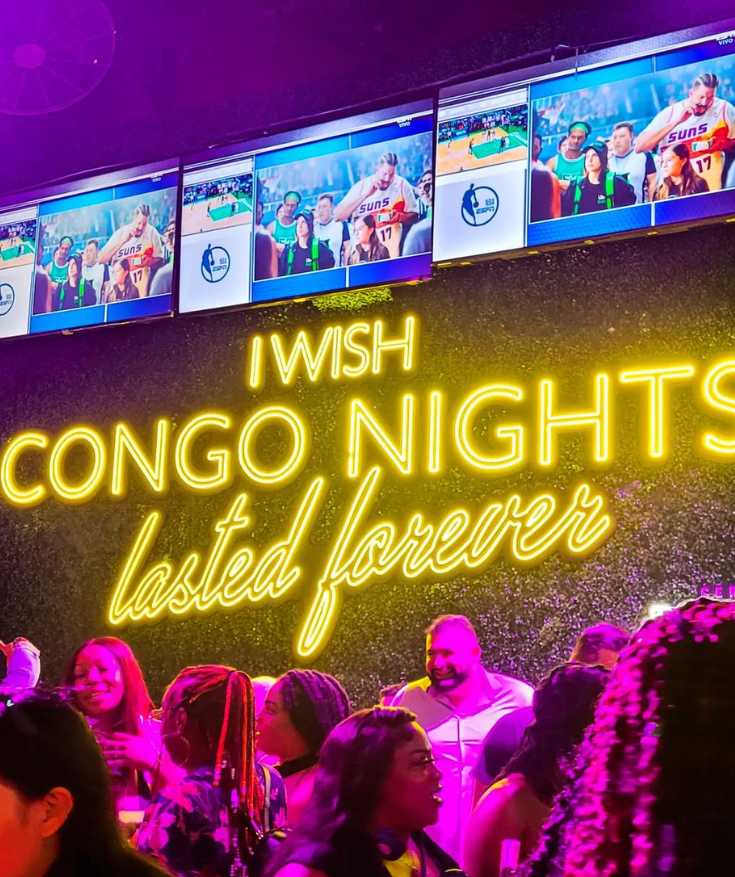 Aside from the excellent night vibe, Congo Bar also serves signature cocktails like the Cancun Colada or Tropical Mojito, which are great drinks while you enjoy their upbeat Latin beats. They also have pints from Mexican beer brands like Sol, Tecate, or Dos Equis. Watch out for weekly events to catch a few notable performances.
La Metiche Cancun
📍 Supermanzana 16 manzana 1 lote 2
If you are near Isla Blanca, La Metiche should be on your top bar list to visit. La Metiche Cancun is renowned for its vibrant atmosphere and incredible music.
With a range of bars and clubs to suit every kind of partygoer, La Metiche stands out for having a lively atmosphere yet a comfortable ambiance.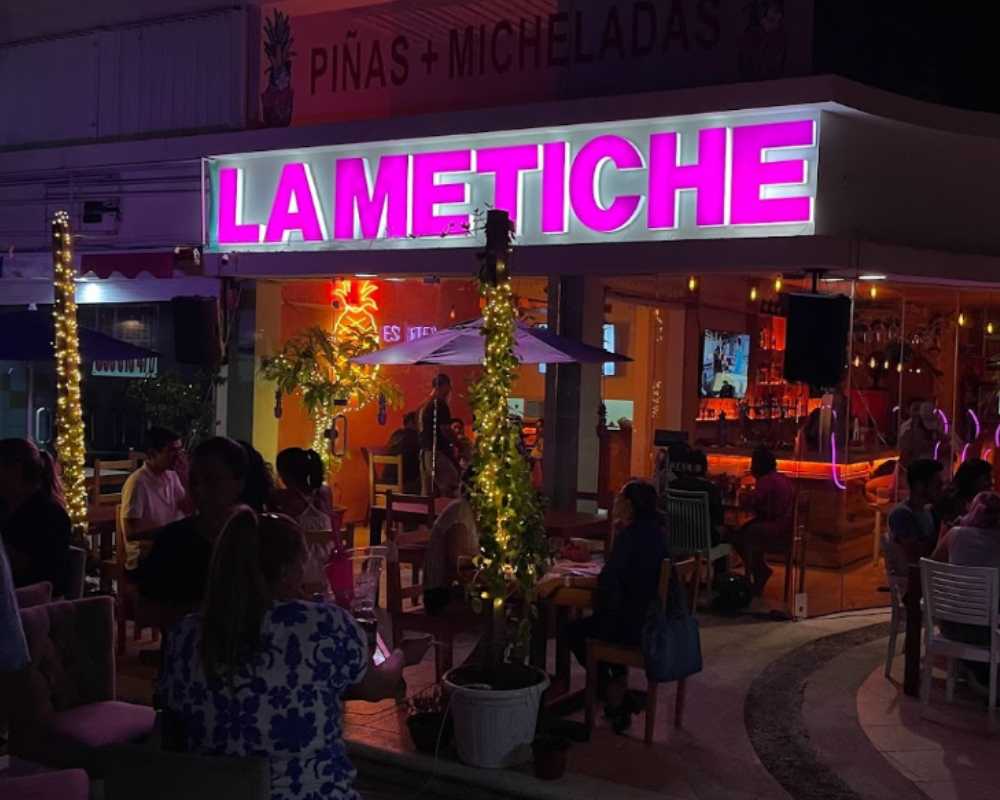 Many DJs from around the region visit La Metiche to play different genres, so you can get up to dance all night long.
Plus, the bar is usually filled with diverse people from different countries, making it a perfect place to meet new people while partying in the area.
11:11 Club
📍 Av Tulum Smz 22 Mz 5 Lote 33
11:11 Club Cancún is one of Cancun's most popular gay bars. It has been a staple among locals and travelers who want to enjoy a lively atmosphere with drag performers and good music.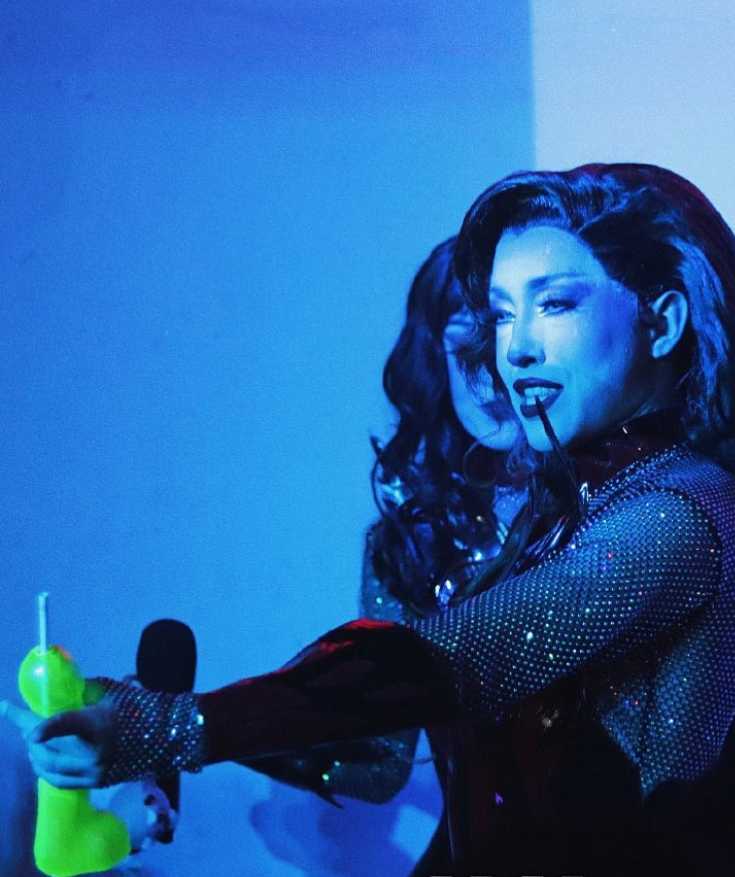 With a mix of EDM, Hip Hop, and Latin vibes, the club also features exciting live performances and special guest DJs. Plus, you can experience delicious cocktails and a wide selection of Mexican drinks for an additional charge (aside from the cover charge).
Palazzo
📍 Blvd. Kukulcan 9-Km. 9, Punta Cancun
Palazzo is considered one of the most glamorous nightclubs in Cancun. It stands out for its vibrant atmosphere and eclectic music selection (rock, hip-hop, reggae, and even salsa).
The club is decorated with chandeliers and lights, adding a chic and elegant style. The club is thrilling because it is only open two nights a week, making the locals and travelers look forward to its opening.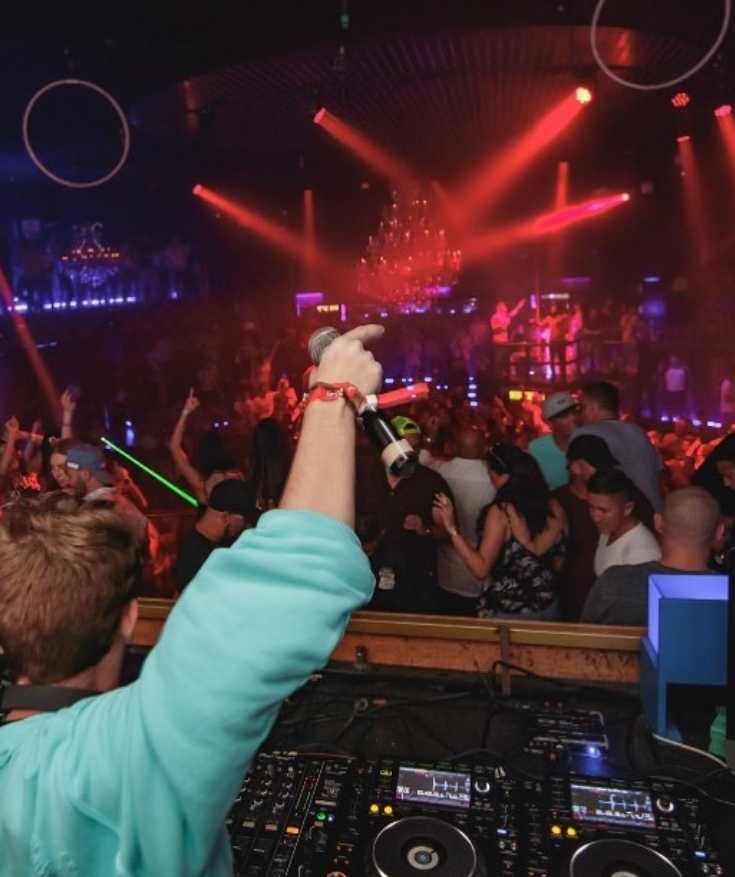 Aside from the local DJs, famous personalities like Marshmello, Nervo, and Dash Berlin have already made history in Palazzo.
The Palazzo Bar features craft cocktails and an ever-changing list of domestic and imported beers. Guests can enjoy tasty appetizers perfect for sharing and a wide range of drinks.
Guandola Cancun
📍Plaza Zona Zentro, Av. Rodrigo Gómez Supermanzana 13 MZ 1
Guandola Cancun is a pub and bar that has been a famous destination for party-goers in Mexico. Guandola Cancun's vibe is lively and chill, perfect for those who want a night out with friends while talking over a good selection of cocktails and drinks.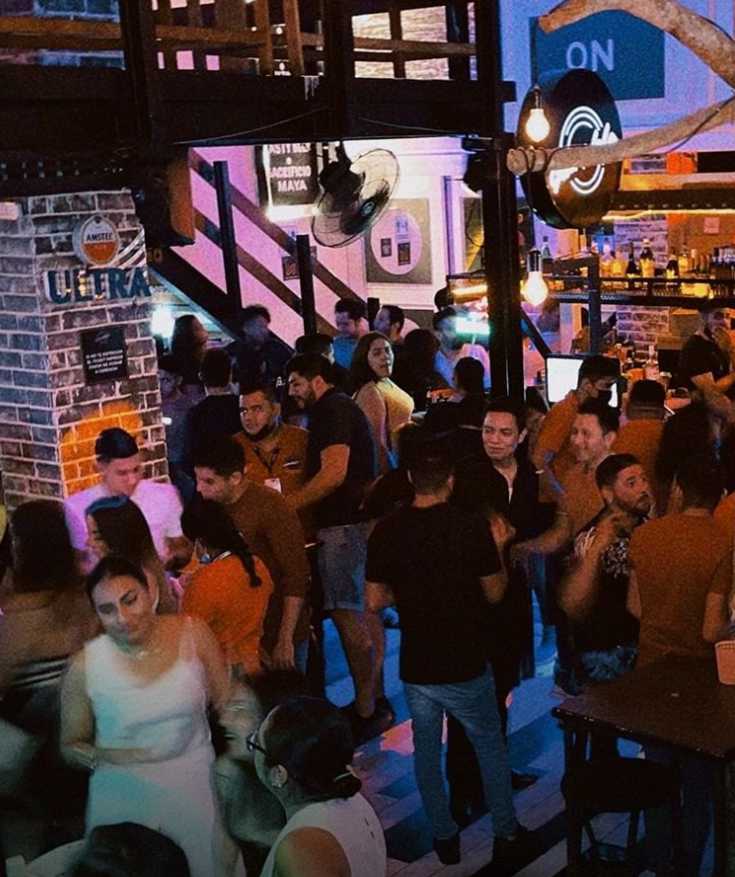 The bar is designed to house a few bar tables and has a small dance floor for the guests to enjoy live music. DJs provide entertainment throughout the evening, while you can also view downtown Cancun from the bar's terrace.
HRoof
📍Blvd. Kukulcan km 14.2, Zona Hotelera
HRoof Bar is a Private Club in Cancun, nestled in the heart of the town's Hotel Zone.
This trendy club offers a unique blend of music, cool drinks, and a lively atmosphere. The bar also features live DJs who spin Latin beats until late evening.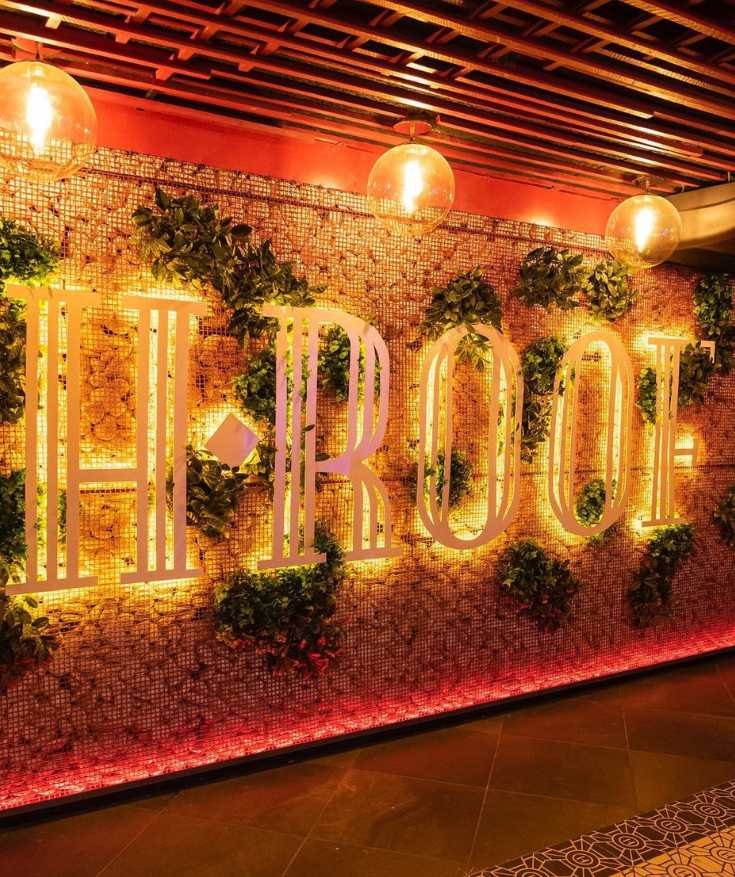 HRoof Bar stands out among other bars because of its modern accents and stylish designs, allowing guests to feel the intimacy of the atmosphere. And with three different levels, including an outdoor pool deck, there's plenty of room for dancing and socializing with friends.
La Palapita La Luna
📍 Av. De la Luna, Mza. 27, Lot 03
La Palapita La Luna is the perfect place to enjoy both Mexican food and drinks in a night scene. The bar and restaurant offer live music performances by DJs while guests can enjoy their signature cocktails and dishes.
With its beachfront location in downtown Cancun, it boasts a spectacular view of the Caribbean Sea and Nichupte Lagoon. Not only is it famous among locals, but also with foreign tourists from all over the world.
Mandala
📍 KM 9.5, Blvd. Kukulcan, Punta Cancun
Mandala Cancun is an international party place famous for its state-of-the-art sound systems and incredible light shows. They have everything your party needs, from signature Mexican drinks to VIP tables and dance floors.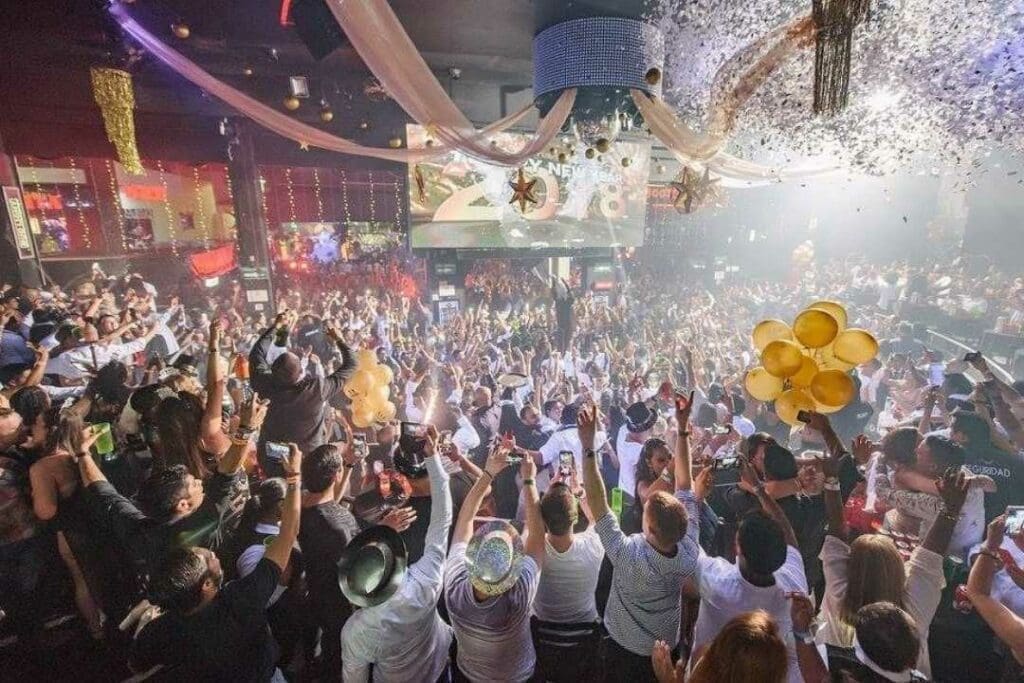 Enjoy a night at Mandala with friends and strangers as they play live DJ performances for you. Special events are held every night of the week: ladies' nights on Wednesday or international DJs spinning on Saturday nights.
Dady O
📍 Km. 9.5, Blvd. Kukulcan Km. 9.5, Punta Cancun
Dady O is a renowned Bar in Cancun, known for its all-you-can-drink open bar promo. It is located on Kukulcan Boulevard, which is the place to go if you want to spend a wild and crazy Cancun nightlife while in Cancun.
The club holds a Bikini Bash Concert every Thursday and the SabaDady fever every Saturday. These events make Dady O more iconic among partygoers. Plus, the architecture of the place recreates a fascinating cavern, making it even more unique.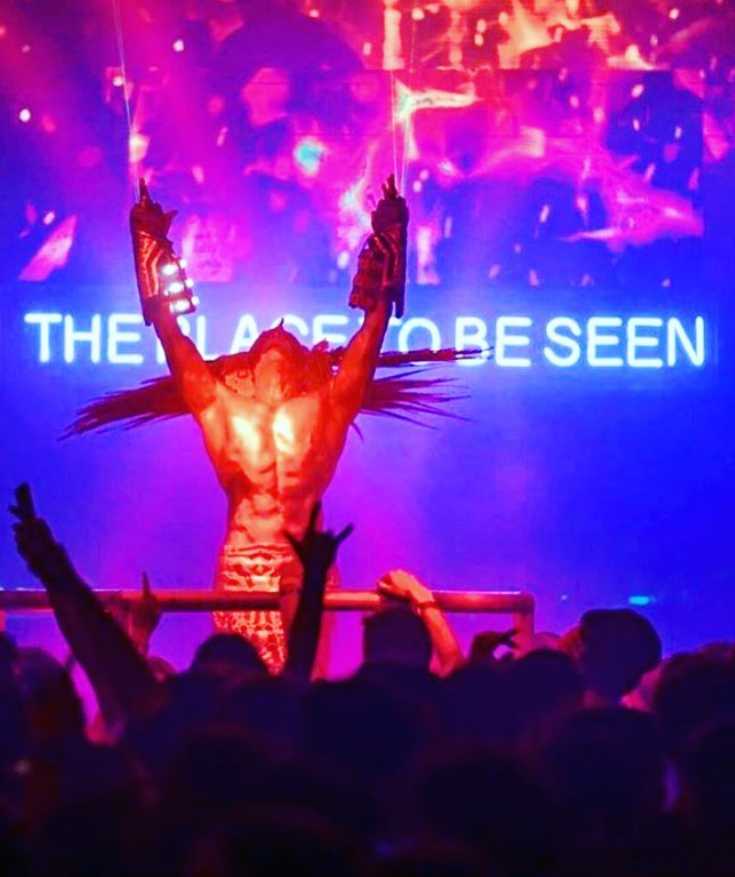 With DJs playing the latest in Latin music over the speakers throughout the night, you'll immerse yourself in Dady O's party all night.
Señor Frog's
📍Blvd. Kukulcan km. 9.5, Punta Cancun
Señor Frog's Cancun is one of the top spots to visit when in Cancun. It is known for holding events like Wednesday's Foam Party and Sunday's Glow Party.
It is located beachside on Kukulcan Boulevard and close to many of the city's clubs and bars; it's easy to make a night of it here. The bar is full of bright colors, neon lighting, and live music all night long, and it has an electric atmosphere.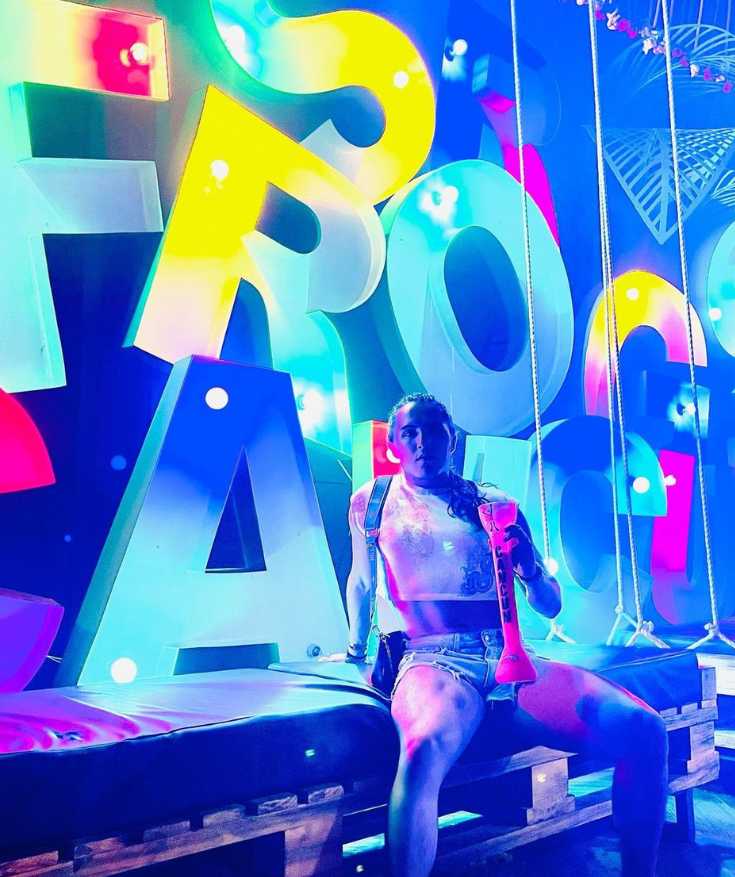 You can also expect non-stop partying here until the early morning hours, as there is plenty to do; enjoy karaoke with friends or watch live bands perform on stage.
🍸 Cocktail bars in Cancun
Hunter Bar
The Hunter Bar is a hotspot in Cancun, serving incredible cocktails in a relaxing atmosphere. It is located near the hotel zone, meaning you can see a spectacular Caribbean sea view as you sip your margarita.
The bar features an extensive selection of drinks, from premium spirits to some of the best craft beers. There's also a wide range of light snacks to accompany your drinks.
Better yet, you can ask their bartenders to create delicious signature cocktails that can be personalized to your preference. Plus, enjoy some live music performances by renowned DJs every weekend.
La Palapita Malecon
📍 Av. Bonampak Sm 06, Mz 01, Lt 01, Local R-06
La Palapita Malecón Américas is a lively bar and restaurant near the beach. It offers a wide selection of drinks, Mexican food, live music, and entertaining activities inside the area.
Whether you want to enjoy an intimate cocktail night or an exciting nightclub experience, La Palapita Malecon Americas can do that for you. Plus, it's situated right on the lagoon's edge, providing guests with a great view.
🍻 Sports bars in Cancun
La Playita Restaurante Bar
📍 Bonampak S/N, Manzana10, Lote 60-62
La Playita Restaurante Bar is one of the most famous sports bars in Cancún. It is well known for serving guests an excellent opportunity to enjoy a sports night with friends over good food and drinks.
Inside the bar, you can enjoy live music, drinks, dancing, and socializing with friends. They have TVs playing sports games all over the area and frequent events such as contests and karaoke nights that guests can participate in.
Located on one of the main avenues, La Playita has become famous for locals and tourists. Plus, the staff at La Playita are friendly and attentive to the guests' needs, which makes the overall experience better.
McCarthy's Irish Pub Cancun
📍 Plaza Solare, 222 Avenida Bonampa
McCarthy's Irish Pub is located in downtown Cancun near the Hotel Zone, making visiting easier for travelers and locals alike. It has become one of Cancun's most famous Irish Pubs, offering what it's truly like to be at an Irish pub.
McCarthy offers a wide range of traditional Irish beers, cocktails, and live music from local bands and DJs every night. And this is the perfect spot to spend a night out with a great menu of delicious food, friendly staff, and an outdoor garden for smoking or hanging out.
Route 666 Bikers Bar
📍Avenida Yaxchilán Mz. 17 Lt. 100
Route 666 Bikers Bar Cancun is renowned for having the best live, raw, and international rock performances. It is always packed with people (both locals and foreigners), especially bikers from around the region.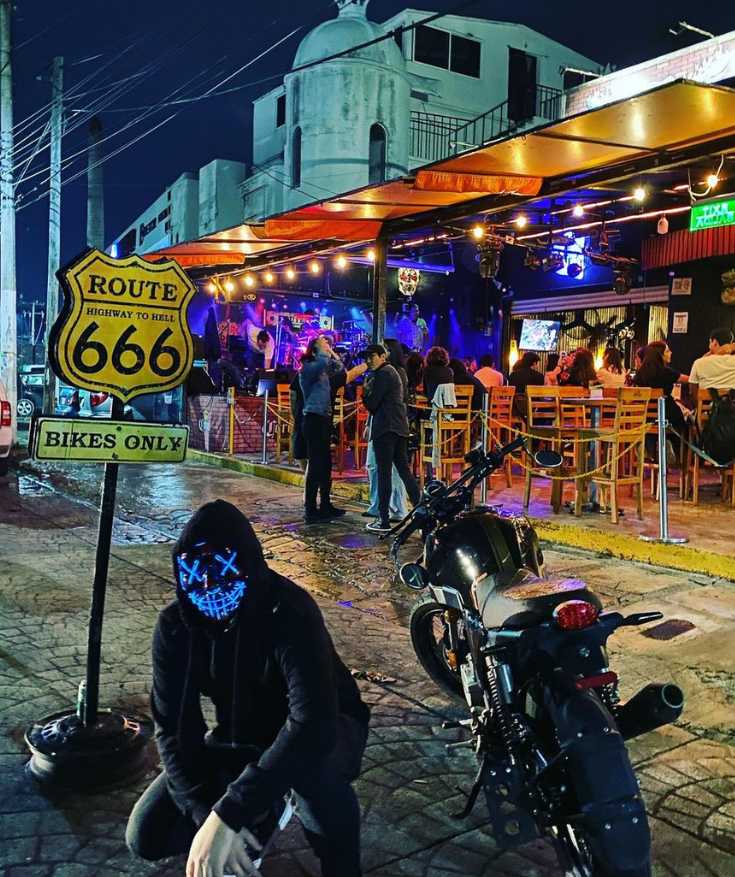 The bar has an extensive range of beers and spirits and lives music from local bands every week. They also have food stalls and a dance floor to get people in the party mood.
El Estadio Cervecería & Restaurante
📍 Av. Kabah Mz. 3 Lt. 12, Local 5 21, 77500 Cancún, Q.R., Mexico
El Estadio Cerveceria & Restaurante is most famous for its extensive selection of craft beer and Mexican cuisine that you can enjoy while watching your favorite sports game.
Aside from those, they also invite musicians from around the region to play live music for their guests all night. And with the impressive wooden architecture, inviting open-air layout, neon lighting, and giant TV screens broadcasting top sporting events inside the El Estadio Cerveceria & Restaurante, bargoers keep coming back to the place.
Their friendly staff is willing to recommend nearby bars or clubs if you want to extend your Cancun nightlife experience after enjoying a sports night.
🍹 Local bars in Cancun
The Tiki Mug Cancun
The Tiki Mug is a local bar in Cancun known for its iconic live volcano display activated by clapping hands. The place is also filled with brightly-colored and tropical decorations, which only makes the place more Hawaiian in theme.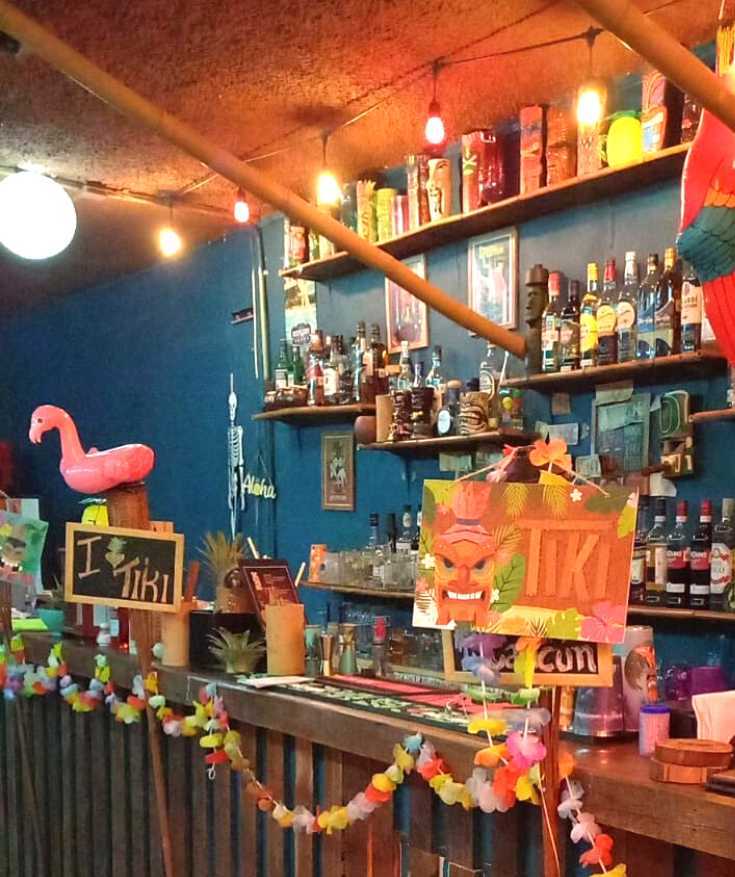 Locals and travelers worldwide visit the small bar to enjoy live music and their Mexican cocktails served in a tiki cup. The Tiki Mug Cancun also has VIP packages that provide you with front-row access to all of their weekly events.
El Ejecutivo Piano Bar
El Ejecutivo Piano Bar is iconic for music enthusiasts who want to enjoy the Cancun nightlife.
Live piano music, comfortable seating, and friendly staff create the perfect vibe to spend the night dancing and mingling with locals and tourists alike.
Make table reservations because the piano bar usually gets full at night. After all, it's a hotspot in Cancun!
Cantina La Curva
📍 Av. Del Sol 44-MZA 21 LTE 1, 77506 Cancún, Q.R., Mexico
Another famous local bar in Cancun is the Cantina LA CURVA. They serve authentic Mexican cuisine and drinks, like locally made craft beer and cocktails.
Throughout the evening, live music performances and DJs spin different music genres to keep the atmosphere lively and vibrant. And if you want to experience what it's like for the locals to enjoy their chill night out, then this place is for you.
Micheladas del Semaforo
📍 Avenida Xcaret Esq. Yaxchilán Local 1 Mz. 2, Lt. 3
Micheladas del Semaforo is a well-known bar & restaurant among locals. It has also grown famous among travelers because of its signature micheladas, which are great for beer and cocktail pairing.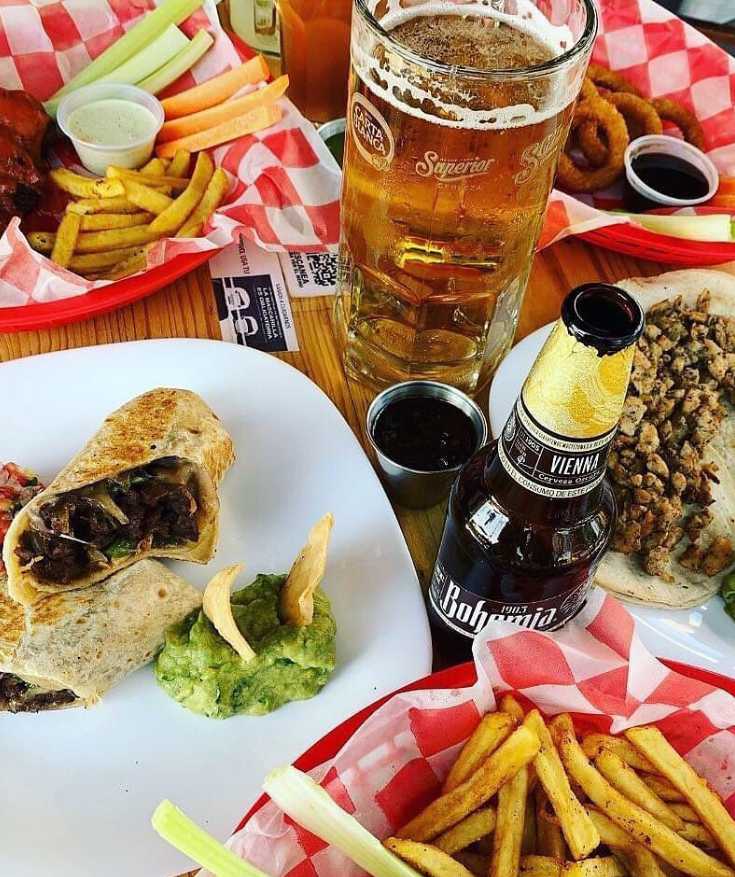 If you want to spend a chill night with friends in Cancun, Micheladas del Semaforo has the perfect vibe. From karaoke and salsa dancing to having a sports bar and a great food selection, you can easily find what ideally suits your preference in Micheladas del Semaforo.
Additionally, the drinks in this bar are affordable compared to other touristy nightclubs in bars in Cancun.
El Caballito Banda Bar
📍 Casi frente al Tecnológico de Cancún, Sm13 M1 L1
El Caballito Banda-Bar and Grill are at the forefront of the vibrant nightlife in Cancun. Locals visit the Bar to enjoy a night out with friends, while travelers worldwide come to socialize and experience the local Mexican nightlife.
Located on the breathtaking coastline of Cancun, party-goers can enjoy freshly prepared Mexican cuisine accompanied by a tasty margarita or two while being treated to live music from up-and-coming local bands.
El Caballito also features lively Latin DJs spinning everything from traditional salsa to modern reggaeton tunes that energize everyone throughout the night. Prices of food and drinks are pretty affordable if you spend more than $20 USD for drinks.
☕ Support this blog's honest and transparent journalism. Help us add value to what we are sharing. Keep Mexico Insider FREE for all by donating to our coffee fund. Muchas gracias!
🌇 Rooftop bars in Cancun
Mumma Rooftop Bar
📍 Nomads Hotel, Hostel & Rooftop Pool
If you want a chill and relaxing place atop a building in Cancun, MUMMA Rooftop Bar comes first. It is located on the top floor of the hip Nomads Hotel in Cancun, offering a stunning 360-degree view of the whole town.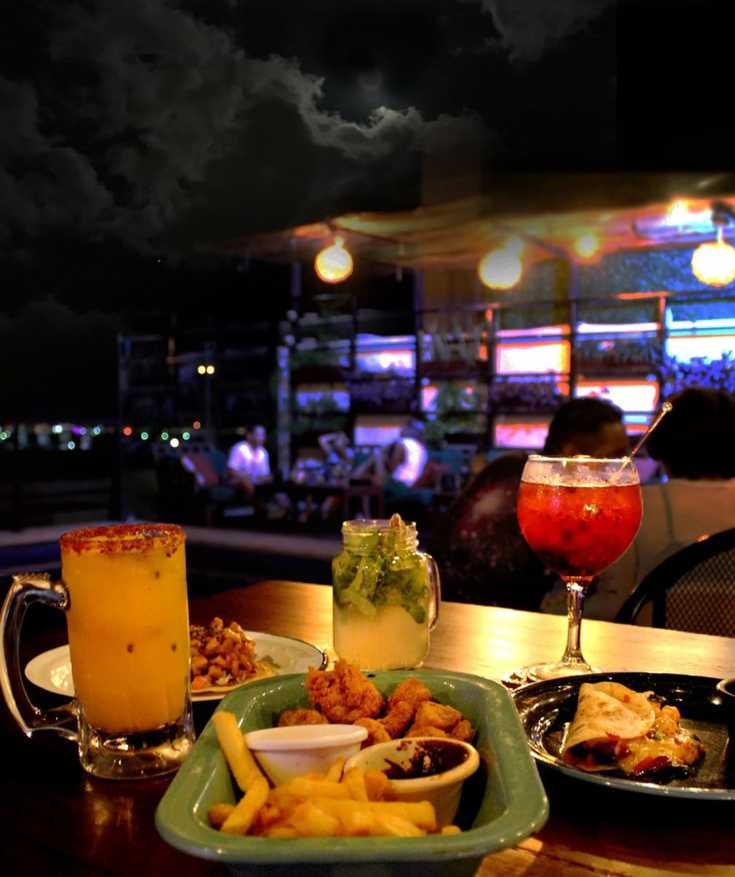 You can enjoy your day by staying at the pool deck with the laid-back scene and transitioning to the night for a revelry party experience. Aside from being a chill spot, Mumma Rooftop Bar also has a DJ dropping beats, foosball tournaments, and drinking games ready for guests.
Enjoy these with their signature cocktails and dishes as you socialize with locals and travelers.
La Choperia
📍 Avenida Bonampak SM 4 A MZ 1 L 1
Discover the Cancun nightlife in La Choperia. In this two-story building, you can dance your night on the first floor or chill at their rooftop bar.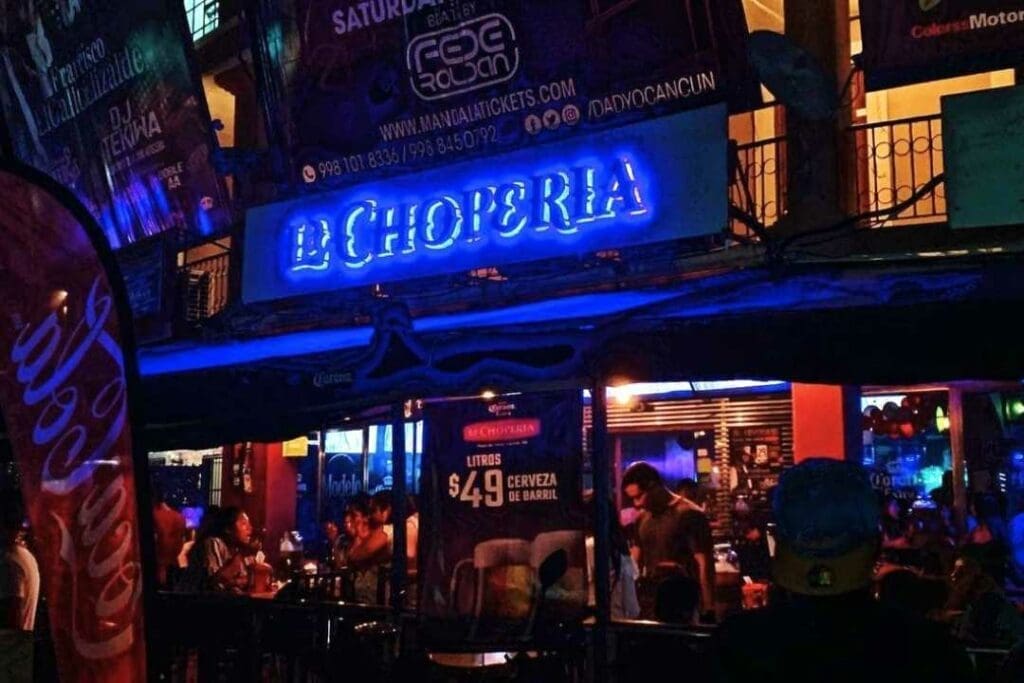 La Choperia is known for offering a unique and vibrant atmosphere, where you can enjoy locally made craft beers while listening to local bands play live music late into the night. They also serve exclusive drinks if you want something more memorable.
⁉️ Cancun Nightlife FAQ
Does Cancun have good nightlife?
Yes, Cancun is best known for its outstanding and often outrageous nightlife. Aside from the beautiful beach destinations, Cancun boasts of its active nightlife scene with plenty of bars and nightclubs.
The city is known for its vibrant atmosphere and has many opportunities for evening entertainment, such as live music, dancing, and drinks.
How expensive is clubbing in Cancun?
Clubbing in Cancun can range from moderately priced to quite expensive, depending on where you go.
Generally speaking, clubbing in Cancun can cost between $30 USD to $100 USD per person for a night out at the clubs. But for more exclusive locations, prices may be even higher.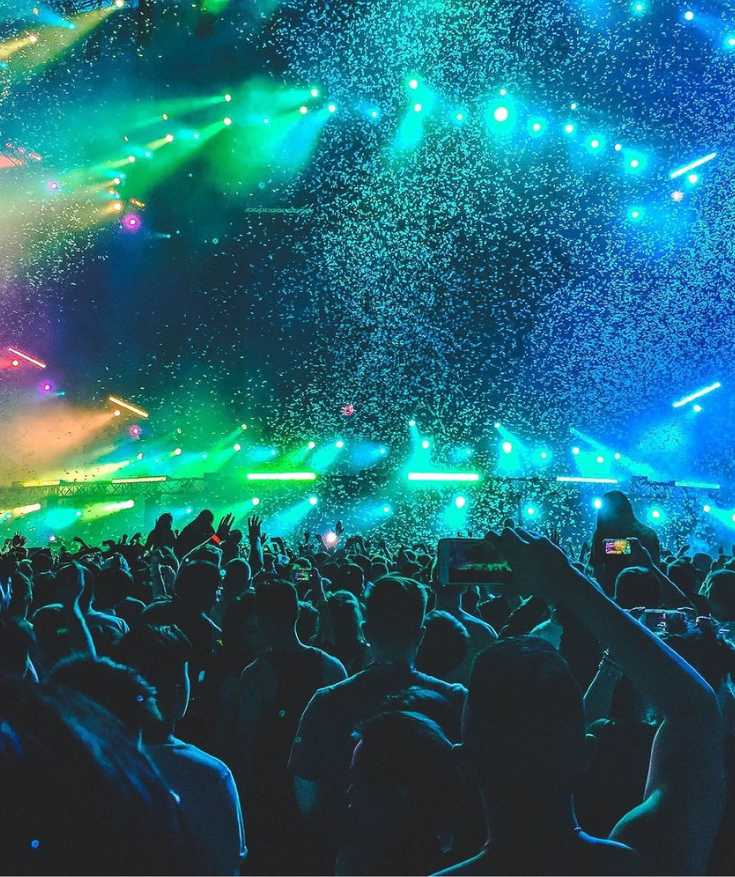 The price is set based on the cover charge you have to pay, plus a few drinks to get you by. Bring extra cash for drinks, food, and a taxi ride home after the night.
What is the wildest club in Cancun?
The wildest club in Cancun is La Vaquita. It's a high-energy dance club with live music, energetic performances, and the best lighting effects. La Vaquita, which translates to "little cow," is decorated in a crazy cow-print pattern, but that's just the start of the fun.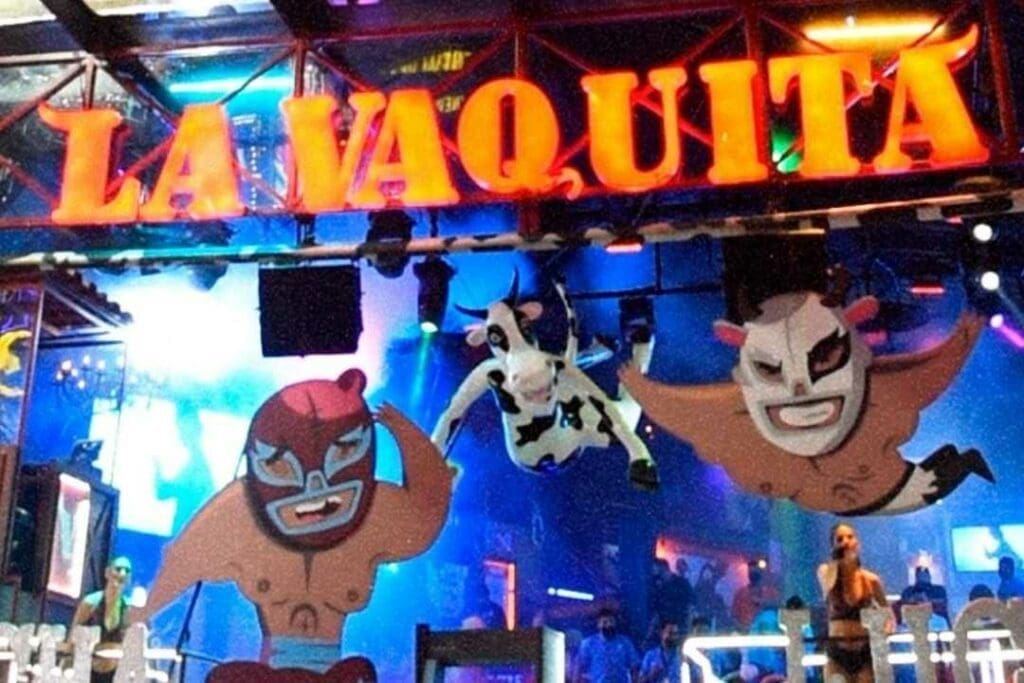 If you want your club experience to be completely wild, La Vaquita won't fail. It has multiple levels and bars, with incredible acrobatic shows, dancers on stilts, and fantastic performers ready every night.
What is the dress code for Cancun nightlife?
There is no specific Cancun dress code when going out for nightlife. The dress code will generally depend on what kind of bar or club you attend.
Most nightclubs and bars require guests to wear semi-formal attire, such as collared shirts and trousers for men and dresses or skirts for women.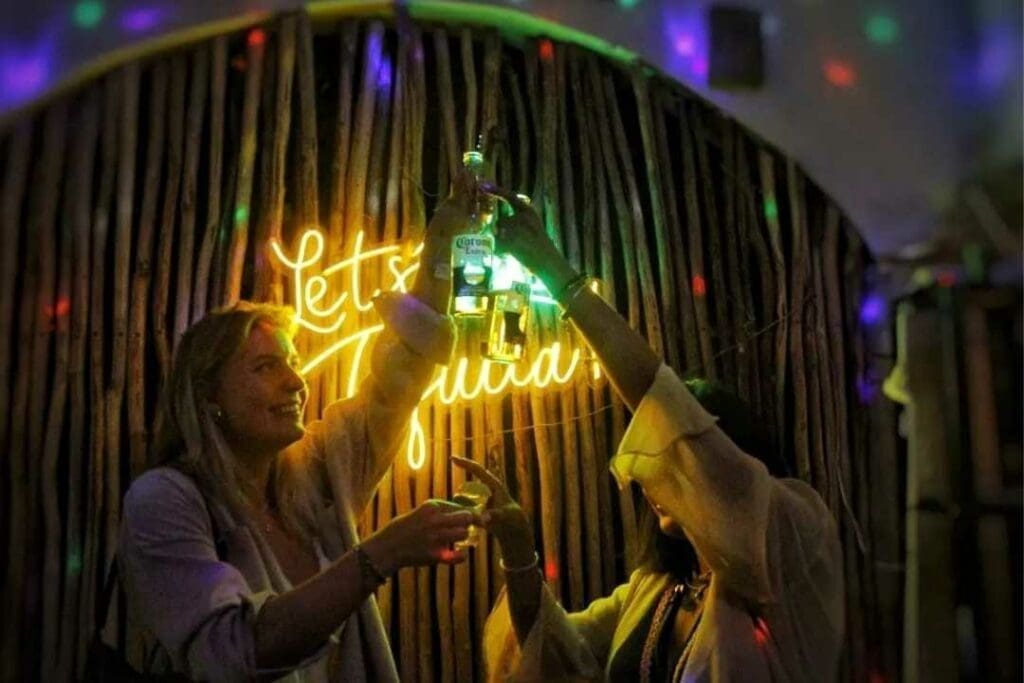 But if you are going to beach clubs, you can wear something more relaxed, but still be required to wear something presentable – shorts or jeans would be considered.
Dress smart and casually, and don't come in wearing flip flops, bikini, or sportswear when partying.
🇲🇽 Cancun Travel Planning
✈️ Flights to Cancun
Use Kiwi.com to find the cheapest flights to Cancun. This is our favorite booking engine because they compare prices across all airlines for your route. The airport that serves Cabo is San Jose del Cabo Airport.
🛏️ Hotels and resorts in Cancun
Budget travelers can use HostelWorld to find cheap accommodations for as low as $25 USD per night. Resort vacationers, the best deals for all-inclusive stays in Cancun are on Booking.com!
🚑 Mexico Travel Insurance
Be prepared for the possibility that something can happen to you while traveling abroad. Do not travel to Cancun without travel insurance! We recommend SafetyWing (for digital nomad and entrepreneur trips) and Ekta Travel for comprehensive medical insurance starting at $0.99 USD!