Amatte Wellnest San Miguel de Allende (SMA) opened in December 2021 with a new unique concept that puts them apart from other San Miguel de Allende hotels.
Ideal for bachelorette parties, all-girls' trips, or couples' honeymoons, Amatte Wellnest has different vacation rooms to choose from, including a connecting 2-floor room for families traveling with kids.
The concept goes beyond boutique hotels in SMA. It is designed as a resort-type vacation where everything you need is readily available on the premises: 2 rooftop restaurants and 3 bars, one of which is a brainchild of the mighty Chef Drew Deckman.
We stayed here for 3 nights and in this post, we will share our personal experience in this brand new hotel in SMA.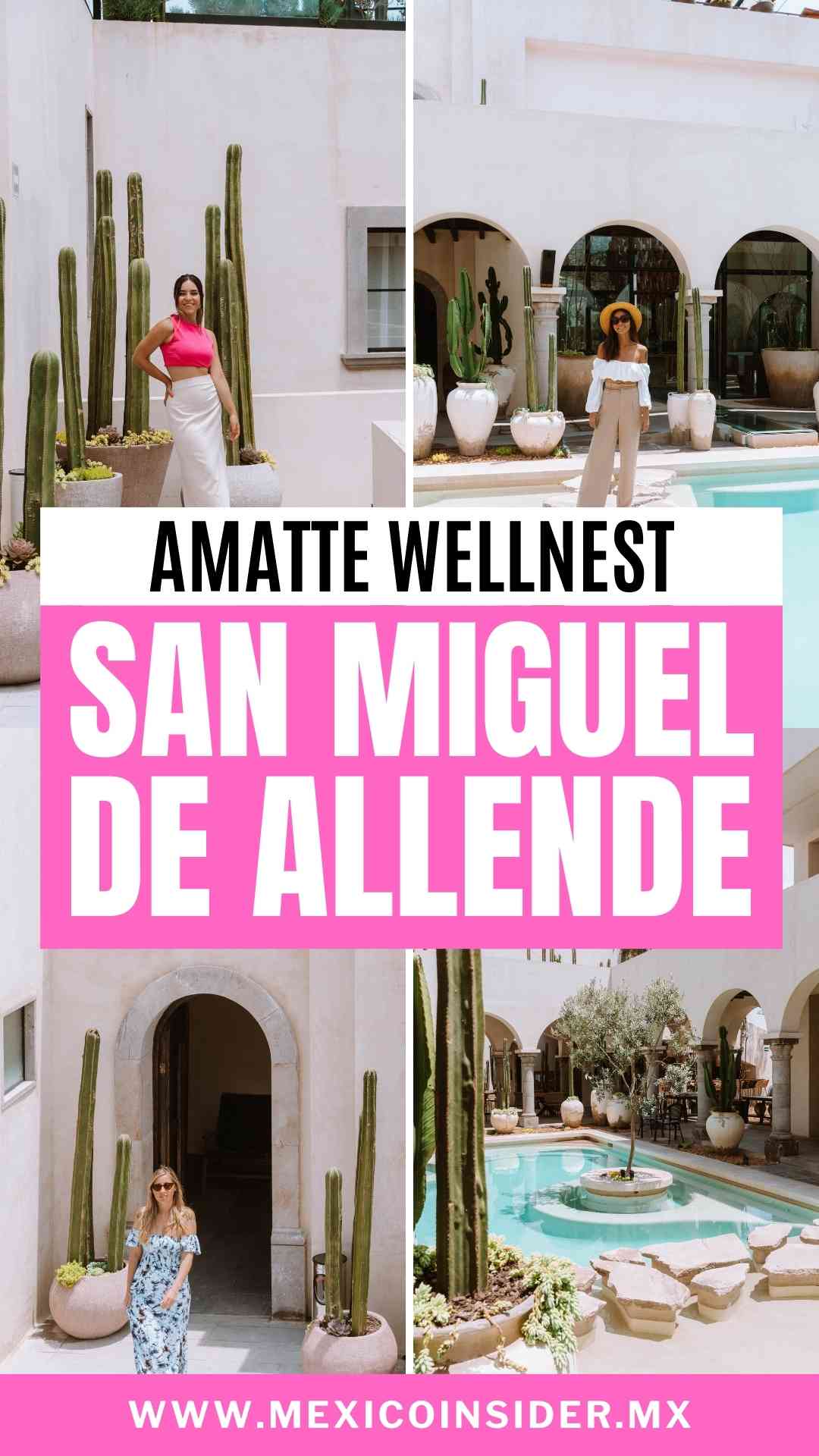 ???????? Editor's Note: Our stay at Amatte Wellnest was complimentary but all opinions and images are our own. Our sponsored partners do not tell our Editors what to publish as all are based on our experiences. Check rates for this hotel here.
???? Amatte Wellnest San Miguel de Allende Review
The Location
Most hotels in SMA are located in the narrow streets of the city center, around the famous Parroquia de San Miguel Arcángel but Amatte Wellnest is just a little bit outside of that bubble.
It is a 7-min drive from SMA's city center and 24 minutes by foot. San Miguel de Allende has a big walking culture so the streets are always pedestrian-friendly. Cars will stop for you with no questions and it is one of the safest cities in Mexico.
If you're not a big fan of walking, Amatte Wellnest San Miguel de Allende has a free shuttle service that will take you anywhere in the city. All you have to do is to reserve your ride by texting the reception's Whatsapp #: +52 415 169 1916.
Overall, Amatte Wellnest's location is comfortable as it is located on a 2-way wide road. If you need a taxi service from Silao Airport or Mexico City International Airport, our trusted drivers can bring you to Amatte Wellnest for less than US$100.
To have an idea about the distance and surrounding areas, see quick info below:
from Guanajuato/Leon/Bajio Airport: 1.5 hours
from Mexico City International Airport: 3 hours and 20 minutes
from Guanajuato City: 1.5 hours
from Dolores Hidalgo: 47 minutes
from Queretaro City: 1 hour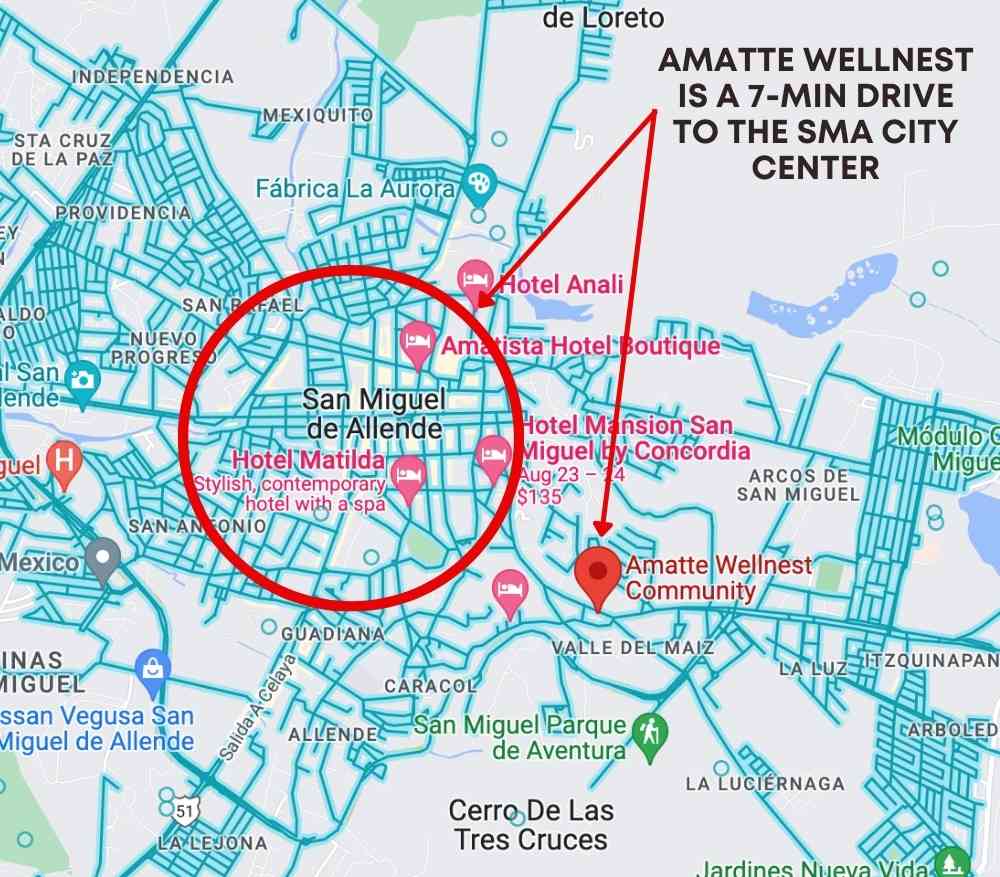 The Rooms
There are 8 different room types that you can choose from at Amatte Wellnest San Miguel de Allende. Options for two people include a 237 feet² studio unit that costs US$113 per night.
Upgrade to the larger Junior Suite, a private suite that can accommodate 2 people for only US$125 per night. The two-bedroom villa (1,615 feet²) where we were hosted can house 4 people and there is a connecting room on the second floor for those who are traveling in big groups.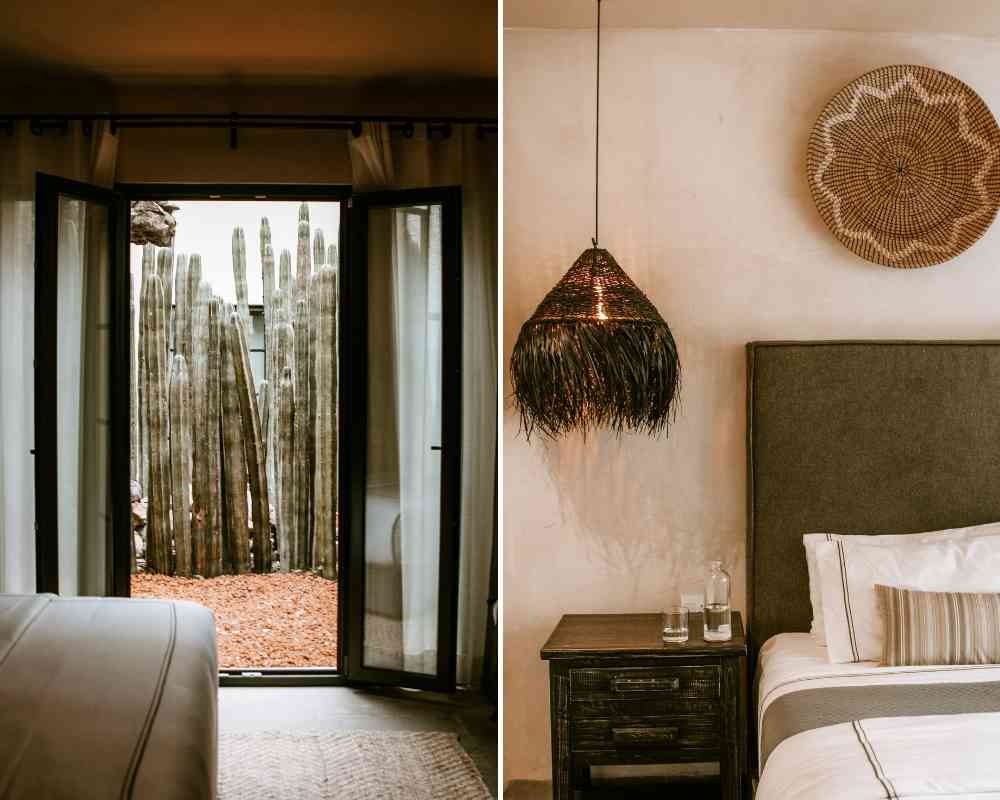 The largest villa has the best value of all the rooms – it's only US$315 per night for 4 people! The living room sofa transforms into a bed and can accommodate a fifth person. Added points to the villa for the living room with a massive TV screen and a patio in the master's bedroom!
All rooms are equipped with Egyptian-cloth bathrobes, a Nespresso machine, flat screen TV (per room), minibar, iron, hair dryer, toiletries, shower, slippers, alarm clock, a safe, and streaming services like Netflix and Amazon Prime.
For an additional US$50, you can get a good breakfast that is served from 7:00 AM – 1:00 PM. This option is great for late-risers who don't want to worry about food when they wake up.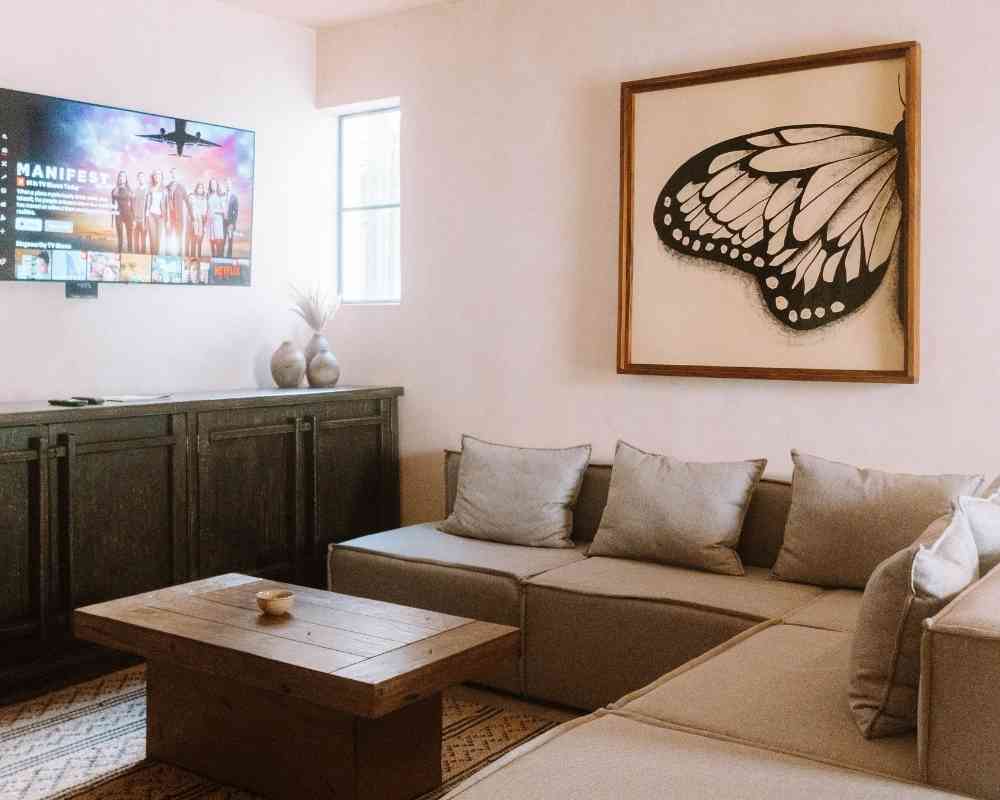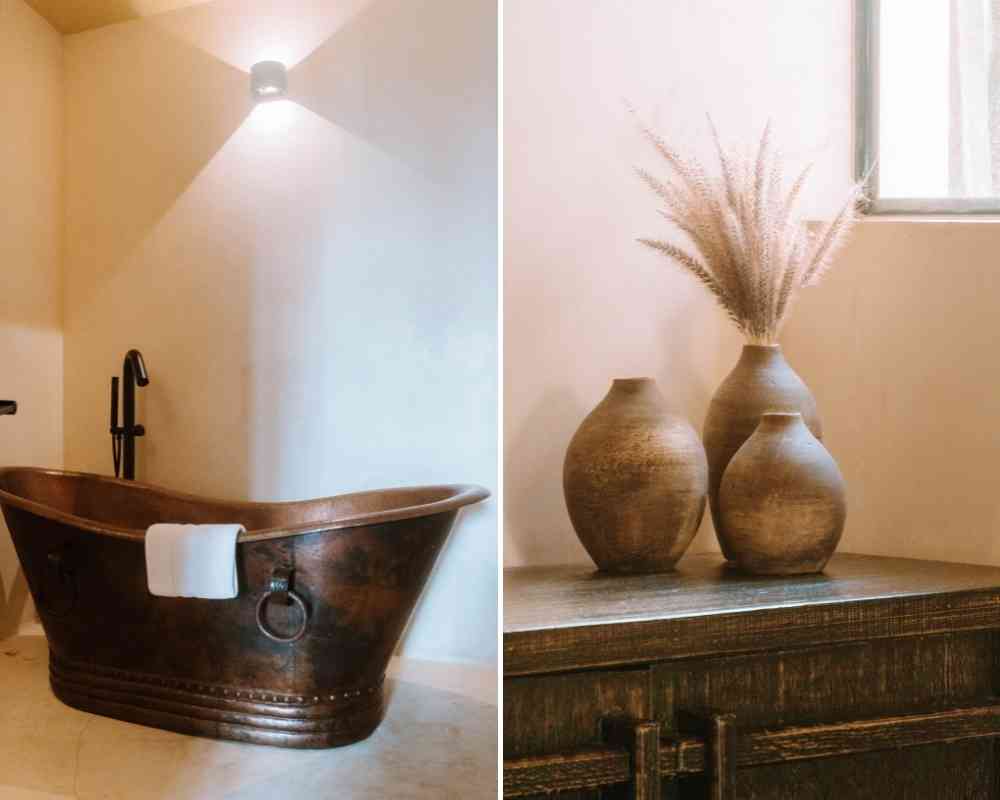 The Amenities and Spaces
The entrance of Amatte Wellnest San Miguel de Allende stars a 71-steps that leads to all the different floors of the hotel. It is aesthetically pleasing so you'll surely take a photo on the stairs once you arrive.
The bottom level is the basement which serves as a parking lot for guests. This is where you are going to take your free van service to the city. It also serves as a service dock for deliveries and staff entrance.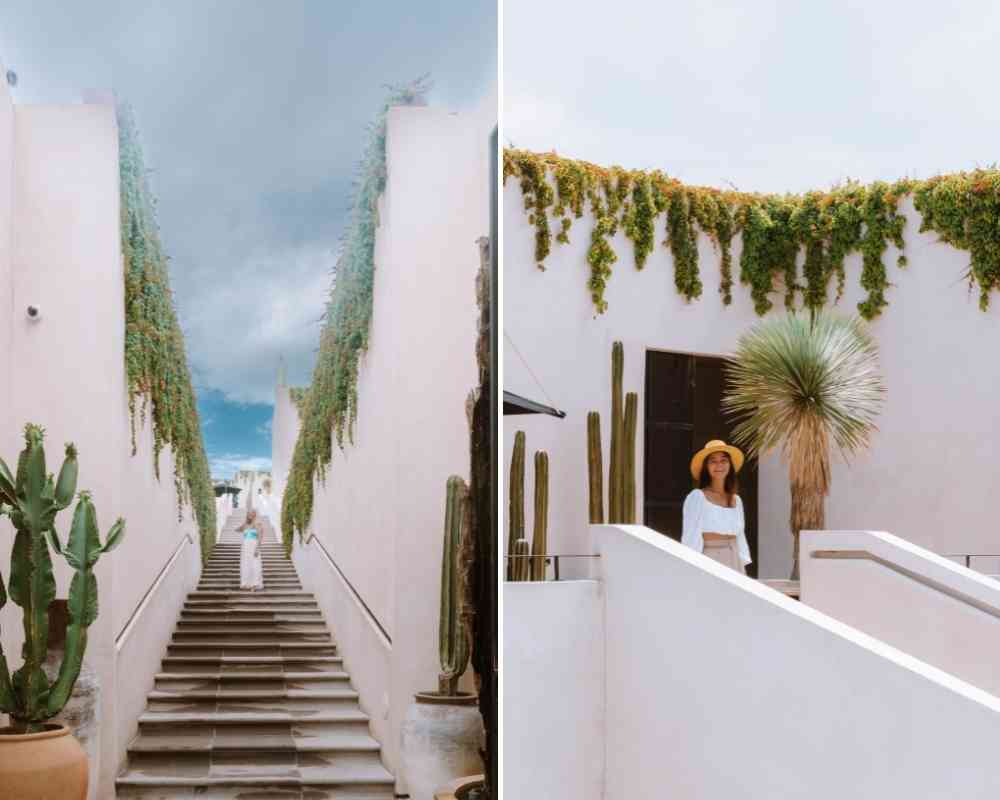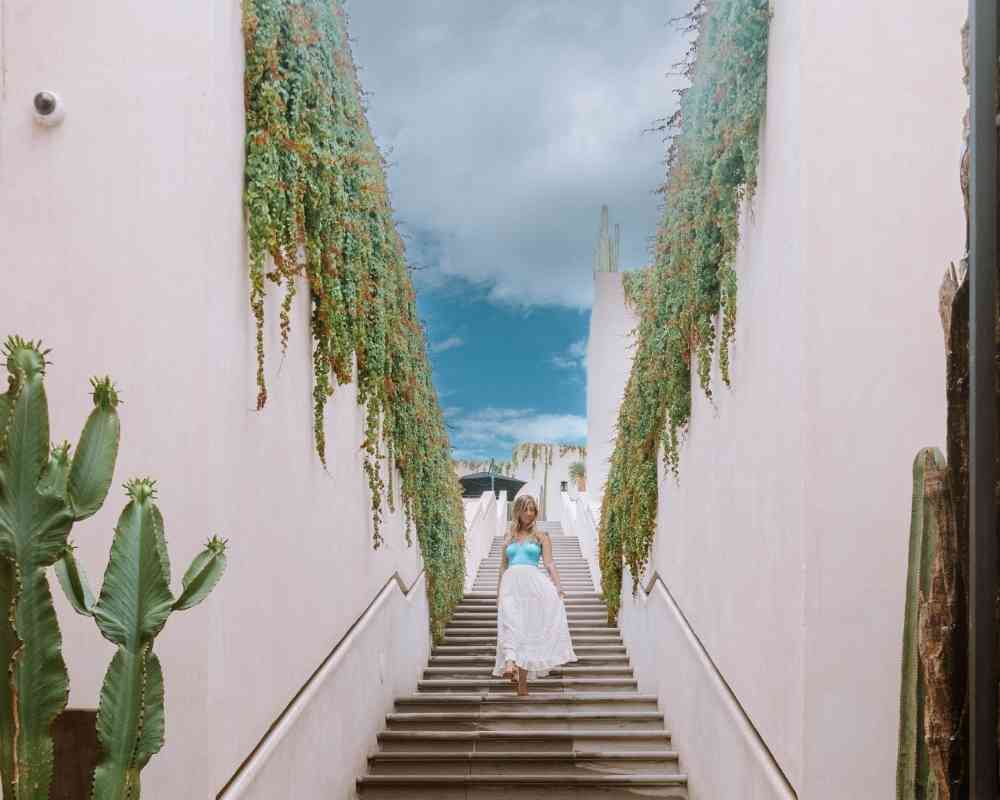 The second floor is where the reception is located and where the guests are received. It has massive glass walls with a simple counter plus a few comfortable chairs in the waiting area.
In the middle of floor 2 lies a swimming pool that you can use (if weather permits). Our visit was in July 2022 and it was the rainy season so we were not able to use the pool.
In this note, be reminded of the best time to visit San Miguel de Allende before planning your trip – you wouldn't want a rainy vacation, especially if your hotel has a pool like this!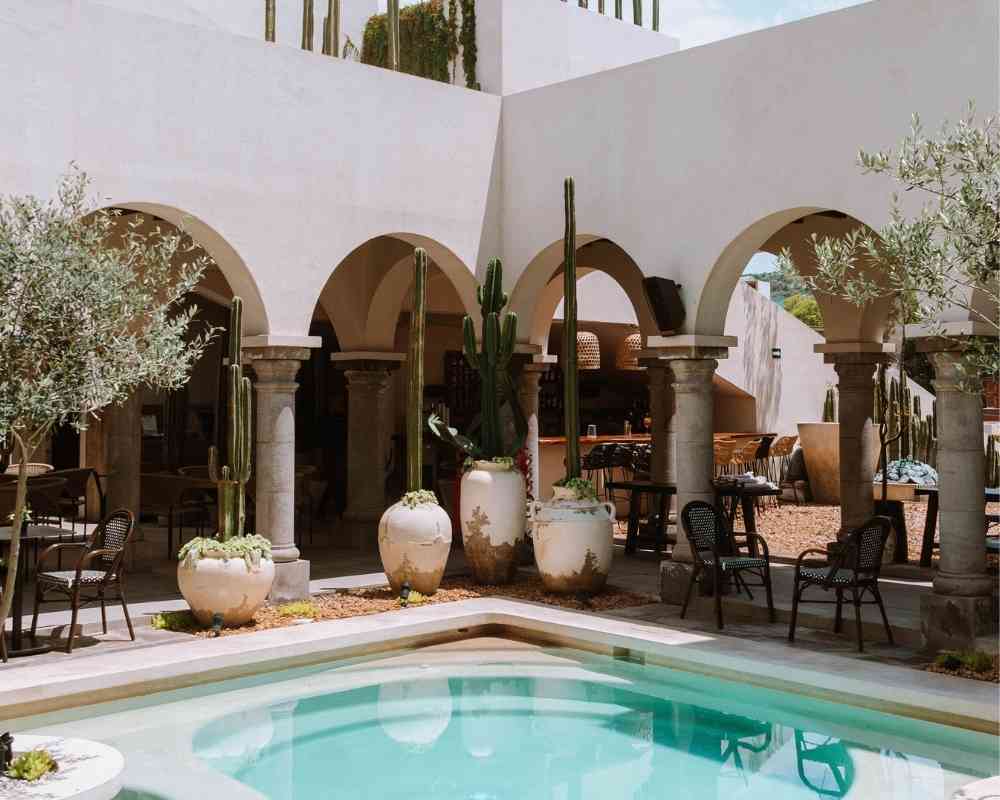 Third floor houses the many studio and queen studio units of Amatte Wellnest. This is the quietest part of the hotel with tall imposing cactus on pots on all corners, wide hallways, and a spectacular view of the pool area.
The top level of Amatte Wellnest hosts 1 restaurant and two bars. Even if you are not a guest at the hotel, you can reserve a table in these bars and restaurants. The best time to come here is during dinner as the open layout offers a panoramic view of the sunset in the city.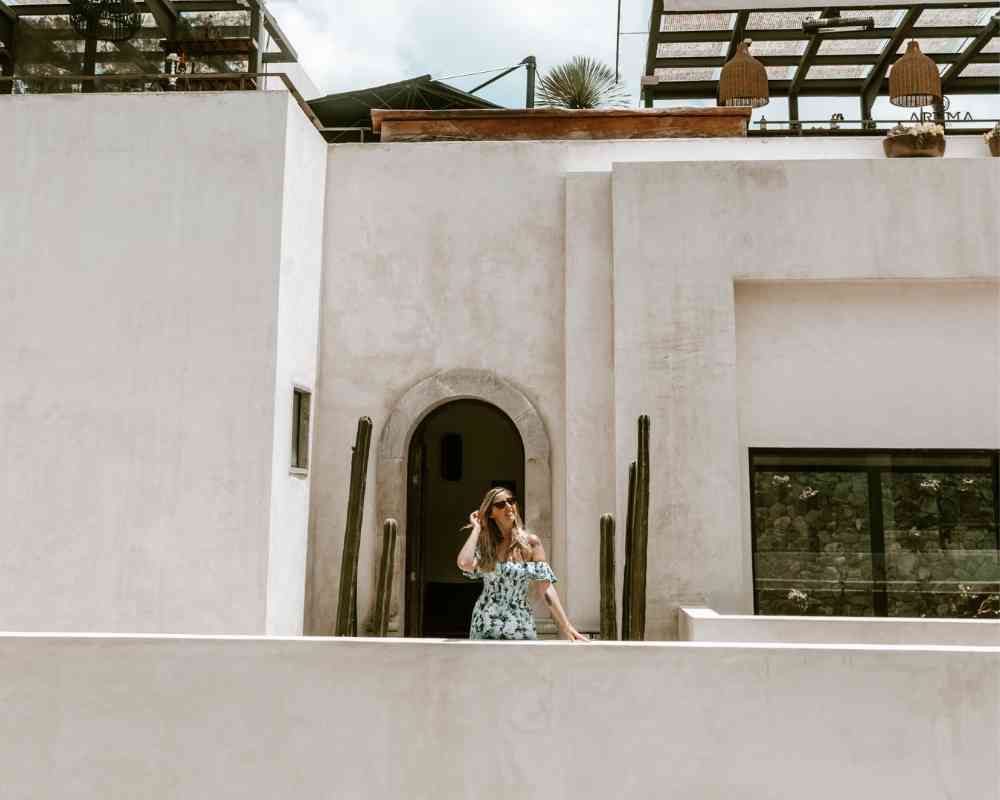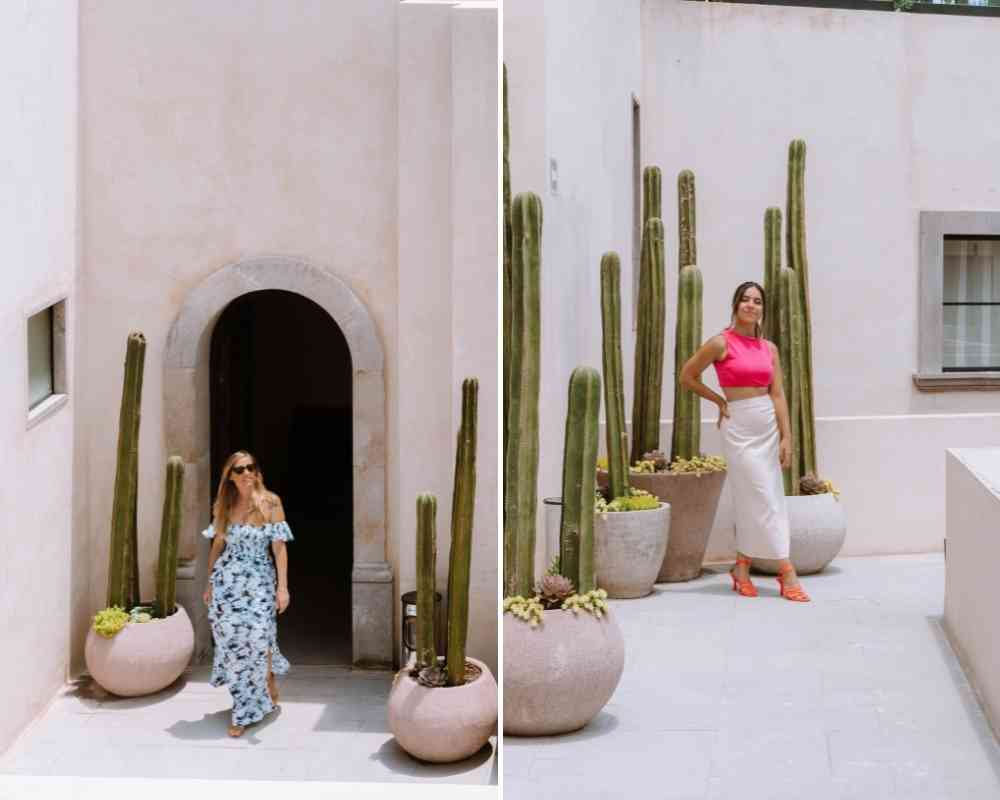 The restaurant: Hacmans
Drew Deckman graces San Miguel de Allende with his very own Hacmans: another Argentine/bbq/steak restaurant similar to his Deckmans in Valle de Guadalupe, Baja California Sur.
On the menu, Drew integrates the two very different states of Mexico by bringing Baja California classics such as fresh oysters (US$40 a dozen) and many other seafood platters like tiradito de pescado (US$29) and octopus carpaccio (US$24).
The state of Sonora in Mexico is known for its meat so steak-lovers will learn about the voracious meat-eating Sonorans' culture through dishes like the Sonora Ribeye (US$138 for 1,000 grams).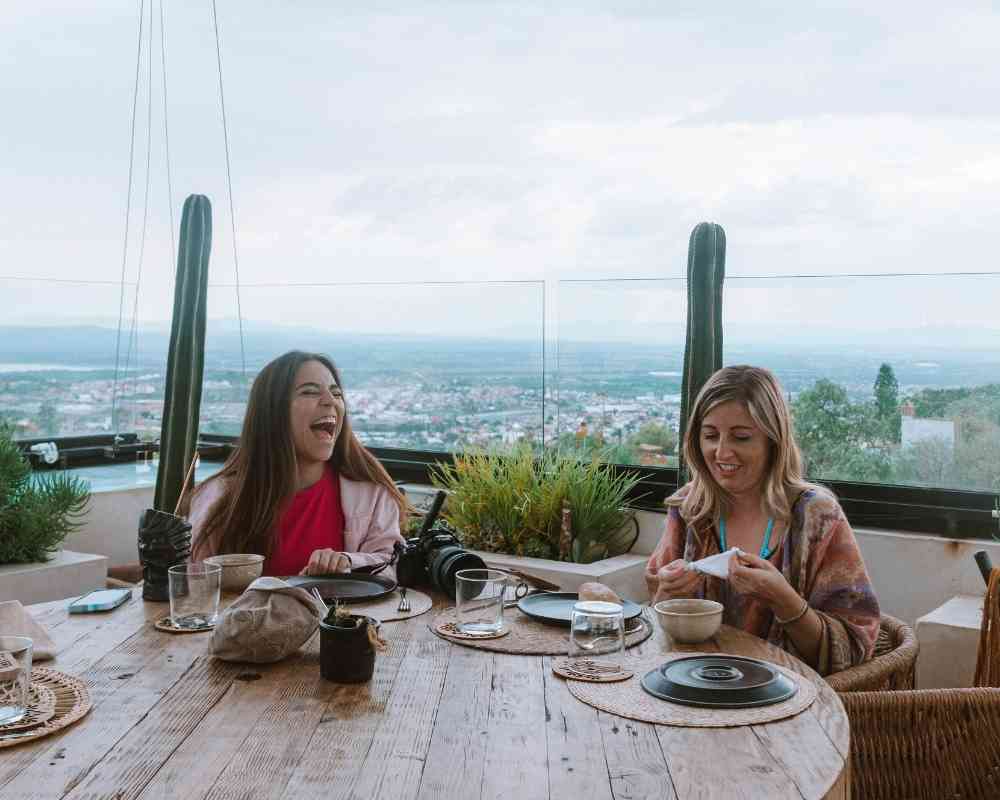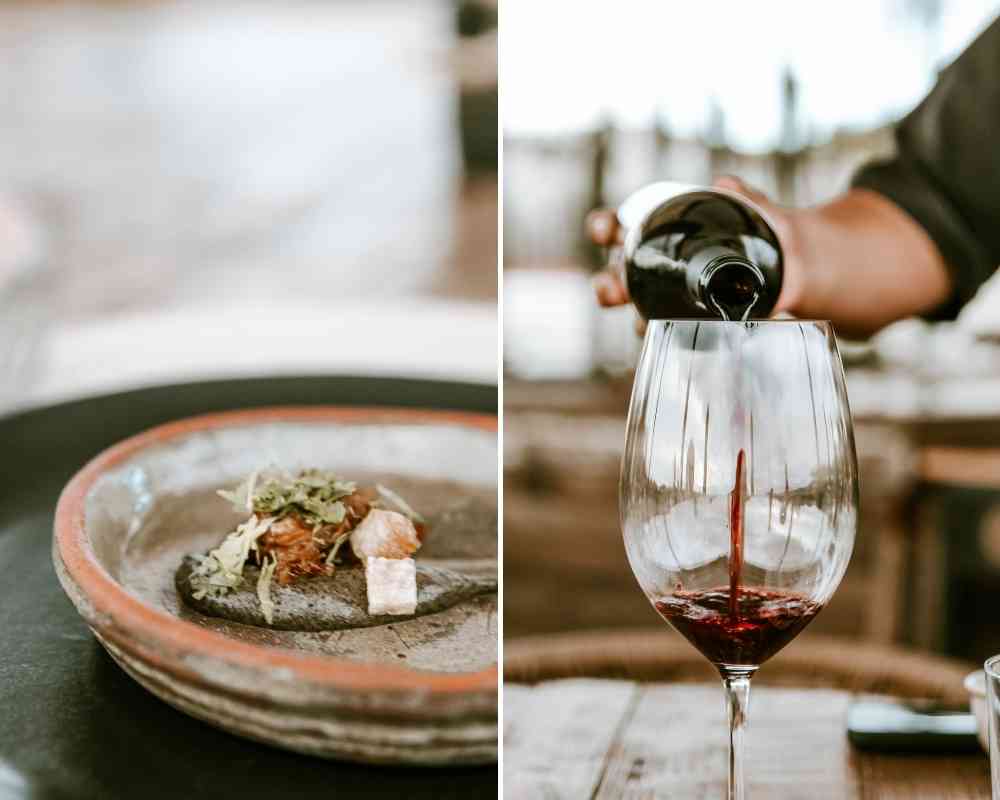 Another poultry dish to try is the organic chicken (US$25) and the Amatte Burger with ribeye meat, bacon, and fries (US$35).
Amatte Wellnest has its own sustainable food garden so most of the ingredients used in the restaurant are within the premises. The staff can even take you on a tour around their vegetable garden!
You may reserve a table at Hacmans through Opentable. Hacmans is open from 1:00 PM – 11:00 PM, Tuesday to Sunday (closed on Mondays).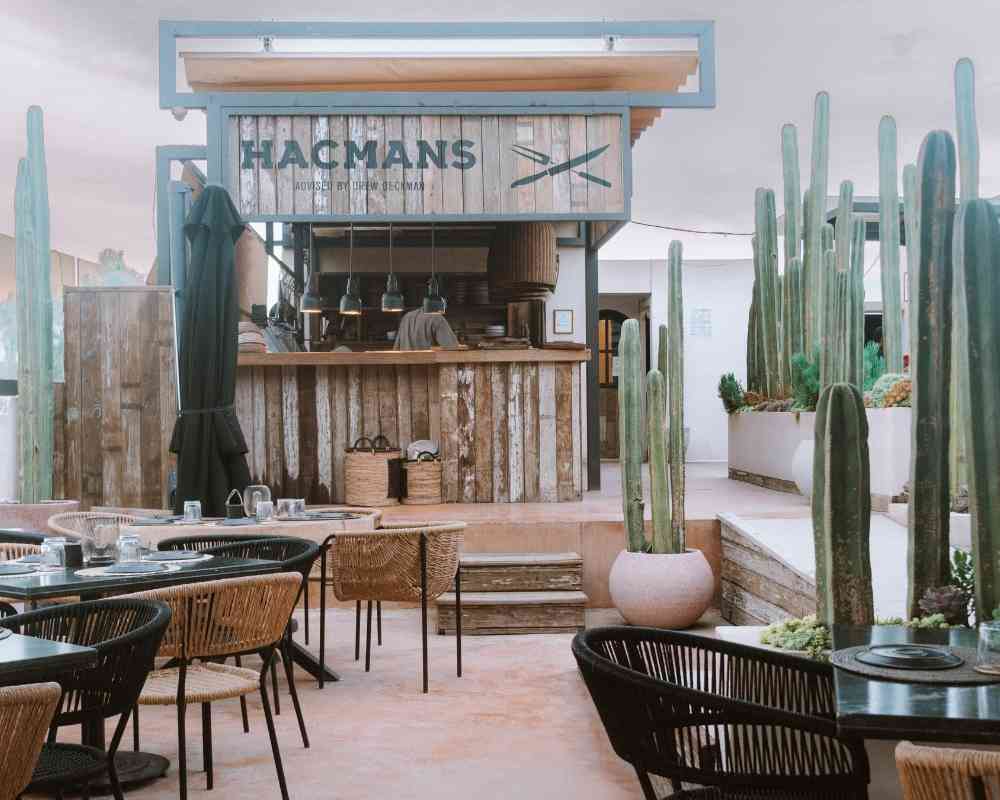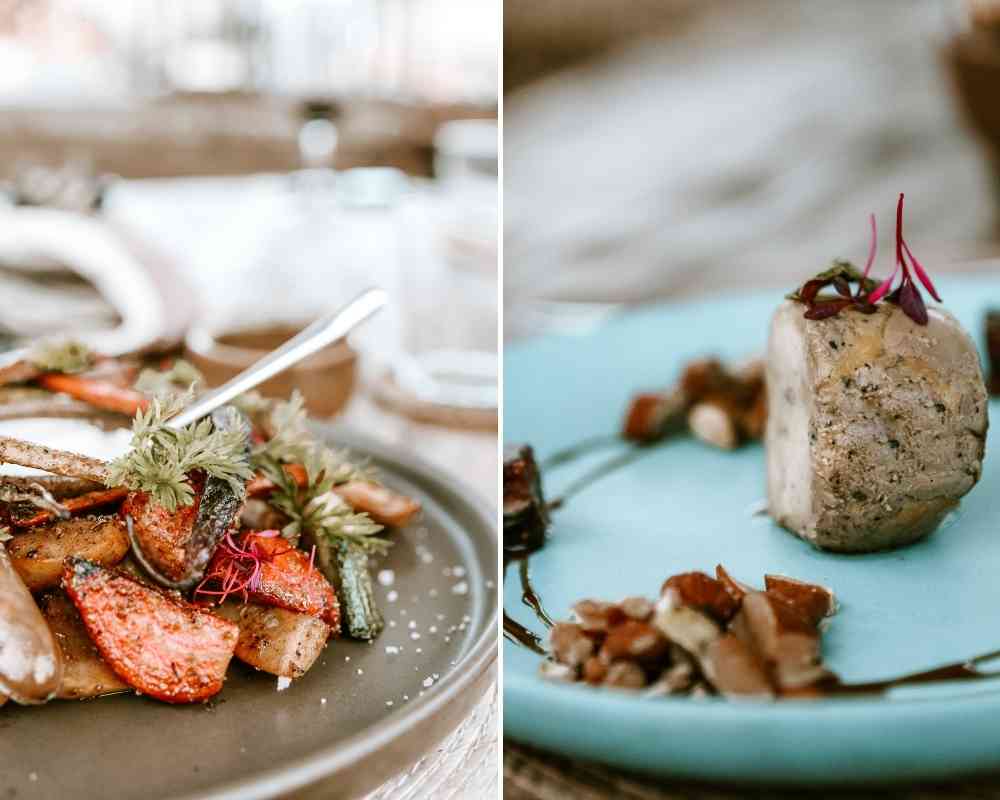 The bar: Aruma Sky Bar
Aruma Sky Bar will probably be your favorite bar in San Miguel de Allende. With a Balinese-inspired interior, the bar chairs at Aruma Sky Bar are comfortable, though it may be a little hard to reach if you are vertically challenged.
The best time to come here is right before sunset, for a round of cocktails before having dinner at Hacmans. Formerly known as the Dragon Bar, the old name still lives up as the cocktails here are served in dragon-shaped head bronze cups.
From whisky to mezcal-based cocktails, the bartenders at Aruma Sky Bar are equipped and experienced to give you suggestions on the best cocktails of the house. Like Hacman's, Aruma Sky Bar is also open to non-Amatte Wellnest guests.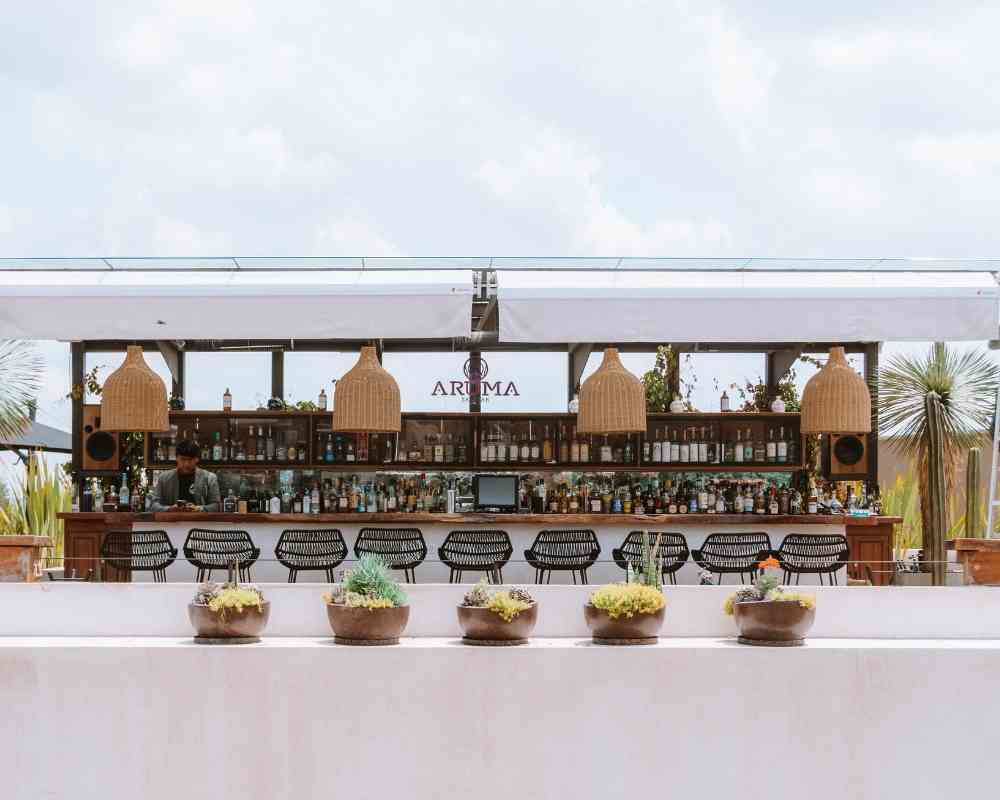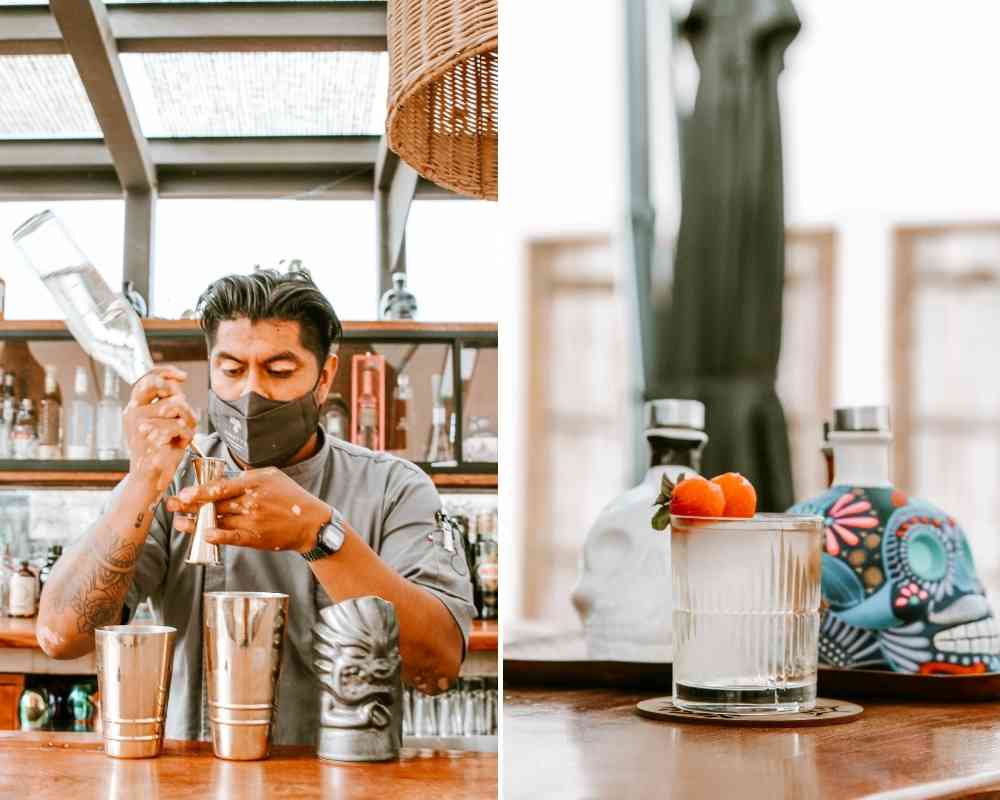 The Staff
Considering the number of bars, restaurants, and amenities that Amatte Wellnest has, there are over 30 staff members of the hotel and all of them delivered 5-star hospitality.
The staff at Amatte are very polite, attentive, and always on top of your needs. Some of the staff are still struggling to communicate in English but most of them can speak English fairly.
The housekeepers are honest and are on top of maintaining cleanliness, not just in the rooms but in all the areas of the hotel. The polite drivers who take us to the city center every day won't even accept a tip but please, do insist!
Overall, staff service in Amatte Wellnest is world-class. They will guarantee your 'perfect' vacation in SMA, one of the most visited cities in North America.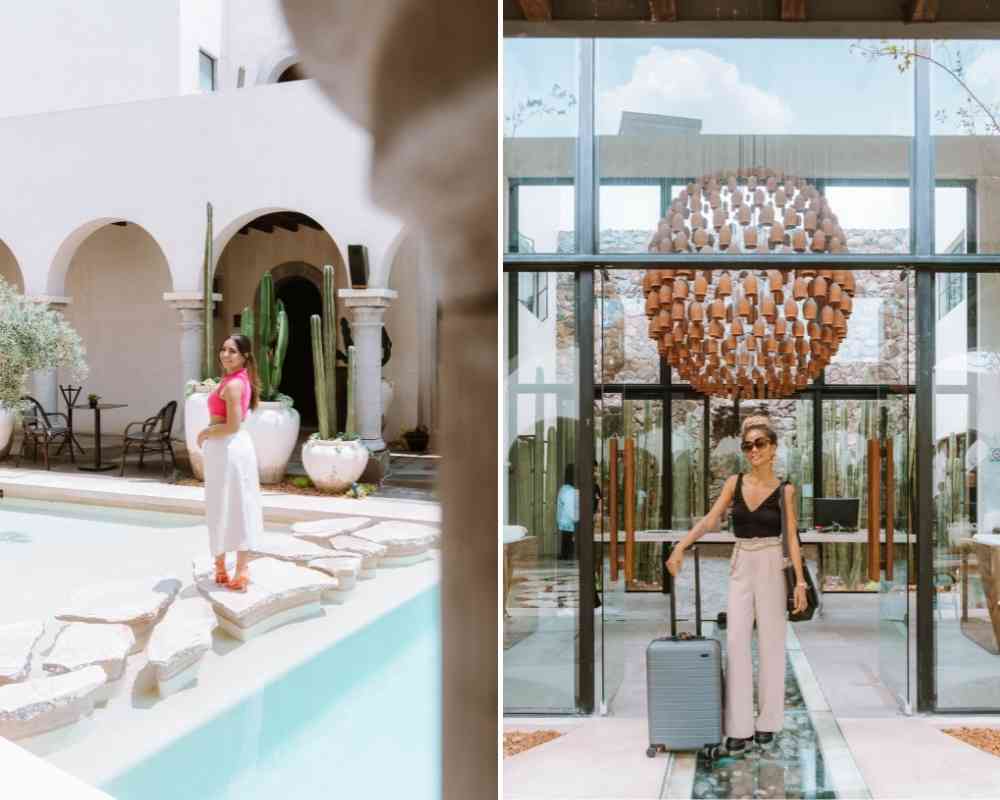 ????️ Book your stay at Amatte Wellnest
Amatte Wellnest San Miguel de Allende was independently selected by our editors and producers. However, when you book something through our links, we may earn an affiliate commission at no extra cost to you.
✈️ Ready for your trip to San Miguel de Allende? If you need more information about Amatte Wellnest, we'd be happy to update this post – just leave your questions below!
🇲🇽 San Miguel de Allende Travel Resources
Trisha traveled to Mexico in 2018 and after a year, she found herself obtaining a 4-year residency visa in Mexico. She is the Editor-in-chief for our Living in Mexico Series which has helped over 3,000 Americans move to Mexico with ease. Trisha currently resides in Cabo San Lucas, Baja California Sur.